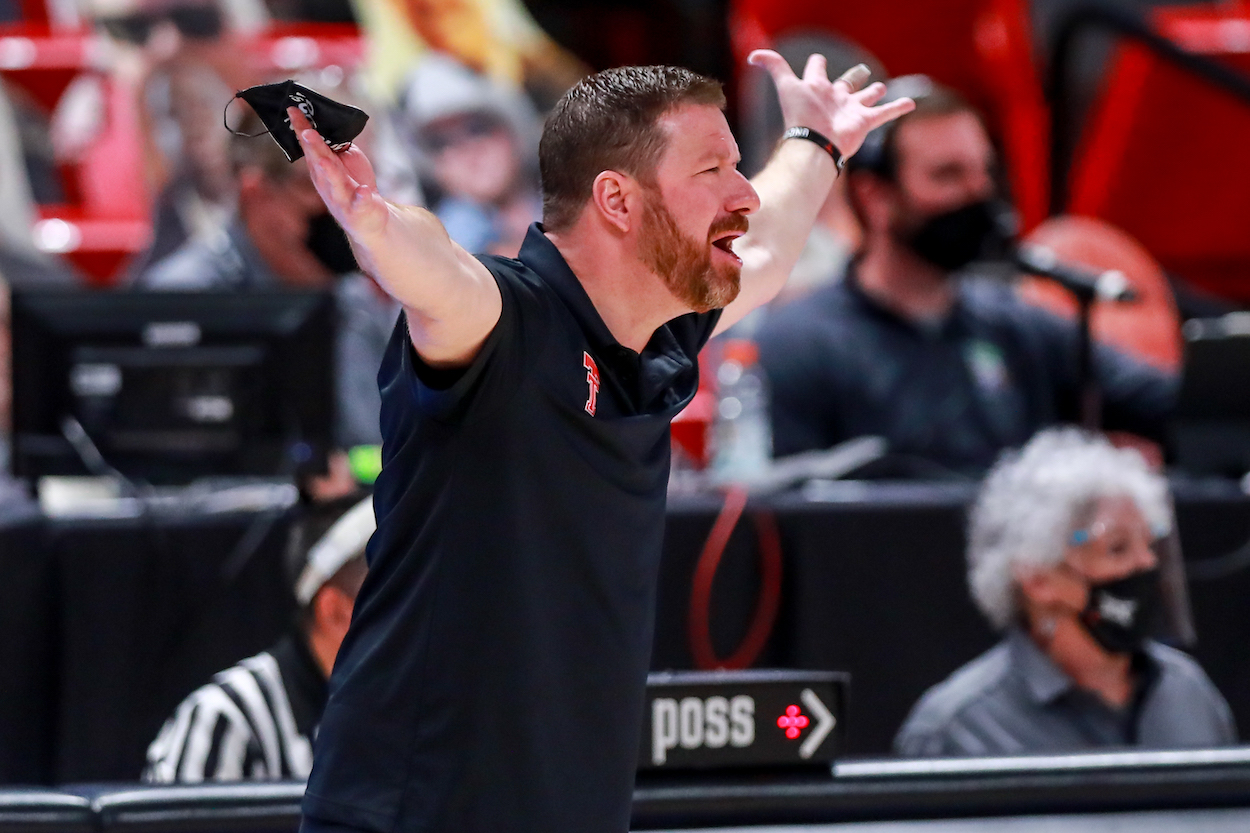 Texas Tech Coach Ejected After Ballistic Tirade Screaming at Officials in Scene Very Reminiscent of Mentor Bob Knight
Texas Tech coach Chris Beard was ejected Tuesday night after he went ballistic, screaming at the officials in a scene that was reminiscent of another Texas Tech head coach who got ejected on more than a few occasions in his career.
For years, Chris Beard worked as an assistant coach at Texas Tech under the watchful eye of legendary coach Bob Knight. On Tuesday night in Lubbock, Beard evoked memories of the hot-headed Knight in an epic tirade, angrily screaming at the college basketball officials while being separated by his coaching staff. In the end, Beard found himself in a position Knight was all too familiar with as he was ejected from the contest.
Texas Tech coach Chris Beard worked as assistant under Bob Knight
Chris Beard got his start in coaching at the University of Texas as a graduate assistant in 1991. For the next decade, he moved his way up the ranks, working at various smaller colleges before landing in Lubbock in 2001, where he would work under the legendary Bob Knight.
Beard worked with Knight and his son Pat for a decade and was part of four NCAA Tournament appearances as well as a trip to the NIT Final Four. In 2011, Beard departed Tech for another head coaching job with a semi-professional basketball team in South Carolina. 
Five years later, Chris Beard returned to Lubbock to become the Texas Tech basketball coach. Since his arrival, he has made Tech relevant on the Big 12 and national college basketball scene, including the team's 2018-19 season where they won a school-record 30 games and came up just short in the national championship game, losing to Virginia. Beard was named the AP's National Coach of the Year that season. 
Texas Tech plays tough Big 12 contest against West Virginia
The No. 7 Texas Tech Red Raiders hosted the No. 14 West Virginia Mountaineers in a pivotal Big 12 matchup in Lubbock. It was the sixth meeting between the two programs when both teams were ranked.
The crowd of just under 5,000 in attendance watched West Virginia's Sean McNeil catch fire early, hitting shot after shot and finishing the first half with 15 points as the visitors led 40-34 going into the break.
The Red Raiders defense clamped down in the second half, and star Mac McClung came to life, tying up the score at 60 with less than seven minutes remaining. However, the Mountaineers answered each time Tech got close and went on to win the contest 82-71. 
Texas Tech head coach ejected after epic rant screaming at officials without a mask
Moments before the game ended, there were plenty of fireworks on the floor when Texas Tech head coach Chris Beard went ballistic in an epic tirade the was very reminiscent of Bob Knight's days on the South Plains. 
During a timeout with 23 seconds remaining, a maskless Chris Beard began screaming at officials, punching the air with his fists multiple times. Members of his coaching staff intervened. Beard then walked over to the three-point line near the top of the key on the Tech end of the floor and dropped to the ground, where he mockingly gave a timeout sign to the official. 
That move prompted one of the officials to give the Texas Tech head coach a technical foul and eject him from the game, which only elevated his anger. Beard then began walking toward the officials, when another one of his coaches intervened. After briskly walking over and giving West Virginia head coach Bob Huggins a fist bump, Beard walked back toward the officials, was once again intercepted by one of his coaches, before heading for the exit.
After the game, the Texas Tech head coach addressed the situation. 
"There was no message there. I just thought there was still time from a coaching standpoint, you got to fight for your players," Beard said. 
It wasn't Beard's finest moment at Tech, but it was certainly a memorable one. Somewhere Bob Knight is smiling. 
Like Sportscasting on Facebook. Follow us on Twitter @sportscasting19.