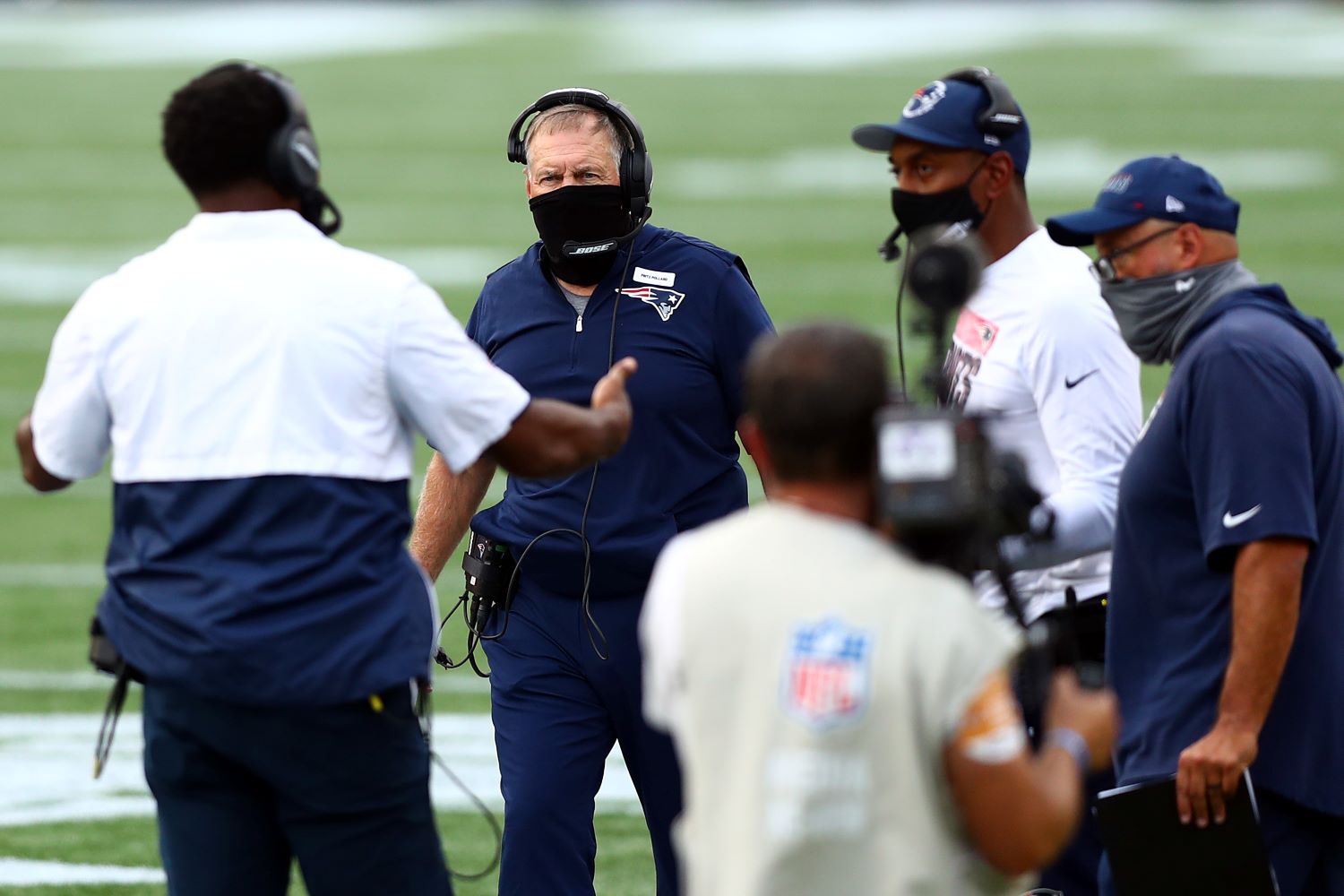 The New England Patriots Just Suffered a Brutal COVID-19 Setback
Just one day after Cam Newton and Stephon Gilmore returned to practice, the New England Patriots suffered a brutal COVID-19 setback.
Just a day after getting their two biggest stars back, the New England Patriots just suffered a brutal COVID-19 setback. Dealing with the coronavirus has been a theme all season for Bill Belichick, who lost a league-high eight players to the COVID-19 opt-out policy.
Now, the NFL faces a monumental decision in deciding whether the Patriots and Broncos can still play on Sunday.
The Patriots have been hit hard by COVID-19 this season
COVID-19 has inflicted a brutal impact on the Patriots' 2020 season. First, eight players opted-out. With key starters like Dont'a Hightower, Pat Chung, and Marcus Cannon unavailable, New England has had to rely on young, untested players.
The Patriots then suffered a huge blow just hours before departing for Kansas City when news broke that Cam Newton tested positive for COVID-19. Bill Belichick had to resort to starting Brian Hoyer against the defending Super Bowl champions. The veteran failed to manage the game effectively. Despite a valiant effort on defense, New England lost 26-10.
Just two days later, Stephon Gilmore also tested positive for COVID-19. That forced the NFL to postpone the Patriots' Week 5 matchup against the Broncos.
New England suffers a brutal COVID-19 setback
On Tuesday, the Patriots got some good news when no players tested positive for two consecutive days. On Thursday, Newton and Gilmore returned to practice after spending time on the reserve/COVID-19 list.
However, New England just suffered a brutal setback courtesy of the coronavirus. ESPN's Mike Reiss (along with Field Yates) reported via Twitter that the Patriots canceled Friday's practice after a positive COVID-19 test. According to Reiss, the team awaits confirmation of a second positive test.
Considering they just got their two top stars back a day ago, this represents a massive setback for a team that continues to get hit hard by COVID-19. The Patriots' latest case will force the NFL to make a difficult decision.
Will the NFL postpone the Patriots-Broncos matchup again?
Needless to say, the 2020 NFL season has been drastically affected by COVID-19. With multiple teams experiencing positive cases, the league has already had to alter its schedule.
The Patriots and Broncos were supposed to play last Sunday before the NFL postponed the matchup due to New England's COVID-19 situation. But given the Patriots' latest setback, it seems like Sunday's rescheduled showdown could be in jeopardy.
According to ESPN's Adam Schefter, the NFL faces a unique challenge in determining what will happen between the Patriots and Broncos. Because the two teams already had their byes, there is little flexibility to push the game back.
But no matter what the league thinks is right, it must do what's best to protect the players, coaches, and everyone else involved in football operations. Putting those people at risk simply to play a game seems like a short-sighted decision by a league that clearly has not managed to keep COVID-19 at bay as the NBA did.
Ultimately, Roger Goodell needs to show more adaptability and flexibility with the schedule. The league can afford to add another week to the end of the season, eliminate playoff byes, and even push the Super Bowl back in order to keep its constituents safe.
But will the NFL move the game again? Or will Goodell force the Patriots and Broncos to keep business moving?
Your call, commissioner.
Like Sportscasting on Facebook. Follow us on Twitter @sportscasting19.