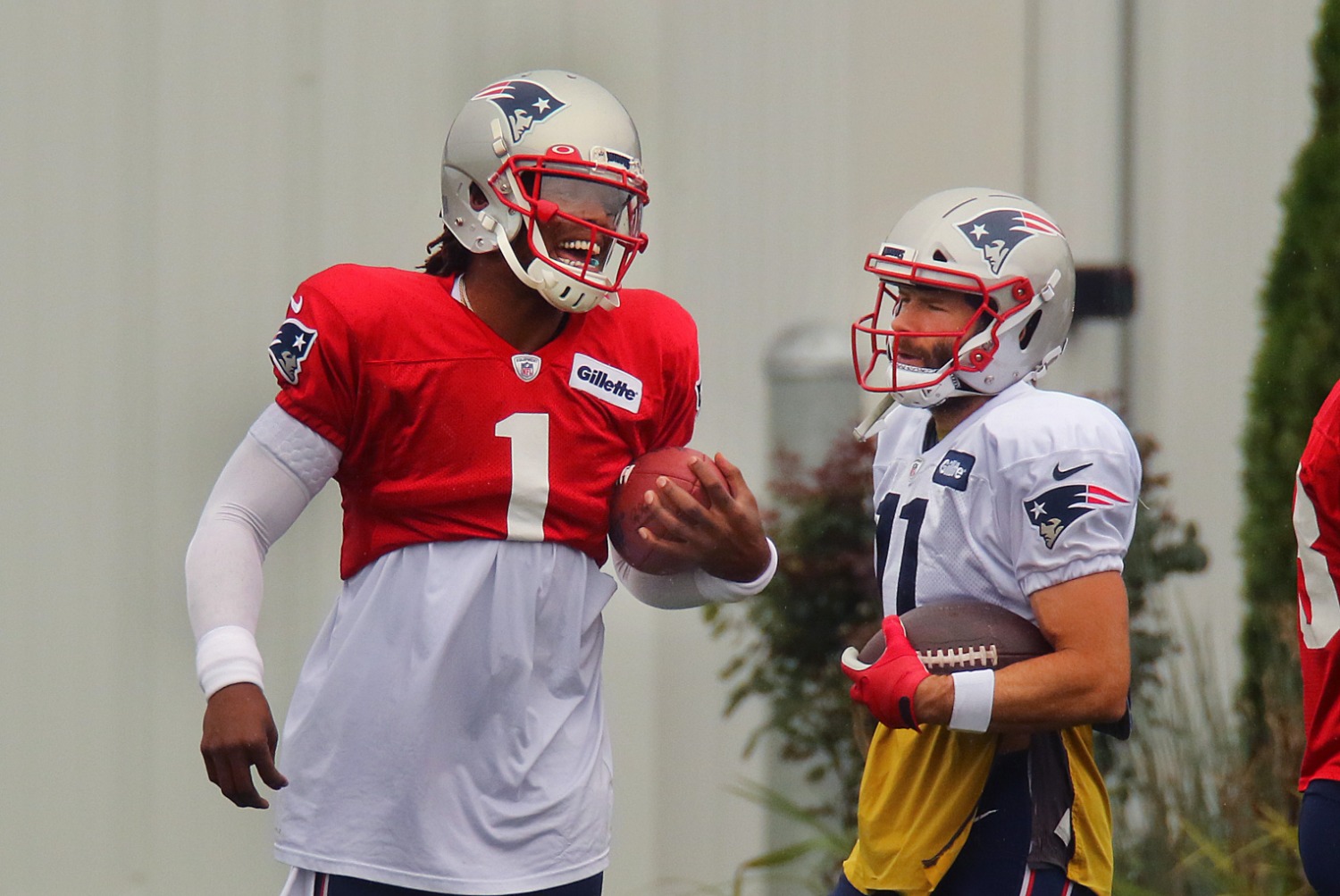 Cam Newton Just Sent a Clear Message About Fixing the Patriots' Biggest Weakness
Cam Newton just silenced any doubts about the Patriots' glaring weakness. But that shouldn't stop Bill Belichick from adding another WR.
Bill Belichick excels at most aspects of running a football operation. However, he has struggled mightily to find wide receivers. Sure, he stole Julian Edelman in the seventh round…back in 2009. Since then, the New England Patriots have utilized free agency and the NFL draft in an effort to bolster their pass-catching group. Still, Belichick's inability to find quality receivers has left Cam Newton with a collection of unproven wideouts beyond Edelman.
Yet, even though many view New England's receivers as a major issue, Newton does not agree. In fact, on Tuesday, he sent a clear message about fixing the Patriots' biggest weakness. But will Belichick import another wideout to give the Patriots' passing game a sizable boost?
The Patriots have plenty of question marks at wide receiver
Cam Newton did not have a great cast of weapons during his days with the Carolina Panthers. Unfortunately for the league MVP, he joined a New England team that also lacks proven playmakers outside of Edelman and James White.
Bill Belichick finally spent a first-round pick on the receiver position in 2019. However, N'Keal Harry could not stay healthy and failed to build chemistry with Tom Brady. As a result, the former Arizona State star caught only 12 passes in seven regular-season games. Harry hauled in just two of his seven targets in New England's playoff loss to the Tennessee Titans.
Newton and Harry did work out together during the offseason, which has paid off early on. The Patriots' top draft pick from 2019 has hauled in 13-of-18 targets for 111 yards through two weeks. Still, Harry has a long way to go to prove Belichick made the right call taking him 32nd overall.
New England's other receivers include Damiere Byrd, Jakobi Meyers, and Gunner Olszewski. Byrd joined the Patriots on a one-year contract after totaling just 44 catches in his first four NFL seasons. Meyers caught 26 passes in 2019 after making the team as an undrafted free agent.
Olszewski also earned a roster spot after going undrafted. Expected to take a significant leap this season, the promising wideout got placed on injured reserve to start the year and won't be back for at least a few weeks.
On paper, the Patriots do not appear to have a Super Bowl-caliber group of receivers.
Cam Newton sends a clear message about fixing the Patriots' biggest weakness
Cam Newton showcased the full range of his dynamic skill set on Sunday Night Football. Though he failed to punch the game-winning touchdown over the goal line, the former MVP looked like his vintage self. Newton completed 30-of-44 attempts for 397 yards and a touchdown. He also added two more scores on the ground.
However, despite solid performances by Edelman, Harry, and Byrd, Myers delivered just one catch on his lone target. The tight end position also provided next to nothing in the passing game. Meanwhile, the Seahawks got terrific efforts from D.K. Metcalf (4/92/1), Tyler Lockett (7/67/1), and David Moore (3/48/1).
The matchup clearly showed that New England lacks a game-changing receiver like Metcalf or Lockett. Given the fact that Byrd, Meyers, and Olszewski all entered the NFL as undrafted free agents, it certainly raises questions about whether the Patriots have enough pure talent at the receiver position to make another playoff run.
However, Newton sent a clear message about fixing the Patriots' biggest weakness during an appearance on WEEI's "The Greg Hill Show." When asked whether the Patriots need to add another wideout, the 31-year-old quickly put that idea to rest.
"The answers are in that locker room," Newton said. "Simple and plain. We got Little Bud [Byrd], Doughboy [Harry], Highway 11 [Edelman], and MyGerms [Meyers]. We good to go."
New England could still use another weapon
Although Cam Newton just gave a surprising endorsement of his receivers, that shouldn't stop Bill Belichick from searching for an upgrade. Edelman is 34 and already looks to be fighting his way through various bumps and bruises. To expect him to continue to carry the load on a weekly basis seems like a risky proposition given his age and injury history. Plus, Harry has to produce consistent results in order to convince Patriots fans that he deserved to be a first-round pick.
If Belichick wants to swing for the fences and add a premier talent, he should look no further than Allen Robinson. The Chicago Bears receiver wants a new contract, and New England has ample cap room to accommodate a long-term deal. Of course, the Patriots would have to send valuable draft capital to the Bears to secure Robinson's services.
Odell Beckham Jr.'s name has also been floated in trade talks once again. The Cleveland Browns star worked out with Newton during the offseason, which only sparked rumors about a possible union with the Patriots.
Could Belichick finally pull the trigger and acquire the game-changing wideout? It would also cost the Patriots at least a high draft pick or two and require the team to take on his expensive contract.
Plus, would the Browns be willing to part with their most talented offensive weapon in a year where Baker Mayfield needs to prove he deserves a contract extension?
Ultimately, Cam Newton may be happy with his current receivers, but Bill Belichick shouldn't hesitate to make an upgrade.
All statistics courtesy of Pro Football Reference.