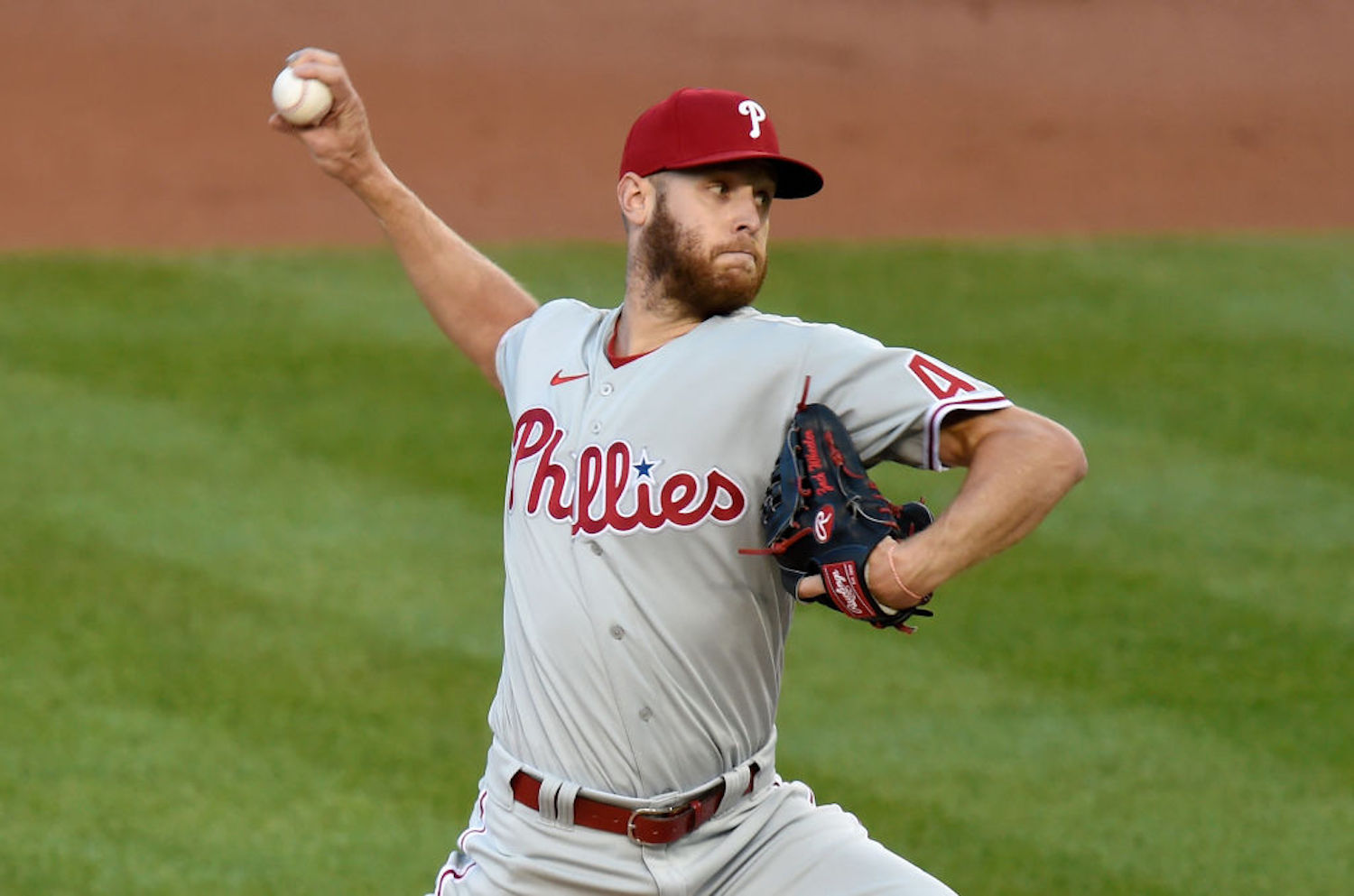 The Philadelphia Phillies Have Placed Their $118 Million Star on the Trade Block
Zach Wheeler signed a five-year, $118 million contract with the Phillies just last year, but the team is already looking to trade him.
Zach Wheeler signed a five-year, $118 million megadeal last offseason and immediately became the Philadelphia Phillies' most reliable starting pitcher, but the team is already looking to deal the hard-throwing righty.
The Phillies are reportedly in a 'financial crunch,' and they've been in talks with other teams about a potential Wheeler trade. With J.T. Realmuto possibly leaving in free agency and Wheeler seemingly on his way out of town, it's unclear what the direction of the franchise is moving forward.
Zach Wheeler signed a $118 million contract last year
Last offseason, the Phillies were in dire need of a No. 2 starting pitcher to pair with Aaron Nola. That's exactly what they found in Zach Wheeler, who has a lifetime 3.70 ERA.
Philadelphia unloaded their cap room to get him, too. The Phillies gave Wheeler a five-year contract worth $118 million, which made him the second-highest-paid player on the team behind Bryce Harper.
The Phillies hoped Wheeler would come in and give the team one of the best one-two punches in the MLB next to Nola. They struggled to find any reliable starting pitchers behind Nola since the LSU product joined the team in 2015, but Wheeler finally gave them a sturdy No. 2.
Wheeler was the Phillies' best pitcher in 2020
Wheeler was expected to join the fold and serve as a complimentary starter behind Nola in the rotation, but he far exceeded expectations in year one with the Phillies. In fact, Wheeler had his best all-around season as a pro in his first year in Philadelphia.
Wheeler won three out of his first four starts and finished the season with a 4-2 record. His 2.92 ERA was the 15th-lowest in the MLB last year. He didn't give up more than four runs in any game in all of 2020.
Wheeler wasn't just the most productive starter for Philly all season, but he also consistently went deep into games and gave the Phillies' underwhelming bullpen a breather. The righty went at least seven innings in five of his 11 starts, and he never went fewer than 5.2 innings in any appearance.
The Phillies broke the bank for a No. 2 starter and lucked into a No. 1 ace in the process, but they might be moving on from him after just one season.
The Phillies have placed Zach Wheeler on the trade block
Wheeler is already living up to the $118 million contract he garnered last offseason, but the Phillies don't seem to care. Buster Olney of ESPN is reporting Philadelphia is seeking trade partners for Wheeler due to a 'financial crunch.'
It's an odd development just two years after team owner John Middleton said the franchise was willing to spend 'stupid' money in free agency to improve the team.
"We're going into this expecting to spend money," Middleton told USA Today Sports in 2018. "and maybe even be a little bit stupid about it."
That's exactly what they did when they paid Bryce Harper $330 million in 2019 and then gave Wheeler $118 million the next offseason. Apparently, Middleton quickly learned that money doesn't grow on trees, no matter how stupid it is.
If the Phillies deal Wheeler, it'll be clear the front office has no concrete plan for the future of the franchise, and big changes could be on the horizon.
All stats courtesy of Baseball Reference