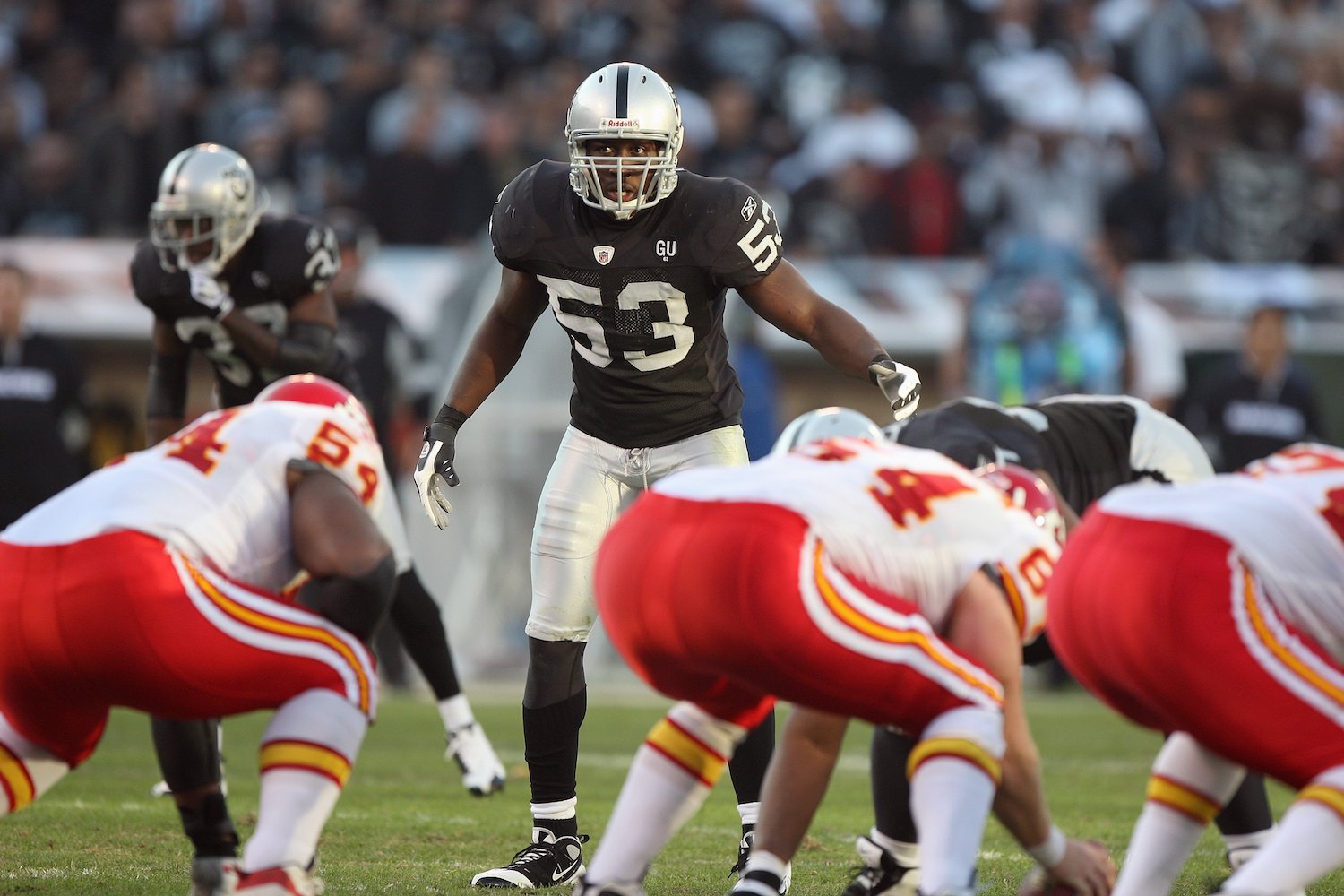 The Tragic Death of Raiders Veteran Linebacker Thomas Howard
Thomas Howard had a solid career with the Oakland Raiders for five seasons before helping the Cincinnati Bengals make the playoffs in 2011. He tragically died in a car accident in 2013.
In college, Thomas Howard was a relatively unknown linebacker at the University of Texas-El Paso. Despite that obscurity playing in the WAC, the then-Oakland Raiders drafted Howard in the second round of the 2006 NFL draft. Howard played five seasons with the Raiders and a couple more with several different teams before he was tragically killed in a car accident. Here's a look back at Thomas Howard's career and tragic death.
Thomas Howard's career
Thomas Howard came in as a rookie during the 2006 season and impressed. He started 15 games that first season and finished the season with 110 tackles. A great start for the rookie, but it was just a warmup for his second season.
During his sophomore season, Howard became a star for the Raiders defense. Not only was he a tackling machine with 96 tackles, he led the team and NFL in interceptions by a linebacker with six. More impressively, Howard turned two of them into pick-sixes. That season he also added a sack and a fumble recovery. 
Thomas Howard played three more seasons in Oakland before he was waived late in the 2010 season. He joined the Cincinnati Bengals in 2011 and was key on a Bengals defense that was solid and a big reason why the team made the playoffs. In 2012, that's when things went south after Howard suffered a torn ACL early in the season and missed the entire year. The following year he signed a deal with the Atlanta Falcons and appeared in two games before the team released him.
Thomas Howard's work outside of football 
While Thomas Howard was known for his work on the field blowing up opposing running backs and receivers who dared cross the middle, he also greatly impacted the local community. Because of his experience as a walk-on at UTEP, he understood the struggles many kids face trying to pursue a dream of attending college and playing athletics.
That's why in September 2009, he launched the Thomas Howard Foundation, which was designed to build partnerships and programs to enhance students' academic and athletic goals. The foundation developed a variety of scholarships including the Annual Walk-On Scholarship. 
In January 2010, Howard's foundation contributed money to the Bay Area After-School All-Stars, a program that provides free after school programming for underserved youth and serves 26 schools in the San Jose area. It was just another opportunity for Howard to help others pursue their dreams.
Howard's tragic death 
A week after Thomas Howard was released by the Falcons, he was back in California driving in the early-morning hours on an Oakland freeway at speeds in excess of 100 mph. At one point, Howard's vehicle hit a semi-truck, flipped over the center divider, and crashed into a vehicle traveling on the other side of the highway. Howard and the driver in the other vehicle both died. 
The news shocked the NFL and many of Howard's former teammates including fellow Raiders linebacker Kirk Morrison.
"Words really can't describe how I'm feeling right now," Morrison wrote on Instagram. "To get that dreaded phone call and hear someone tell you that one of your best friends is no longer with us is hard to grasp. The feeling of shock and disbelief can be unbearable at times but all I can remember is all the good times that we had. … I didn't lose a best friend or former teammate; I truly lost a brother today in Thomas Howard." 
Thomas Howard was 30 years old. 
All stats courtesy of Pro Football Reference.