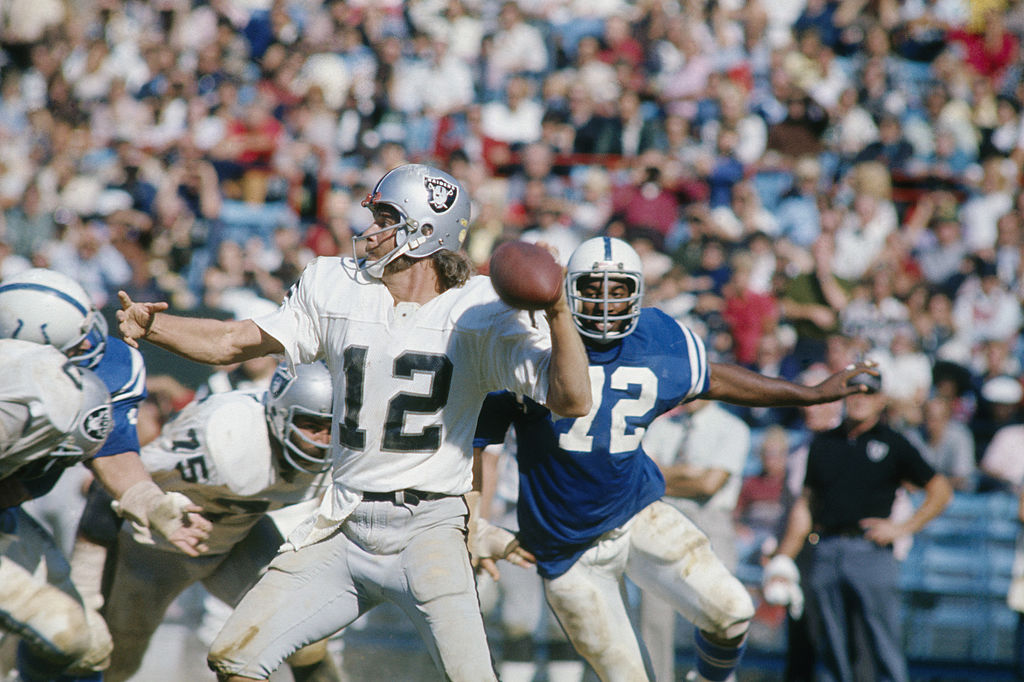 What Was Ken Stabler's Net Worth at the Time of His Death?
Ken Stabler is one of the most legendary quarterbacks in NFL history. Was Stabler able to capitalize on his skills and earn a lot of money?
The greatest quarterback of all-time debate is one of the most hot-button topics in the NFL. Tom Brady naturally receives a majority of votes these days, with Peyton Manning usually coming hot on his heels. Players like Joe Montana, Johnny Unitas, and Dan Marino also continue to receive lots of support, thanks to their now legendary status.
Yet for Oakland Raiders fans — especially those from older generations—the greatest quarterback debate must include Ken Stabler. Stabler was the backbone of some truly great Raiders squads in the '70s. Here we look back at Stabler's playing career, his post-NFL life, and his net worth at the time of his death in 2015.
Ken Stabler's NFL career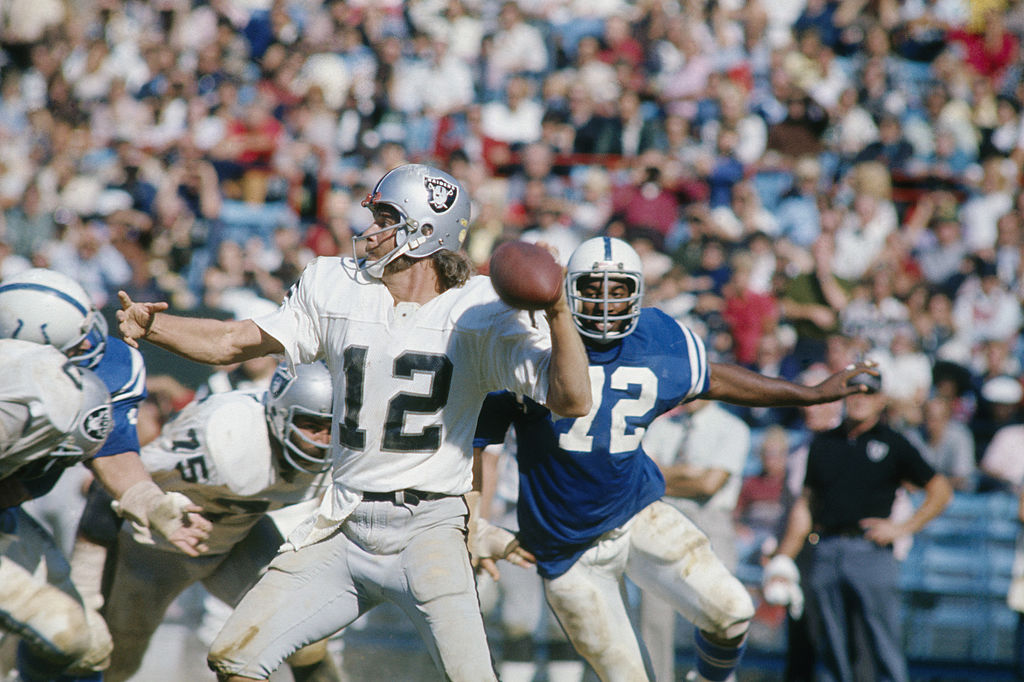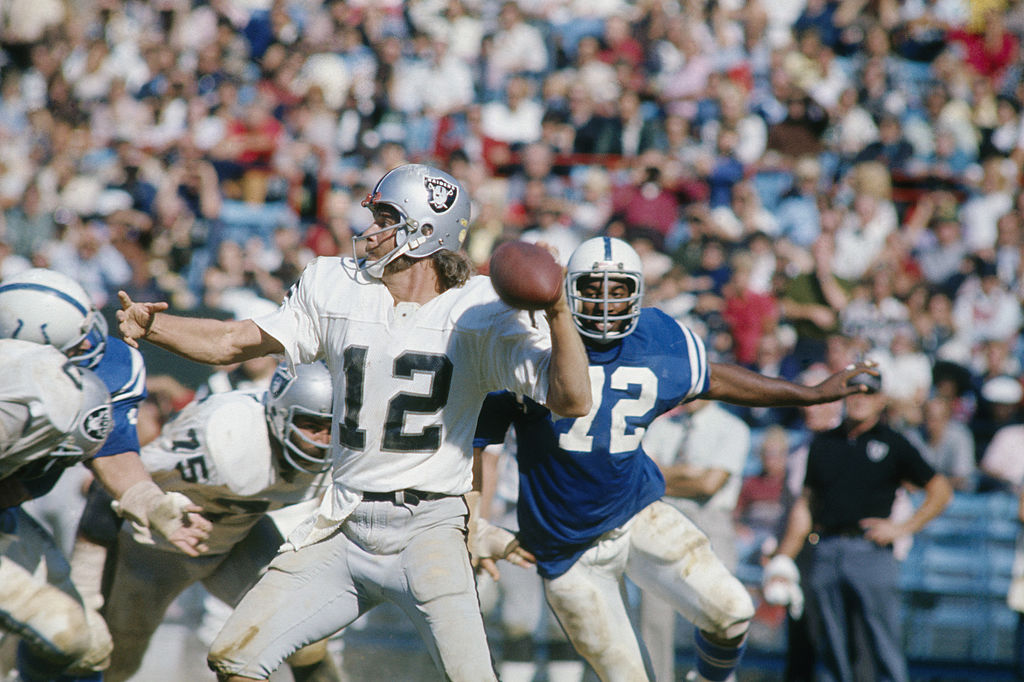 The Raiders selected Stabler in the second round of the 1968 NFL Draft, using the 52nd pick to snag the promising young quarterback. Stabler came off the bench for his first three years, before taking over as the starter. In his 15 season career, Stabler spent 10 years with the Raiders, then two with the Houston Oilers and three with the New Orleans Saints.
Stabler was selected to three Pro Bowls as a member of the Raiders. Arguably his greatest season came in 1976, when he threw 194 completions for 2,737 yards, with an impressive completion rate of 66.7%. Stabler led the Raiders to an 11-1 record in his 12 starts that season, ultimately steering them to a Super Bowl victory over the Minnesota Vikings.
In his prime, Stabler was a quarterback of the classic drop-back passing variety. Accuracy was always his hallmark, as was his ability to spur his teams into come-from-behind offensive drives. Not surprisingly, Stabler had plenty of highlight moments throughout his career. Perhaps the most memorable was his "Ghost to the Post" pass that helped push the Raiders to a 1977 AFC playoff victory versus the Baltimore Colts.
Across his entire career, Stabler racked up 27,938 total passing yards on 2,270 complete passes, with a 59.8% completion rate. He won one NFL MVP award, and was received two First-team All-Pro selections. His excellence as a player led him to be inducted into the Pro Football Hall of Fame in 2016. Sadly, that induction didn't come until the year after Stabler passed away.
Post-career moves and cancer diagnosis
Ken Stabler remained active in the world of football after his retirement as a player following the 1984 season. He soon took a position as a broadcast commentator on CBS. Later in the '90s, Stabler took a job as a radio announcer covering University of Alabama games. Stabler remained at that position through the end of the 2008 season.
Meanwhile, Stabler was involved in other business ventures. As with a lot of ex-players, some of those ventures panned out, but most didn't. Stabler also pursued some charitable work, founding and serving as the chairman of the XOXO Stabler Foundation. Over the years, he also participated in plenty of charity golf tournaments.
According to SB Nation, in February 2015, Stabler received a diagnosis of colon cancer. He had apparently been dealing with consistent pains in his stomach for some months prior.
Doctors determined that the cancer was already at Stage 4, giving him a maximum of two more years to live. Sadly, Stabler didn't get to make it that long, instead passing away in July 2015, at the age of 69.
Ken Stabler's net worth at the time of his death
NFL players of Stabler's generation were not nearly as well-compensated as those in the league today. Stabler also struggled to make sound financial decisions throughout his life.
Those issues came to a head in 2012, when a federal judge determined that Stabler owed in excess of $265,000 in unpaid income taxes. Even the sale of Stabler's home at the time was not enough to cover the debt.
Nonetheless, at the time of Stabler's death he had an estimated net worth of $300,000 according to Celebrity Net Worth. That seems to suggest that he had been able to square away his debts with Uncle Sam and put himself back in reasonably solid financial territory.