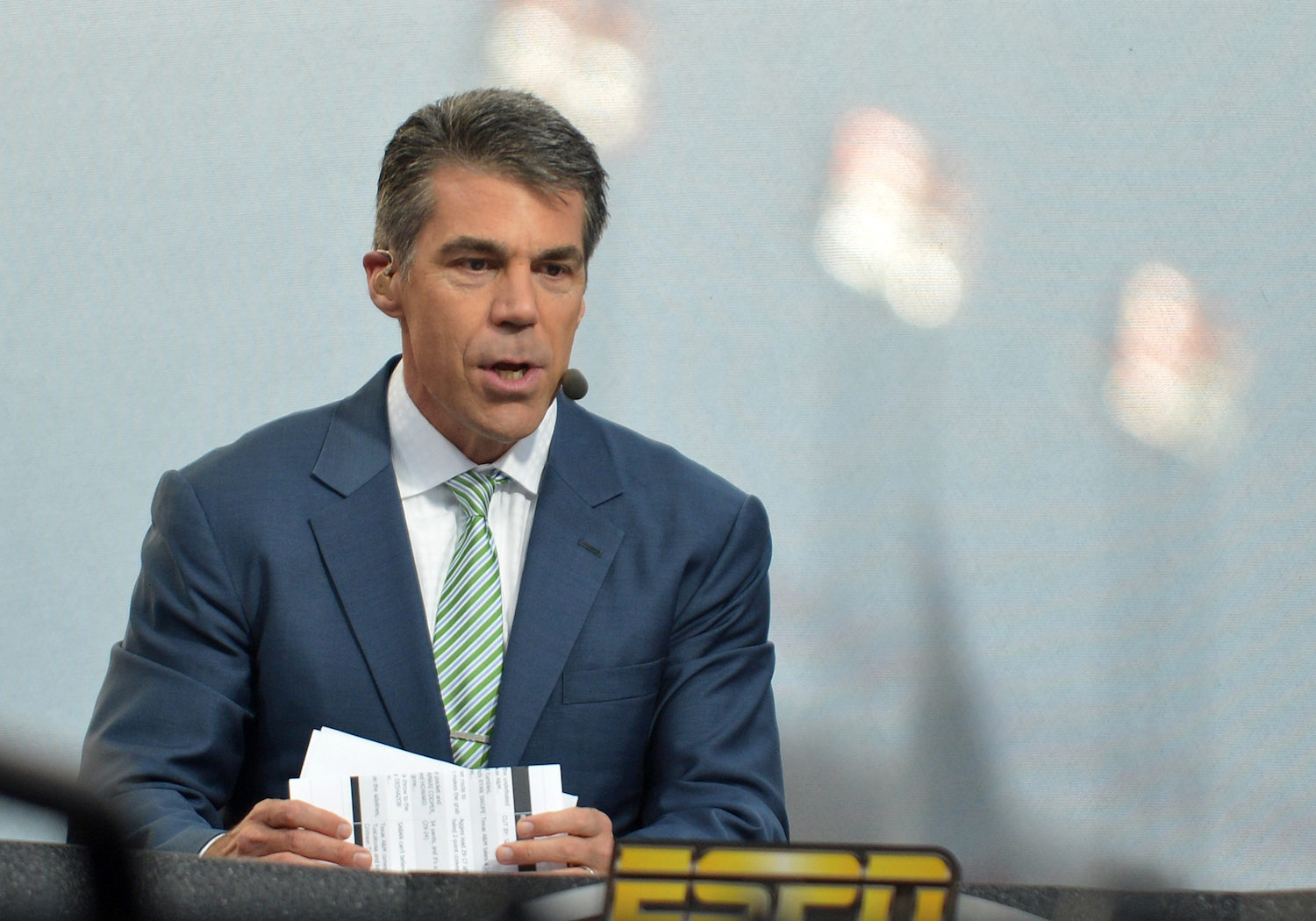 The Unbelievable Story How Chris Fowler Almost Died During a Broadcast but a Quick-Thinking ESPN Personality Amazingly Saved His Life
Since 2013, every day for Chris Fowler is living on house money. That's because he almost died during the middle of a broadcast but was saved by another on-air ESPN personality.
Chris Fowler has been a prominent voice in college football since 1990. He's been the lead announcer for some of the biggest games in recent memory and the voice of the College Football Playoff since it debuted in 2014. 
Incredibly, everything Fowler has done since 2013, including his work announcing every college football title game, has been on house money. That's because late in 2013, Fowler almost died right in the middle of a national broadcast. He only lived to tell about his near-death experience thanks to the quick thinking of another well-known ESPN personality. 
Chris Fowler's successful career spans a spectrum of sports
Chris Fowler joined ESPN back in 1986 working on Scholastic Sports America, a show that featured profiles of talented high school athletes in a variety of sports. A couple of years later and Fowler transitioned into the role of a college football sideline reporter. Two years later, he became host of College GameDay.
Fowler became synonymous with college football at ESPN and later at ABC when the two networks fell under the same umbrella. He's covered a lot of college football through the years, but to his credit, he hasn't limited his talent just to college football and has crossed over into other sports.
For years Chris Fowler has been a top announcer for ESPN on its coverage of the men's and women's Grand Slam tennis tournaments. He's covered men's college basketball and the Final Four. And he served as the ESPN studio host during the network's 2010 coverage of the FIFA World Cup in South Africa.  
Jesse Palmer's interesting career
While Chris Fowler is known for his sports broadcasting resume, Jesse Palmer is recognized by two very different audiences. 
Palmer played quarterback for the Florida Gators from 1997-2000. The New York Giants drafted him in the fourth round of the 2001 NFL draft. He played four seasons with the Giants as a backup and a brief time with the San Francisco 49ers.
In 2004, Palmer crossed over and became the first professional athlete to appear on the popular television program, The Bachelor. Palmer's relationship with Jessica Bowlin lasted just a couple of months. 
Palmer retired from football after a stint in the Canadian Football League and joined ESPN 2007. In 2008, Palmer became a college football analyst on the ESPN College Football Primetime Thursday game, joining announcer Chris Fowler and analyst Craig James in the booth.
Jesse Palmer saved Chris Fowler's life during a game broadcast  
At the end of the 2013 college football season, Chris Fowler and Jesse Palmer traveled to New York City and worked the Pinstripe Bowl at Yankees Stadium in a game between the Notre Dame Fighting Irish and Rutgers Scarlet Knights. 
It was an even contest through the first half, with both teams scoring 13 points heading into the break. At halftime, Fowler and Palmer grabbed a late lunch. That's when tragedy almost struck. 
According to Chris Fowler, he almost choked to death on a "dry chicken sandwich," but Palmer saved him using the Heimlich maneuver. He detailed the terrifying events on Twitter following the game.
"Never before needed a Heimlich at halftime. (Or any time)! thanks Jesse Palmer! He saved me from death by dry chicken sandwich. Really," Fowler wrote, making sure those who read his tweet knew he wasn't kidding. He followed it up a few minutes later with another tweet confirming the serious nature of the situation, sprinkling in some humor as well.
"Not bad to have quick thinking, ex-NFL player around when Heimlich needed. I'll take bruised ribs to avoid choking!" he said.
Thankfully, Jesse Palmer came to the rescue that day in a broadcast booth at Yankees Stadium and the veteran ESPN reporter avoided The Onion-esque headline — "Chris Fowler Killed by Fowl Sandwich." 
Like Sportscasting on Facebook. Follow us on Twitter @sportscasting19.