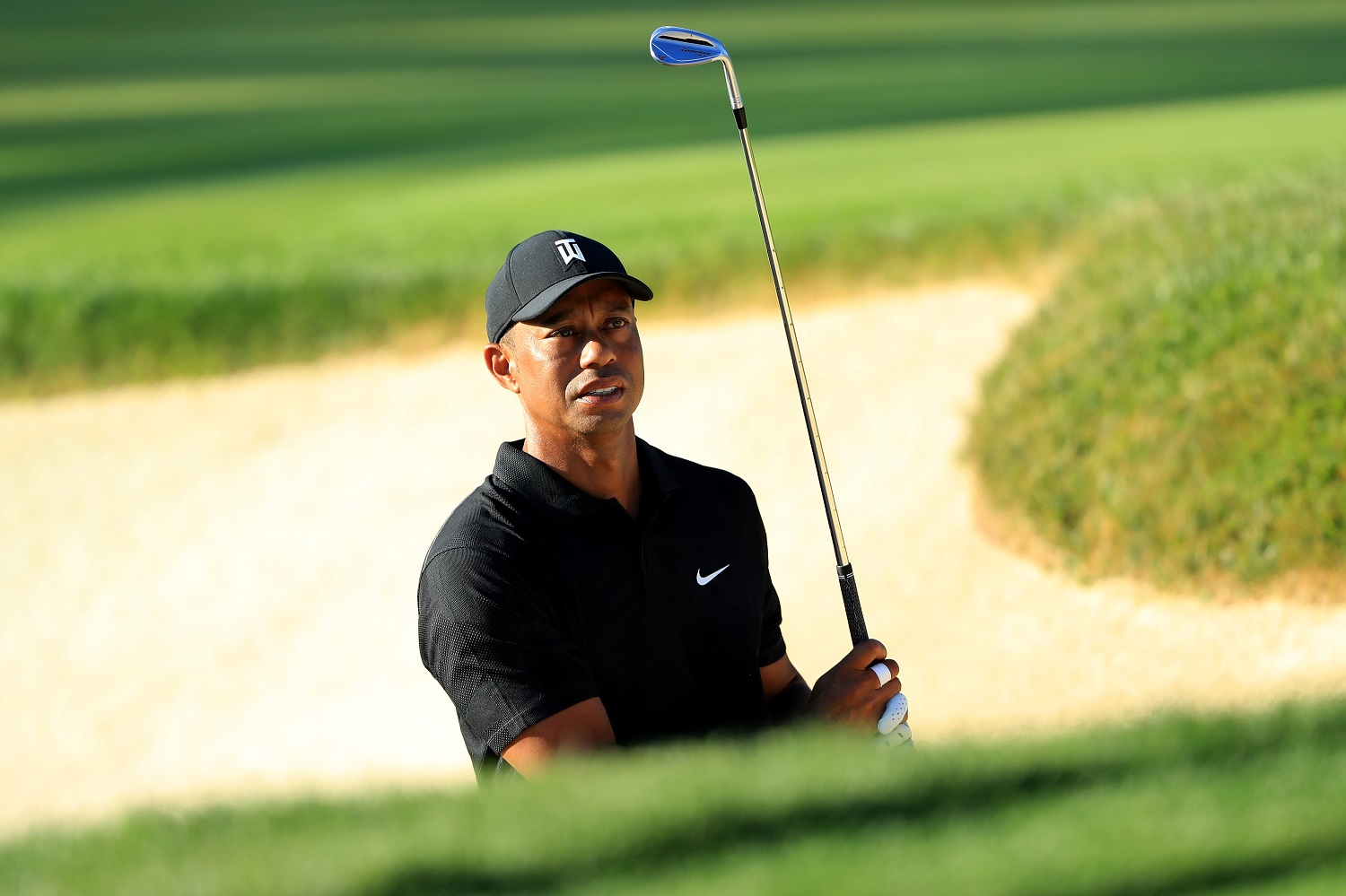 Tiger Woods Explains His PGA Tour Absence, Praises Black Lives Matter Movement
Ahead of his return to the PGA Tour, Tiger Woods explained what's kept him away from competitive golf and also praised Black Lives Matter.
After five months away, Tiger Woods is set to make his highly-anticipated return to the PGA Tour this week at the Memorial at Muirfield Village, a tournament he's won a record five times.
Ahead of his return, the 15-time major champion revealed what's kept him away from returning to competitive golf since the season restarted last month while also speaking on the Black Lives Matter movement.
Tiger Woods hasn't played a PGA Tour event since February
The last time Tiger Woods teed it up in a PGA Tour event was back in February at the Genesis Invitational at Riviera Country Club, a course that's long given him a tough time. That particular week proved to be the worst showing he's had there as Woods placed dead last of the players who made the cut for just the second time in his career, the first coming at the Memorial in 2015, a week that included the worst round of his professional life.
Following the Genesis, citing lingering back issues, Tiger Woods opted out of many tournaments in which he usually plays, including the Arnold Palmer Invitational at Bay Hill, where he's won eight times. He also skipped out on The Players Championship, which was canceled after just one round due to COVID-19 concerns. That was the last round played on the PGA Tour for three months.
There have been five tournaments since the tour restarted its season last month and Tiger hasn't played in any of them. While none of them would normally be on his schedule, some thought he might play in at least one to get some competitive reps in but he chose not to do so and has finally revealed why.
Tiger Woods commends what the PGA Tour has done since the season restarted
As Tiger Woods looked fantastic during "The Match" in May in which he and Peyton Manning defeated Phil Mickelson and Tom Brady, it seemed that any lingering injuries wouldn't be a factor when the PGA Tour season restarted last month. But when each week passed and he didn't enter a tournament, there was that concern from golf fans.
But Tiger put those issues to bed ahead of the Memorial as he said he chose to stay away as he wanted to see how things went for a while before making a decision on when to return. He commended the PGA Tour on the measures they've put in place to keep golfers safe during this pandemic but also said that there's still a risk for anyone to come out and play, with or without spectators, of which there won't be any until at least September. (h/t CNN)
"I'm used to having so many people around me or even touch me, going from green to tee. That's something that I looked at and said, well, I'm really not quite comfortable with that, that whole idea. Let's see how it plays out first and let's see how the Tour has played out, how they've started, and I feel that I'm comfortable enough to come back out here and play again, and I'm excited to do it.

"The Tour has done a fantastic job to protect us and to ensure we're all safe. But it is now a risk that you're taking when you're outside your property and around individuals that you don't know where they've been and what they've been doing.

"But the screening and testing we've done, the protection we've tried to implement on the Tour have shown that we've had to make adjustments, but it's a risk I'm willing to take."

Tiger Woods
A win at the Memorial would be Tiger's 83rd PGA Tour victory, which would give him the all-time record on his own. Woods is currently tied with Sam Snead atop the all-time wins list.
He praised the Black Lives Matter movement
This is obviously Tiger Woods' first tournament since the death of George Floyd and as one of the only black players on the PGA Tour, he was asked his thoughts on the matter and the Black Lives Matter movement as a whole. Soon after Floyd's death, Tiger released a statement (seen above) saying that while he respects law enforcement, there was a line crossed in that particular situation and hoped that people would educate themselves as opposed to "burning the very neighborhoods that we live in."
In his presser ahead of the Memorial, Woods called the Black Lives Matter movement "fantastic" and hopes that it helps society move forward in the long-lasting search for equality while also again emphasizing peaceful measures.
"I think change is fantastic. As long as we make changes without hurting the innocent — and unfortunately that has happened, hopefully it doesn't happen in the future — but a movement and change is fantastic.

"That's how society develops. That's how we grow. That's how we move forward. That's how we have fairness. Unfortunately, we've lost innocent lives along the way, and hopefully we don't lose any more in the future as we move to a much better place socially."

Tiger Woods
A lot of eyes will be on Tiger Woods this week for a lot of different reasons. He begins his week at the Memorial on Thursday afternoon at 1:17 p.m. Eastern in a huge grouping alongside world No. 1 Rory McIlroy and four-time major champion Brooks Koepka.