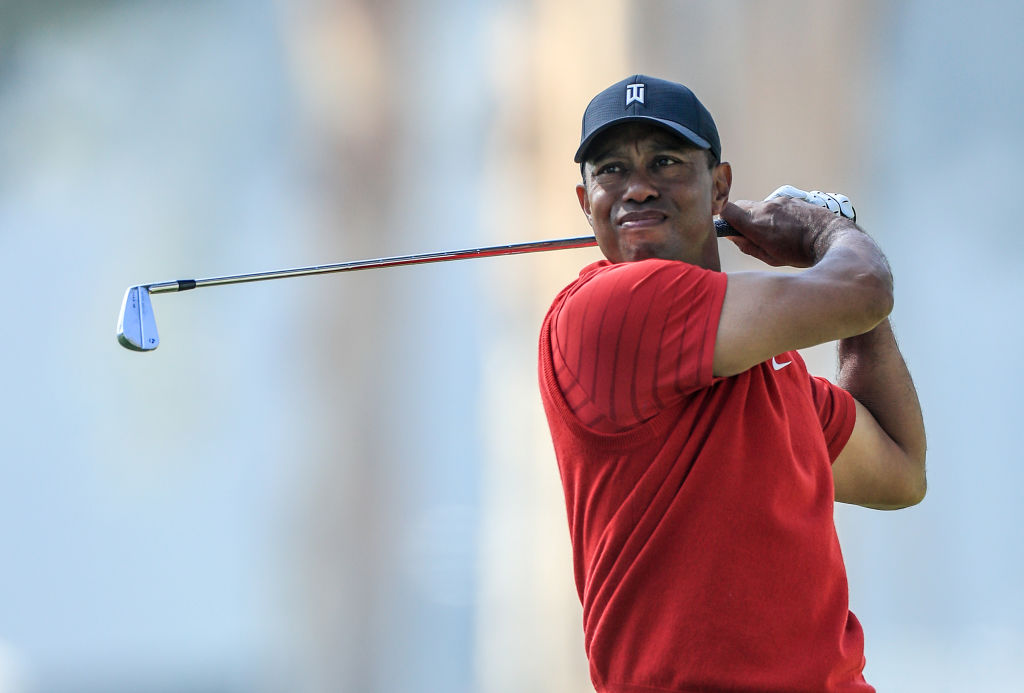 Tiger Woods is Heading to the Hall of Fame
Tiger Woods has been named as one of 10 finalists for the World Golf Hall of Fame Class of 2021. This is Tiger's first year of eligibility.
Tiger Woods has a long list of accolades. You can now add Hall of Famer to that list.
While it's not official just yet, Tiger was named as one of 10 finalists for the World Golf Hall of Fame's class of 2021 on Tuesday evening. There's absolutely no reason to believe that Woods won't get in when the official vote takes place next week.
In 2016, the World Golf Hall of Fame, which is located just outside St. Augustine, Florida, changed the rules of eligibility, requiring a player to be at least 50 years old before being inducted. That was changed to 45 in 2020. Tiger Woods turns 45 this December, thus making him eligible for the first time. Players such as Phil Mickelson and Ernie Els were inducted when the age requirement was still 40.
Tiger Woods' HOF qualifications
Is there really any doubt on whether Tiger Woods gets the votes needed to be inducted into the World Golf Hall of Fame? The list of accolades speaks for itself.
It starts with the 15 major championship victories, which is second on the all-time list behind only Jack Nicklaus' 18. Tiger won his first major with a record-setting performance at The Masters in 1997 at just 21 years of age. He strung together the greatest stretch of golf the world has ever seen at the turn of the century, a stretch during which he won the 2000 U.S. Open, the 2000 Open Championship, the 2000 PGA Championship, and the 2001 Masters. Nobody in the history of the sport has ever held all four professional major titles at one time. Tiger's most recent major win came at The Masters in 2019, considered by some to be one of the greatest comeback stories in sports history.
Then there's the matter of the 82 wins on the PGA Tour, which is tied for the all-time lead with Sam Snead. After turning pro in August 1996, Tiger won his first title in Las Vegas in just his fifth professional start and won again two tournaments later, jumpstarting a career that is easily one of the best the game has ever seen. Woods won five or more events in 10 different PGA Tour seasons.
Who else is in the HOF class of 2021?
Tiger Woods was just one of 10 finalists named for the World Golf Hall of Fame class of 2021. He was one of four male players considered for induction. Woods was joined by Padraig Harrington, Tom Weiskopf, and Johnny Farrell. Harrington is a three-time major championship winner, with wins at The Open Championship in 2007 and 2008, and also the 2008 PGA Championship. Harrington has 31 professional wins to his credit. Weiskopf won 16 PGA Tour events in his career and also won The Open Championship in 1973. The late Johnny Farrell racked up 22 PGA Tour wins and won the U.S. Open in 1928.
The four women's players named as finalists were Dottie Pepper, Sandra Palmer, Beverly Hanson, and Susie Maxwell. Dottie Pepper won 17 LPGA Tour events, including two major championships. She's gone on to become one of the best broadcasters in the game for CBS. Palmer won 19 LPGA events and won two majors of her own. Hanson also won 17 events, including three major titles. Maxwell won 11 tournaments and two majors.
Former PGA Tour commissioner Tim Finchem and the late Marion Hollins, one of the game's earliest female golf course developers, make up the contributor category, which used to be the Lifetime Achievement Award.
When will Tiger be inducted into the Hall of Fame?
While the ceremony won't take place until sometime next year (the date has yet to be announced), the 20-person committee, which is comprised of a panel of Hall of Fame members, will officially vote on who's in and who's out next week. Tiger Woods and the other nine finalists were chosen by a 26-person committee that included Colin Montgomerie and Mark O'Meara.