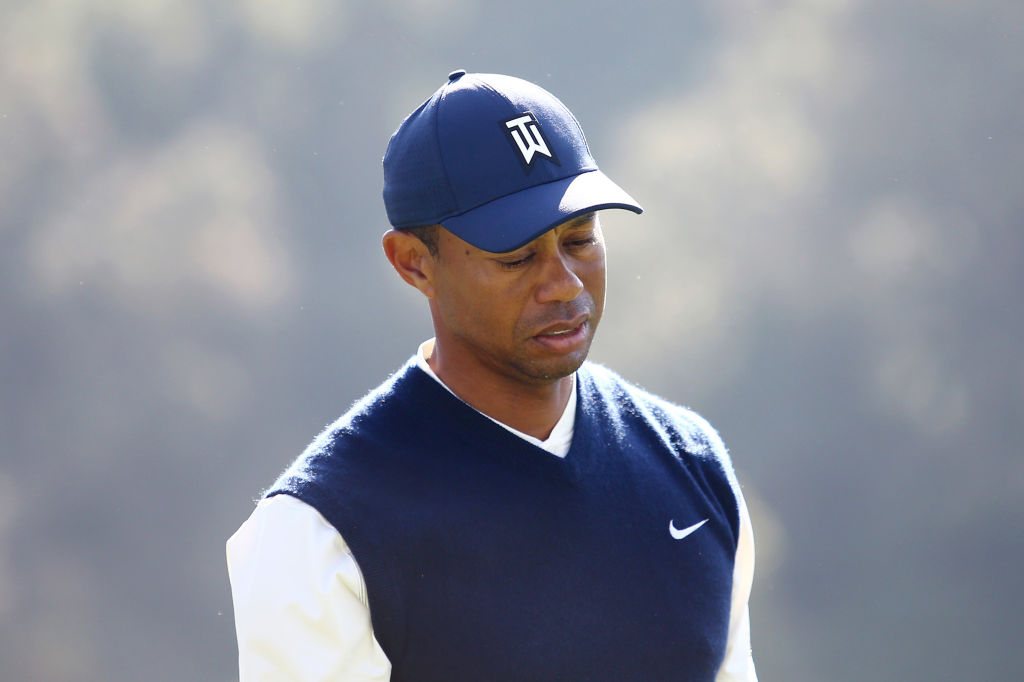 Tiger Woods Out for Bay Hill, Will He Play Again Before The Masters?
Tiger Woods will not play at the Arnold Palmer Invitational at Bay Hill. Will the 82-time PGA Tour winner tee it up again before The Masters?
Tiger Woods is out at the Arnold Palmer Invitational at Bay Hill for the second straight year.
Tiger had until 5:00 p.m. Eastern on Friday to make a decision on whether or not to tee it up next week and the 82-time PGA Tour winner has decided against it. Woods' longtime agent, Mark Steinberg, confirmed the news to ESPN.com, saying that Tiger's back was "still stiff" and that he's "just not quite ready." Woods also missed the tournament last year due to a neck strain.
With the news, one has to wonder when Tiger Woods will tee it up next. He hasn't played since his last-place finish at The Genesis Invitational and hasn't competed in back-to-back weeks all year. Will he even play at all before attempting to defend his title at The Masters?
Tiger Woods has owned Bay Hill in the past
Part of the shock of this announcement is that Tiger has had so much success at the Arnold Palmer Invitational in the past. He's won the tourney a record eight times, including a stretch of four in a row from 2000-2003. He went back-to-back in 2008 and 2009 and did it again in 2012 and 2013.
Woods has played the tournament 18 times since turning pro in 1996. The 44.4 percent winning percentage is just unheard of. In 70 competitive rounds at Bay Hill, Tiger has a stroke average of 68.428 and has racked up more than $7.66 million in prize money. In his most recent outing at Arnie's place, Woods tied for fifth, eight shots back of winner Rory McIlroy.
Tiger's history with back issues
Tiger Woods has a long history with back trouble. He had his first back surgery for a pinched nerve in March 2014, which caused him to not only miss the Arnold Palmer Invitational but The Masters and U.S. Open as well. He underwent a second surgery, a micro-discectomy procedure, in September 2015, and then a third surgery that October. Woods missed a full year of golf in 2016, marking the first time in his career in which he didn't play in at least one major.
In April 2017, Woods underwent his fourth and final back surgery to date, a spinal fusion that also helped alleviate some of the pain in his legs. Woods again missed all four majors but made a roaring comeback in 2018, finishing in the top 10 in both The Open Championship and the PGA Championship. He notched his first win in more than five years at the Tour Championship in September 2018.
Since then, the back troubles that plagued Woods for years seemed to have been mostly a non-issue. He would cite pain here and there but had a stellar 2019, picking up his fifth green jacket at The Masters and winning his 82nd PGA Tour event this past October, tying him with Sam Snead at the top of the all-time list. Many thought Bay Hill would be the best chance for him to pick up that 83rd victory.
Could we possibly be in for another stretch where we don't see Tiger Woods playing for a while?
Will Tiger tee it up before Augusta?
To be fair, after missing Bay Hill a year ago, Tiger did play the following week at The Players Championship at TPC Sawgrass, where he's won twice. He also played the WGC-Match Play event and reached the quarterfinals. So there is some optimism there. Woods has long said that he prepares his body to be ready for the major championships, especially as he's gotten older.
But this is an issue with his back. Tiger said he felt some discomfort at Riviera and decided to skip out on the WGC-Mexico Championship, which caught many by surprise as he played in that event last year. Now that he's out at Bay Hill, is this a major concern? Woods is 44 years old and has had eight surgeries between his back and knees. Yes, there's obviously the chance that he's simply being cautious. Woods only played five times before The Masters last year and that obviously went fine.
If he does tee it up at The Players and the Match Play, that would be four tournaments before Augusta, including The Genesis and his T-9 finish at Torrey Pines in January. As always, the golf world will be sitting on pins and needles to see what Tiger Woods does next. The Masters begins on April 9.