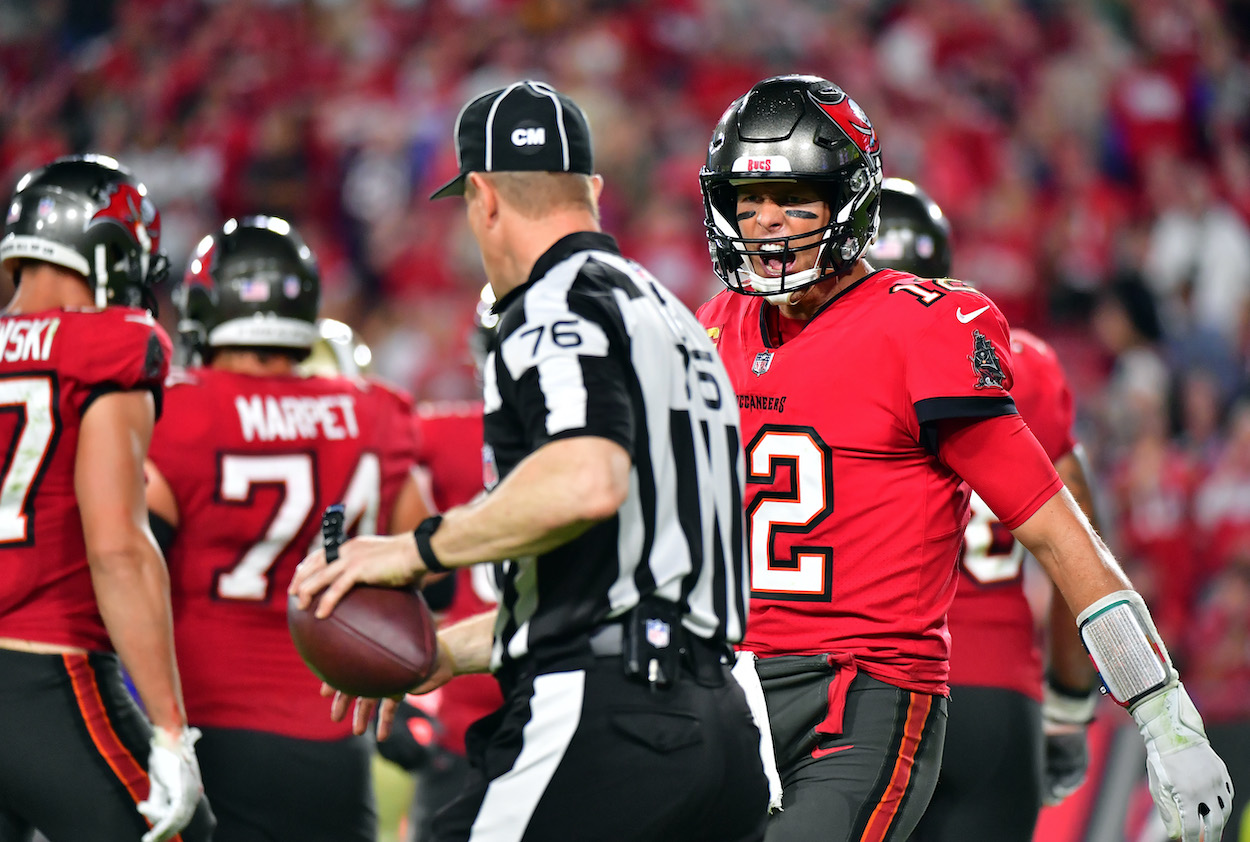 Tom Brady Admits NFL Referees Let Him Get Away With More Than Other QBs: 'I'm Kind of a Pain'
Tampa Bay Buccaneers QB Tom Brady may not get special treatment for roughing the passer, but referees do let him get away with one thing that other players can't.
Tampa Bay Buccaneers quarterback Tom Brady is the face of the NFL. He has been for nearly two decades now. He is the Golden Boy, the GOAT, TB12. And, as such, he gets more calls from NFL referees than most signal-callers, right?
Looking at the statistics, that may not be the case in some aspects of the game. However, there is one area where Brady admits he gets more leeway than almost anyone else.
Tom Brady doesn't get as many roughing the passer calls as you'd think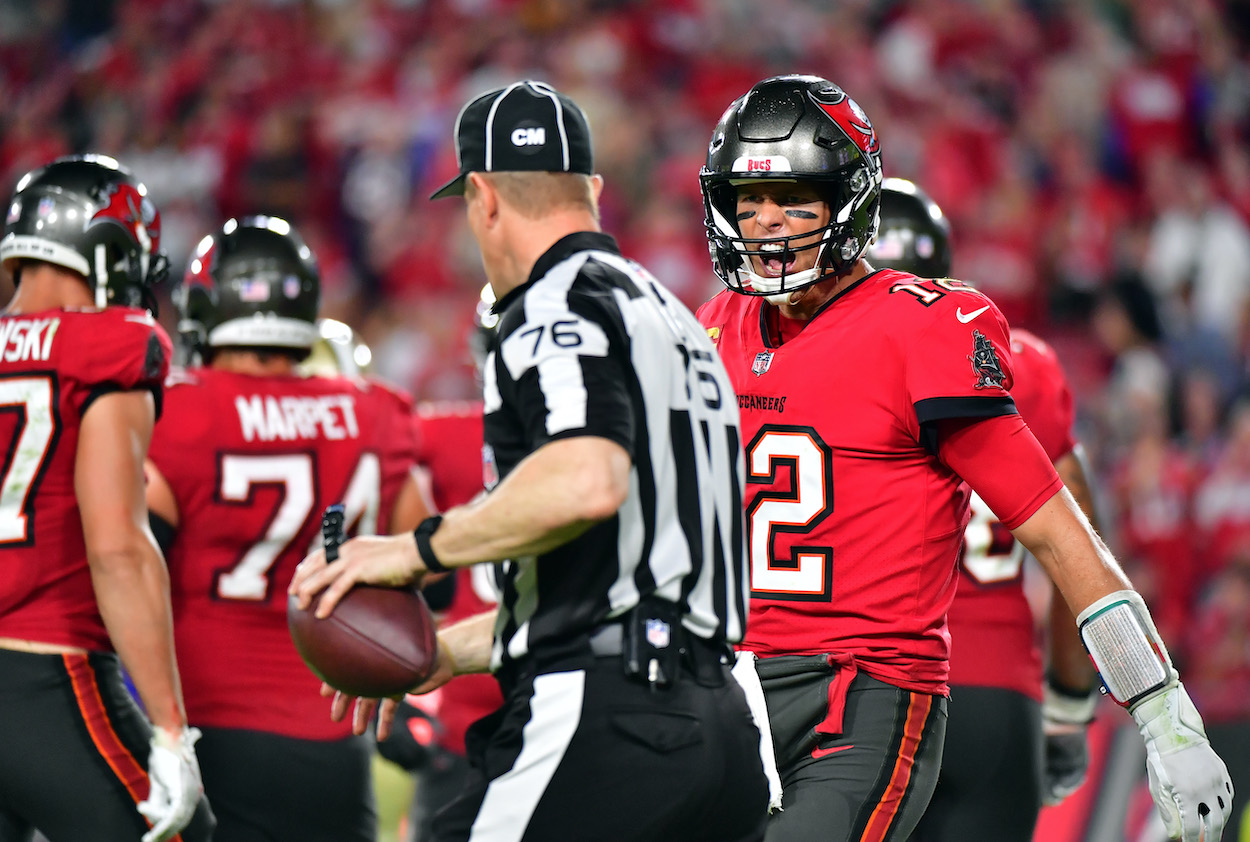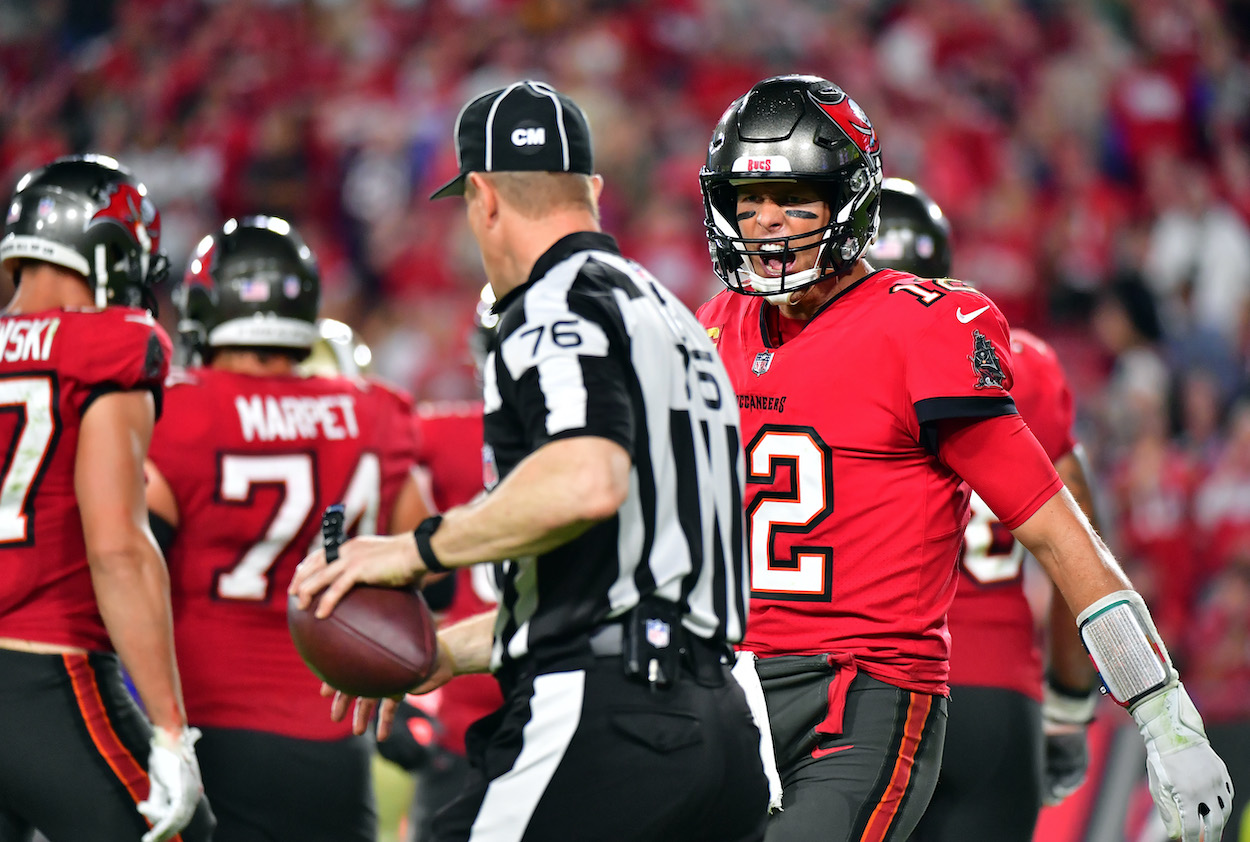 The NFL has put a bigger premium on player safety in the last few seasons, especially quarterback safety. That has led to a sharp increase in roughing the passer penalties on defenders.
The common narrative is that the bigger the star a QB is, the more likely the referees are to throw a flag when a defender so much as breathes on them.
After Tom Brady drew a roughing the passer on Wild Card Weekend against the Philadelphia Eagles, he discussed this idea with Jim Gray on his podcast, Let's Go! With Tom Brady, Larry Fitzgerald, and Jim Gray.
Gray said he is not sure why the perception exists that Brady gets "favorable treatment" from officials. The Tampa Bay QB only drew one regular-season roughing the passer in 2021.
Brady confirmed that he "always hears that to different degrees." He said he'd like to know who has drawn the most roughing the passer penalties, adding, "I hope it's not me because then I just put my foot in my mouth."
Don't worry, Tom. It's not you.
According to NFLPenalties.com, there were 1,099 roughing the passer penalties between 2009 and last weekend. Brady has drawn 33 of those, good for ninth-most in that span. The eight QBs ahead of Brady are:
Matt Ryan (56)
Ryan Fitzpatrick (52)
Matthew Stafford (39)
Aaron Rodgers (38)
Russell Wilson (36)
Cam Newton (35)
Ryan Tannehill (35)
Kirk Cousins (34)
As Brady claims, the data shows that he doesn't get the preferential treatment in the pocket that many fans think. That said, he does admit to getting away with one thing more than most.
Brady says he does get special treatment when it comes to trash-talking
After telling Jim Gray that'd he'd like to see the roughing the passer stats from the last decade (and hoping he wasn't wrong about his numbers), Brady did share that there is one thing he knows he gets to do more than other players:
I do know that [referees] probably let me get away with a lot of unsportsmanlike conduct. You know, talking smack to the other team and talking smack to the refs when I don't think I get the right call. I'm kind of a pain in their a** if you don't already know that.

Tom Brady on NFL referees letting him talk trash
Anyone who watches Brady can see some of this. You can notice the QB yapping at other players, officials, and even opposing coaches — as he infamously did during a Week 8 loss to the New Orleans Saints this season.
The fact Brady admits that he gets away with trash-talking in the midst of a league-wide crackdown on taunting is notable. It also confirms what many believe: Tom Brady is treated differently from other players.
Overall, this isn't the biggest deal in the world. Still, it does feed into NFL conspiracy theorists' idea that the Tampa Bay Buccaneers QB gets preferential treatment from referees, even if it's not in the way they usually complain about.   
The Tampa Bay QB is getting ready to talk trash to the Los Angeles Rams on Sunday
In Week 3 of the 2021 season, the LA Rams handed the Tampa Bay Buccaneers the first loss of their title-defending campaign.
The game was a 34-24 shootout where the Rams took a 14-7 lead into halftime and never looked back.
Matthew Stafford went 27-of-38 for 343 yards and four touchdowns. Tom Brady didn't disappoint either. The seven-time Super Bowl winner went 41-of-55 for 432 yards and a TD. The Rams D also sacked him three times.
Four months later, a lot has changed. The Rams have continued to add players (Von Miller, Odell Beckham Jr.) and get healthier (Cam Akers). Conversely, the Bucs have lost players (Antonio Brown) and still have major injury concerns (Tristan Wirfs, Chris Godwin, Leonard Fournette)
This should be one of the best games of the Divisional Round Weekend.
Brady will have to muster a heroic performance for the Buccaneers to win. He'll need to outsmart the fearsome LA Rams defense and outduel Sean McVay and Stafford on the other side of the ball.
The Rams should have the advantage as they are peaking at the right time. However, many have gone broke over the years betting against Brady in the playoffs.
No matter what happens, the one thing we know is that Brady will be talking a lot of trash as it goes down.
All stats courtesy of Pro Football Reference