Tom Brady Has Beaten Nearly as Many NFC Teams as Aaron Rodgers in the NFL Playoffs
There's simply no getting it around it, folks. Tom Brady, who's gearing up for an NFC Championship showdown with Aaron Rodgers and the Green Bay Packers, is the greatest quarterback in NFL history.
Yes, I'm keenly aware of the arguments for Joe Montana or Peyton Manning or any number of signal-callers whose names have been thrown in the conversation. And just to get this out of the way, no, it's not just because Brady has won six Super Bowl titles, although that certainly doesn't hurt his case, does it? What might be even more impressive, however, at least in this writer's opinion, is that he's been able to play at such an elite level for so long. And that's what sets him apart from all the rest.
Just think about it. In his first year as a starter with the New England Patriots, Brady won a Super Bowl, which he also did in year 18 as a starter, his 19th overall season. In year one in Tampa Bay, 43-year-old Tom Brady led the Buccaneers to their first playoff berth in 13 years, their first postseason win in 15 years, and is one win away from appearing in a record 10th Super Bowl.
Now think about this fun stat. Over the course of his career, Brady, who played 20 years in the AFC, has just about as many wins against NFC opponents in the postseason as does the man he's facing on Sunday, Aaron Rodgers, who himself has been one of the most elite quarterbacks in the NFL for more than a dozen years now.
Aaron Rodgers has beaten nine different NFC teams in the NFL playoffs
RELATED: Aaron Rodgers Got Big Leagued by Ryan Seacrest Following a Brutal Packers Playoff Loss
Since taking over for Brett Favre as the starting quarterback in Green Bay in 2008, Aaron Rodgers has appeared in 19 postseason games for the Packers, winning 11 of them.
In those 11 wins, Rodgers has beaten nine different NFC franchises in the NFL playoffs, the Philadelphia Eagles, Atlanta Falcons, Chicago Bears, Minnesota Vikings, Dallas Cowboys (twice), Washington Football Team, New York Giants, Seattle Seahawks, and Los Angeles Rams. His other postseason victory came against the Pittsburgh Steelers in Super Bowl 45.
Tom Brady has beaten seven different NFC teams in the NFL playoffs
RELATED: Tom Brady Refuses to Sign a Certain Type of Autograph For the Most TB12 Reason Ever
As for Tom Brady, the first five of his victories over NFC opponents came in the Super Bowl while with the Patriots with the last two coming in recent weeks during his first postseason run with the Buccaneers.
His Super Bowl wins came over the Los Angeles Rams (twice), Carolina Panthers, Philadelphia Eagles, Seattle Seahawks, and Atlanta Falcons. As a regular member of the NFC with the Bucs, he's beaten the Washington Football Team and New Orleans Saints.
Sorry, but that's just fun. And for the record, if Brady and the Bucs defeat the Packers on Sunday, he'll have beaten more NFC franchises in the postseason than did Joe Montana, who also beat seven during his historic run with the San Francisco 49ers.
Just sayin'.
Tom Brady has beaten 11 different AFC franchises in the postseason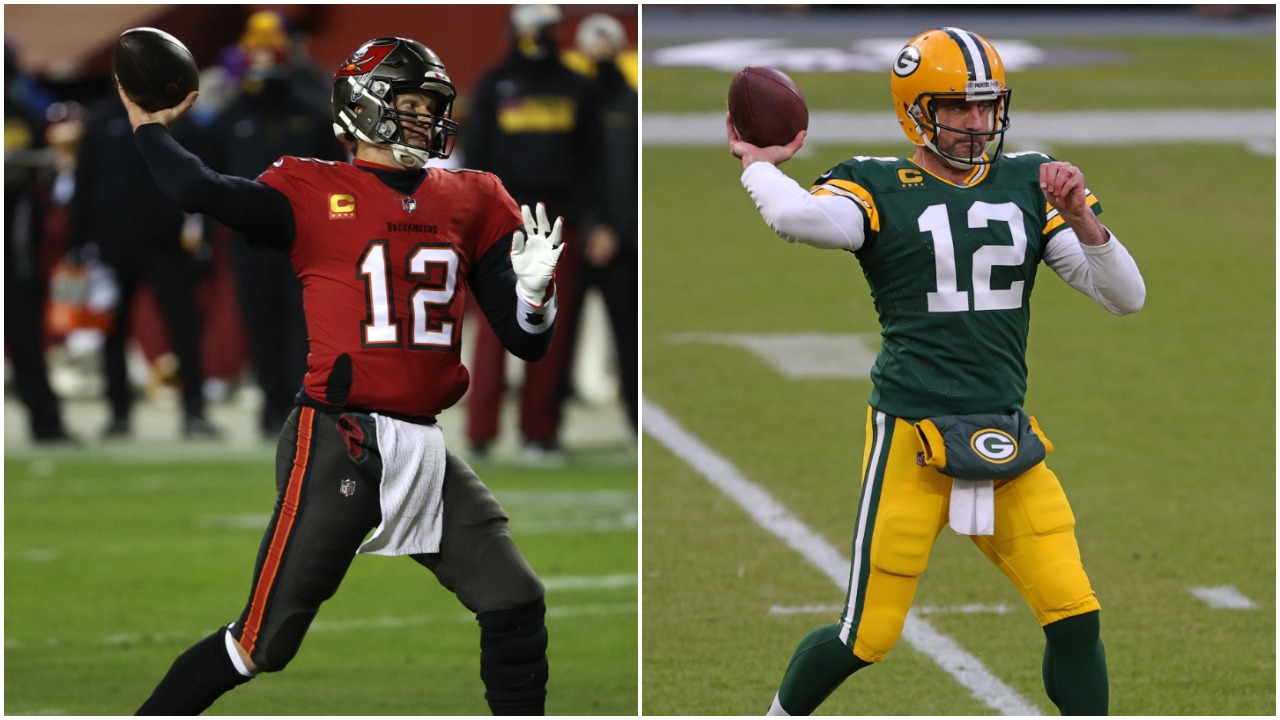 RELATED: Tom Brady and Aaron Rodgers Wear No. 12 For the Exact Same Reason
Since we're here, we might as well go ahead and look at how many different AFC franchises Tom Brady has beaten in the postseason. That number would be 11 as TB12 has defeated the Las Vegas Raiders, Pittsburgh Steelers (three times), Tennessee Titans (twice), Indianapolis Colts (four times), Jacksonville Jaguars (three times), New York Jets, Los Angeles Chargers (three times), Denver Broncos, Baltimore Ravens (twice), Houston Texans (twice), and Kansas City Chiefs (twice).
So that's 18 out of 32 franchises that Tom Brady has beaten in the postseason, easily the most in NFL history. If he and the Bucs can defeat Aaron Rodgers and the Packers on Sunday, that number would go up by one and it could possibly go up by two if the Bucs and Bills win their respective title games on Sunday and Tampa Bay then goes on to beat Buffalo in the Super Bowl.
Stats courtesy of Pro Football Reference