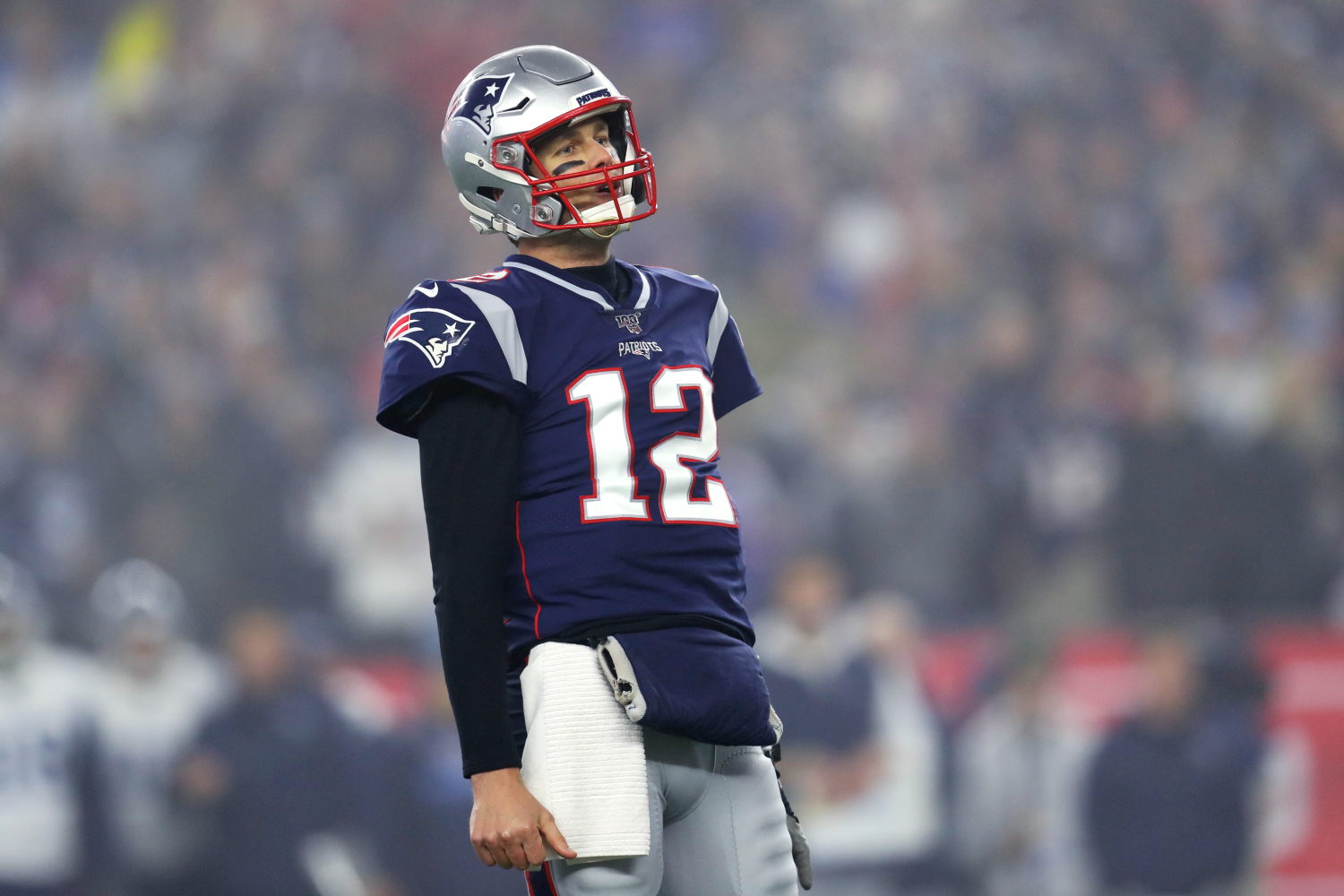 Tom Brady May Not Be the GOAT, According to Some Former Patriots Coaches
According to Michael Silver of Sports Illustrated, some former New England Patriots coaches hint that Tom Brady isn't the GOAT.
Tom Brady, who spent 20 years as the quarterback for the New England Patriots, is usually at the top of the NFL's GOAT list. His six Super Bowl titles and 637 career touchdown passes are unmatched. Ask some of his former coaches, however, and they'll tell you he may have been a product of Bill Belichick's system and has his share of shortcomings.
Tom Brady's NFL resume is second to none
There can be no argument against Tom Brady owning the greatest resume as an NFL player. Brady has done it all in his 20-plus years in the NFL. Drafted out of Michigan in the sixth round of the 2000 NFL draft, Brady was a 14-time Pro Bowler. He made the Super Bowl nine times, winning six of them.
Brady is also a three-time league MVP. Three times, Brady led the league in passing yardage and was tops in touchdown passes for four seasons. In his 20 seasons, Brady never had a losing season. His regular-season record is 219-64. His playoff mark is 30-11.
After 20 seasons, Brady is still going strong. He bolted from the New England Patriots to play for the Tampa Bay Buccaneers. In his first season with the Bucs, Brady has his team at 7-3. He's thrown 23 touchdown passes against seven interceptions.
Brady may have the best resume, but is he really the best?
The numbers are there and the Super Bowl titles are there, but should Tom Brady's six Super Bowl titles automatically vault him to the top of the NFL's GOAT list? Without question, Brady is one of the best quarterbacks to play the game. Is he the best ever?
Brady is a smart quarterback. He knows when to take a sack or when to throw the ball away. He's not a guy who takes a whole lot of chances. Rarely was his game plan to throw the ball deep downfield. Brady has always been a very conservative quarterback and maybe that was just part of the system he was in when he played for the New England Patriots.
Brady also wasn't the most gifted quarterback in the NFL. He didn't have the strongest arm and his mobility bordered on laughable. What Brady is, however, is a winner. But was Brady primarily responsible for the success in New England or did he just play a key role in Bill Belichick's system?
Former Patriots coaches believe Brady was a product of the system
Michael Silver of Sports Illustrated posted a lengthy Twitter thread recently regarding New York Giants first-year head coach Joe Judge. Judge, who came to the Giants from the New England Patriots, had gotten off to a horrendous 0-5 start in his rookie season, but has since turned things around. The Giants, coming off a bye week, have won two straight games.
In the Twitter thread, Silver spoke about the success of the Patriots system under Bill Belichick. Silver reported that Judge "and some ex-New England assistants have openly denigrated the abilities of Tom Brady–claiming he struggles when it comes to throwing deep, throwing outside the numbers and moving in the pocket."
Silver said the assistants do believe Brady is "intelligent" but suggest he may have been successful because of the system. It's an interesting theory because Brady clearly hasn't been one of the most gifted quarterbacks in the NFL in terms of athleticism. Using that same system Brady was in for 20 years, however, the Patriots are 4-6 with former MYP quarterback Cam Newton running the show.
All statistics courtesy of Pro Football Reference.