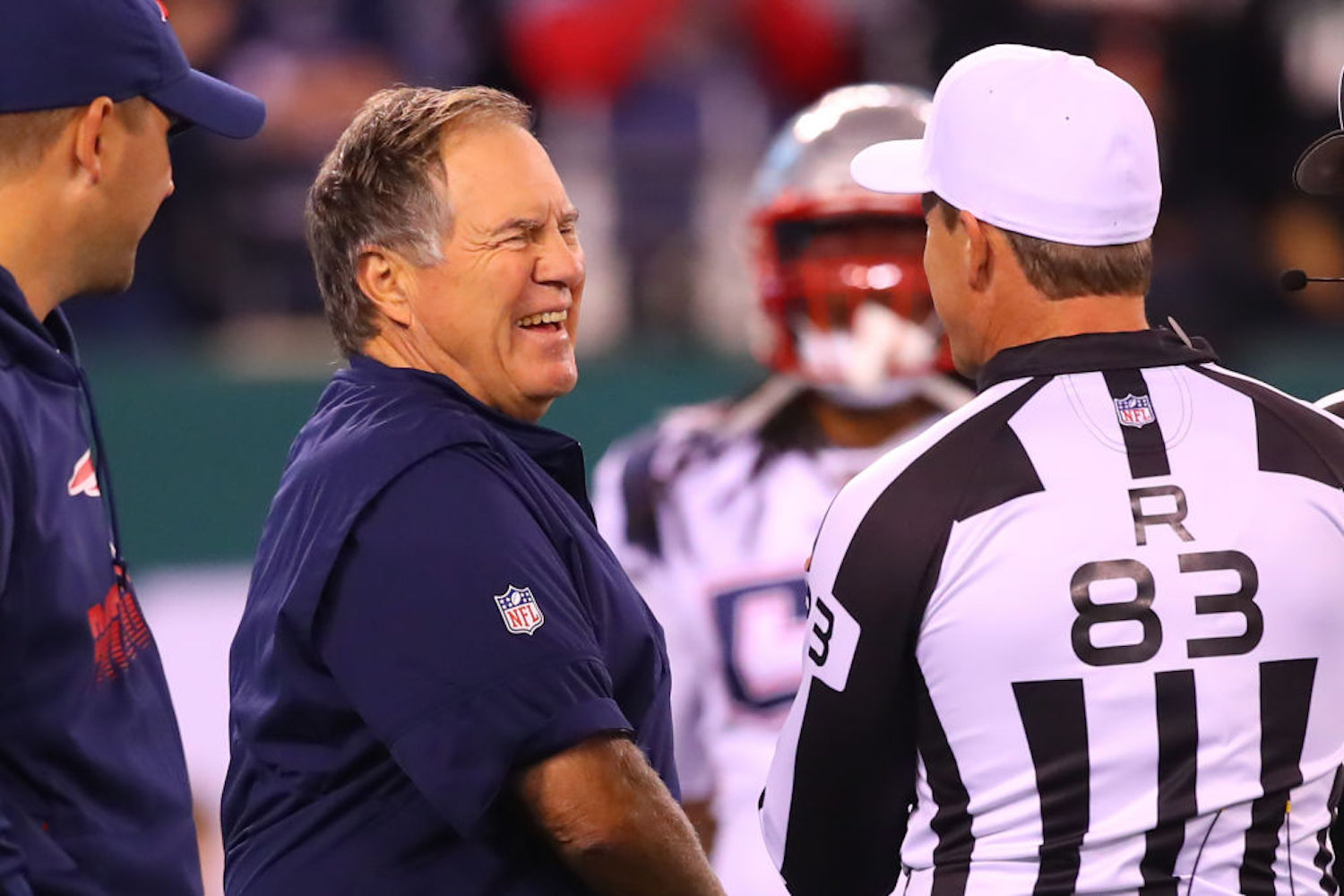 Tom Brady Revealed the Only 4 Things That Make Bill Belichick Laugh
Bill Belichick is as cold and stoic as they come, but there actually is a way to make him laugh. Just ask Tom Brady.
Bill Belichick is a notoriously emotionless man.
Every time the camera pans to the legendary head coach on the sidelines, he has a stoic, angry demeanor that almost looks as if he doesn't even want to be there. During his press conferences, Belichick mumbles his way through without even the slightest sign of joy. It almost makes people wonder if he's ever laughed, or let alone smiled, in his entire life.
If one person knows how to make the statue-like coach laugh, though, it's his old partner in crime, Tom Brady. Brady and Belichick worked together for 20 years, and Brady once revealed the short list of topics that can actually make Belichick chuckle.
Bill Belichick is the most emotionless figure in all of sports
Belichick is most famous for his six Super Bowl rings and decades of consistent winning with the New England Patriots, but he's almost as well known for the emotionless personality he portrays to the public.
Whether he's coaching his team in a cut-off hoodie or speaking to the media after a win, Belichick is rarely caught with a smirk on his face. Belichick's cold demeanor is so famous that the hit show Family Guy even made an episode where the main characters set out on a mission to make the Patriots head coach laugh.
They eventually did, but it took a whole lot of work. There's only a handful of people who know how to make Belichick laugh, and Brady is seemingly one of them. He finally divulged the secret to the impossible task in 2018.
Tom Brady revealed the four things that make Belichick laugh
Super Bowl media days are free-for-alls for national reporters. It's a chance to ask players and coaches questions you would never ask on the weekly beat, and they're more willing to answer them prior to the biggest game of the year.
In 2018, the Patriots were gearing up to play the Philadelphia Eagles in Super Bowl 52. At the week's media day, Brady was asked one of the more peculiar questions he's ever encountered.
Stand-up comedian Craig Gass was on a mission to make Belichick laugh, so he sought Brady's advice. "What is the easiest way to make Bill laugh?" Gass asked.
"I would say Navy, lacrosse, Lawrence Taylor, and Bon Jovi. Those four," Brady responded with a smile.
Gass used Brady's advice to tell Belichick a corny joke at his press conference, and it actually worked.
Belichick is a much happier guy than he gets credit for
Belichick may carry the persona of the quiet, cold dictator in New England, but those who know him well see him in a different light. In reality, Belichick just loves football, and he's serious about playing the game right.
He's a no nonsense coach, but he knows how to keep the mood light and celebrate when appropriate. And over the past 20 years, there has sure been a whole lot to celebrate in New England.
Thanks to Brady, you now have the knowledge to make Belichick laugh if you pass him on the street. Best of luck.