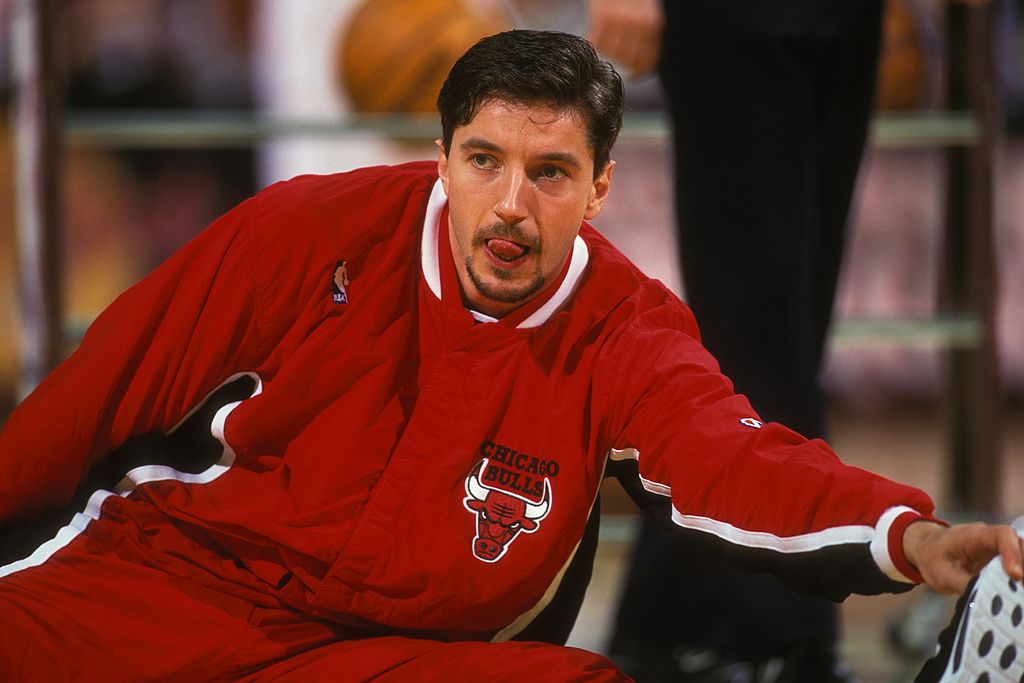 Toni Kukoc Used to Eat the Worst Pregame Meals During His Time With the Chicago Bulls
During his time with the Chicago Bulls, Toni Kukoc would indulge in some massive pregame meals before hitting the court.
If a professional athlete's body is a finely tuned machine, the food they eat needs to provide plenty of high octane fuel. While that reality explains why guys like Tom Brady follow meticulous diets, not every player abides by the same rules. Chicago Bulls forward Toni Kukoc, for example, did things a bit differently.
While Kukoc put together an impressive basketball career, he wasn't putting down celery and protein bars before hitting the court. In fact, he used to eat the worst pregame meals during his time with the Bulls.
Toni Kukoc's road to joining the Chicago Bulls
Growing up in what was then Yugoslavia, Toni Kukoc was a natural athlete. He played soccer and excelled as a table tennis player, but his height eventually caught the eye of a basketball coach. From there, the rest is history.
Kukoc found a home on the hardwood and, at age 17, made his professional debut. The forward promptly helped his local team, KK Split, take the continent by storm; they won three straight EuroLeague titles from 1989 through 1991, and Kukoc took home two Final Four MVP awards. He would then join Italy's Benetton Treviso, earning another Most Valuable Player title. The forward also starred for the Yugoslavian national team and, after the fall of the Soviet Union, helped Croatia claim an Olympic silver medal.
The Chicago Bulls had actually taken notice of Kukoc's talent and drafted him in 1990, but the forward wasn't in a hurry to leave Europe. He finally crossed the Atlantic in 1993, though, and made his way to the Windy City.
An incredibly indulgent pregame meal
For most professional athletes, a pregame meal is more about fueling up for a night of work than anything else. Toni Kukoc, however, did things a bit differently.
"I'll tell you a quick story about Toni Kukoc, when he came over to the NBA," Steve Kerr once explained on NBA TV's Open Court. "First game of the season, I asked him if he wanted to go grab a bite to eat. It's about three o'clock in the afternoon, four hours before the game. He orders this feast—salad, appetizer, huge plate of pasta, chicken, glass of red wine, a dessert, like tiramisu, and then he follows it up with an espresso. And I'm just in awe."
Kerr, understandably, was a bit taken aback by his teammate's order; Kukoc, however, explained that he was just doing things the European way.
"I'm like, 'Toni, this is your pregame meal," Kerr continued. "He goes, 'In Europe, we eat a lot, we drink a little wine, we have espresso, we go back to hotel, take big s–t, and then we go play."
Whatever Toni Kukoc was eating before Bulls games, it worked out
While Toni Kukoc's pregame meal might have been unconventional, it clearly didn't slow him down. During his time in Chicago, the forward averaged 14.1 points, 4.8 rebounds, and 4.1 assists per game; after Michael Jordan returned from retirement, Kukoc played a key role in the Bulls' second three-peat.
After his time with the Bulls ended, Kukoc suited up for the 76ers, Hawks, and Bucks before retiring from basketball after the 2005-06 season. He still lives in Highland Park, Illinois, and serves as a special adviser to the Bulls' president and COO.
Based on his basketball experience in both Europe and the United States, it's safe to assume Toni Kukoc has plenty of wisdom to share with the Bulls organization. If nothing else, he knows a thing or two about enjoying a nice meal.