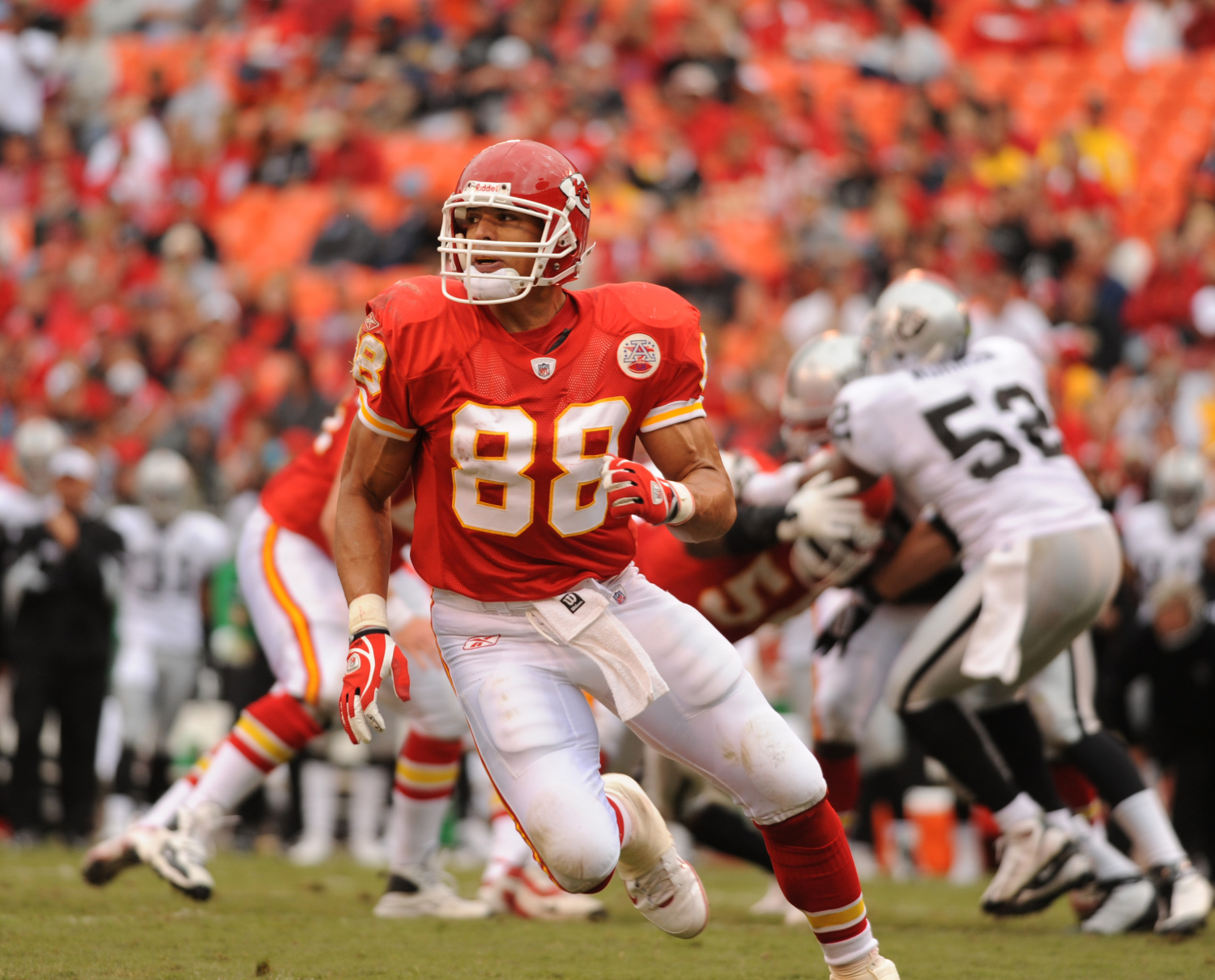 Tony Gonzalez Recalls the Bully He Never Confronted
Hall-of-Fame tight end and current football analyst Tony Gonzalez recalls the bully he never confronted in his younger days.
Tony Gonzalez was a two-sport player in college. At Cal, Gonzalez was an All-American tight end and also was a key contributor to the Bears' basketball team that reached the Sweet Sixteen in the NCAA tourney. Despite his success as a tight end in the NFL with the Kansas City Chiefs and Atlanta Falcons, Gonzalez had his share of struggles. He battled depression in the early stages of his pro career and he also recalls getting bullied when he was growing up.
Tony Gonzalez is a Hall-of-Fame tight end
Tony Gonzalez gave up his senior year at Cal to enter the 1997 NFL draft. He was selected by the Kansas City Chiefs with the 13th overall pick and went on to play 17 seasons in the NFL. He spent the first 12 years with the Chiefs before being traded to the Atlanta Falcons in April of 2009.
Gonzalez is widely considered one of the best tight ends to ever play in the NFL. It wasn't always easy. He struggled early with dropped passes and felt a total loss of confidence early in his career. "I led the league in dropped passes, got benched twice," he said on an episode of Hotboxin' With Mike Tyson. "I was on my way to being a bust. It got pretty low for me. It was the lowest I've ever been."
Gonzalez bounced back and made the first of 10 straight Pro Bowls in his third season. In that 1999 season, he had a career-high 11 touchdown passes. In 2004, he led the league in receptions with 102. He finished his career with 111 touchdown receptions and made the Pro Bowl 14 times. He was a All-Pro six times.
Tony Gonzalez now working as an NFL analyst
 Tony Gonzalez sent 17 years in the NFL and was among the top in his profession. He retired after the 2013 with the Atlanta Falcons. Gonzalez left the game with some gas left in the tank. In his final season, he finished with 83 catches and eight touchdowns.
When Gonzalez retired, he became an analyst for CBS' pregame show "NFL Today." He remained with CBS through the 2016 season. Gonzalez then hooked on with Fox. He's been a part of Fox's NFL pregame show as a studio analyst for "NFL Kickoff."
"Tony is an impressive talent with an infectious personality, and is the perfect addition to our Fox `NFL Kickoff' show," said John Entz, president of production and executive producer at Fox Sports right after the hiring of Gonzalez. "He brings a unique outlook that will really round out the table."
Gonzalez admits he was bullied growing up
Tony Gonzalez is a big, strong, and athletic guy. Even those athletic folks who are physical specimens can be victims of bullying. Such was the case for Gonzalez before he got to high school. During an episode of Hotboxin' With Mike Tyson, Gonzalez recalled the time he was bullied.
"I had a bully and he used to come every single day," Gonzalez told Tyson, "and I was deathly scared of this guy. I didn't go to school dances and I didn't hang out after school. Heard stories of how this guy beat two guys up and smashed one in the head with a brick. I went and hid at my eighth-grade graduation. My whole family was looking for me. It was like out of a movie. They all came up and they saw me. I was cowering behind a wall.
"I said to myself, 'I'll never see that look on their face again – my mom's face and my brother's face.' My mother just gave me that look of absolute disappointment. My brother mouthed the words, 'what are you doing?' They had been trying to get me to fight this guy, but I was scared. I said to myself, 'Never again – I will take an ass-whoopin', I don't care. I will die before I run away from anybody ever again.'"
All stats courtesy of Pro Football Reference.