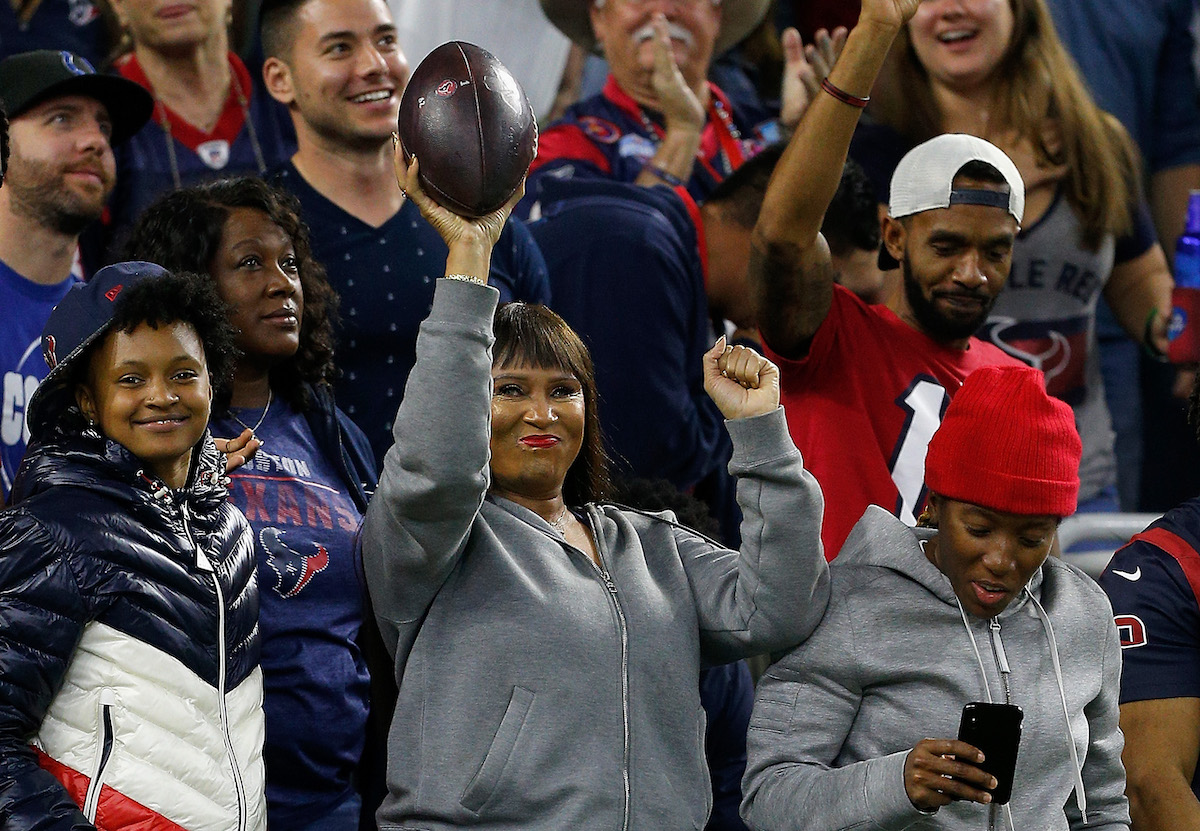 The Touching Reason DeAndre Hopkins Gives His Mom the Ball After a Big Play
DeAndrew Hopkins gives his mom the ball after scoring so she can experience more of the game, as she was blinded in a brutal attack.
DeAndre Hopkins is perhaps one of the most resilient NFL players, serving up excellent catches despite the upheaval that engulfed his life growing up. His incredible statistics and excellent play throughout his time with the Houston Texas have seen him feature in five All-pro teams so far. However, perhaps what makes him stand out the most is his manner of celebration when he makes those touchdowns. Unlike others who resort to typical celebration dances after scoring, DeAndre Hopkins is known for his longstanding and unique tradition, which involves taking the ball to his mom every time he scores a touchdown.
What happened to DeAndre Hopkins' mom?
On a typical morning on July 20, 2002, Sabrina Greenlee woke up to the absence of her car in the driveway. Suspecting that her boyfriend was responsible, she decided to confront him at his residence. The boyfriend came out apologizing before a woman identified as Savannah Grant ran out with a container of bleach mixed with lye and poured it on Greenlee's face, reports Yahoo! Finance.
Greenlee first thought it was warm water until the peeling of her skin informed her that it wasn't. The near-fatal impact of the acid saw her spend time in a medically-induced coma at a hospital in Georgia. Greenlee suffered severe burns on her face, chest, and back before gradually losing sight, forcing her to quit her job at an automotive plant. Meanwhile, Grant's actions saw her charged with assault and battery with the intent to kill, and she was sentenced to 20 years in prison.
It was difficult for Greenlee to adjust to this new situation in her life, and she fell into alcoholism as an escape. However, as she started attending her son's games, her world brightened, and it also helped remedy her depressive thoughts. In 2013, Greenlee founded a nonprofit called SMOOTH (Speaking Mentally, Outwardly Opening Opportunities Toward Healing), which helps survivors of domestic violence as per the  ESPN feature.
Why does DeAndre Hopkins give his mom the ball whenever he scores?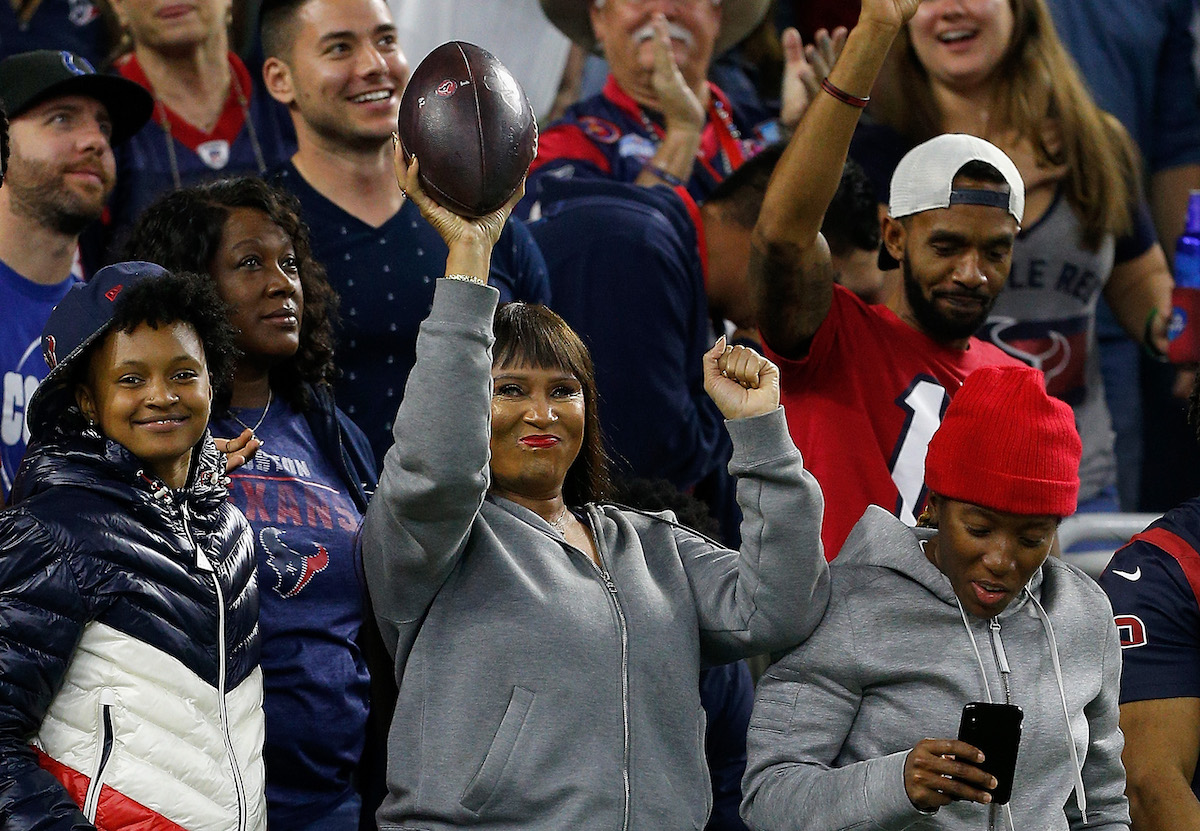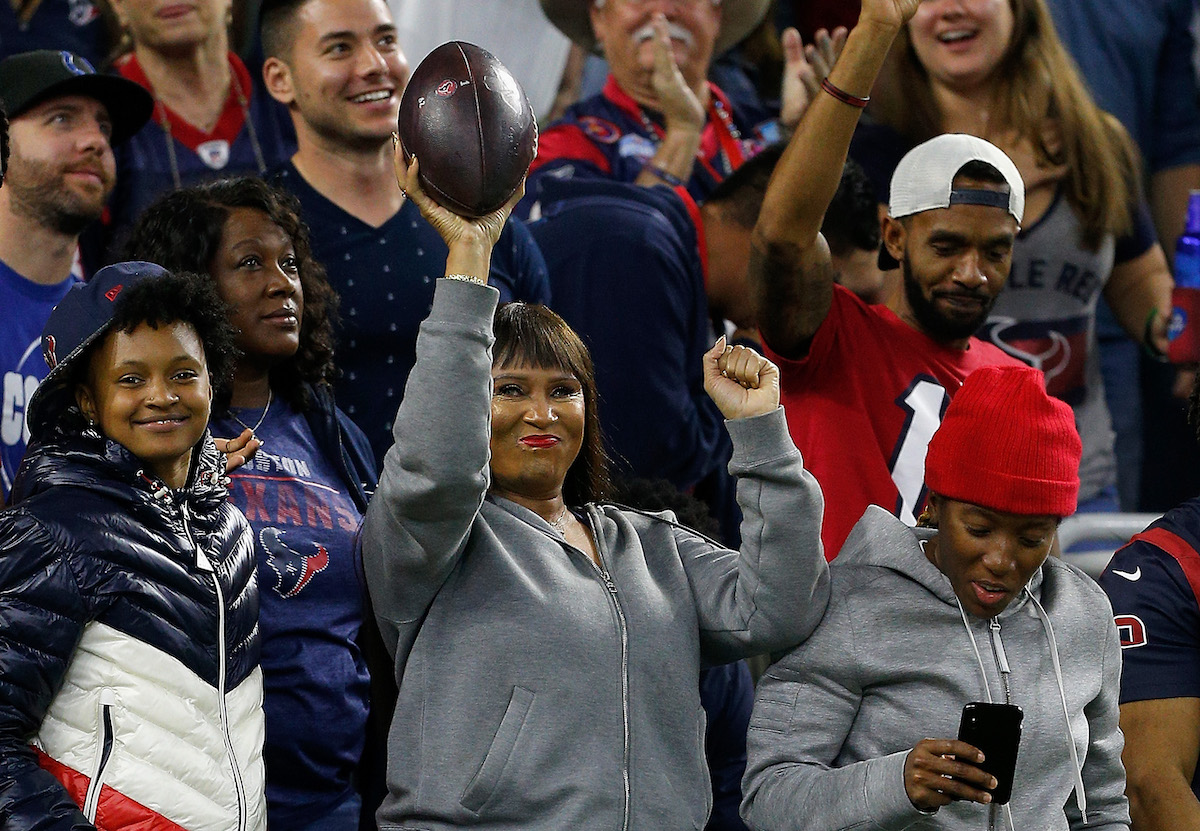 Greenlee was not open to the idea of attending her son's games. In one instance, during his teenage years, Greenlee left the game midway for fear of ridicule and unwanted attention from those in attendance. It would only take the persistence of Hopkins, who convinced Greenlee that he wanted her to always attend his games. She obliged and allowed family members to take her, something they have done to date.
During his time at the Houston Texans, Hopkins' mother would sit in the same spot close to the field where she could be part of the action, at least through her ears. It also gave the wide receiver a chance to race toward her and hand her the ball whenever he scored a touchdown, a tradition he upholds even after being traded to the Arizona Cardinals. As Hopkins explained in the ESPN feature:
"Whenever I score a touchdown or do something, I try to make sure she gets the ball so she can feel me."

DeAndre Hopkins
Giving the ball to his mom is more than a gesture. It reinforces the bond between them and serves as a reminder that while she can't see him, he can and is proud to let the world see her as well. Greenlee acknowledges that although she is not the typical role model, it means a lot that her son respects her enough to let everybody see him giving her the ball. 
What is Hopkins' take on the attack?
Hopkins was just 10 years old at the time of the attack, and had gone to Georgia to visit his father's family when the incident occurred. He was, however, around when his mother was discharged from the hospital.
"I was in shock that somebody could look like that," he says. "It was really scary — and to think that's my mom, she's gonna be like that the rest of her life. I was hoping that it was a dream." According to Today, Greenlee's experiences helped shape the man Hopkins is today by teaching him about life and how to treat women.
Hopkins views his mom's presence at games as motivation by imagining her reaction every time he does something marvelous to help his team. He is also his harshest critic when he drops the ball, viewing it as a letdown to his mother, who visualizes images from the commentary and narrations of the surrounding family members.