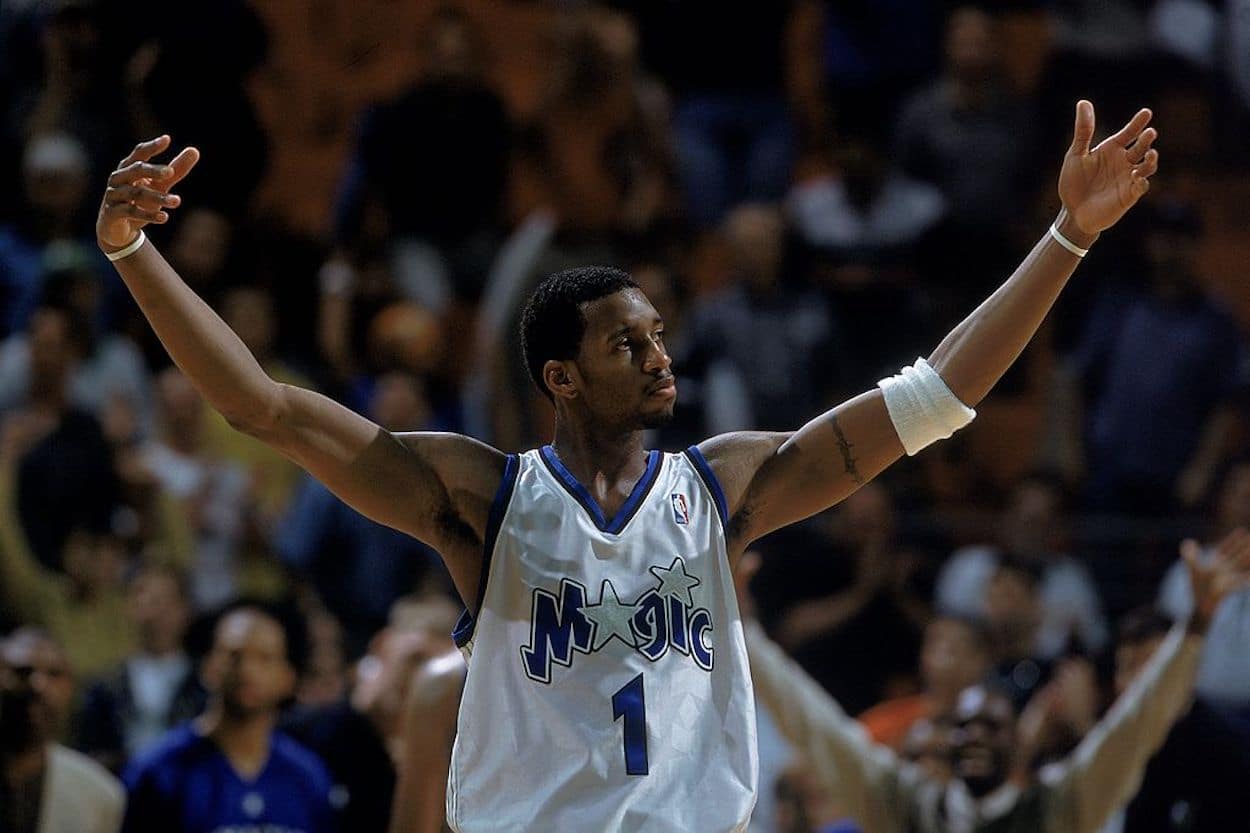 Tracy McGrady Got Inside an Anonymous Opponent's Head With Little More Than His Shoes
Tracy McGrady is largely remembered as an explosive scorer, but he also could talk a bit of trash. Just ask one NBA opponent about that.
Over the years, basketball has seen plenty of legendary trash-talkers. Michael Jordan, for example, would go after anyone, including his own teammates. Larry Bird was a bit less brutal but still showed plenty of confidence. Gary Payton could play the entire arena like an orchestra conductor with his verbal sparring. No matter how many NBA players you rattle off, however, you probably wouldn't mention Tracy McGrady.
Maybe that reality should change, though.
Although T-Mac might not be remembered for his trash talk, it seems that he was more than capable of holding his own. On one occasion, he used a few words and his sneakers to silence an opponent.
Tracy McGrady had no problem using his sneaker line to talk a bit of trash
During the 2000s, Tracy McGrady's signature shoes were a key part of the basketball landscape. And, beyond giving the shooting guard a pop-cultural presence, those Adidas sneakers also gave T-Mac a trump card when it came time to hit the hardwood.
"I remember one time, we were playing against, I'm not gonna say the player, I'm not gonna say the team," the former Orlando Magic man explained on ESPN's The Jump. "I was playing against a team, and … one of the guys was talking trash to me. We were going at it. He was sitting on the bench, so I made it a point to go and stand in front of the bench, and we were going back and forth."
While that choice of location allowed McGrady to engage in a bit of verbal warfare, it also provided him with another advantage. A quick glance down the bench showed just how much clout the two-time scoring champ had.
"I say, 'Bro, look around on your own team. They're wearing T-Macs.' And that was it. That's how I got in his head. It was just like, you know, I dropped the mic on that one."
Without knowing when he used that line, we can't know if McGrady backed up his trash talk. If it came before his injury issues, though, it's safe to assume that T-Mac also stuffed the box score that night.
Calling out someone's choice of sneakers was a classic Michael Jordan move
If we take McGrady at his word, he put that anonymous opponent in his place that night. The shooting guard, however, wasn't the first player to call out the opposition for wearing his shoes. As you might expect, that move was classic MJ.
On another episode of The Jump, for example, Chauncey Billups remembered how Greg Minor tried to defend Jordan. After a scuffle sent His Airness to the free-throw line, he used that pause in the action to send an unmistakable reminder about his star status.
"MJ is going to the free-throw line, and he looks at Greg. And he says, 'I should make you take my shoes off,'" Billups recalled. "I look down, I didn't even realize it. I look down, and [Minor's] got the Jordans on."
And, if that wasn't enough, the living NBA legend would later take things even further.
In a 2022 podcast appearance, Stephen Jackson remembered suffering through a disappointing spell with the Charlotte Bobcats. After one loss, Jordan came into the locker room to chew the team out. Then, during the next day's practice, the owner returned to make another statement. He called out the players, told them to take his shoes off, and then subbed himself into a scrimmage to show the starters how it was done.
Was the "you're wearing my sneakers" tactic a bit more effective when Michael Jordan did it? Most likely. With that being said, though, T-Mac still deserves some trash-talking credit. If you're about to use the same moves as the all-time GOAT, you've got to be pretty legendary in your own right.