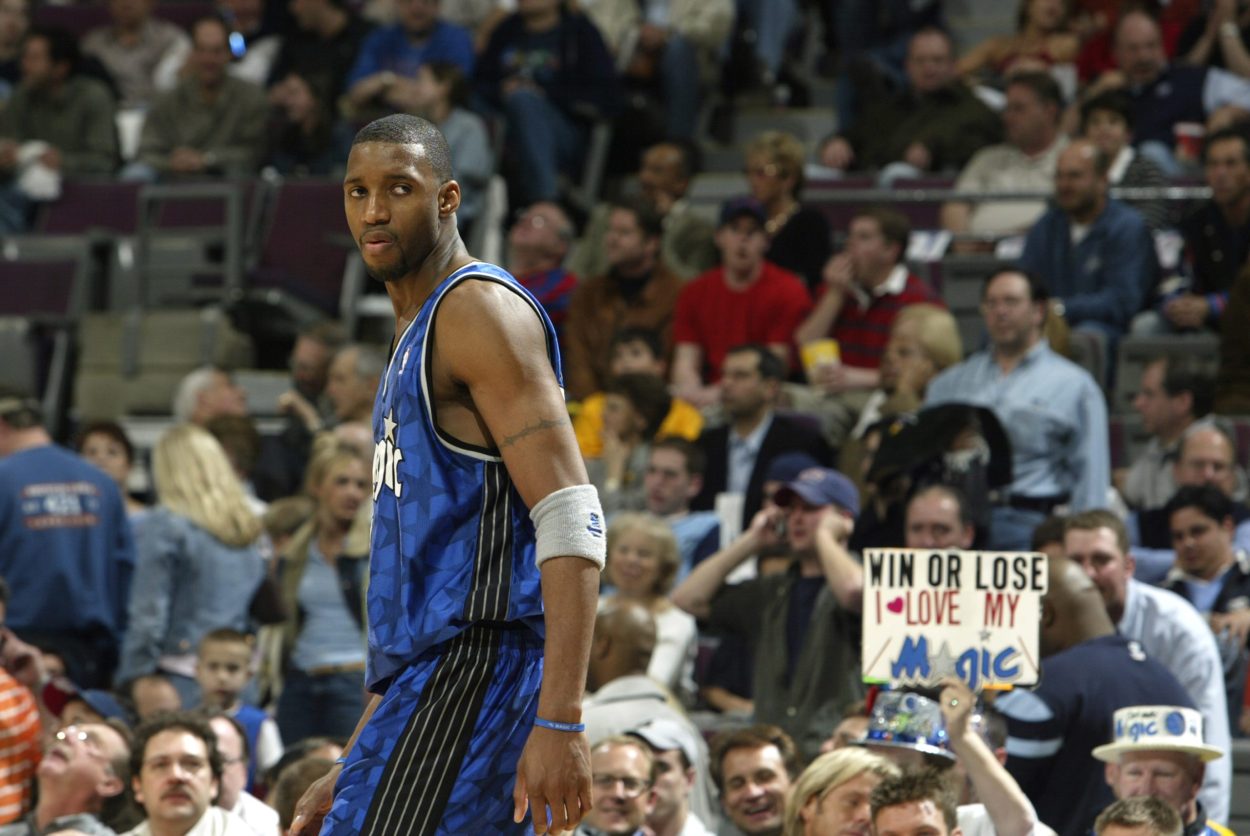 A Healthy Tracy McGrady Would Be a Multiple-Time MVP in Today's NBA
Is Tracy McGrady one of the most underrated talents in NBA history? He'd certainly dominated today's game.
Tracy McGrady's NBA 75 snub indicated a general lack of appreciation for his generational basketball gifts. So, let's rectify that.
The former Orlando Magic and Houston Rockets star had as dominant a run in the league as any other player in NBA history. From 2000-01 to 2004-05, T-Mac averaged 27.6 points, 6.8 rebounds, 5.3 assists, 1.6 steals, and nearly a full block. He shot over 44% from the field and a respectable 35.3% from beyond the arc on close to five attempts per contest. That two-way production is outstanding.
McGrady is a two-time scoring champion who could fill it up at all three levels. He had outstanding athleticism and length, with tremendous gifts as a passer and an underrated reputation as a defender.
McGrady wouldn't just dominate if dropped into the modern game. He'd be a multiple-time league MVP.
Tracy McGrady's biggest strength: On-ball creation
To be a superstar in today's NBA, players need to create for themselves and their teammates. They have to generate separation off the dribble while making contested shots in late-clock situations.
McGrady excelled as an on-ball creator.
In his first few seasons with the Magic, T-Mac thrived as a point forward who had total control over the offense. He led the NBA in usage rate (35.2%) and boasted a league-best 30.3 player efficiency rating (PER) during the 2002-03 campaign, the finest of his career. There's a good reason for that.
Those Magic teams were horrendous. Injuries wrecked Grant Hill's time in Orlando just when it appeared as though he could become the next face of the NBA. Mike Miller was the second-leading scorer on that 02-03 club. Through it all, McGrady carried the load and dragged the team to 42 wins and a playoff berth, mostly because of his spectacular abilities on the ball.
McGrady could break defenders down in every way imaginable. He hoisted three-pointers over the top and manifested space with a quick first step, sometimes stepping back for jumpers or getting to the cup and finishing through contact. His pull-up game benefited his ability to generate rim pressure, as he averaged 8.0 free-throw attempts during his time in Orlando.
But while McGrady could score practically anytime he wanted, he was every bit as sound as a facilitator.
As a perimeter-oriented forward, T-Mac could see over defenses and knew how to let plays develop. When opponents sent blitz doubles his way, he had the patience to dribble out and find guys on short rolls. The vision is especially notable. Check out this no-look pass (0:35 mark) to former Houston Rockets teammate Luis Scola.
Although McGrady didn't have Kevin Durant's ridiculous efficiency, he had similar qualities as a tall and long forward who could break defenders down with the handle, make tough jumpers on pull-ups, come off pin downs, and serve as a playmaker whenever necessary. He could dunk on anyone, too, like Shawn Bradley.
McGrady's biggest weakness: Fragility
One could argue that Tracy McGrady's biggest weakness was his somewhat mediocre efficiency from beyond the arc. But T-Mac took a high volume of threes at his peak and made them at a decent clip. Plus, one has to imagine he would mold himself into a more prolific perimeter shooter.
Instead, let's zero in on the factor that ultimately destroyed McGrady's career: A lack of durability.
The seven-time All-NBA standout dealt with a myriad of injuries during his 16 seasons in the NBA. However, his career really fell apart after he underwent an arthroscopic procedure in 2008, just before his 29th birthday. McGrady's knee never fully healed from the scope, and subsequent shoulder issues rendered him effectively useless.
What might have happened if McGrady stayed healthy? Given his supreme athleticism, scoring ability, and playmaking, his prime could have extended well into his 30s, much as current NBA fans have seen from Durant.
If McGrady had the advantages of modern science, he may have gotten a leg up in terms of recovery. Then again, it's possible that his body simply couldn't handle the rigors of an 82-game season on a regular basis.
The full package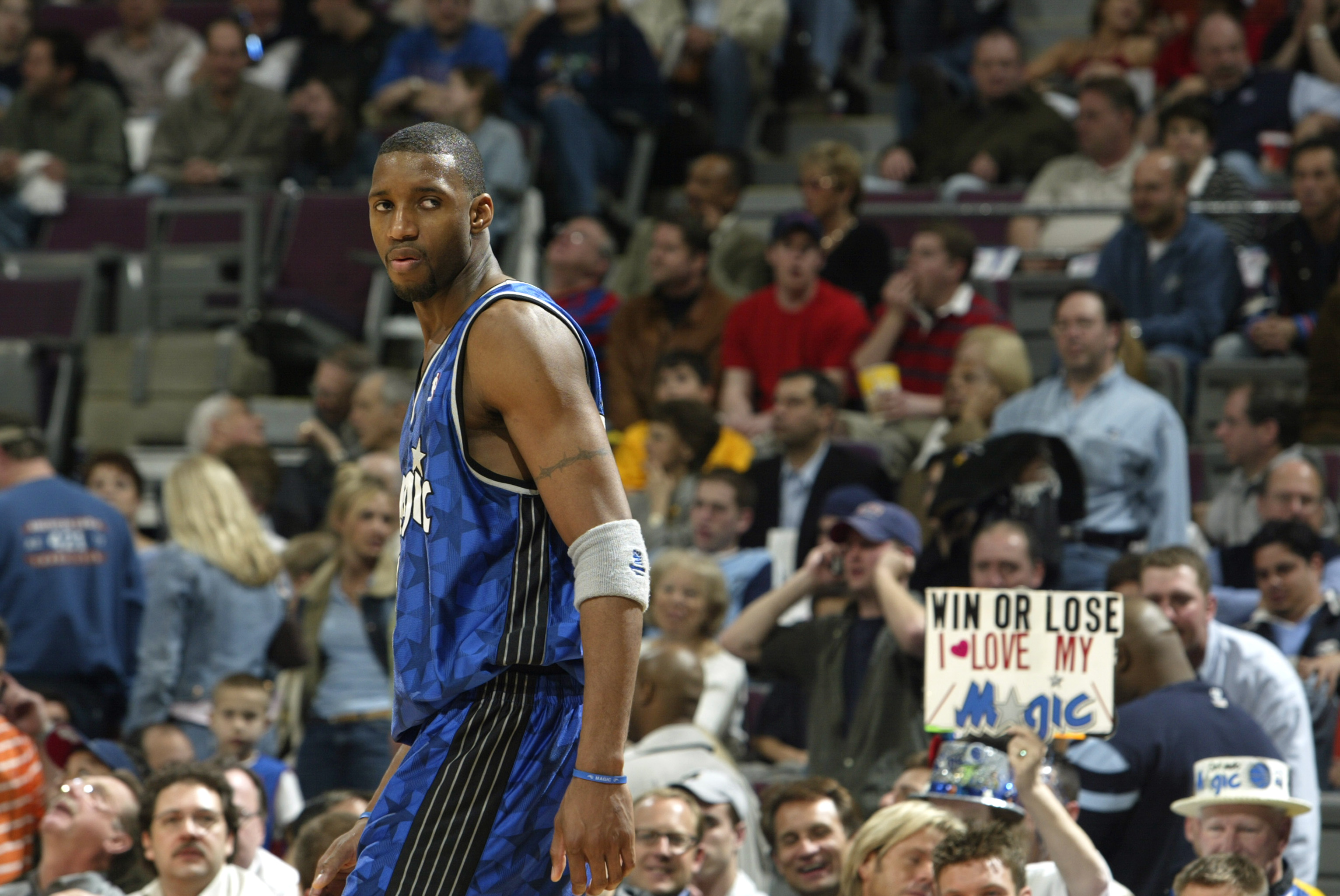 Assuming Tracy McGrady could stay healthy, he would run roughshod over today's league.
T-Mac's three-level scoring and playmaking abilities, paired with his size and athleticism, would make him one of the more uniquely gifted players in the game. Kobe Bryant, one of the best perimeter defenders in NBA history, deemed McGrady his most challenging assignment. That pretty much says it all.
Additionally, McGrady could guard multiple positions and impacted games as a defensive playmaker capable of creating turnovers and serving as an extra rim protector rotating off his man to block shots at the rim. He got it done on both ends of the floor.
The fast-paced and offensive nature of the NBA is conducive to McGrady's talents. Given his two-way excellence, it's hard to see how he wouldn't be a consistent MVP candidate in the modern era.
Stats courtesy of Basketball Reference.