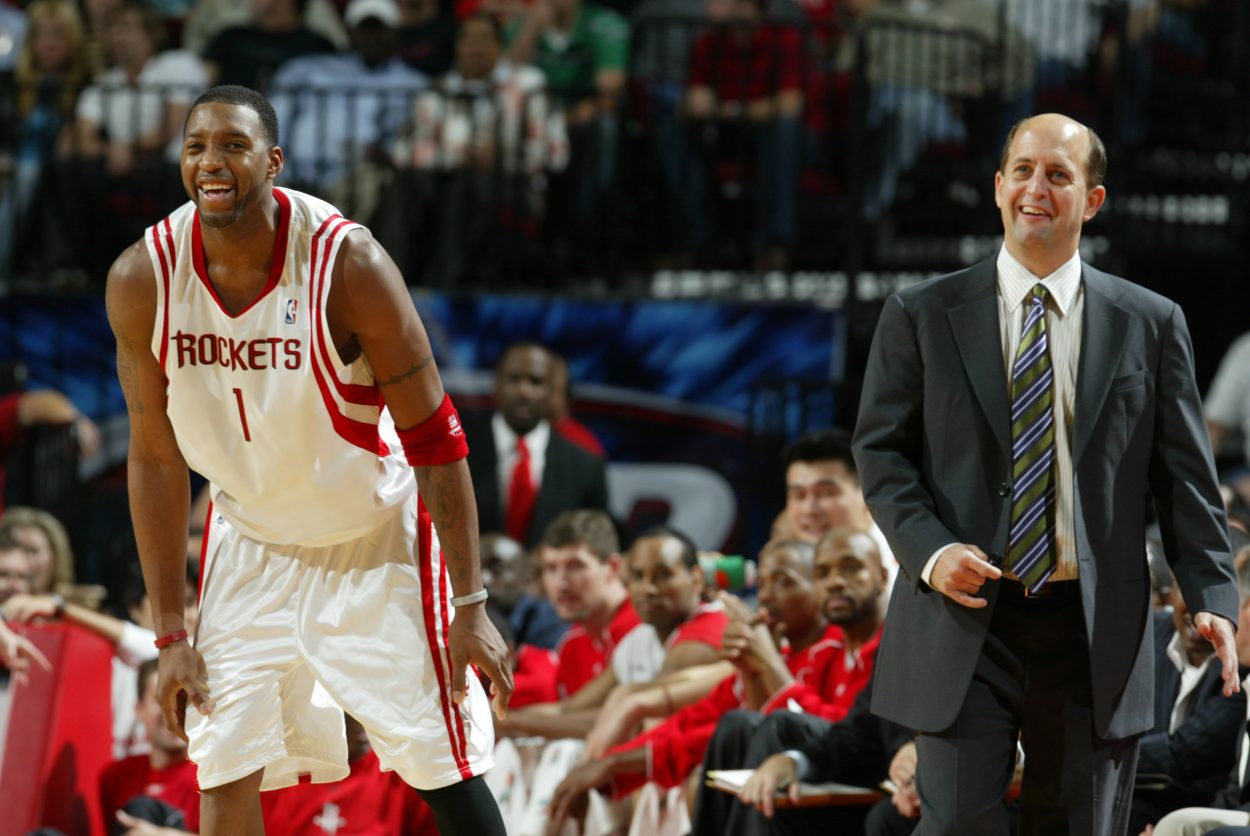 Tracy McGrady Completed One of the Greatest Comebacks in NBA History, but Still Got Killed By Jeff Van Gundy: 'The Process Sucked'
McGrady and his Rockets teammates still got chewed out by Van Gundy after completing one of the most remarkable comebacks in NBA history.
Tracy McGrady scored 13 points in 33 seconds to lead the Houston Rockets to one of the greatest comebacks in NBA history, but head coach Jeff Van Gundy was still livid. Ever the pragmatist, Van Gundy stewed about his team's inability to execute against the San Antonio Spurs rather than reveling in McGrady's unprecedented act of individual heroism.
Tracy McGrady stunned the Spurs by scoring 13 points in 33 seconds and erasing a 10-point deficit in the final minute
Tracy McGrady was still ingratiating himself to Rockets fans when Houston hosted the San Antonio Spurs on December 9, 2004.
The two-time scoring champion came to Houston that summer in a seven-player deal with the Orlando Magic. McGrady was a star in Orlando, making four All-Star teams and winning consecutive scoring titles in 2003 and 2004. But McGrady's Rockets debut got off to a bit of a slow start in November. He averaged just 20.2 points and shot 40.7% from the field through his first 14 games, including an unimpressive 50.7% true shooting percentage.
However, McGrady would shake off the rust in spectacular fashion against a championship Spurs team.
San Antonio led the Rockets by eight points with just over 40 seconds to play when McGrady nailed a triple. After a pair of Spurs free throws, T-Mac got Tim Duncan into the air and hit another triple, with the ensuing free throw cutting San Antonio's lead to just three. What happened next left everyone in attendance breathless.
Duncan hit two from the charity stripe to give the Spurs a five-point lead. The Rockets nearly turned the ball over on the side-out inbounds play, but McGrady somehow came up with the ball and hit an impossible three over Bruce Bowen. After a San Antonio timeout, Houston trapped Devin Brown, who promptly lost control of the ball. McGrady picked up the loose ball and dribbled the length of the floor before pulling up for a game-winning three.
The Rockets had come away with an improbable 81-80 victory, with McGrady providing one of the most singular performances in league history. Yet, Houston's head coach found no solace in his team's incredible comeback.
Jeff Van Gundy was heated after McGrady delivered his team an improbable win
Jeff Van Gundy was a bit of an enigma as a head coach. This is the same guy who thought it was wise to get in the middle of a fistfight between Alonzo Mourning and Larry Johnson. He also drew the ire of Michael Jordan by calling him a con man.
Perhaps it won't come as a surprise, then, that Van Gundy didn't find even the slightest bit of joy in the heroic events he witnessed that December.
McGrady revealed on a 2019 episode of ESPN's The Jump that Van Gundy ripped into Rockets players in the locker room after the historic comeback win. T-Mac said Van Gundy, who was present during the discussion, "shot [the comeback] down" and said he was "going off."
Van Gundy had a different way of describing the game.
It's hard to argue with Van Gundy's assessment on its face. The Rockets had 64 points entering the final minute of play. They shot just over 35% from the field for the contest, even after McGrady's heroics.
Yet, it's hard not to imagine some part of Van Gundy was absolutely elated to sneak away somehow with a victory against a top Western Conference foe. T-Mac even joked that JVG was probably high-fiving members of the coaching staff after ripping into the team in his postgame address.
McGrady and JVG never had much success together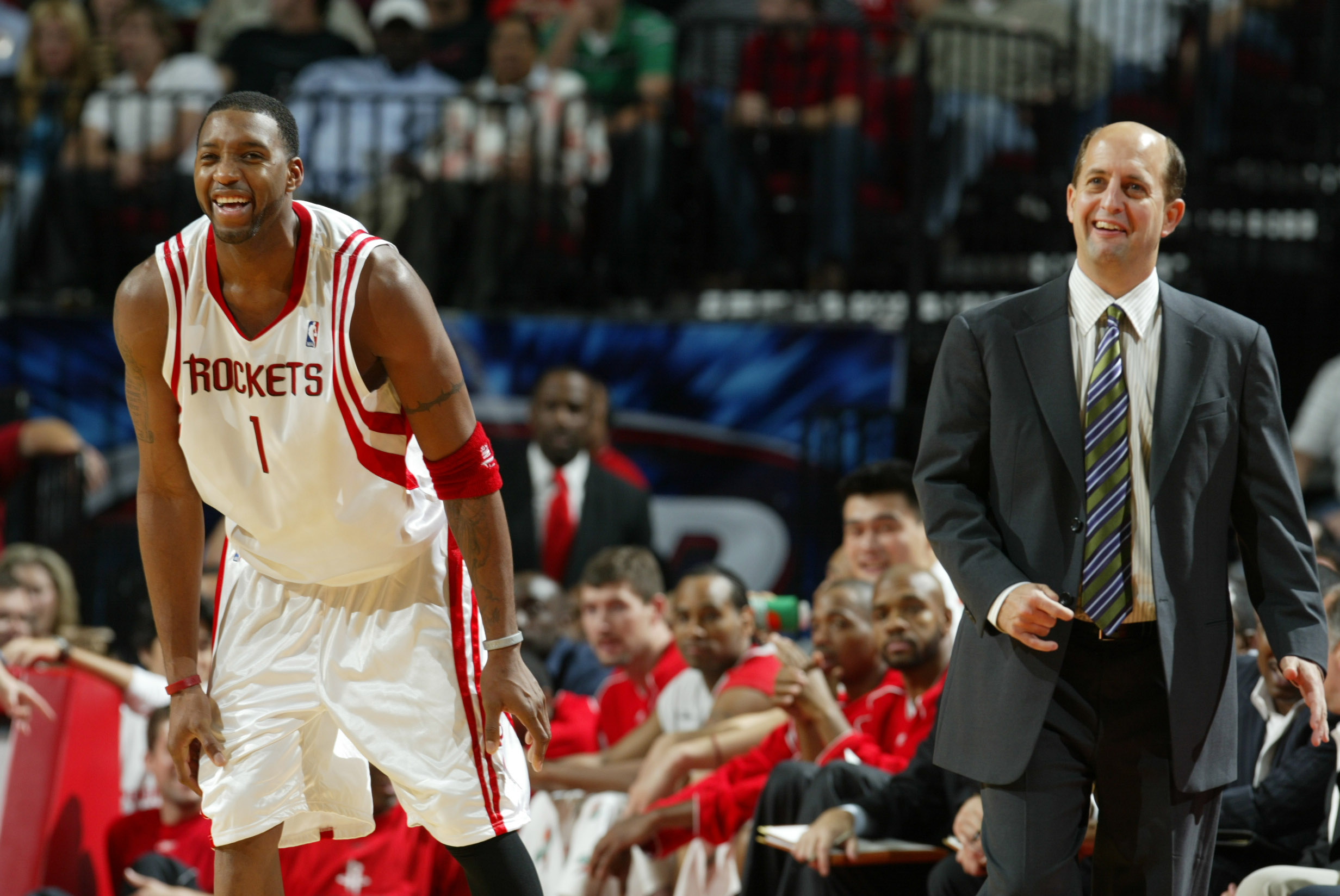 Unfortunately for both McGrady and Van Gundy, the "13 points in 33 seconds" game might be the highlight of their Rockets partnership.
Houston never had much playoff success under Van Gundy. The Rockets were bounced in the first round in two of McGrady's first three seasons with the team and missed the playoffs entirely during the 2005-06 season. Rick Adelman replaced Van Gundy ahead of the 2007-08 campaign, the last really decent year of McGrady's career. T-Mac's knees would play an inhibitive role in his career going forward.
Things might not have panned out in Houston quite like McGrady and Van Gundy envisioned. Still, the two are inexorably linked by that fateful day in December 2004, even if Van Gundy's sultry attitude took away some of T-Mac's shine.
Stats courtesy of Basketball Reference.