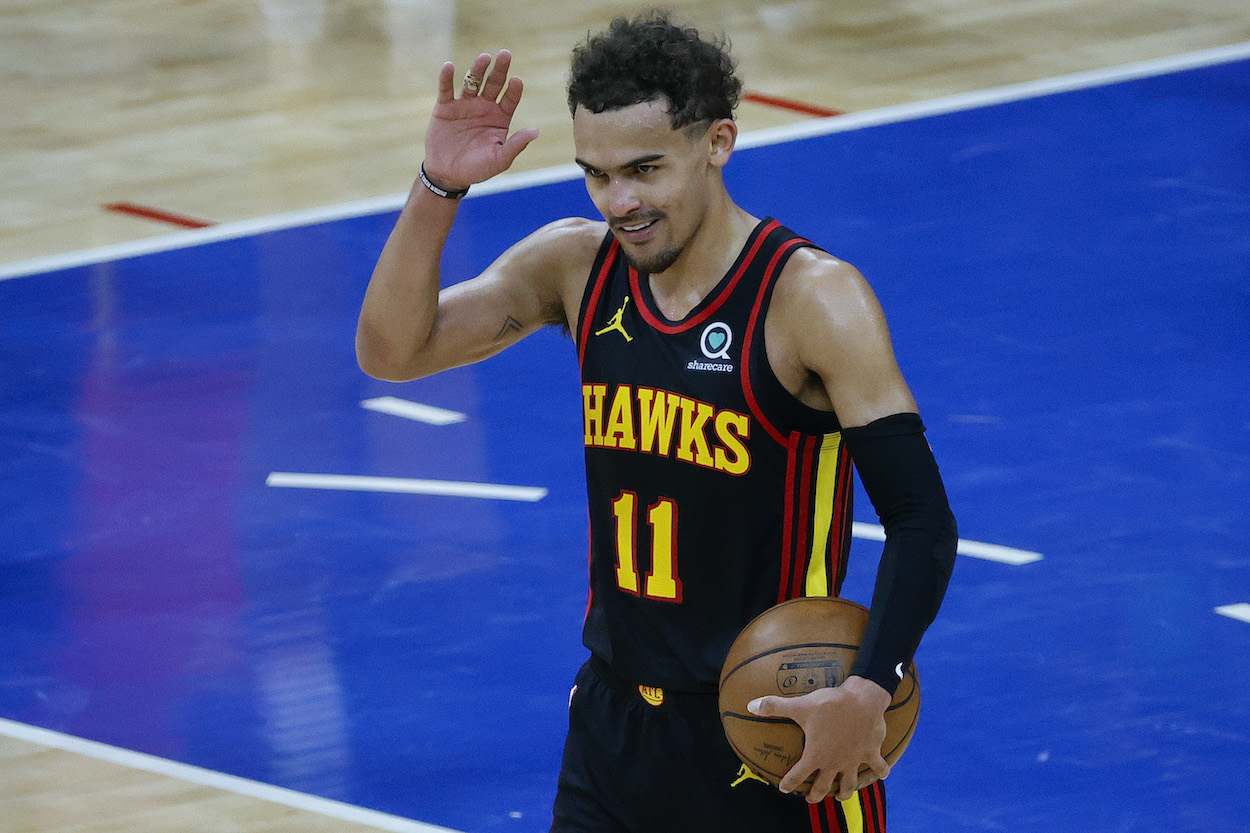 Trae Young Had a Touching Moment With His Dad on Father's Day
Trae Young's dad got a special Father's Day gift from his son after the Atlanta Hawks dramatic Game 7 win to go to the Conference Finals. Rayford Young was an excellent basketball player in his own right and now gets to watch his son try to lead the Hawks to its first ever NBA championship.
Most of us try to do something nice for our father on Father's Day. We'll take him golfing, cook him a steak, or maybe watch a game with him. Instead, Trae Young got to give his father a present that went above and beyond this June 20. It was his game-worn jersey from the Atlanta Hawks' Game 7 victory in the Eastern Conference Semifinals. 
Young's gift to his dad was incredibly touching moment on the day we celebrate fathers. It had to be especially meaningful for Rayford Young because he knows just how hard it is to make it to the game's highest levels. 
Who is Trae Young's dad? 
Before he became known as 'Trae Young's dad," Rayford Young was a pretty good basketball player in his own right. 
The 5-foot-11 point guard from Pampa, Texas, played four years for the Texas Tech Red Raiders from 1996 to 2000. He started for three seasons and played in 108 total games. He scored 1,528 points in Lubbock and dished out 407 assists. Foreshadowing what his son would become, the elder Young was a good 3-point shooter as well, cashing in at a 37.9% clip. 
Trae attended his dad's best game in college. While sitting in the stands with his aunt/his dad's sister, baby Trae watched his dad put up 41 points against the vaunted Kansas Jayhawks. 
The two reminisced about that day with ESPN. Rayford recalls he only had six points at halftime. His coach, James Dickey, implored him to take the game over, saying, "you don't want to get embarrassed on national TV, and Kansas is kicking our butts right now."
Down 62-48 with 10:08 left in the game, Rayford took charge, leading his team on a 22-7 run. He would go on to score 35 points in the second half, 32 of which came in the final 8:56 to upset the No. 24 Jayhawks 90-84, per TexasTech.com.  
Even though Trae says that night "definitely gets brought up a lot in the Young household," he cherishes the fact he was there. "It's pretty cool being able to look back and know that I was there to experience it all," the NBA star says. 
Trae Young gave his dad his jersey after Father's Day victory
Fast forward two-plus decades, and Rayford is now better known as "Ice Trae's" dad. He was in the stands on Father's Day in that capacity to watch his son's Atlanta Hawks take on the Philadelphia 76ers for a trip to the Eastern Conference Finals. 
Trae only hit 7 of his 24 shots but still managed 24 points. With some serious help from his supporting cast, especially Kevin Huerter's 27 points and some big shots from Danilo Gallinari, the Hawks pulled out a 103-96 win. 
As Trae headed down the tunnel to exit the playing area, he stopped in his tracks and wheeled around. Then, the former Oklahoma Sooner started weaving his way through the empty benches while pulling off his jersey. 
He eventually found the fan in the stands he was looking for: His dad. 
Trae and Rayford exchanged a few words before the son tossed his dad his 2021 Father's Day gift. Rayford caught the jersey, blew his son a kiss, and shook his fist with pride at the child who followed in his footsteps and eventually surpassed him to become an NBA superstar. 
It was an incredibly touching moment for viewers, so you can only imagine how father and son must have felt about it. 
The Atlanta Hawks are now one series away from the NBA Finals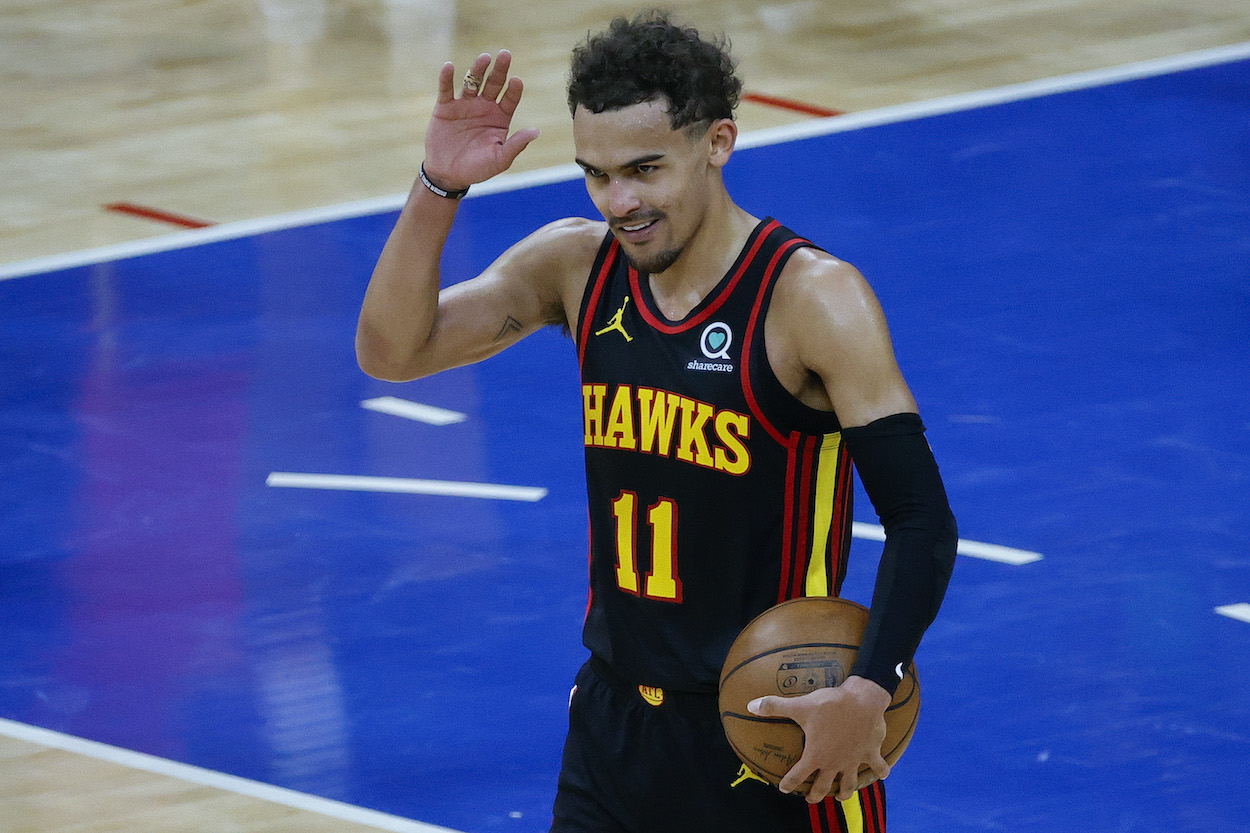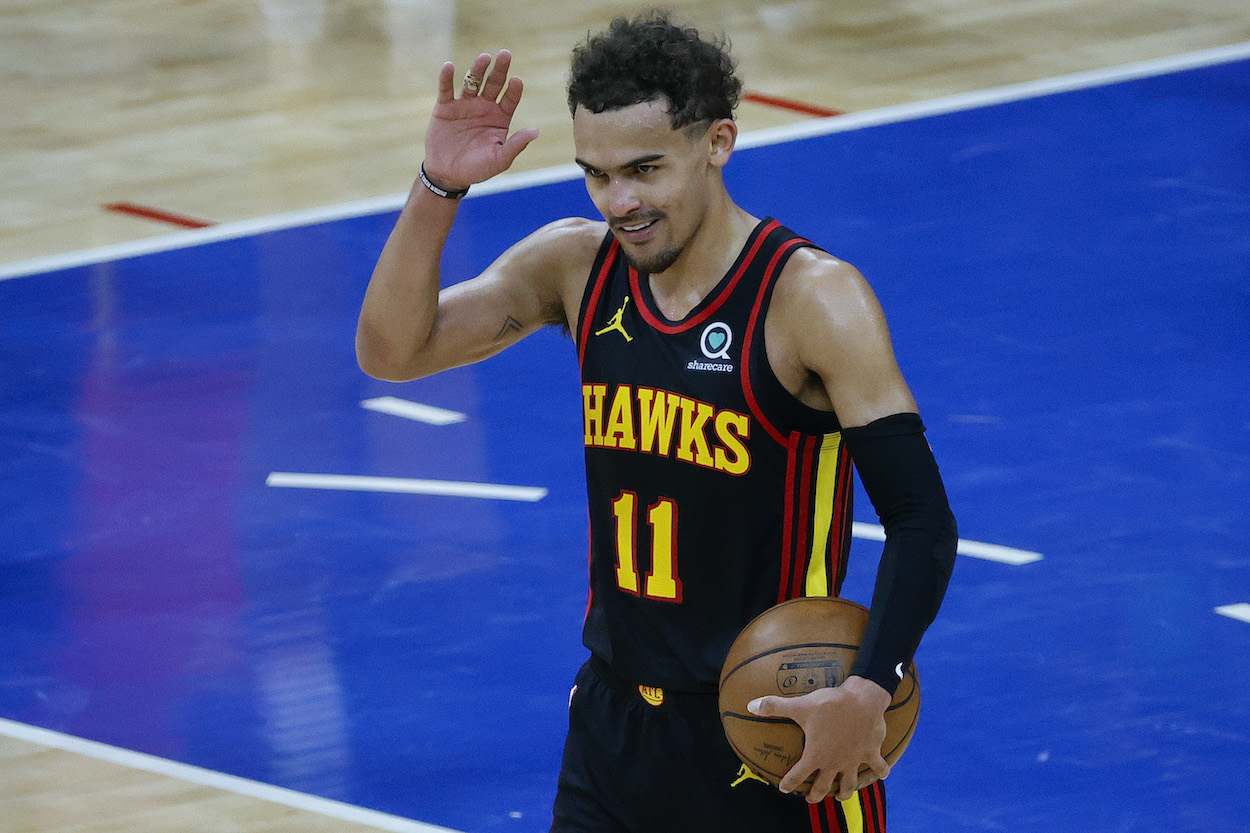 The only thing that may equal that moment of fatherly pride is the elation Hawks fans have now that their team is four wins away from an NBA Finals and eight wins from lifting what would be the first Larry O'Brien trophy in franchise history. 
Before Hawks fans start planning the parade down Marietta St. to Centennial Olympic Park, they have to get past the Milwaukee Bucks first. 
The Bucks also won in dramatic fashion, taking out the Brooklyn Nets super-team in overtime of their own Game 7. So now Trae Young and company will take on Giannis Antetokounmpo, Kris Middleton, and the Bucks in a series to decide who represents the East in the finals. 
The series is historic for both organizations. The Hawks were last in this series in 2015 but have never reached the NBA Finals. The Bucks made it this far in 2019 but have never come out of the East. Their two NBA Finals appearances, including 1971 when they won the championship, came when the team was in the Western Conference. 
Trae Young's dad will get his next chance to see his son in Game 1 of the Eastern Conference Finals, Wednesday, June 24, at 8:30 p.m. EST. 
All stats courtesy of Sports Reference