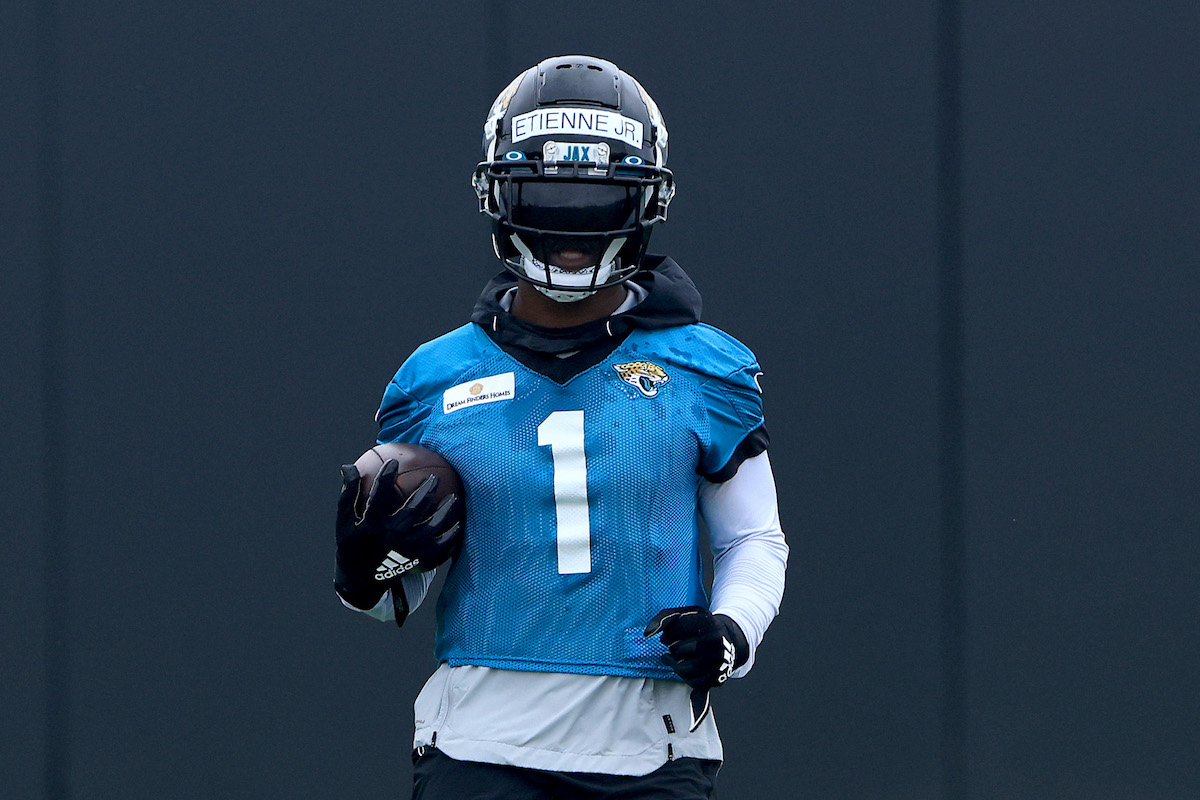 Travis Etienne Has Perfect Perspective About Missed Year Amid Jaguars' Urban Meyer Dysfunction
Travis Etienne may have missed the whole 2021 season with a Lisfranc injury, but he's got a good perspective on that absence thanks to Urban Meyer.
Travis Etienne Jr.'s rookie season with the Jacksonville Jaguars was … a success?
The Clemson running back came off the board — rather surprisingly, given the enduring presence of James Robinson — with the 25th pick of the 2021 NFL Draft and was expected to fill a hybrid role, lining up in the backfield and going to work as a receiver out of the slot. Instead, he suffered a Lisfranc injury in late August and missed the entirety of what would've been his rookie campaign.
But Etienne, preparing for a breakout 2022 season with an up-and-coming Jags squad under new head coach Doug Pederson, has the perfect perspective about his time away from the action. It came in the form of a tongue-in-cheek comment about the disastrous tenure of Urban Meyer.
Avoiding Urban Meyer seen as a positive by Travis Etienne
Clearly a joke? Almost certainly. At least a little facetious? Definitely.
Humourous given all that transpired amid the raging storm of dysfunction Urban Meyer brought to the Jacksonville Jaguars organization? Without a doubt.
Though we'll avoid relitigating the entirety of the Meyer issues, one quote from The Athletic's Jayson Jenks and Mike Sando continues to stand out. A veteran member of Jacksonville's football operations staff explained that it was "the most toxic environment I've ever been a part of. By far. Not even close."
Missing a full season, especially when trying to justify a first-round pick spent in an era that typically decries using top-end resources on the running back position, is never ideal. But if Etienne was going to spend a year rehabilitating and learning from afar rather than engaging in the day-to-day minutiae under a head coach's intense scrutiny, he's not wrong. The 2021 season was a great one to miss.
While Trevor Lawrence, the team's franchise quarterback who was selected 24 spots ahead of Etienne, failed to live up to the lofty expectations prior to a Week 18 performance that eliminated the rival Indianapolis Colts from the playoff field, the rest of the talent-deprived troops struggled to hang with most opponents. The result was a plug-your-nose 3-14 record that resulted in a second consecutive No. 1 overall pick — one that will likely be used on Michigan's Aidan Hutchinson.
Without Etienne in the mix, James Robinson (767 yards), Lawrence (334), Carlos Hyde (253), Dare Ogunbowale (137), and Jamal Agnew (111) were the only players to record triple-digit rushing yards for a team that ranked No. 22 in yardage earned on the ground throughout the campaign.
That should change in 2022.
Travis Etienne primed for big 2022 season for improved Jaguars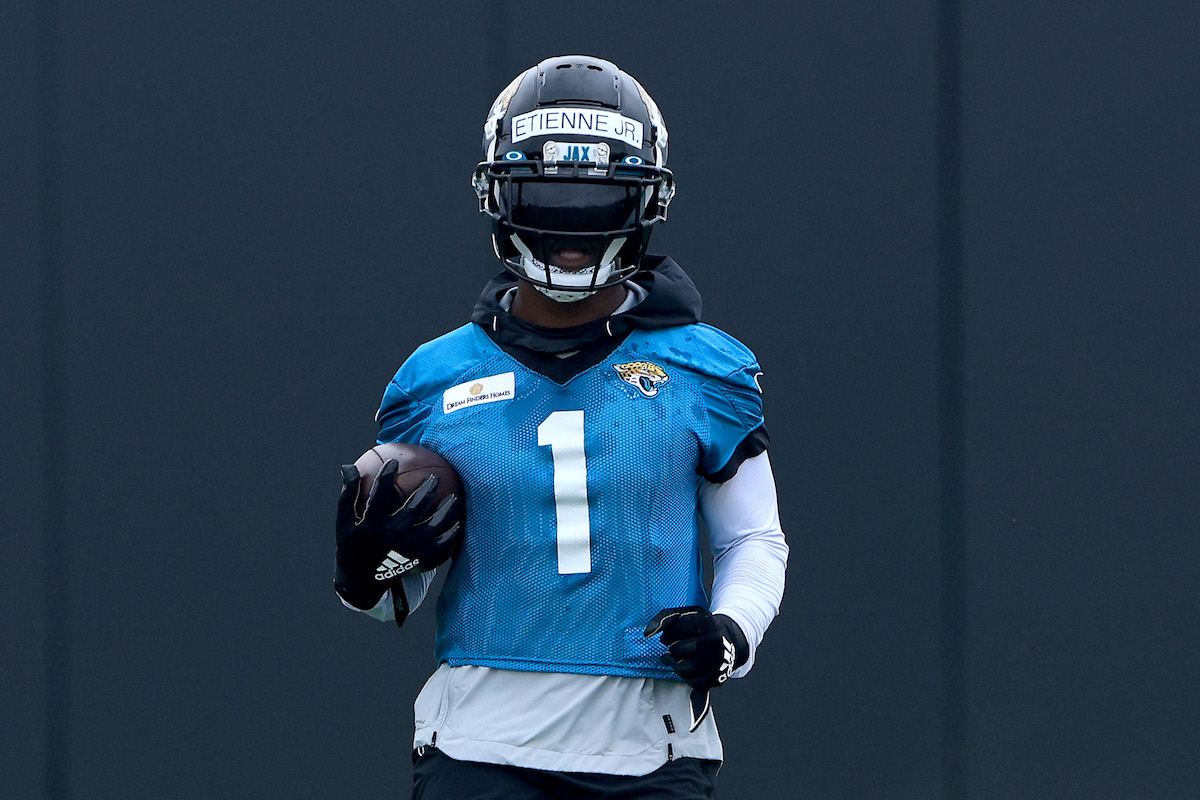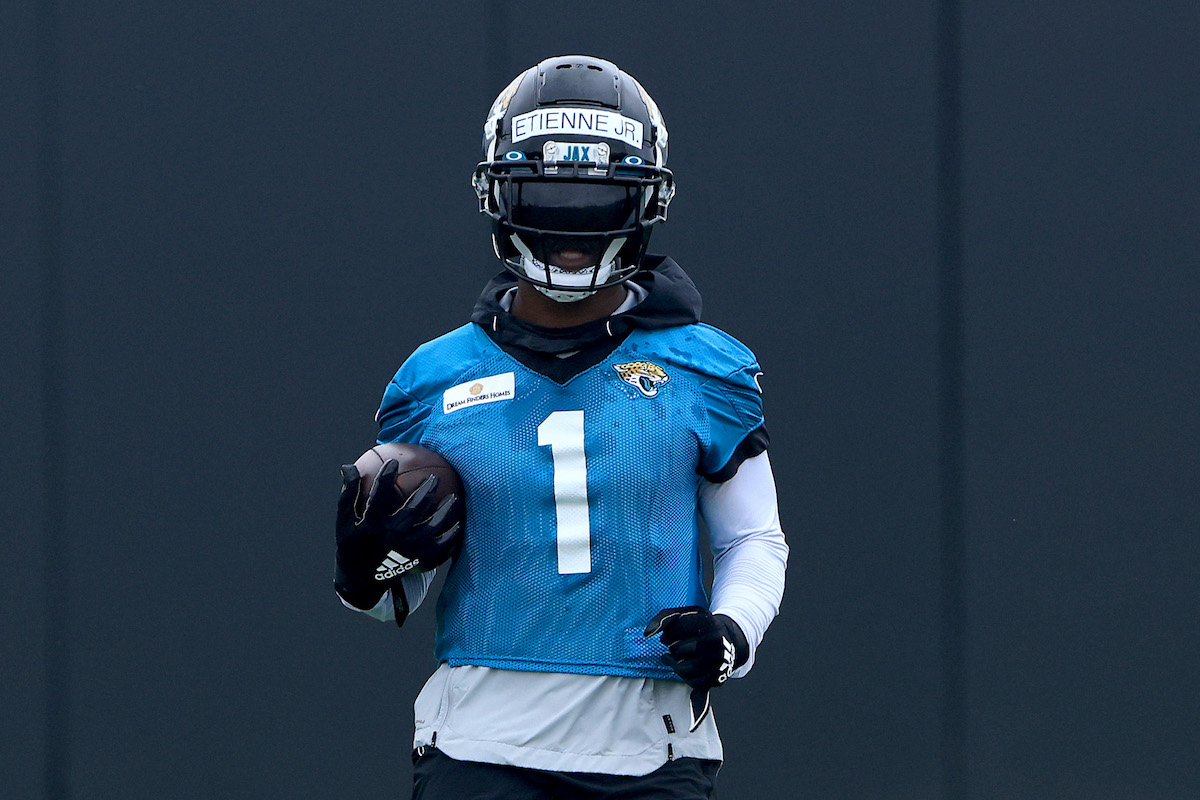 Following a career at Clemson in which he racked up 6,107 yards from scrimmage and 78 total touchdowns over 55 games, Etienne came off the board in the first round for a reason. Many of them, in fact.
Highlight by his 4.45-second 40-yard dash, he has the speed to thrive in the NFL and the acceleration to burst through holes around the line of scrimmage or explode down the field after a catch. He's both physical and elusive with good hands to boot, though he can occasionally lack patience on slow-developing plays or hit the wrong hole.
A fully healthy Etienne should fill a huge role for the Jaguars during his delayed rookie campaign, and he'll only benefit from Lawrence learning on the fly throughout the 2021 season, especially given the synergy they displayed while sharing a field at Clemson. Under the supervision of Doug Pederson, who loves quick-hitting routes and creative schemes that get the ball in the hands of talented playmakers like the 5-foot-10, 210-pound back, the sky may as well be the limit.
Maybe he won't immediately settle in as a three-down back. He's not even guaranteed to enjoy the lion's share of carries around the goal line.
But merely serving as part of a committee alongside Robinson will allow him to put his skill on display in an improved offense that now features Christian Kirk threatening defenses vertically, Evan Engram giving Lawrence a reliable safety option when he's not running down the seams, and an improved offensive line, highlighted by the offseason addition of Brandon Scherff, making everything look a bit easier.
If Etienne does miss time in 2022, he might have good reason to regret it this time around.