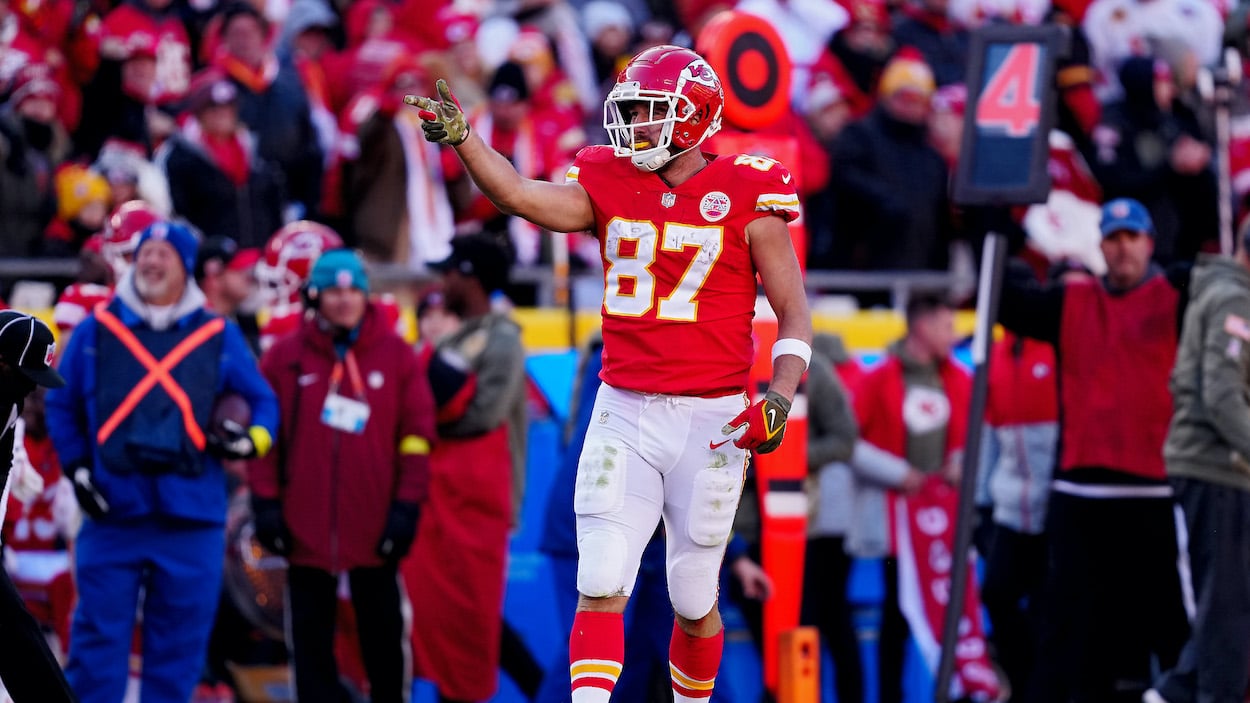 Travis Kelce's Contract With the Chiefs Might be the Best Value in the NFL, For Now
The Travis Kelce contract for the Chiefs is one of the best bargains in the NFL for a player who may go down as the best TE of all time.
Kansas City Chiefs tight end Travis Kelce is inarguably the best player at his position in the NFL right now. And when it's all said and done, he may be the greatest in-line pass catcher of all time. The best part of all in 2022, though, is that the Travis Kelce contract is so good right now it may also be the best value in the game. That will change soon, though, as his most recent contract extension kicks in over the next few years.
The Travis Kelce contract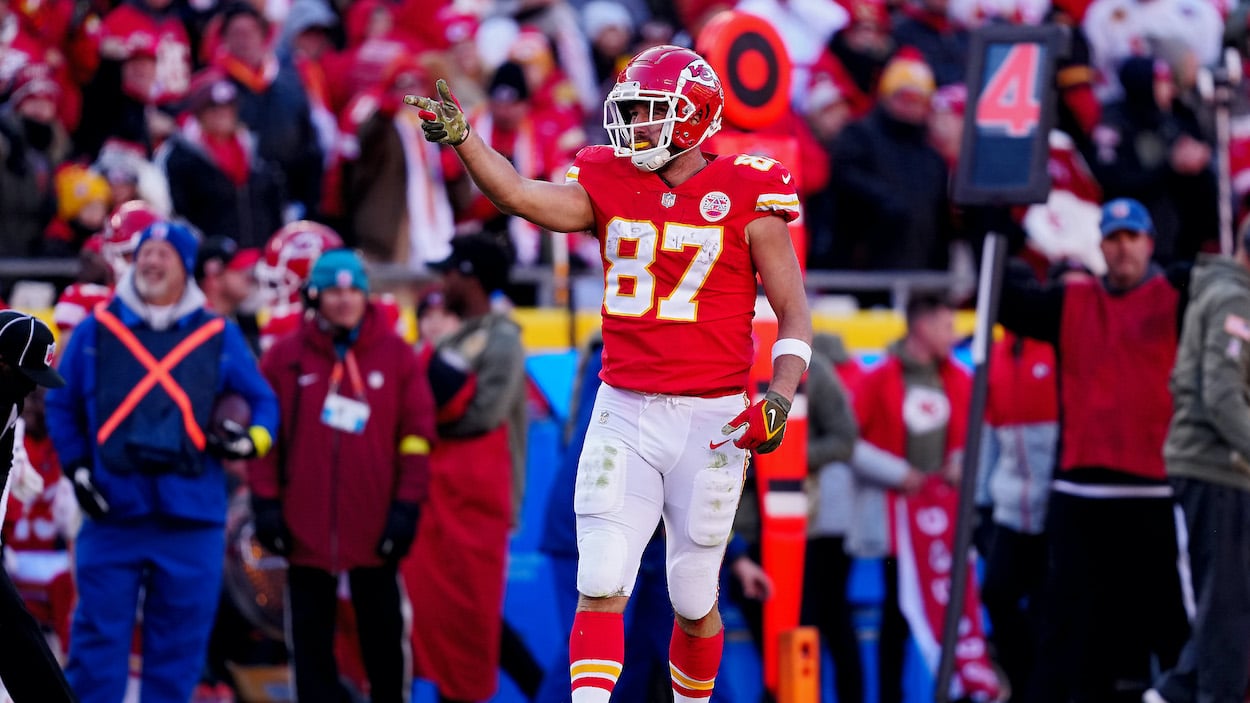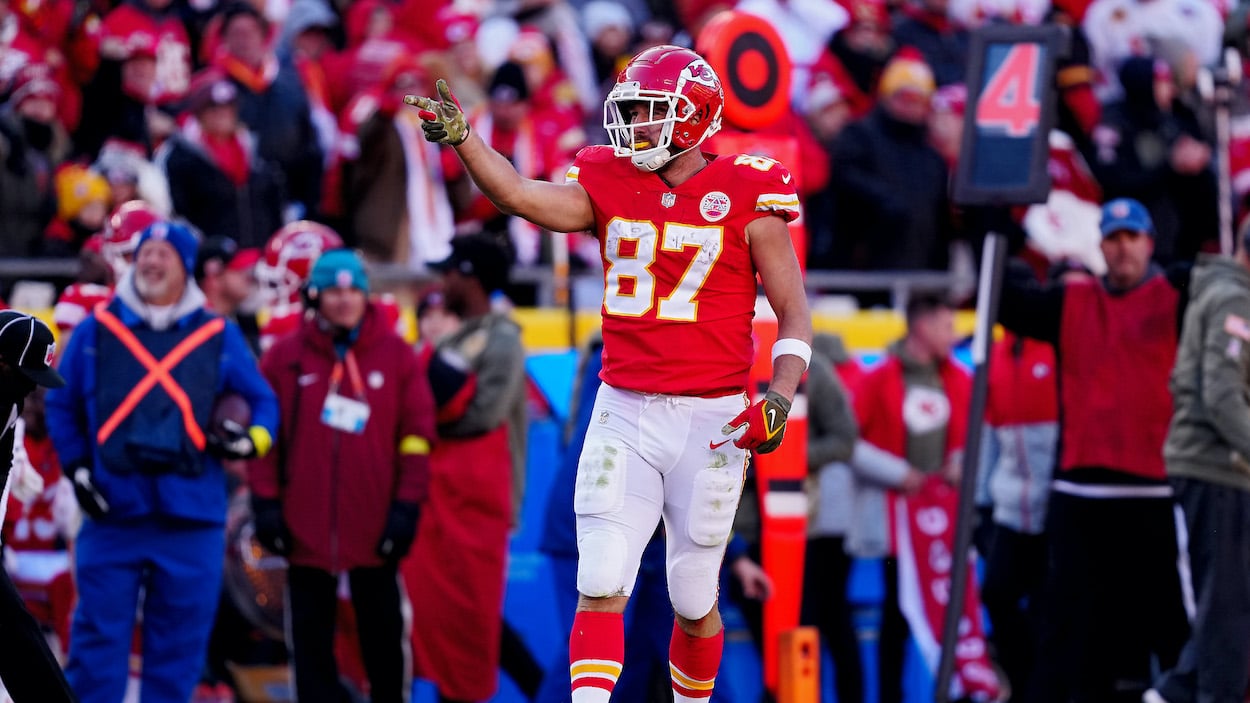 Travis Kelce came into the league during the 2013 NFL Draft when the Chiefs took the Cincinnati TE No. 63 overall. Kelce initially signed a four-year, $3.126 million contract with KC as a third-round rookie.
After not recording a single statistic in his one active game during his rookie season, Kelce burst onto the scene in 2014 with 67 catches for 862 yards and five touchdowns. A year later, he made 72 grabs for 875 yards and another five scores. That earned him his first Pro Bowl nod, and a five-year, $46 million extension.
Since then, Kelce has made every Pro Bowl and been a first- or second-team All-Pro each season. Ahead of the 2020 season, Kelce signed another deal with the Chiefs, this time for four years and $57.25 million.
Since then, he's twice restructured his deal, converting $10.2 million in salary to a signing bonus and freeing up a total of $10.85 million in salary cap for his team in 2021 and 2022.
The end result is that in 2022, he made a $2,893,333 base salary, a $2,750,000 roster bonus, a $250,000 workout bonus, and $2,551,667 in restructuring bonuses with a cap hit of $8,444,999.
That cap hit is just the seventh-highest in the league for tight ends. Hunter Henry, Darren Waller, Mike Gesicki, Dalton Schultz, Mark Andrews, and Evan Engram all take up more room on their teams' balance sheets than Kelce does.
Kelce's contract will continue to be a value in the grand scheme of things as he produces like a No. 1 receiver but gets paid like a tight end. However, in the next three years, his cap hit goes up to $14,801,666, then $15,551,666, and $19,801,666 in 2023-25.
In 2023, that gives him the fourth-highest cap hit among TEs (behind George Kittle, Jonnu Smith, and Henry), and in 2024 he drops down to sixth (behind Kittle, Dallas Goedert, Smith, David Njoku, and Mark Andrews). Finally, in 2025, his $19.8 million cap hit puts him at the top of the list, although that's almost certain to change as the Chiefs will likely have restructured by then.
Kelce is the best TE in the NFL in 2022, and it's not that close
Even at 33 years old, the Chiefs tight end is still validating the Travis Kelce contract as one of the best values in the league each and every week.
The Chiefs pass-catcher is third in the league in receptions this season with 104, only behind wide receivers Tyreek Hill (117) and Justin Jefferson (124). The next closest TEs are T.J. Hockenson in 13th place with 85 and Mark Andrews in 29th with 73. Kelce is also eighth in the NFL in receiving yards (1,300), with Hockenson (23rd, 898) and Andrews (28th, 847) again behind.
Kelce's 12 receiving touchdowns are second in the league behind Davante Adams' 14. George Kittle (sixth, nine) and Juwan Johnson (21st, seven) are the next-closest TEs in that category.
The stats alone show that Kelce is by far the best tight end in the game right now, and he's easily in the top 10 (if not top five) of all pass-catchers. Anytime you watch a Chiefs game and see Patrick Mahomes hit Kelce in the biggest spots in every game, the eye test tells you he's the best as well.
Being the best player of your generation will get you into the Pro Football Hall of Fame, and that's undoubtedly where Kelce is headed. And once you've earned a place in Canton, the question becomes, is Travis Kelce the best tight end of all time?
Where the Chiefs TE ranks all time
The way Travis Kelce is playing at 33 makes it seem like he has, at the bare minimum, another three or four years left in his career and maybe five or more. So, the final word on whether Kelce is the best TE of all time is not yet spoken.
However, statistically speaking, he has to be in the conversation. Here is how the Chiefs' pass-catcher's career numbers stack up to some of the legends of the position:
| | | | | | | |
| --- | --- | --- | --- | --- | --- | --- |
| Player | Seasons | Receptions | Yards | Touchdowns | Pro Bowls | All-Pro |
| Travis Kelce | 10 | 808 | 10,306 | 71 | 8 | 3 |
| Antonio Gates | 16 | 955 | 11,841 | 116 | 8 | 3 |
| Tony Gonzalez | 17 | 1,325 | 15,127 | 111 | 14 | 6 |
| Rob Gronkowski | 11 | 621 | 9,286 | 93 | 5 | 4 |
| Jason Witten | 17 | 1,228 | 13,046 | 74 | 11 | 2 |
| Shannon Sharpe | 14 | 815 | 10,060 | 62 | 8 | 4 |
As you can see, Kelce's number matches up favorably with the all-time greats of the last 30 years. And this doesn't count the best of the best TEs before that, like Mike Ditka, Kellen Winslow, and Ozzie Newsome, as those players didn't get the targets modern tight ends do.
Whenever Kelce's career ends, he could have all the records for a TE if he plays long enough. The one record he already owns has to do with the Travis Kelce contracts over the years. With $64.78 million in career earnings, Kelce is the highest-paid tight end of all time, ahead of Zach Ertz ($62.1M) and Marcedes Lewis ($60.8).