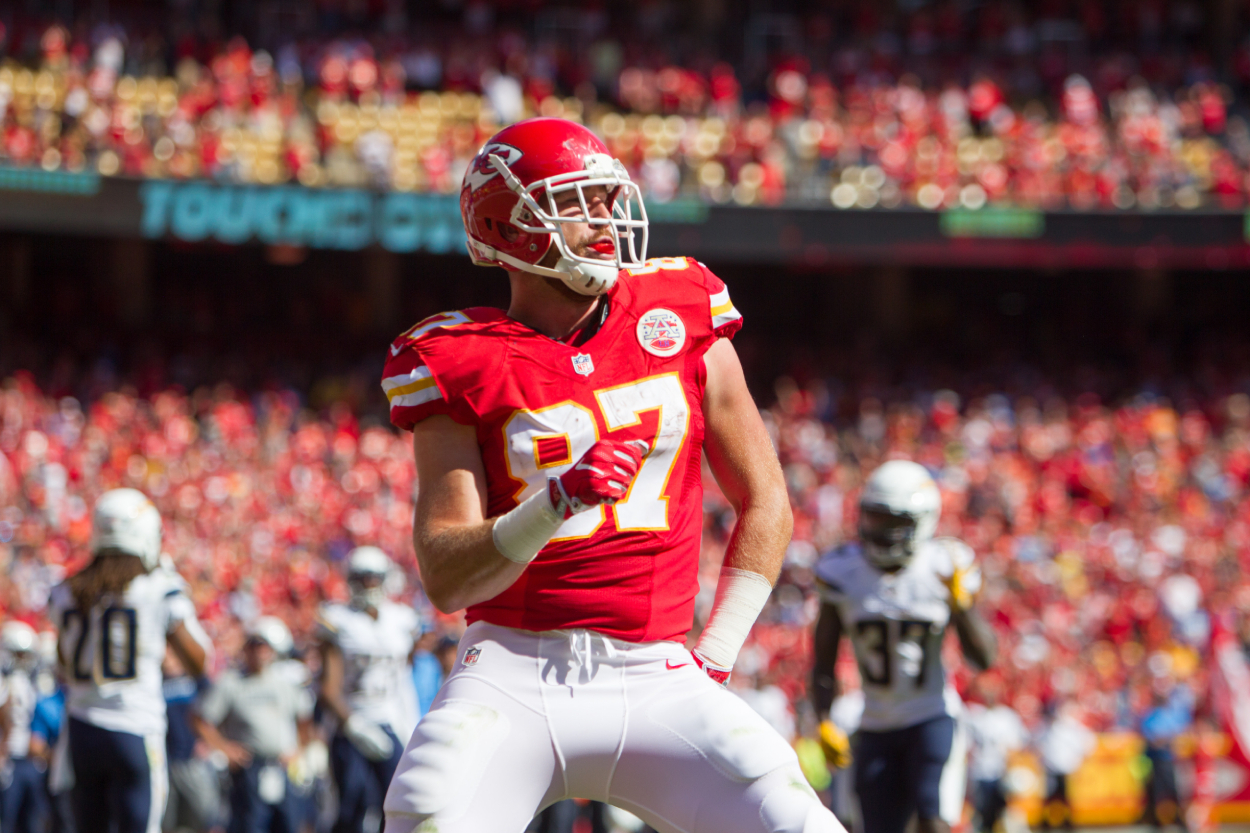 Travis Kelce Says He Was Maybe 'Too Wild' for the Chiefs Early in His Career, Admits His Personality Can 'Shock the City'
Travis Kelce is not just one of the best tight ends in the league, but he also has one of the most entertaining personalities in the NFL. However, Kelce recently admitted he was maybe "too wild" for the Chiefs early in his career, and that his personality can be a little shocking for Kansas City.
Some personalities catch your attention immediately. If you've ever watched the Kansas City Chiefs play football, your eyes have probably been drawn to tight end Travis Kelce.
From the emotion he plays with to the dance moves he puts on display while celebrating, Kelce is one of the most entertaining players in the NFL, and it's not just because of his elite play on the field.
However, in a smaller town like Kansas City (not a big market like New York or LA), is Kelce's personality a little too much? It might have been at first.
Travis Kelce has a fun personality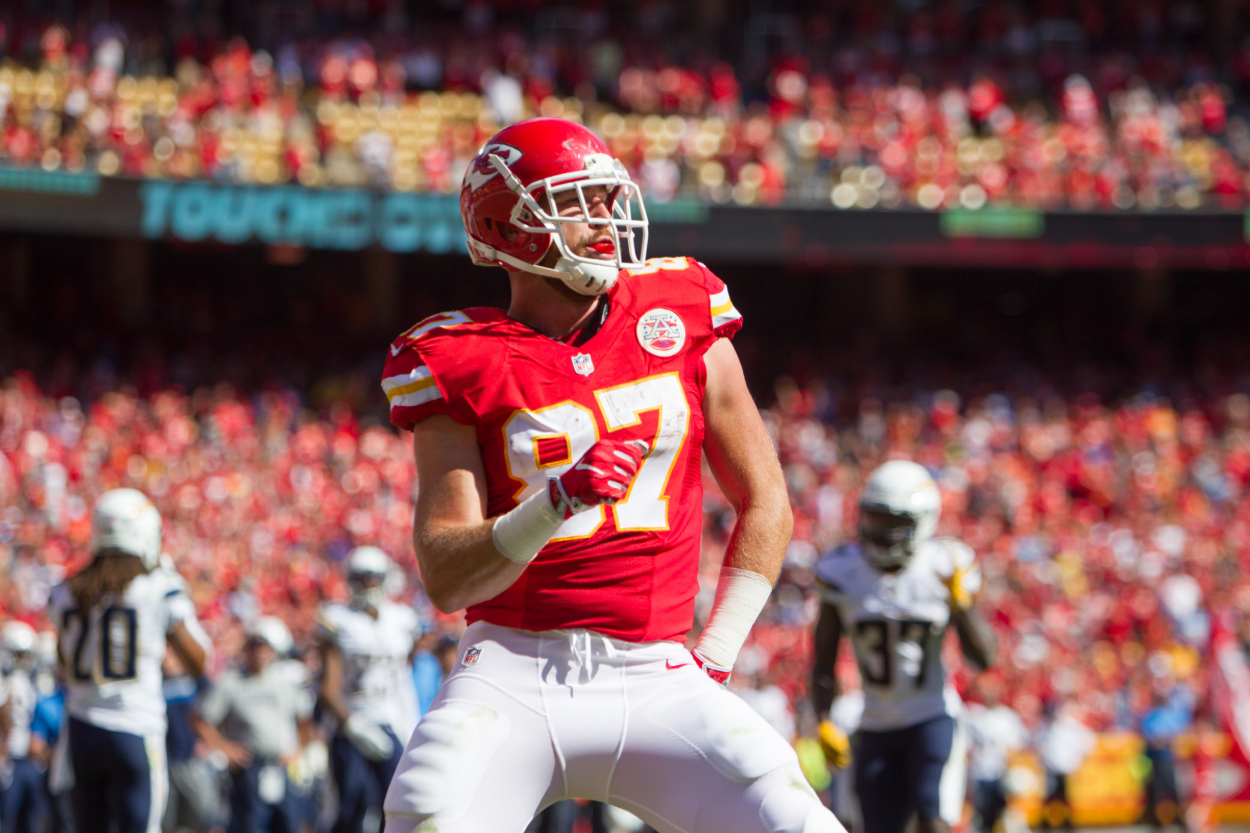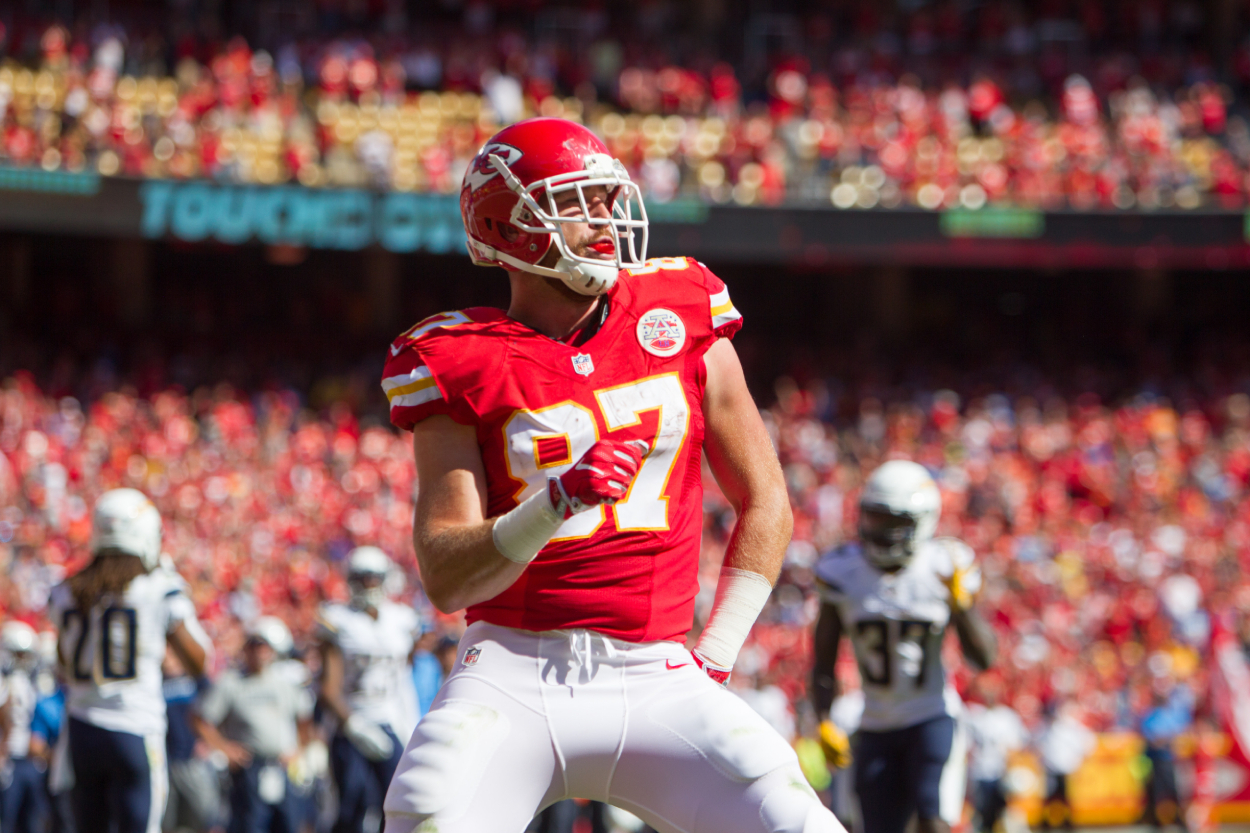 Among some of the most entertaining personalities in sports, Kelce's is certainly up there.
Sure, his dance moves are electric. But Kelce has also proven on multiple occasions off the field that he knows how to chug a beer or two, and once the beers get to flowing, we can probably assume his personality stands out even more.
Kelce is also not afraid to potentially embarrass himself. The star tight end had his own dating show in 2016 called Catching Kelce. He dated 50 women from 50 states on the show and eventually narrowed it down to one, similar to the format of The Bachelor. (No, he's not still dating the final girl.)
That personality is why Kelce says he isn't a quarterback, as QB's typically have to be pretty image conscious. 
"I was a quarterback; at one point in time I was a quarterback, and I realized, 'Wow, this is a lot of pressure to be straight and narrow, gotta do things the right way; can't really just cut it loose like that all the time," Kelce said on the July 9 episode of The Dan Le Batard Show With Stugotz. "That's why I'm in the tight end room — outside of me not being able to throw the ball."
His personality was a little 'too wild' for the Chiefs
Kelce has certainly had some down moments throughout his career, and his personality isn't for everyone.
According to a piece GQ did on him, he missed his entire sophomore season at the University of Cincinnati for violating team rules. He has also let his emotions get the best of him on the field. In fact, during the NFL draft process, one general manager even played a highlight reel of Kelce trash-talking during games, pointing in other players' faces, and getting a little rough after the whistle. Kelce told GQ that after playing about five clips, the GM said, "Son, are you a f—ing a–hole?"
While talking to Dan Le Batard, Kelce received a question on whether the Chiefs are afraid of him having too much personality.
"I think they've definitely opened up to a lot of things," he said. "I think early on in my career, I was probably a little too wild — I had to reel it back a little bit, figure out my lane. And I had to grow up a little bit. With that, I appreciate the Chiefs for just hanging with me, giving me an opportunity every year to play some football for them."
Kelce did admit, though, that his personality might be a lot for a town like Kansas City.
"I don't want to say it's a small market because I love Kansas City fans; it's awesome — we got a huge fan base," Kelce said. "But it's definitely a smaller city, so it's not that much activity, not that much going on. So, a big personality, yeah it might shock the city, it might give some different I don't know; I don't know, give some different 'I don't knows.'"
And right on cue, Kelce explained why he maybe wasn't as sharp as usual during that interview.
"I had about 50 Bud Lights yesterday," he said. "Only thing I've had this morning is coffee, so I'm a little jittery. Mind's working, but it's not really going anywhere."
No one can argue with Travis Kelce's production for the Chiefs
He might not be a guy who talks about football and football only, but no one can argue with Kelce's work ethic and production. He's one of the best tight ends in football.
Kelce has earned six straight Pro Bowl selections with the Chiefs and is a three-time first-team All-Pro. He has also gained over 1,000 receiving yards in five consecutive seasons and broke the single-season NFL record for receiving yards by a tight end in 2020 with 1,416.
The Chiefs' offense is one of the most explosive in the NFL, and Kelce is a major reason why that's the case. Kansas City would not have gone to two consecutive Super Bowls without him.
He's not just a fun personality; Kelce is a dominant player and an elite athlete. The way he acts may be too much for some, but one day, he'll be dancing right into the Pro Football Hall of Fame.
Stats courtesy of Pro Football Reference