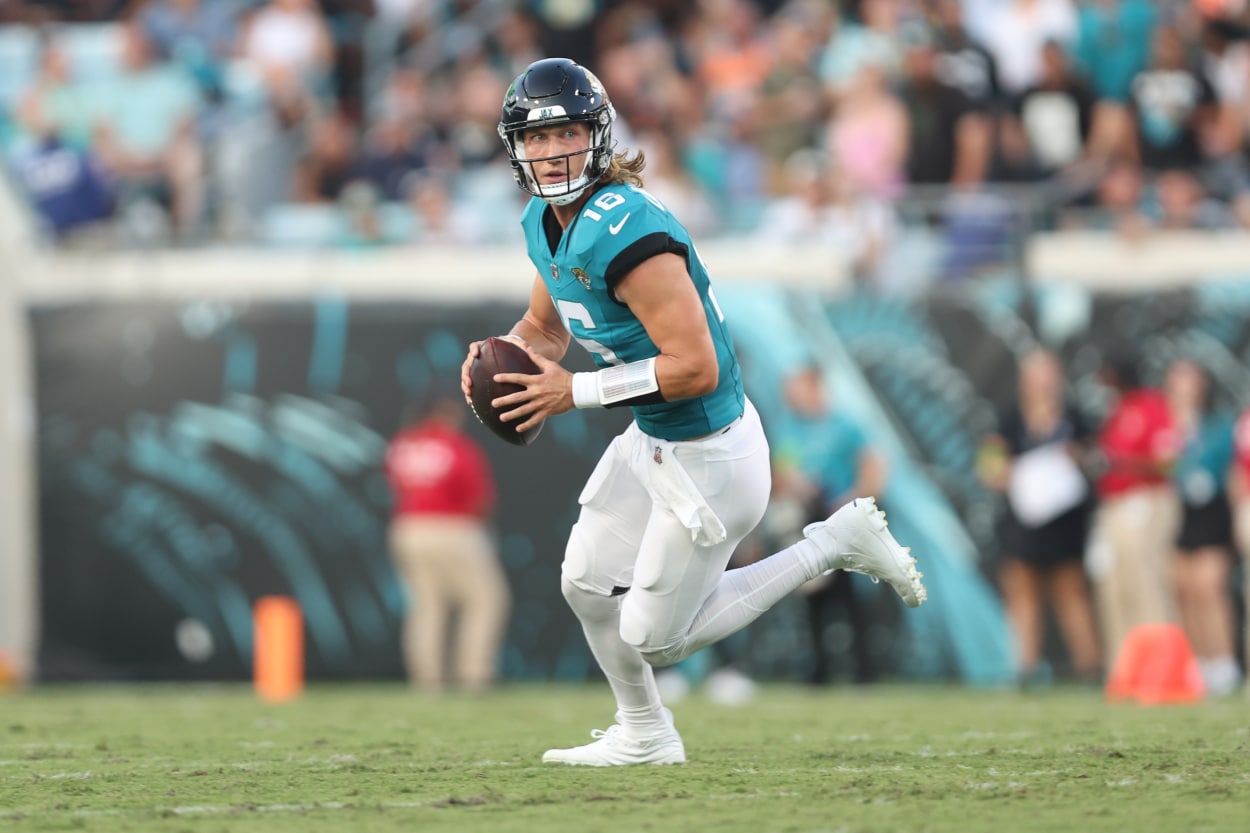 Trevor Lawrence and the Jacksonville Jaguars In Unchartered Territory as the 2023 NFL Season Kicks Off
There are high expectations for Trevor Lawrence and the Jacksonville Jaguars this season.
The hype is real in Jacksonville. As the NFL kicks off Week 1, the Jacksonville Jaguars are getting some respect.
Quarterback Trevor Lawrence enters his third season as Jacksonville's quarterback after being selected No. 1 in the 2021 NFL Draft. After a rookie season that saw him lead the NFL in interceptions (17), he led the Jags to a division title last year and a playoff victory. As the 2023 season draws near, Lawrence and the Jags head into unchartered territory.
Trevor Lawrence and the Jacksonville Jaguars enter 2023 with high expectations
Trevor Lawrence has seen the good and the bad of the NFL. As a rookie in 2021, he was thrown into the fire, starting all 17 games. He went 3-14. The season was an absolute mess under first-year coach Urban Meyer, who was let go after his one disastrous NFL season.
Last year, under Super Bowl-winning coach Doug Pederson, the Jags turned things around, finishing 9-8 and winning the AFC South on the final week of the regular season. They rallied to defeat the Los Angeles Chargers in the opening round of the playoffs before eventually losing to the Super Bowl champion Kansas City Chiefs.
This year, they enter with high expectations. They also enter with plenty of confidence, especially going into Year 2 with the same system under Pederson.
"Just being in the system, you know more," Lawrence said, per The Associated Press. "You can react faster, you can play faster, you communicate better with the guys around you."
Lawrence cautioned that, although that experience will be beneficial, it's not a guarantee for success.
"But it's a new season and that doesn't carry over," he said. "Everyone starts the season in the same spot, so you can't think that it's going to be like that. You got to go out and earn it."
Lawrence and the Jags have a new level of maturity
There's a new maturity level that comes with having two years of NFL experience under your belt. Lawrence clearly has it.
Last year was a difference-maker. A coaching change led to a culture change in Jacksonville. The Jaguars are the clear favorite to win the AFC South, and that's unfamiliar territory for Lawrence. He knows he and his teammates have to block out the noise and have plenty of trust in each other to keep things rolling.
"It doesn't really matter what other people think you should do or you're going to do," he said. "It doesn't really matter at the end of the day as long as the guys in the locker room trust and have faith in you and you keep getting better every day.
"I think that's what success looks like. … You just have to go with that mindset every day of getting better and not letting bad plays, bad games, get in your head and just continuing to turn the page, learn from the good, learn from the bad and continue growing."