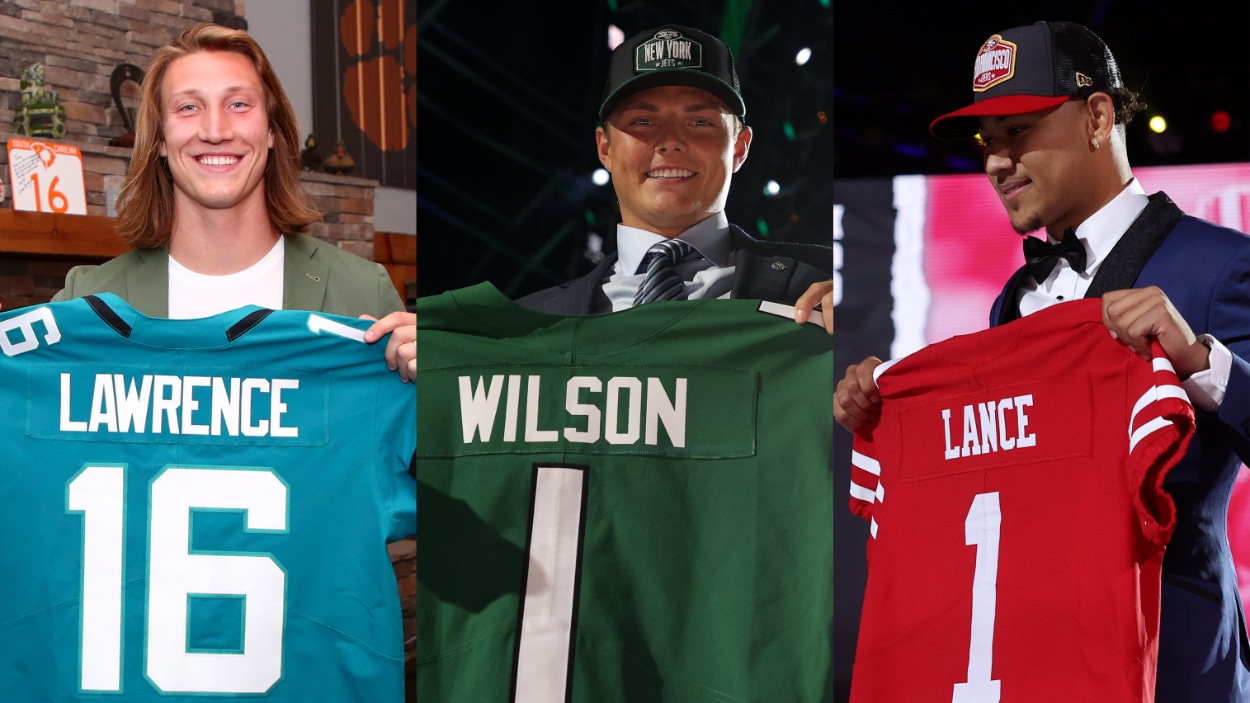 Re-Ranking Trevor Lawrence, Zach Wilson, and the Other 8 QBs in the 2021 QB Draft Class
Trevor Lawrence, Zach Wilson, and the rest of the 2021 NFL Draft quarterbacks re-ranked in the order they should be drafted in today.
In honor of the Trevor Lawrence-Zach Wilson matchup in Week 16 when the Jacksonville Jaguars take on the New York Jets, we're going to take a look back at the much-heralded 2021 NFL quarterback draft class. There were 10 QBs taken in the 2021 NFL Draft, and now, nearly two full seasons into their careers, we have a better idea as to how their careers will turn out. With that in mind, let's re-rank the class that started with Trevor Lawrence and Zach Wilson.
The QB 2021 NFL Draft order, starting with Trevor Lawrence, Zach Wilson
The 20221 NFL Draft featured five first-round QBs. The last time that happened prior to 2021 was in 2018, and that draft had five in the first 32 picks. This one featured five in the first 15 picks. And, as always, teams took late-round flyers on some signal-callers as well.
Here is what the 2021 QB draft order looked like in reality:
Round 1, pick No. 1, Jacksonville Jaguars: Trevor Lawrence, Clemson
Round 1, pick No. 2, New York Jets: Zach Wilson, BYU
Round 1, pick No. 3, San Francisco 49ers: Trey Lance, North Dakota State
Round 1, pick No. 11, Chicago Bears: Justin Fields, Ohio State
Round 1, pick No. 15, New England Patriots: Mac Jones, Alabama
Round 2, pick No. 64, Tampa Bay Buccaneers: Kyle Trask, Florida
Round 2, pick No. 66, Minnesota Vikings: Kellen Mond, Texas A&M
Round 2, pick No. 67, Houston Texans: Davis Mills, Stanford
Round 4, pick No. 133, New Orleans Saints: Ian Book, Notre Dame
Round 6, pick No. 218, Indianapolis Colts: Sam Ehlinger, Texas
All but one of these quarterbacks has played in an NFL game in their first three NFL seasons, and all but two have started at least one game. Knowing what we now know about Trevor Lawrence, Zach Wilson, and the rest of this crew, let's go ahead and re-rank them in 2022.
Re-ranking the QB Class of 2021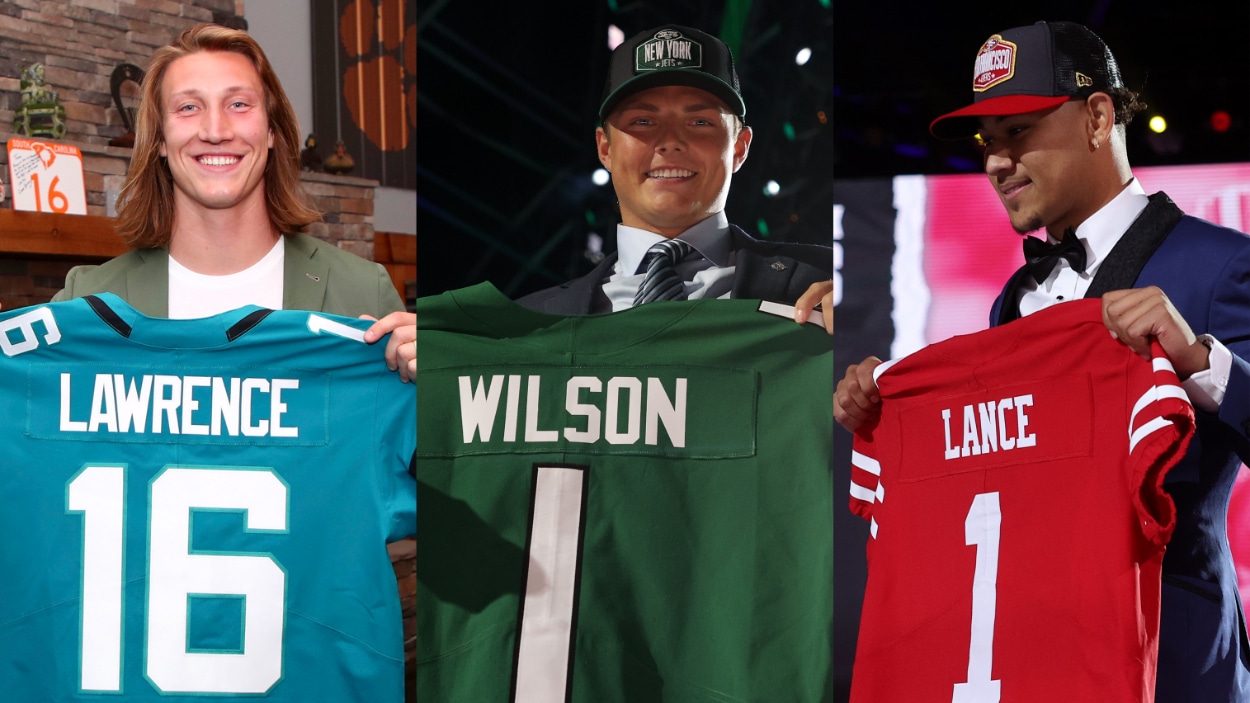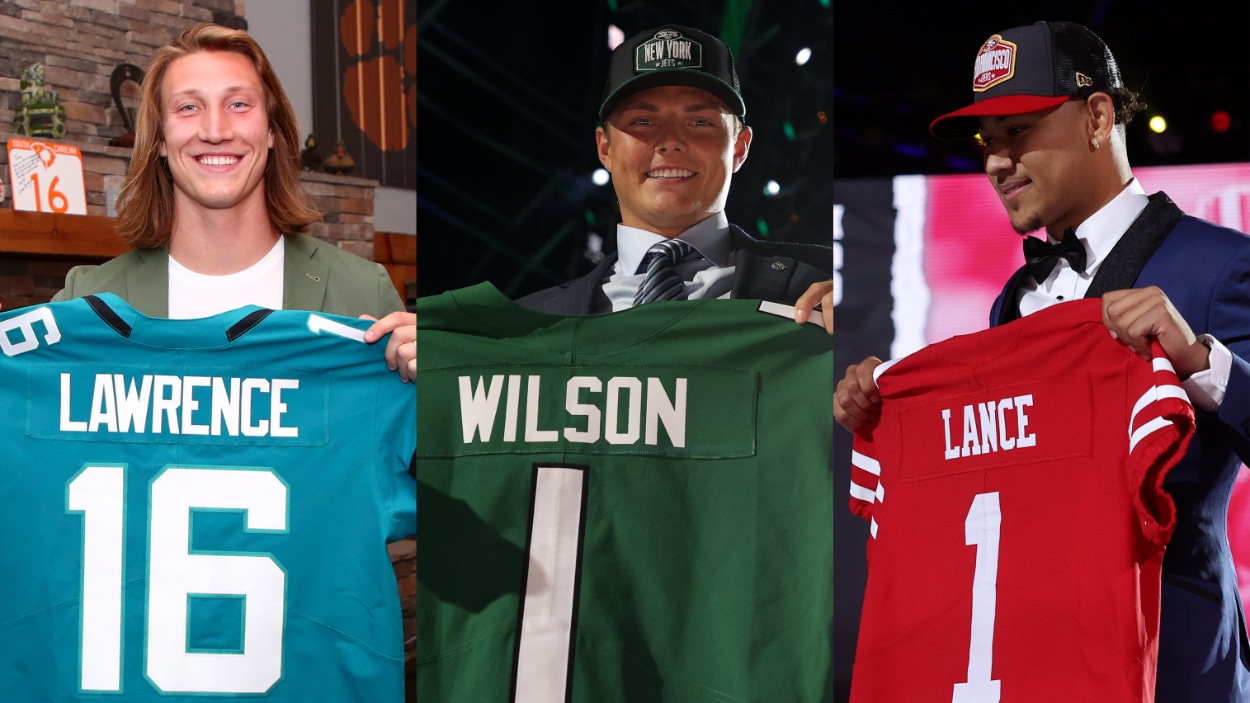 1. Trevor Lawrence
Clemson's Trevor Lawrence was the top pick of 2021, and the Jaguars' Trevor Lawrence remains the No. 1 selection. After starting his career with near-record interceptions, Lawrence righted the ship at the end of last season. In the offseason, the Jaguars committed to putting more talent around him, and Lawrence now seems like the franchise quarterback prospect he was supposed to be.
This season, Lawrence's completion percentage has jumped from 59.6% to 66.0%, his touchdowns have gone from 12 to 24, his interceptions have fallen from 17 to seven, and in three fewer games this year, Lawrence is just 121 passing yards behind last season's total.
2. Justin Fields
Justin Fields, as the second-best QB of this class, is a relatively new development. The signal-caller was floundering in Chicago in his first season-plus, as the front office seemed to refuse to get him any help at all at offense line or wide receiver. The coaching staff also kept his running under wraps until Week 6 of 2022.
Since then, Fields has become one of the most dangerous running QBs in the NFL. In his last eight starts, Fields has double-digit carries in all but two games and over 70 rushing yards in all but one. That includes Week 9 against the Miami Dolphins and Week 10 vs. the Detroit Lions, where the Bears QB rushed for 178 and 147 yards, respectively.
If the Bears ever decide to put some help around Fields on offense, he could be a top NFL QB.
3. Trey Lance
It's hard to rank Trey Lance because he started one game in a monsoon this season (Week 1 vs. Fields and the Bears) and went down with a season-ending injury on the second drive of Week 2. Still, Field won the job in camp, and that has to count for something.
Judging from the preseason and what little we saw in the regular season, Lance has a chance to be a similarly dangerous runner to Fields (although a power runner rather than a finesse one) and will take a while to develop accuracy and decision-making skills.
Still, if he comes back fully healthy in 2023, he is a perfect type of QB for the modern NFL and should win a lot of games with the incredibly high-powered 49ers offense (if Brock Purdy doesn't make him expendable.
4. Mac Jones
The Patriots QB was first or second on this list after last season, but the Mac Jones regression this season has him falling down the re-rankings. With defensive coordinator Matt Patricia calling the offensive plays for some strange reason and late-round rookie Bailey Zappe breathing down his neck, Jones has regressed this season.
He'll still stay above Mills and Wilson on this list because of what he showed in 2021 with 3,801 yards, a 67.5% completion rate, 22 touchdowns, and 13 interceptions. But with his numbers down in basically every category, he could fall even further in 2023.
5. Davis Mills
It would be a fascinating experiment to put Davis Mills on the Patriots (or really any team) instead of the worst team in the NFL. The former Stanford signal-caller has had moments, but playing on this terrible team has led to a 3-18-1 record as a starter and 29 touchdowns to 22 interceptions. That's tough to come back from, no matter how good you are.
6. Zach Wilson
The No. 2 overall pick in the Trevor Lawrence-Zach Wilson 2021 NFL Draft has slipped all the way to No. 6 on this list and may have fallen further if not for Mike White's rib injury in Week 14. If the Jets' new starter didn't get hurt, the last time we saw Wilson would have been his 9-of-22, 77-yard, four-sack performance vs. the Patriots in Week 13.
That was the game where after playing like that, he also refused to take any responsibility for his team's struggles.
Wilson has shown the physical talent that made him the No. 2 overall pick in 2021. However, it's his mechanics, mind, and mentality that are holding him back. The first part is fixable. The second two may not be.
And with possibly only one more start this season — vs. Lawrence and the Jaguars — to prove himself before White comes back, Wilson needs a big game or he may someday be better known for his Page Six shenanigans than his back-page accomplishments.
7. Kyle Trask
The Buccaneers QB benefits from two things, despite not having thrown an NFL pass yet. One, he hasn't shown us any of his flaws, so he could be somewhere on the Trevor Lawrence-Zach Wilson spectrum or the worst player on this list. Two, he's sitting behind Tom Brady. And one thing we've learned from players like Matt Cassel, Jacoby Brissett, and Jimmy Garoppolo is that you can become a decent NFL QB just by learning a little from the GOAT.
8. Sam Ehlinger
Sam Ehlinger has two starts under his belt, and he looked pretty good in the first one and pretty bad in the second. It is a bit telling, though, that the second time the Colts benched Matt Ryan this season, they're going with Nick Foles and not back to Ehlinger.
9. Kellen Mond
Outside of Trask, Kellen Mond has the least NFL experience of this group. He's thrown three NFL passes, completing two for five yards. The Vikings cut him after training camp this year, but the Cleveland Browns picked him right up as a long-term developmental prospect who still has some Dak Prescott-like upside.
10. Ian Book
Book made his one — and probably only — NFL start under strange, COVID-19-related circumstances in 2021. That start wasn't good enough to win him the job in New Orleans or even keep him with the team. He's now a third-stringer on the Philadelphia Eagles, and unless something unusual happens again, he'll likely stay a career backup due to his height (6 feet) and lack of arm strength.