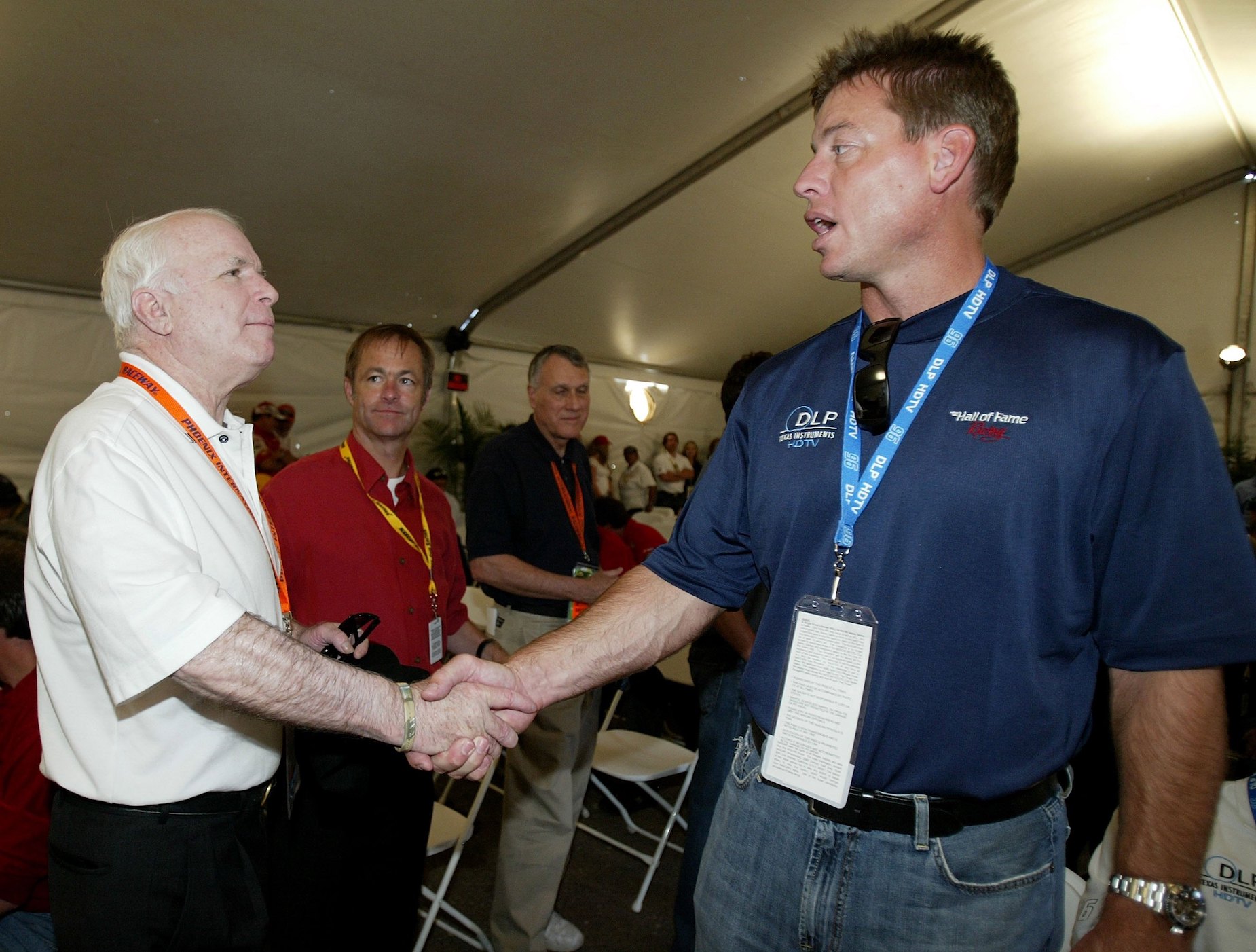 Troy Aikman Doesn't Exactly Put His $40,000 of Political Money Where His Hot Mic Is
Troy Aikman has found himself in hot water after his flyover comments. His political donations, however, may tell a different story.
For better or worse, just about every football fan knows Troy Aikman. During the 1990s, he made a name for himself as the quarterback of the Dallas Cowboys; after retirement, he became a fixture in Fox's NFL broadcast booth. That notoriety, however, has recently landed Aikman in some hot water.
During Week 6's games, Troy Aikman and Joe Buck were caught on a hot mic criticizing military flyovers. While those comments have inspired football fans to theorize that the former Dallas Cowboys quarterback is a Democrat, records show that Aikman had donated more than $40,000 to Republican causes since 1999.
Troy Aikman and Joe Buck discuss pregame military flyovers
A key part of any professional sporting event is the pageantry; there's blaring music, screaming fans, and usually some pyrotechnics to set the mood. Troy Aikman and Joe Buck have seen it all before, and they're apparently unimpressed by military flyovers.
Ahead of Week 6's game between the Green Bay Packers and the Tampa Bay Buccaneers, Aikman and Buck were caught on a hot mic discussing the pregame military flyover. "That's a lot of jet fuel just to do a little flyover," the former Dallas Cowboys quarterback quipped.
"That's your hard-earned money and your tax dollars at work," Buck sarcastically responded, speaking in his best broadcaster voice. Aikman made a final comment, "That stuff ain't happening with Kamala-Biden ticket. I'll tell you that right now, partner," before the clip ended.
The Dallas Cowboys quarterback calls himself 'an unwavering patriot'
Unsurprisingly, Troy Aikman and Joe Buck's exchange hit social media and quickly made the rounds. On Tuesday evening, the former Dallas Cowboys took to Twitter himself, trying to clarify his statement.
"I love a flyover," Aikman wrote, "but It was odd to see one over a mostly empty stadium but I am an unwavering patriot that loves this country, has always respected our flag, supported the men and women in the armed forces as well as those in uniform who serve & protect and for anyone to suggest otherwise doesn't know me, my beliefs or what I have stood for my entire life." He also added an American flag emoji to the end of his message.
As you might imagine if you've spent any time on Twitter, the responses to that statement were mixed. Some told Aikman that he was right to question the use of taxpayer money to fly over a football game; others suggested that his hot mic comments showed a lack of patriotism.
Troy Aikman has donated more than $40,000 to Republicans since 1999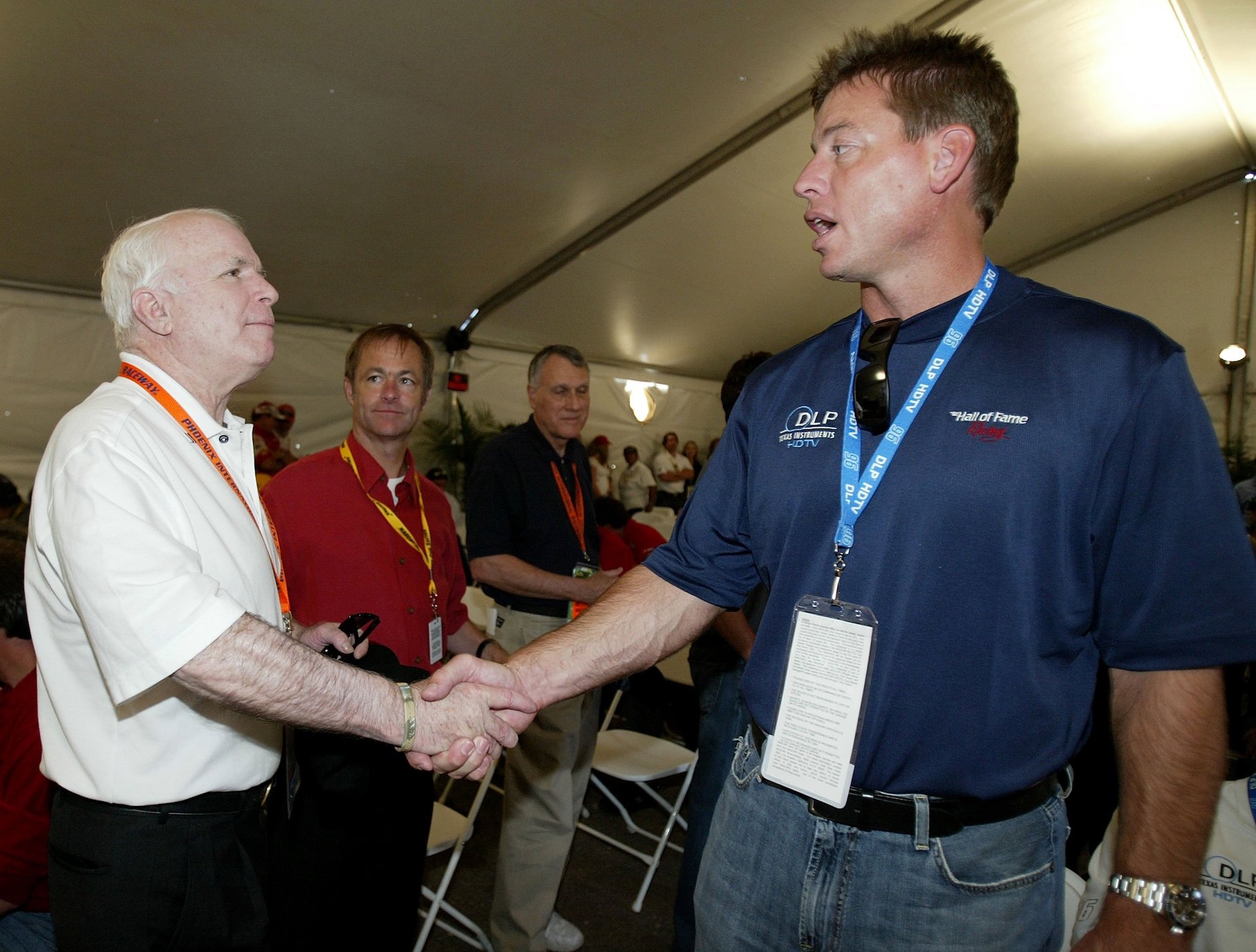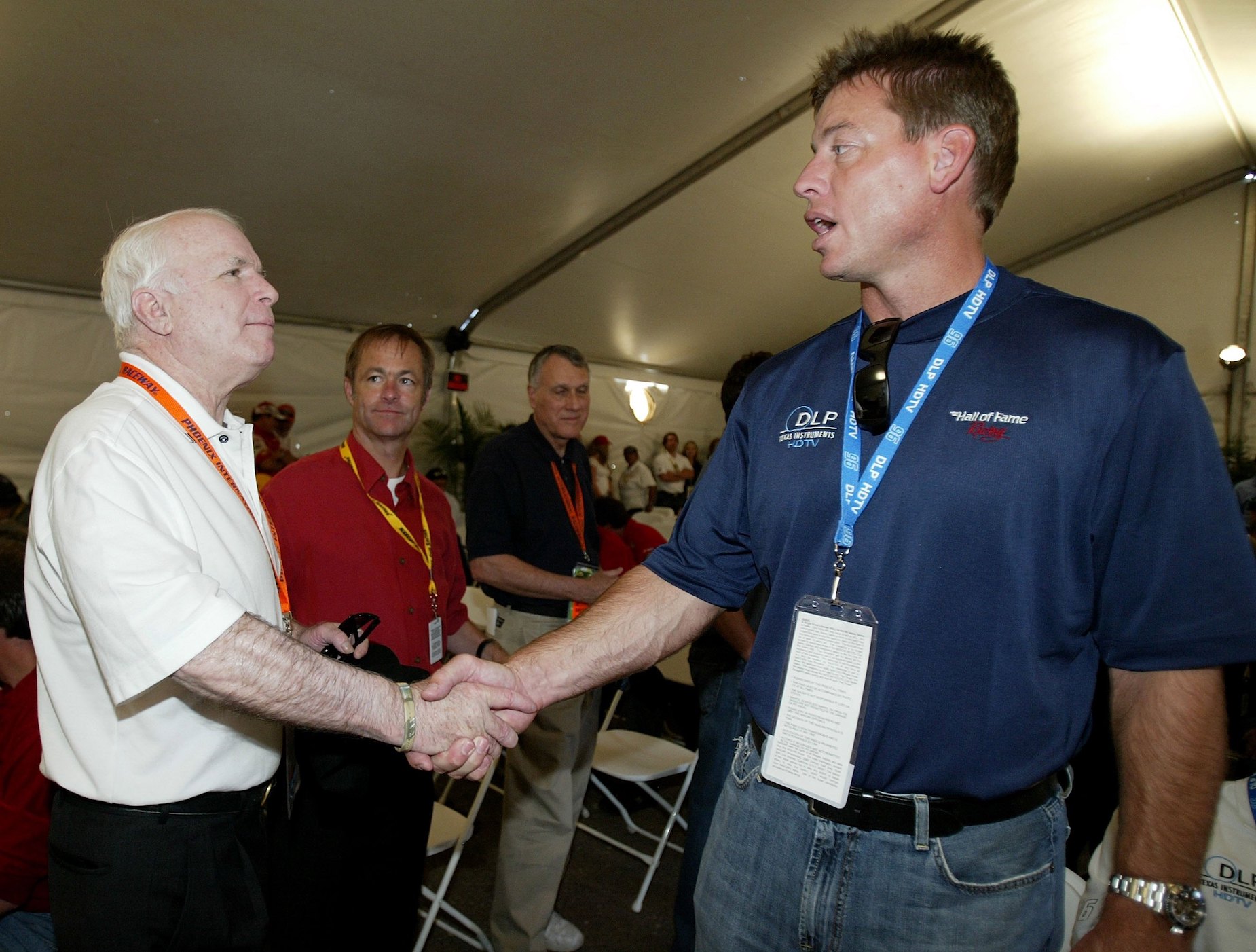 Between his criticism of military flyovers and his reference to Joe Biden and Kamala Harris, some football fans have started wondering where Troy Aikman's political affiliations lie. While the former quarterback and current Fox broadcaster hasn't specifically answered that question, his wallet can offer some indication.
According to the Center for Responsive Politics, Aikman has donated more than $40,000 to Republican causes since 1999. He's contributed to George W. Bush, John McCain, and Mitt Romney's campaigns; the Republican National Committee has also received some checks from the quarterback, including a $20,000 sum in 2012.
Skeptics, however, will note that there no donations on record since Aikman gave $500 to the Republican National Committee in 2016. Has the quarterback changed his political leanings in the past four years? At the end of the day, only Troy Aikman himself can truly answer that question.