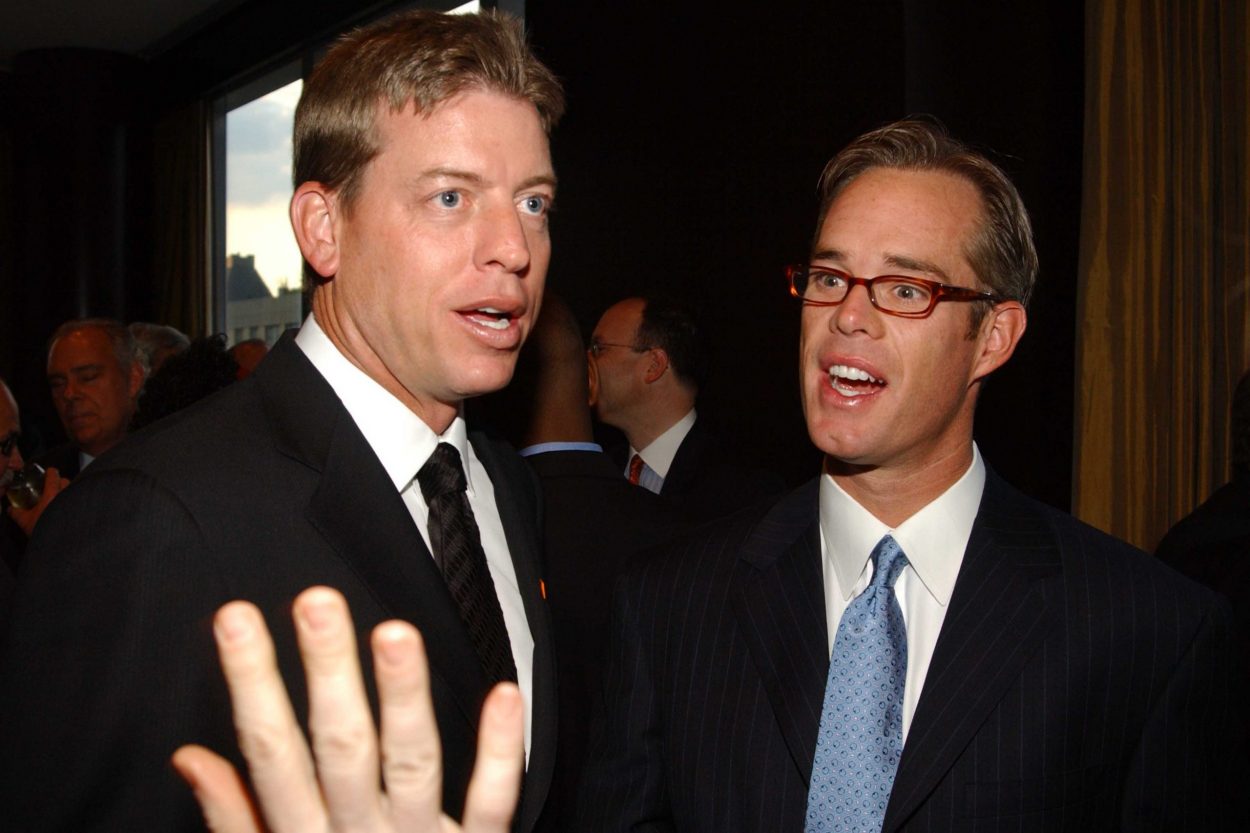 Troy Aikman Was Furious He Didn't Call Sunday's Cowboys-49ers Game, and Wasn't Shy About It
Troy Aikman of Fox Sports wasn't happy he didn't get to call the Cowboys-49ers game Sunday.
The Dallas Cowboys played the San Francisco 49ers at AT&T Stadium on Sunday, and this Super Wild Card game, unlike any of the other five played this weekend, was dripping with as much nostalgia as playoff drama.
Seven times since 1970 these two titans of the NFC squared off in the postseason, and the three most recent clashes, in the early 1990s, were the showcase of Cowboys quarterback Troy Aikman.
So, it was only natural that when TV viewers clicked on Sunday afternoon to see the old NFC rivals go at it one more time, Aikman would be there with Joe Buck on Fox Sports to add an extra level of expertise to this classic matchup. Fox is the network of the NFC, after all. Certainly, this classic NFC game would be theirs to call.
Or not.
Aikman and Buck did indeed call an NFC playoff game on Sunday afternoon. But it was not the game anyone expected them to be calling. Certainly not Troy Aikman. Instead of Arlington, TX, Aikman and Buck were in Tampa, FL, for the Philadelphia Eagles game against Tom Brady's Tampa Bay Buccaneers.
As expected, the game was miserable, and so was Aikman's mood at having to be there. And with Buck placing one up on the tee for him, Aikman let loose all his frustrations at the way Sunday's assignments were laid out.
With the postseason having gone wild, the network assignments have called some audibles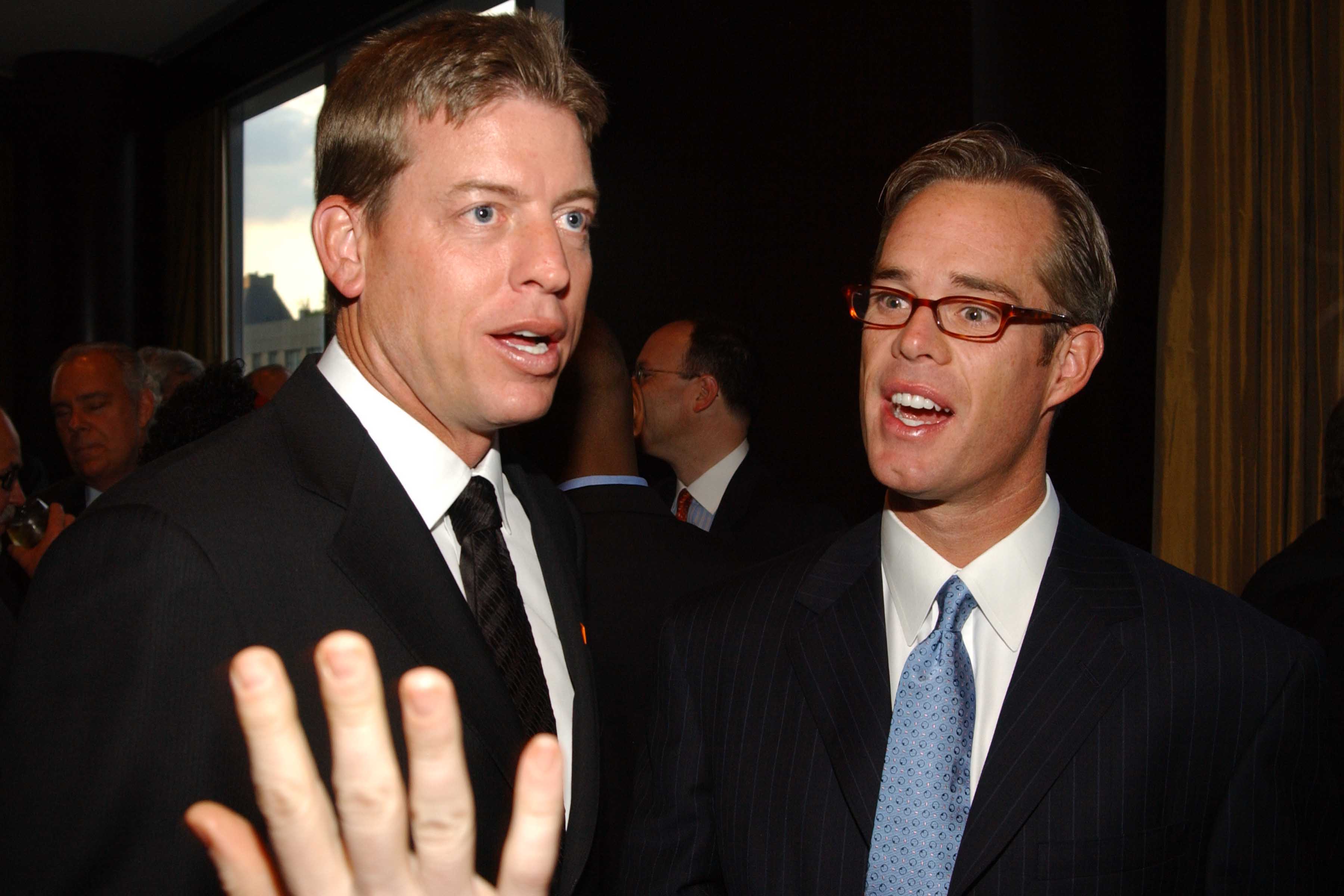 Up until last season, there would have been no doubt where Buck and Aikman would have been on Sunday. In the old Wild Card Round format, there were four games played, and the main networks, CBS and Fox, would get their choice of the best games in each conference for their broadcasts. CBS would get their pick of the two AFC games and Fox would be assigned the choice NFC game, leaving the other two to NBC and ABC/ESPN.
But that all changed last season with the expansion of the playoff pool to seven teams per conference, creating a six-game Super Wild Card Weekend. In the new format, the networks were allowed to bid for the two extra Wild Card games, and for this year's playoffs, CBS and NBC outbid Fox for those rights. And part of the agreement for the two "extra games" was that traditional conference affiliation would not be a consideration.
Aikman holds nothing back: "There's a lot of people would like to be calling that game."
With Fox only doing one of the six games, and because CBS had specifically purchased the rights to the Sunday late afternoon window, Fox was left with the lesser of the two NFC Wild Card games, which was Philadelphia at Tampa Bay.
That clearly had Aikman, the 20-year broadcasting veteran, chafing in the broadcast booth, and his mood turned darker when the Buccaneers raced to a 31-0 lead, making the game largely unwatchable, let alone trying to keep it interesting as broadcasters.
But it was in the third quarter that Aikman fired a tight spiral at the powers that be who created this situation, with a little help from his broadcast partner.
During one of the many lulls in the Eagles-Buccaneers game, the producers put Buck and Aikman on screen for a little chat. And given the platform, Buck tossed Aikman a softball for his partner to smash.
"That game coming up, which is on CBS, which is the Dallas Cowboys hosting the San Francisco 49ers," Buck said, putting some emphasis on the CBS part. "We saw San Francisco with that overtime win in LA last weekend. That's going to be a good game."
A wry smile came over Aikman's face, and then he spoke.
"It's gonna be a great game," Aikman said. "I mean, a really good game.
Buck, knowing where his partner was going, cracked a grin the envy of all Cheshire cats.
And then Aikman dropped the mic.
"There's a lot of people would like to be calling that game. But it should be a lot of fun."
Buck could not suppress his laughter. Later, Buck added: "You're talking about [NBC's Al] Michaels and [Cris] Collinsworth, right?"
Money talks, and Aikman sqwaks, but CBS still got the big game in Big D
Aikman and Buck could be as frustrated as they wanted, but the fact is, CBS paid big money for the rights to the second Wild Card slot, and the league rewarded them for their generosity.
According to a Tweet by New York Post sports media columnist Andrew Marchand, CBS paid $70 million for the rights to the Sunday late afternoon slot. A big part of the reason for that investment was the simulcasting of the game on the children's network, Nickelodeon, with its slime and SpongeBob graphics. A year ago, the Nickelodeon broadcast was a big hit, and CBS wanted was willing to pay for the rights to do it again.
And considering the ratings that late Sunday afternoon window usually generates, the league was more than happy to give them the top matchup of the weekend. And all parties were rewarded with a fantastic finish in San Francisco's 23-17 victory.
So take that as consolation, Troy. You didn't have to watch your team lose in person.