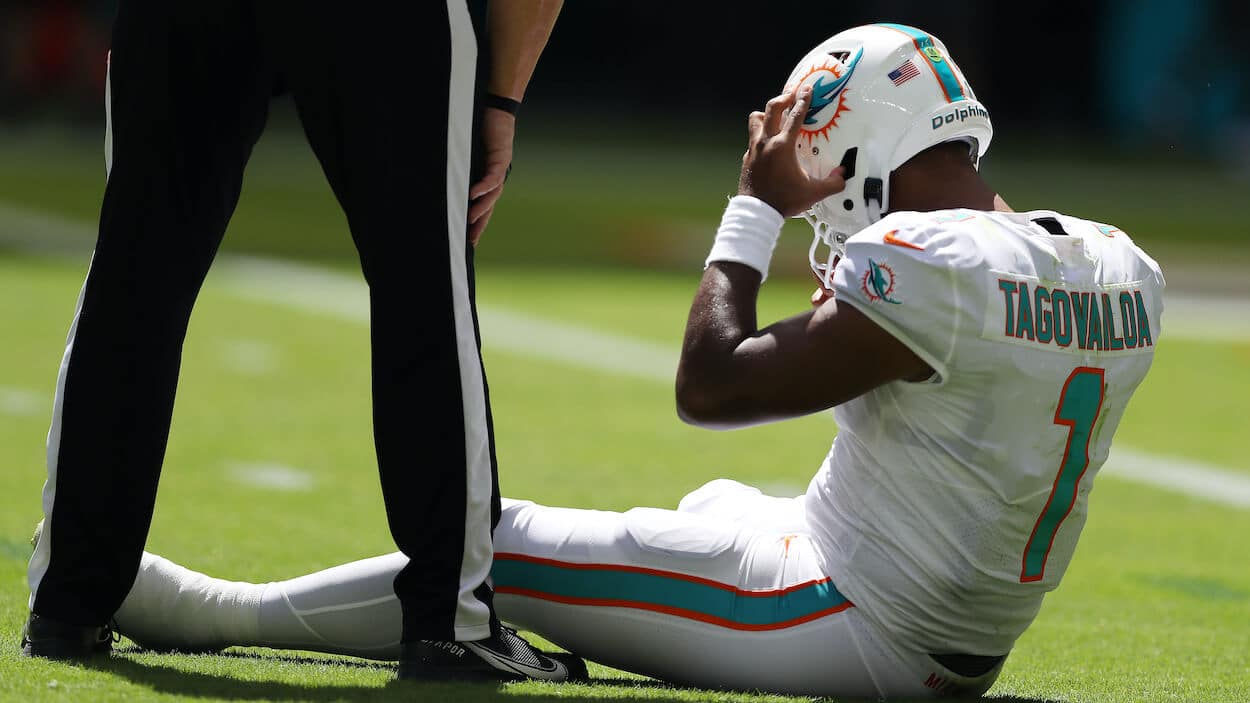 Tua Tagovailoa Shares His Ridiculous Plan to Avoid Concussions Next Season
The Dolphins and Tua Tagovailoa concussion plan for 2023 better involve more than the QB shared with Kay Adams at the Super Bowl.
Outside of the unprecedented Damar Hamlin incident, the Tua Tagovailoa concussion situation was the most frightening health issue of the 2022 NFL season. With three (two officially diagnosed) concussions in 12 weeks, the Miami Dolphins quarterback lost the final three games of his team's season, including a three-point loss to the Buffalo Bills in the AFC Wild Card game.
Although his football future was in doubt just a few weeks ago, it now sounds like Tagovialoa will be back and ready to go for Week 1 of the 2023 NFL season and that the Dolphins plan on him being QB1. And more importantly, Tagovailoa has a plan to avoid concussions next season, but it's pretty ridiculous.
The Tua Tagovailoa concussion plan for 2023 sounds silly 
Tua Tagovailoa suffered at least two, and likely three, concussions in 2022 (more on that below). Now, as the QB prepares for next season, he's at least taking some steps to hopefully avoid these traumatic brain injuries in the future.
Speaking with Kay Adams on her Up & Adams show at the Super Bowl, Tagovailoa revealed his big plan for avoiding concussions next season.
"We got a plan set up, and I'll be doing judo on Fridays just so that I can kinda figure out — understanding my body, and how to fall and things like that," Tagovalioa told Adams and her former Good Morning Football co-host Nate Burleson.
Now, in a vacuum, this is a solid idea. Knowing how to fall by taking martial arts is a valid concept that could possibly help many quarterbacks. However, it seems like Tagovailoa is past that point.
Judo or no judo, there's only so much you can do when a 275-pound man with 4.5 speed and bad intentions is crashing down on you, and you're looking 40 yards downfield at Tyreek Hill.
The Tua Tagovailoa concussion problem is real. We've already seen him staggering down the field and knocked out with his hand curled in a frightening position. The next traumatic brain injury Tagaoviloa suffers on the field could be even worse.
Hopefully, the Dolphins and the QB have a plan that involves more than judo, or this could become a true tragedy next season.
Tagovailoa's disturbing 2022 season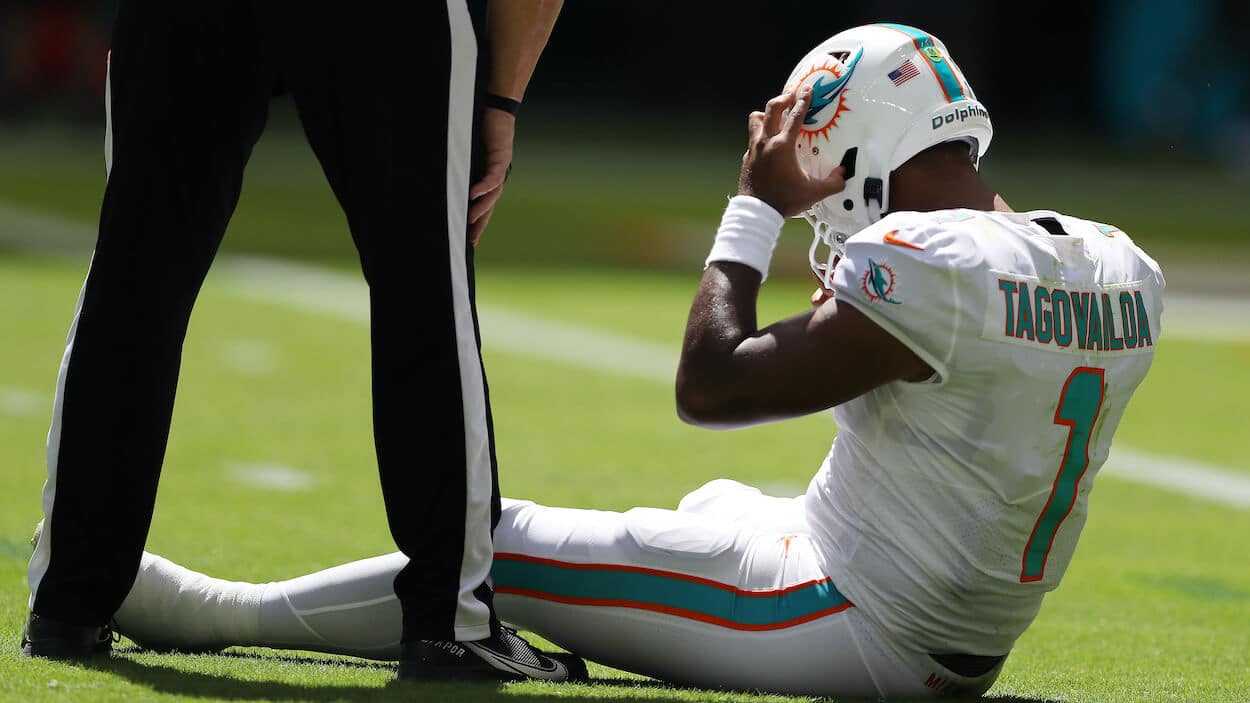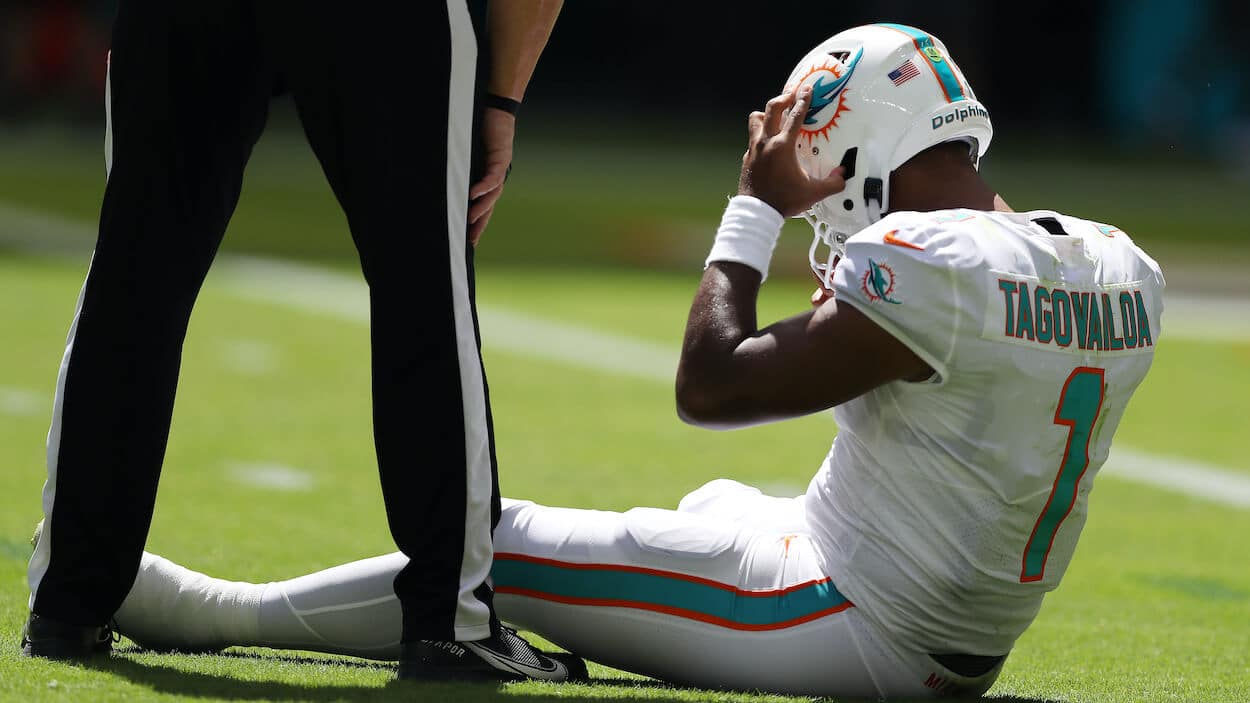 In Week 3 against the Buffalo Bills, Tua Tagovailoa hit the back of his head at the end of a tackle, and when he got up, he staggered, fell, and had to have his linemen help him to the huddle. The QB went off the field but promptly returned after his wobbly legs were diagnosed as part of a "back injury."
The team and Tagovailoa stuck to that story after the game, yet the NFLPA decided to open an investigation into the Dolphins' concussion protocol anyway.
Things went from bad to worse in Week 4 when Tagovailoa took another hit in a Thursday night game against the Cincinnati Bengals. This time, the QB went unconscious, and his hands immediately contorted into "fencing response," which is a clear sign of brain trauma.
That concussion, likely Tagovailoa's second in four days, is a major cause for concern. However, after sitting out two games, the QB was back for Week 7.
Despite the two Tua Tagovailoa concussions, the QB came back and played without incident until Week 15. In that contest, he suffered another concussion at some point, yet once again finished the game. On Monday, he "displayed and admitted to having concussion symptoms when he spoke with team doctors," according to ESPN, and went back into concussion protocol.
The Dolphins then did the (bare minimum) right thing and kept him out through the regular season and the playoffs, even though his absence in the Wild Card Round meant starting seventh-round rookie Skylar Thompson.
Now, the Dolphins are all in on throwing the quarterback out there in 2023 despite all the Tua Tagovailoa concussion issues. We all hope there's a happy ending to this story, but unless Tagovailoa figures out something better than judo to combat this issue, I'm afraid there won't be.