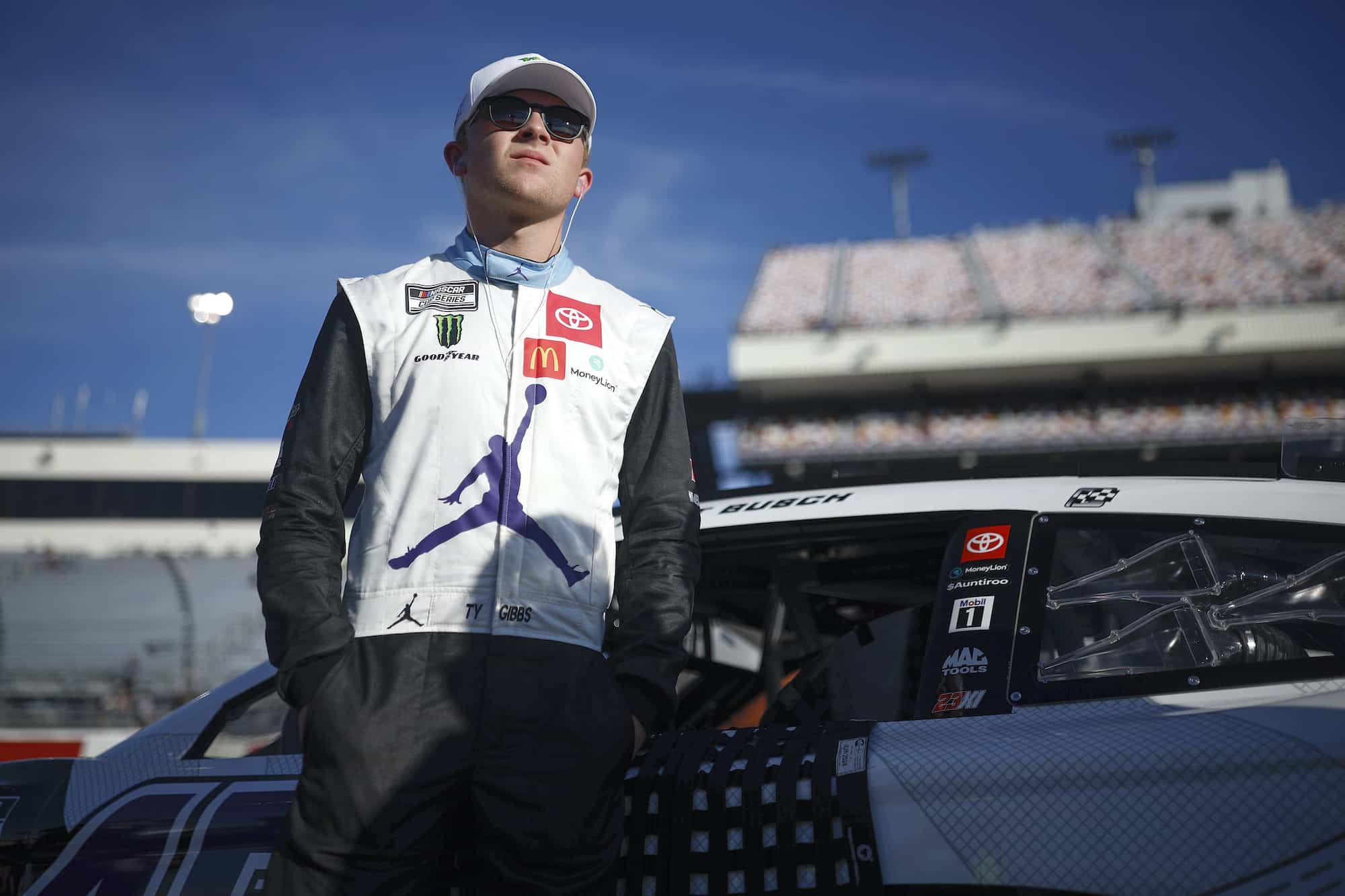 Ty Gibbs Doesn't Back Down and Sends Kyle Busch and Rest of Cup Series Field a Message at Richmond
Ty Gibbs sent a message to Kyle Busch and the Cup Series field on Sunday a Richmond when he didn't back down from the two-time Cup Series champion, and responded with an aggressive move of his own.
Ty Gibbs made his NASCAR Cup Series debut just a few weeks ago at Pocono, subbing for the injured Kurt Busch. Prior to Sunday's race at Richmond, the 19-year-old had impressed in each previous appearance, scoring three consecutive top-20 finishes, including his best, a 10th-place result at Michigan the week before. 
But Richmond is a race the youngster would just as soon forget, finishing dead last, completing 180 of the 400 laps when engine trouble ended his day. However, before that happened, the Joe Gibbs Racing driver sent a clear message to Kyle Busch and the rest of the field.  
Ty Gibbs tells Denny Hamlin certain drivers 'used me up'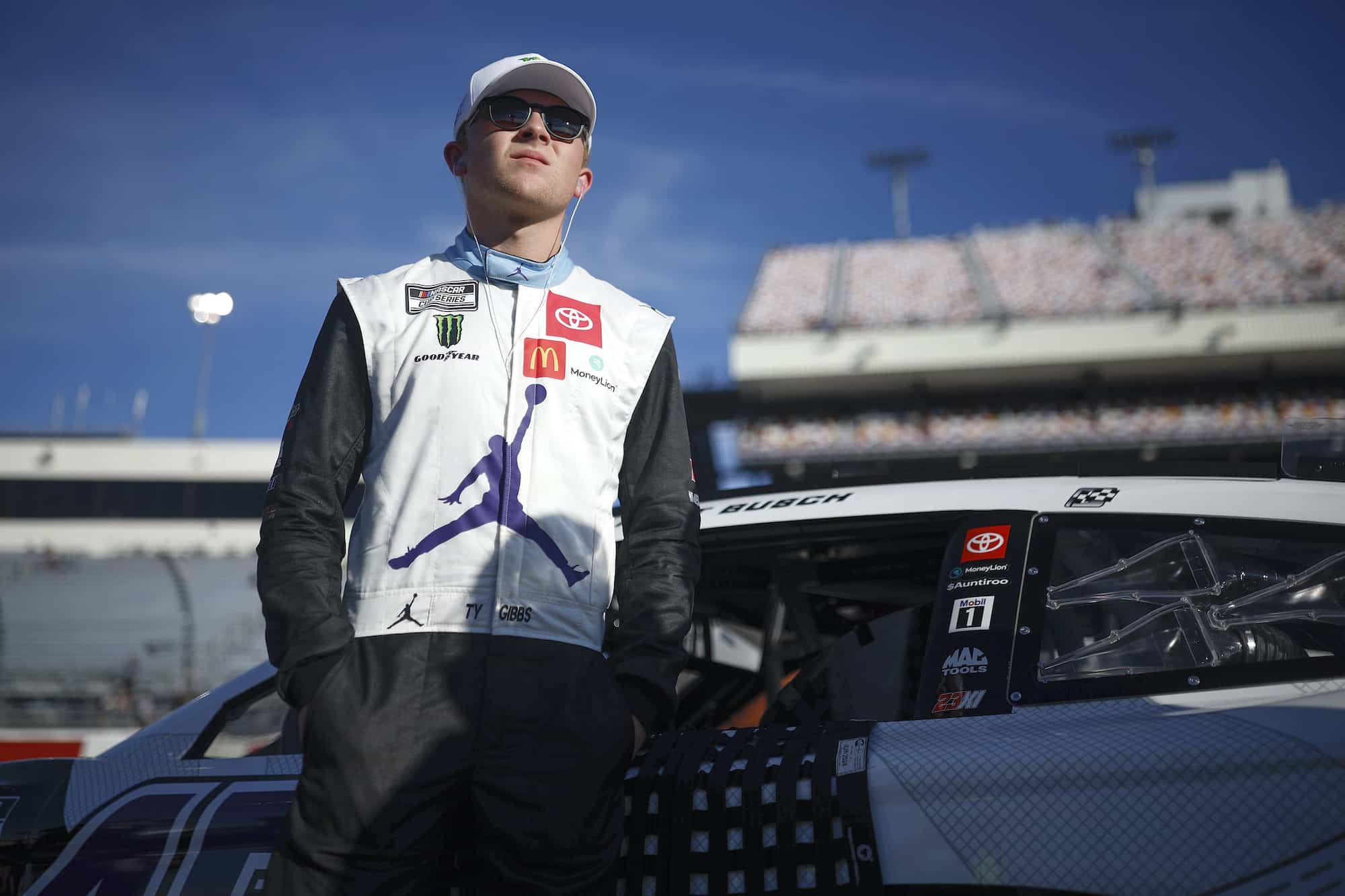 After earning a solid 16th-place finish in his Cup Series debut at Pocono, Ty Gibbs followed it up by finishing 17th the next week on the Indianapolis road course. While pleased with the results, the young driver was not happy with how a couple of his Toyota teammates raced him, and admitted as much to Denny Hamlin, who spoke about their conversation on the Door Bumper Clear podcast. 
"I thought Ty was really running well," co-host and Bubba Wallace spotter Freddie Kraft said. "I thought he was a little too nice to some people. Like, a guy's got a position on him, he kind of like gave it to him, instead of I think if it was an Xfinity car, he probably would have fought a little harder. I think he could have ran five spots better than where he finished."
"I think y'all were one of them," Hamlin interjected. "I think y'all used him up."
"Did we?" Kraft asked.
"Even after the race, he nitpicks like, 'I lost three spots here and four spots here,'" Hamlin said Gibbs told him. "And he's like, 'The 23 and 18 used me up pretty bad.'"
Gibbs pushed by Busch at Richmond and responds
Ty Gibbs made his fourth consecutive Cup start at Richmond for the still-sidelined Kurt Busch. Early in the second stage, brother Kyle pursued the No. 45 car going into Turn 1 when it appeared Gibbs attempted to drop down toward the bottom. However, the No. 18 was already running the low line and gave the left rear of the 23XI Racing car a bump, getting it loose and sending it up the track. 
Moments later, in the next corner, the young driver responded and seemed to indicate he had changed his approach from what he had told Hamlin a few weeks earlier when he returned the favor on the two-time Cup Series champion, giving him a shove and sending him up the track.
The pair raced next to each other for multiple laps throughout the stage without further incident. 
Gibbs learning lessons from Busch
While each driver was understandably not happy with the other, there weren't any birds flipped. Interestingly, Dale Earnhardt Jr. mentioned during the broadcast how Gibbs was a guest on his podcast last week, and the young driver talked about flipping off other drivers and the interesting advice Busch offered him. 
"Have you ever flipped anybody off in a race car?" Earnhardt asked Gibbs.
"Yes," the driver promptly replied. "I learned that — Kyle told me not to do that anymore."
"Kyle who?" the host inquired.
"Busch," the driver said.
"Kyle Busch told you something," show co-host Mike Davis interjected. 
"I was on live TV. It was at Martinsville. Lappers," the driver started. 
"Did he tell you that he's also flipped people off?" Earnhardt inquired. 
"Uh, no," Gibbs said while shaking his head.
"He's a bit of a hypocrite, I guess," the Hall of Famer said, laughing. 
"Flipped him off at Phoenix," Davis recalled.
"Oh yeah," Earnhardt confirmed.
Sunday at Richmond proved entertaining as the drivers battled back and forth. You have to imagine there will be plenty more run-ins between the pair in the future. The question is whether or not they're still JGR teammates and if not, you can only imagine the veteran's response will be considerably different, and might even include a certain finger.
Like Sportscasting on Facebook. Follow us on Twitter @sportscasting19 and subscribe to our YouTube channel.