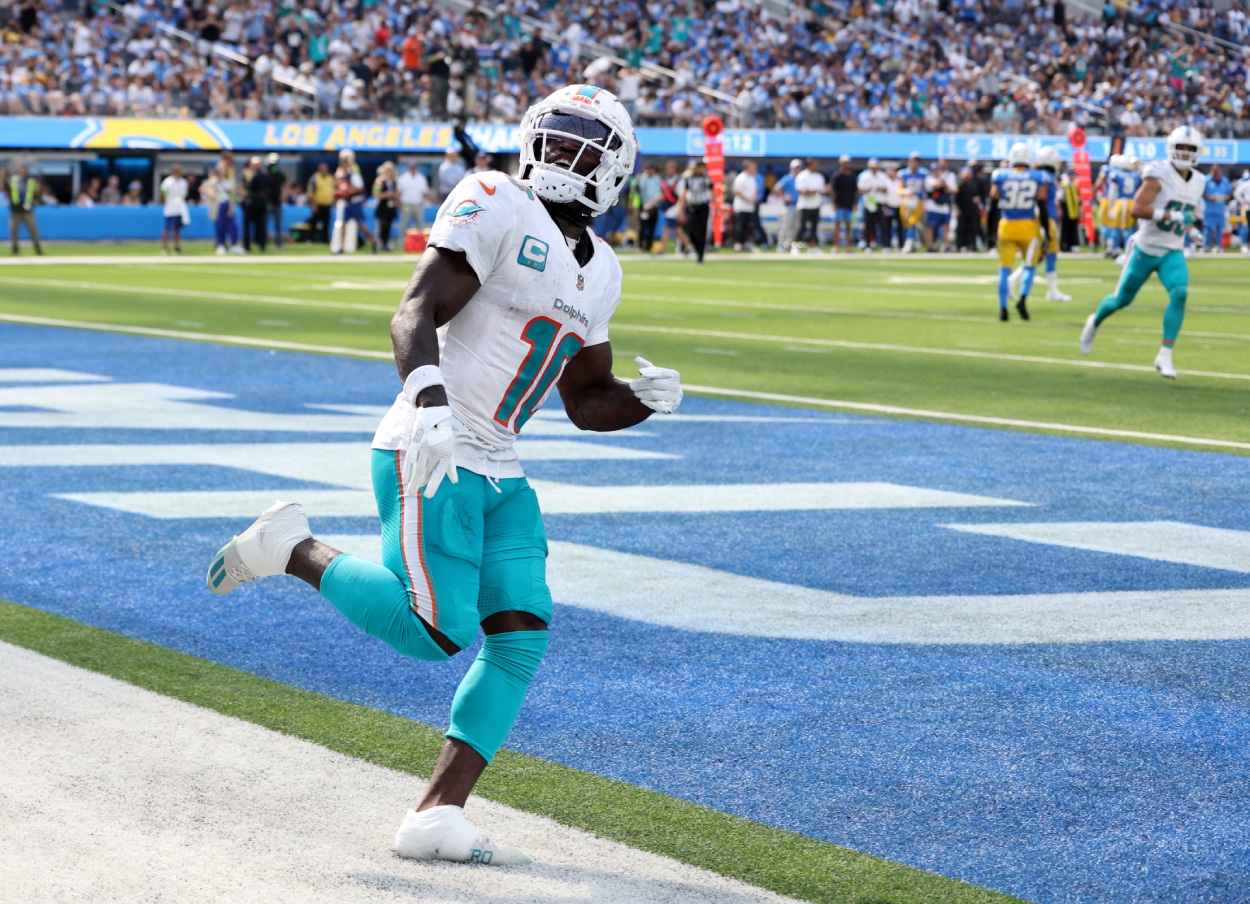 Tyreek Hill Has a Message for the New England Patriots Ahead of Sunday Night's Matchup
Can the New England Patriots find a way to stop Miami Dolphins wide receiver Tyreek Hill?
There are a couple of obvious things that stand out about Miami Dolphins wide receiver Tyreek Hill. First, he's one of the best, if not the No. 1 wide receiver in the NFL. Second, he's not short on confidence.
Hill is coming off a week where he caught 11 passes for 215 yards and two touchdowns in a 36-34 win over the Los Angeles Chargers. He's not planning to slow down against the New England Patriots this Sunday night. Just ask him.
Tyreek Hill is fresh off his third career 200-yard game
Even when the defense knows the ball is headed in No. 10's direction, there isn't much that can be done. The speedy Hill outran the Chargers secondary on Sunday, and he and quarterback Tua Tagovailoa put on quite an offensive show in Week 1.
"I wanted to play fast and deliberate. I kind of went into a zone there," said Hill, per ESPN. "Even during halftime, Tua was getting guys going. He leaned on me a little bit toward the end, and that meant more targets."
Tagovailoa and Hill led a passing attack that dominated Sunday's matchup with the Chargers. Tagovailoa completed 28 of 45 passes and threw for 466 yards. He tossed three touchdown passes and had an interception.
Chargers edge rusher Khalil Mack said the Miami duo is a rarity.
"I feel like it's a rare occasion when you've got two guys like that on the field at the same time, blazing up and down the field," Mack said. "We've just got to look at it and get better, make sure we get better on the back end and the front end."
Hill has a message for his next opponent, the Patriots
Next up for Hill and the Dolphins are the New England Patriots. The Dolphins will play their second straight game on the road, and all eyes will be on Hill.
Bill Belichick is viewed by man as a defensive genius. His job is to stop Hill. He and the Patriots defense will have a plan in place to contain the speedy wideout.
Against the Chargers, Hill faced single coverage much of the game. Belichick and the Patriots surely will learn from that and make sure Hill is adequately covered. Whether they have single or double coverage on Hill, the receiver said it won't matter. His message to the Patriots is loud and clear.
"I'm still going to dominate that no matter what," Hill said, per NBC Sports. "I still got a job to do, and that's to run my routes. You put two guys on me, one guy on me, or three guys on me I'm still going to run my route to get open."
Before the season, Hill set a goal of reaching 2,000 receiving yards this year. After Sunday's dominant performance, he's well on his way.