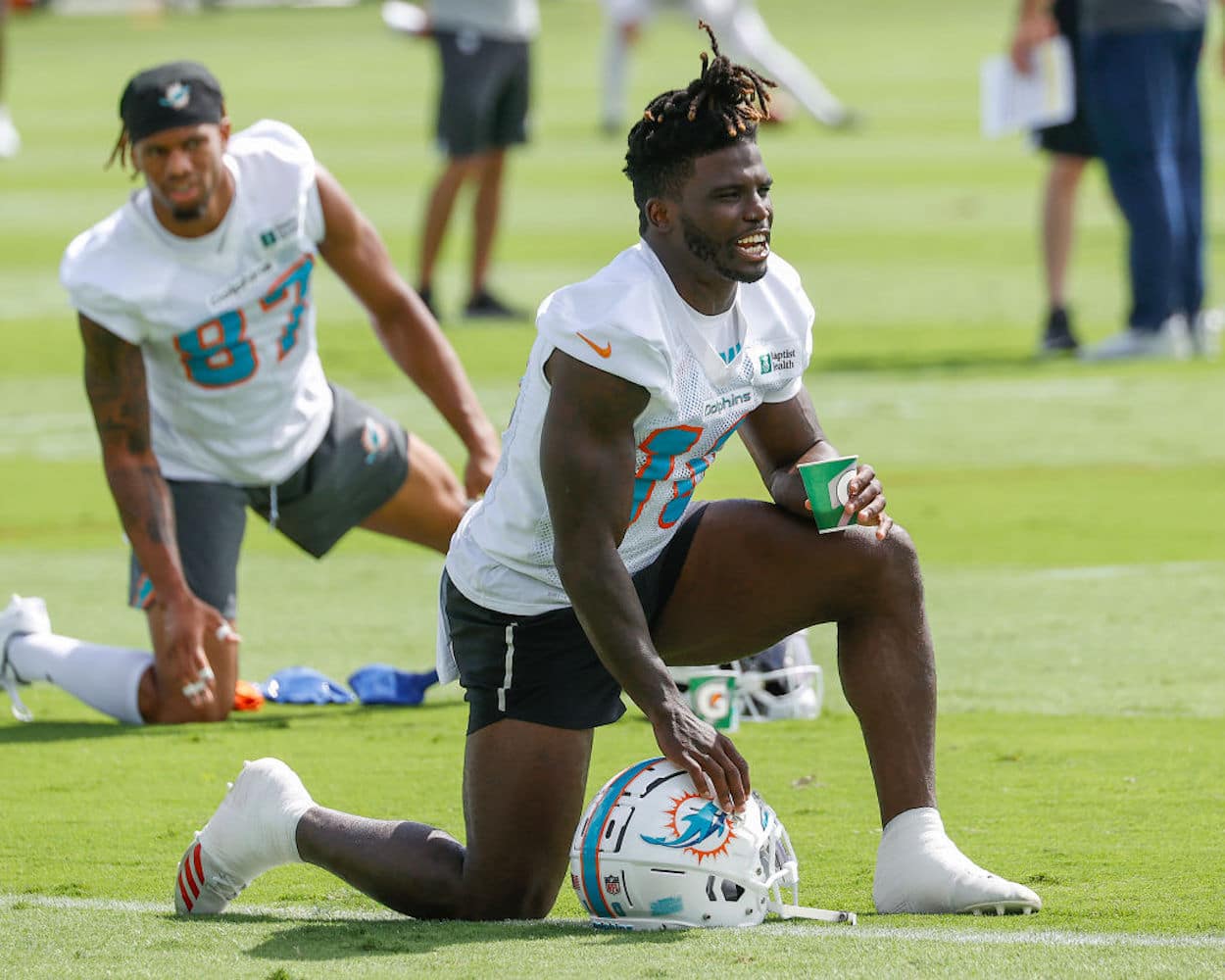 Tyreek Hill Doesn't Mean to Be a 'Diva,' but His Podcast Is Already Sending the Opposite Message
Tyreek Hill recently shared his perspective on the trade that brought him to Miami, and it didn't exactly paint him in the best light.
For better or worse, NFL wide receivers are often stereotyped as divas. Tyreek Hill understands that reality, but, at the same time, it doesn't seem like he's too concerned.
On the first episode of his podcast, the new Miami Dolphins receiver dished on his departure from Kansas City. While the previous narrative was that KC was simply unable to afford to give Hill an extension, the receiver revealed that he was unhappy with his role within the Chiefs' offense. That assertion, however, came with a caveat: He wasn't trying to be a diva about it.
That claim will most likely fall on deaf ears. If anything,
Tyreek Hill and Drew Rosenhaus suggested that the receiver's trade was at least partially motivated by usage
From afar, it seemed like the Kansas City Chiefs moved Tyreek Hill due to financial realities. After Davante Adams raised the market floor, the club theoretically had to make a sacrifice; with Patrick Mahomes, Travis Kelce, and Chris Jones under contract, the receiver simply couldn't get a raise.
While that logic still holds up, it seems like there was at least some dissatisfaction on the Cheetah's side.
"There was a lot of times during the year that we felt that Tyreek was underutilized and wasn't fully appreciated and that they really weren't taking full advantage of all of his ability and talent," agent Drew Rosenhaus explained on the first episode of Hill's It Needed To Be Said podcast (h/t ProFootballTalk). "But Tyreek's is a trooper. He never made a peep about it. He was extremely professional."
The receiver himself expressed a similar sentiment.
"If teams are gonna give us favorable one-on-one matches against their best corner, I don't see why teams don't utilize their best receiver," Hill explained. "And that's where probably like me and the Chiefs fell apart right there. When I'm like, yo, I don't mean to talk or be a diva in some situation, but can I see the pill some time, please? Just give me the ball, please."
Despite those simmering tensions, Hill insisted that he was happy to remain a Chief. After the Adams deal, though, any offers from Kansas City's side weren't enough to keep the receiver and his camp happy.
Hill and Rosenhaus don't seem to understand the meaning of 'diva' or 'trooper'
In the world of sports, certain words can take on slightly different meanings that take things beyond the dictionary. Hill and Rosenhaus, however, are taking some liberties with language.
First, let's look at the word "trooper." Beyond the fact that it's a low bar to praise Hill for doing his job, it's not exactly high praise to say that the receiver didn't say a peep when he's literally discussing that exact situation on his own podcast. Waiting a few months isn't exactly taking a responsibility to remain silent seriously.
Trooper, setting the obvious military connotations aside, suggests someone who is stoically doing their work in challenging circumstances. Hill, however, wasn't even facing that tough of a reality. Despite opposing defenses limiting deep balls and forcing Mahomes to throw underneath, the Cheetah was targeted 159 times, which was the most in his entire career. That doesn't exactly match up with being "underutilized and wasn't fully appreciated." Most guys in the NFL would gladly struggle through a difficult situation if it meant seeing that volume of passes.
A similar point could be made for Hill's use of the word "diva." While he seems to be aware of the stereotypes about NFL receivers, the Miami Dolphin still plays into them.
In NFL contexts, being a diva generally means demanding a certain amount of touches and getting upset when the ball doesn't come your way. Despite insisting that he didn't want to talk or be a diva, Hill is now doing exactly that. The very first episode of his own podcast could have been about any topic, but he invited his agent on as a guest and took the opportunity to throw shade at Kansas City.
And, again, the numbers don't even match up with reality. While there were some situations when Hill didn't see much of the ball, those can largely be chalked up to in-season fluctuations. Across the entire scope of the campaign, he saw more than enough of the ball to feel like a key part of KC's offense.
To be clear, Hill is more than entitled to hold these opinions and voice them anywhere he pleases. Raising them in this context, however, doesn't seem like it will have the desired effect. The receiver doesn't seem more candid or relatable; we don't have a more positive take on the way he left Kansas City.
If anything, Tyreek Hill seems more like the "diva" that he wasn't trying to be.
Stats courtesy of Pro-Football-Reference