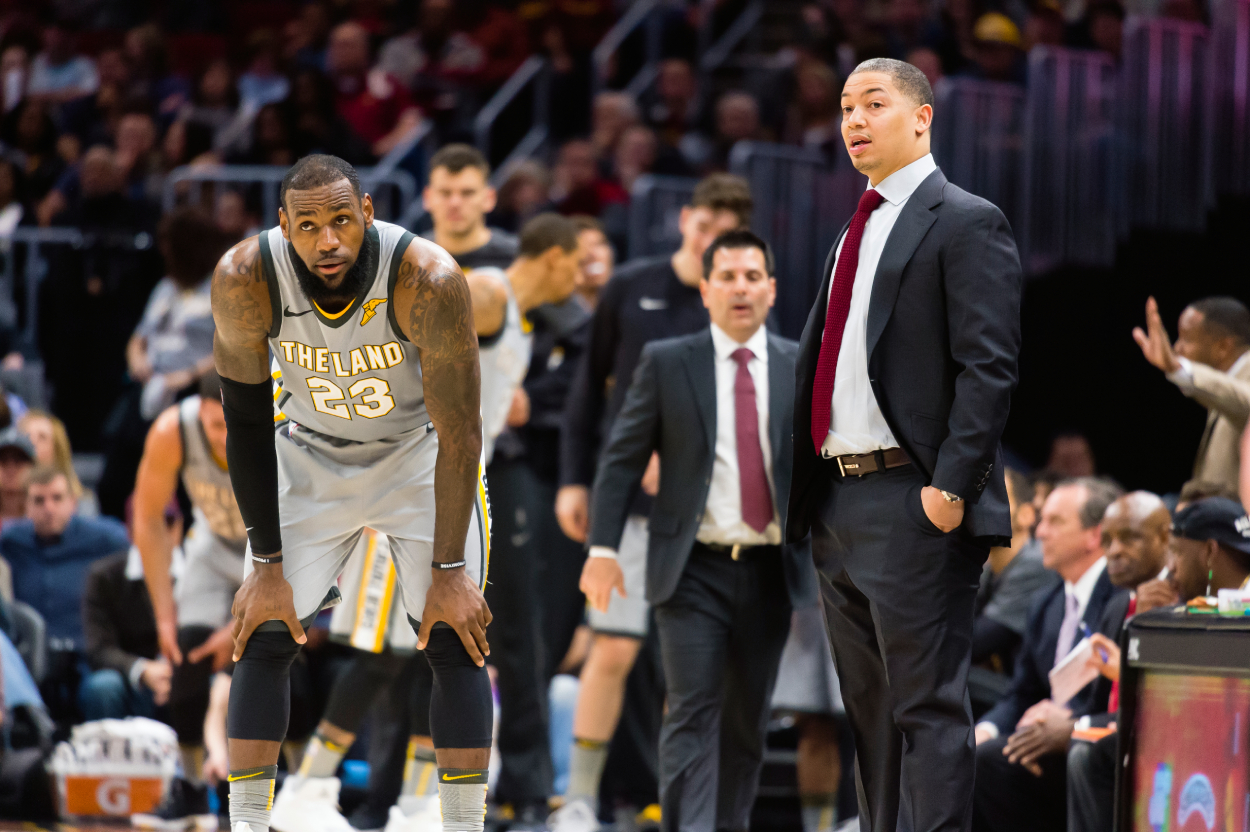 Tyronn Lue Passionately Defends LeBron James' Killer Instinct
LeBron James' haters have always questioned whether he has a killer instinct, but his former Cleveland Cavaliers coach Tyronn Lue, who won a championship with him, recently defended it.
LeBron James doesn't have the same killer instinct as Michael Jordan. LeBron can't kill like MJ. The King can't rip a team's heart out like Jordan used to.
You have likely heard LeBron James haters say some version of those three sentences throughout his career. Despite seeing him reach eight consecutive NBA Finals and nine in 10 seasons at one point, fans and experts have always questioned whether James has the killer instinct to be the GOAT.
Jordan would go above and beyond to win. He would make fake beefs up in his head just for motivation. He was relentless and as competitive as any athlete to ever live.
But just because James doesn't act the same way MJ did doesn't mean he lacks a killer instinct, and his former Cleveland Cavaliers coach Tyronn Lue recently shut down that overused misconception.
Haters say LeBron James lacks a killer instinct
When I was in grade school, LeBron James took the Cavaliers to the 2007 Eastern Conference Finals against the Detroit Pistons. You know, that series where the Cavs fell behind 2-0, but James' out-of-this-world talents brought them out of a hole and led them to a win in six games, clinching the franchise's first-ever trip to the NBA Finals.
In Game 1, though, LeBron had a chance to take the lead or tie the score with a few seconds left, but he instead passed it to teammate Donyell Marshall who took the open three-pointer but missed it. The Cavs fell 79-76.
ESPN talking heads spent that entire next day criticizing James for not taking the shot. I remember not understanding their frustration. Marshall was wide open, and his shot would have given the Cavs the lead. Why weren't they mad at him for missing?
Then, I heard about the time Michael Jordan passed to Steve Kerr with a championship on the line in 1997 (not a Game 1 in the conference finals) and wondered what everyone's problem was.
James made the correct basketball play.
But that was just the start of people questioning his mentality. His haters still criticize it to this day, even though he literally has the most playoff buzzer-beaters in NBA history.
"The difference between Jordan and LeBron is killer mentality, killer will, killer intangibles you cannot teach or coach; you just have them, or you don't," Skip Bayless said on Undisputed in 2020.
Even Denver Nuggets coach Mike Malone, who was an assistant on the Cavs during James' first stint in Cleveland, questioned LeBron's killer mentality.
"There are not many Michael Jordans out there," Malone said in 2020, per USA Today. "I coached LeBron James for five years and have a great relationship with him. LeBron did not have the same mindset or killer mentality that Michael Jordan is supposed to have had. But LeBron James is arguably the greatest of all time as well."
Tyronn Lue blasted that misconception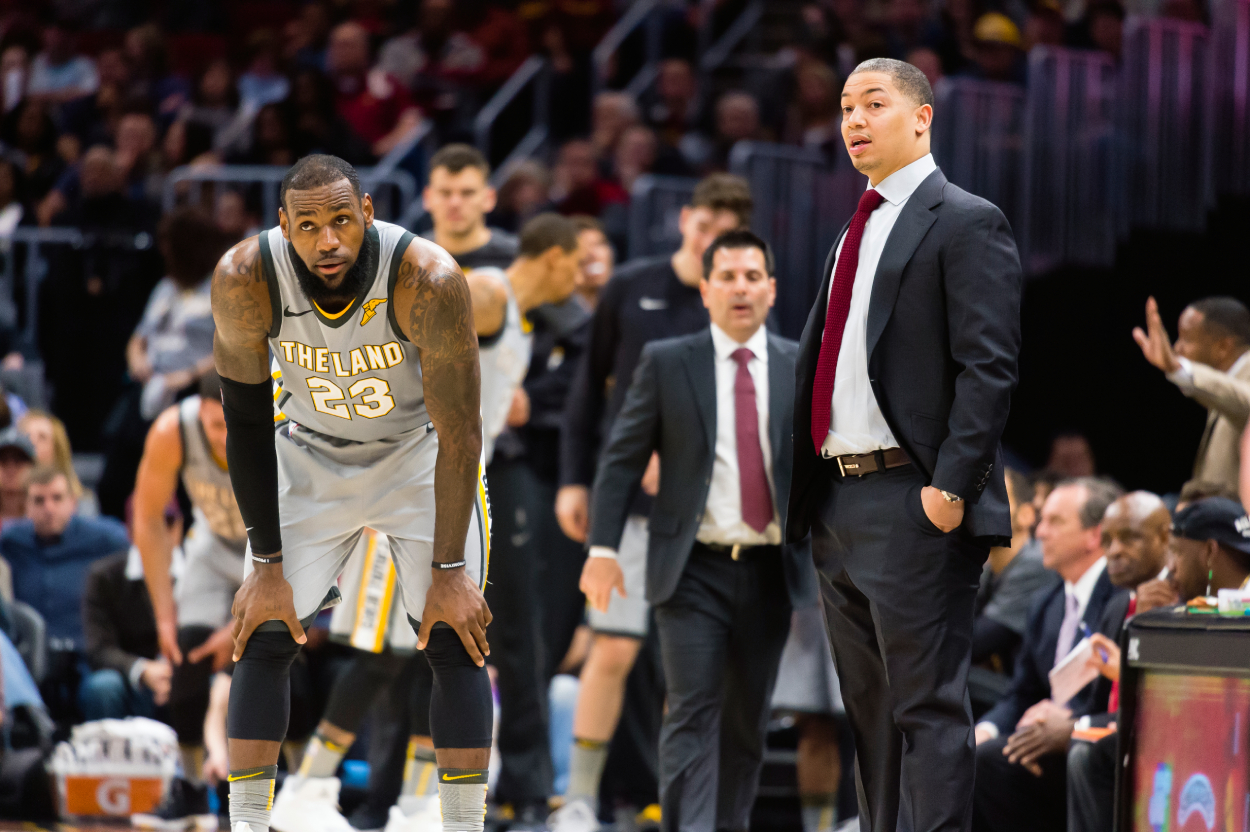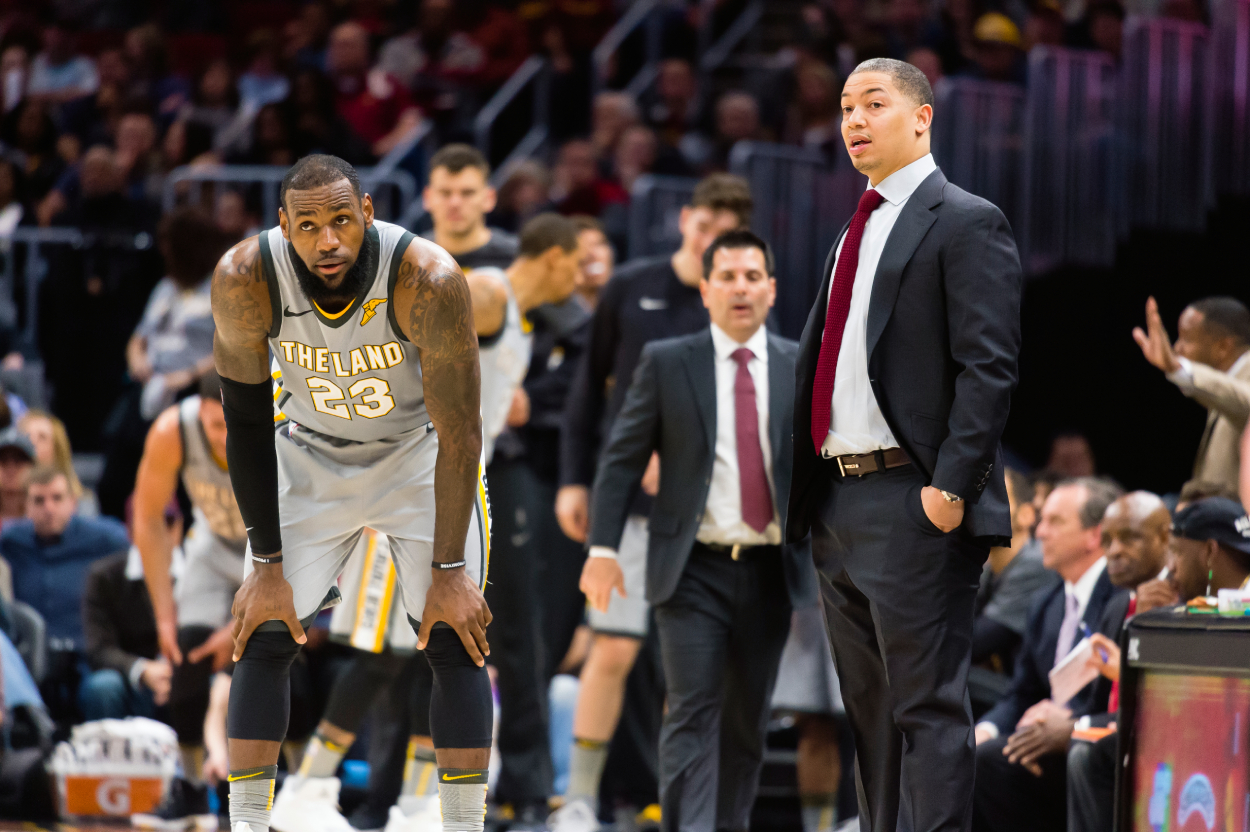 Tyronn Lue coached LeBron James on the Cavaliers for four years and was the head coach for two-and-a-half of them, winning a title in 2016 with James.
And he thinks James has the killer instinct Jordan and all the great ones had. He just goes about his business differently.
"Whenever (LeBron's) back's against the wall, he always produces," Lue recently said to The Athletic. "You have to have a killer instinct to be able to do that. Just because you're not talking stuff, and you're not in people's face … I just don't understand. Why does that mean you don't have a killer instinct?"
Just because James doesn't talk a bunch of trash like Jordan or even get as angry as he did doesn't mean he isn't a killer.
LeBron has proven he has that mentality time and time again, and some people just refuse to acknowledge it.
LeBron James has shown his killer instinct plenty of times
Let's set the numbers aside. Yes, the playoff buzzer-beaters and eight straight Finals appearances help, but how about we look at various situations in which LeBron James showed he is a killer on the court.
In 2007, that same series against the Pistons, James scored 29 of the Cavs' last 30 points in Game 5 to lead Cleveland to a double-overtime win. He was only 22 years old, and he finished with 48 points.
In 2012, James' Miami Heat trailed the Boston Celtics 3-2 in the Eastern Conference Finals, but he scored 45 points in Game 6 to lead them to a win, and the Heat eventually won in Game 7 to go to the Finals.
Or what about in 2016, when the Cavaliers trailed the Golden State Warriors 3-1 in the NBA Finals? Here are his stat lines in Games 5, 6, and 7, in which he led Cleveland to three straight wins and an NBA championship.
Game 5: 41 points, 16 rebounds, seven assists, three steals, three blocks
Game 6: 41 points, eight rebounds, 11 assists, four steals, three blocks
Game 7: 27 points, 11 rebounds, 11 assists, two steals, three blocks
Those look like killer numbers to me.
Yes, LeBron James has a different personality than Michael Jordan, but that doesn't mean he lacks that killer gene. James is one of the most clutch players of all time, and it's time for people other than Tyronn Lue to recognize that.
Stats courtesy of Basketball Reference