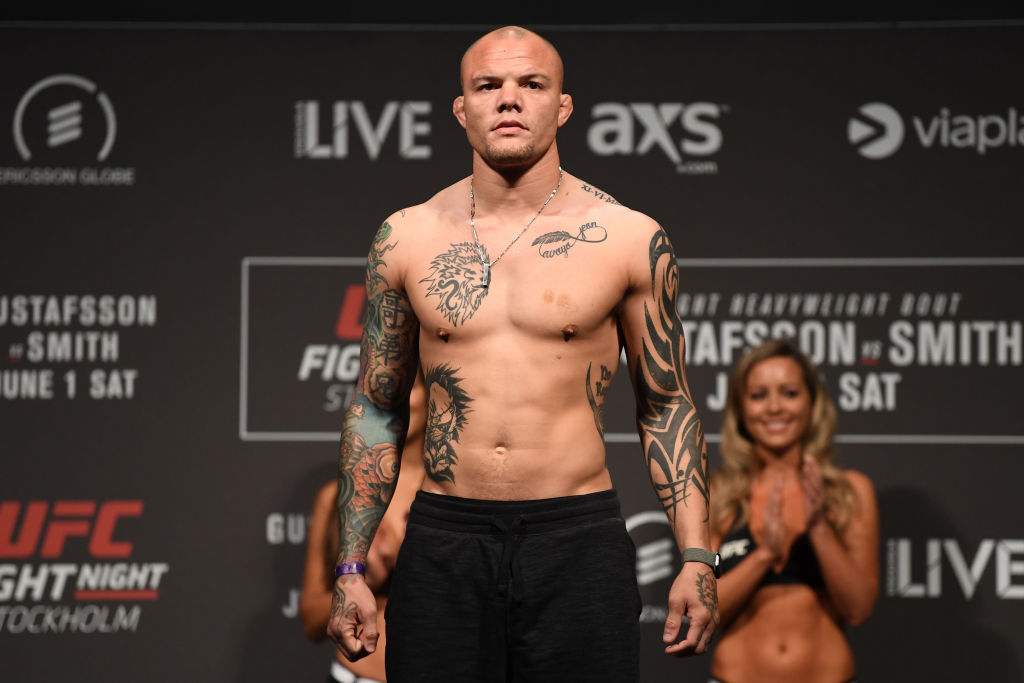 UFC Fighter Anthony Smith Faced Scariest Fight of His Life Last Month Against Home Intruder
UFC fighter Anthony Smith has faced some tough competition in his career. He's never feared for his life like he did last month when he fought off a home intruder.
As Anthony Smith steps into the octagon to face Glover Teixeira tonight, he understands the risks that come with being a UFC fighter. He may get injured, but he's not concerned about dying. Last month, Smith found himself in a fight to save his own life and the lives of his family members when a home intruder entered his Nebraska home in the early hours of the morning.
Anthony Smith's rise in the UFC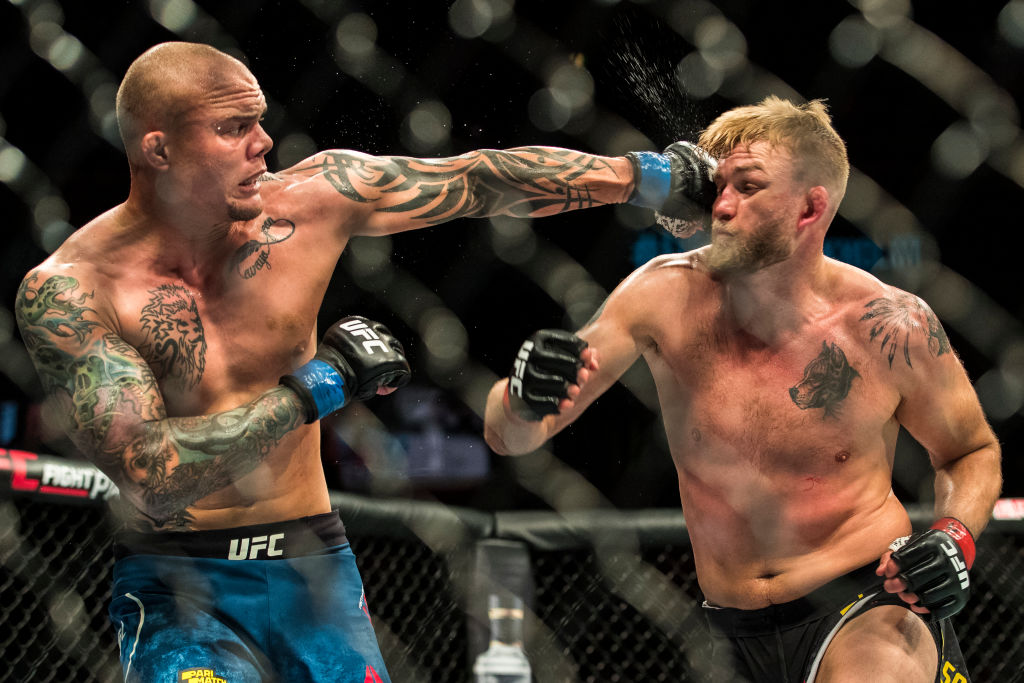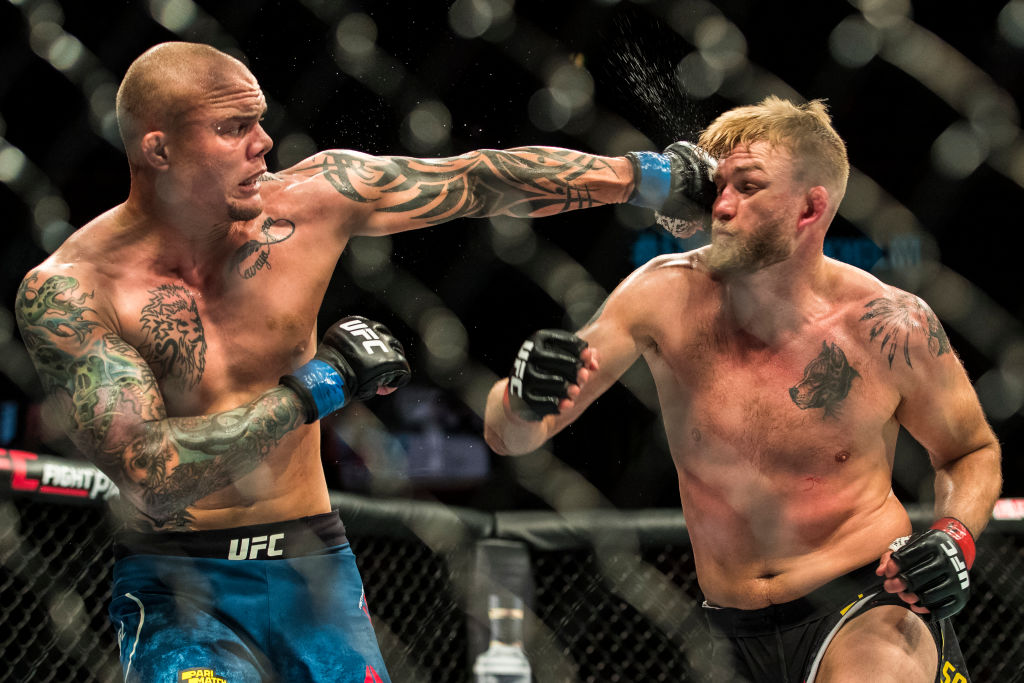 Since turning pro 12 years ago, Anthony "Lionheart" Smith's career has been a rollercoaster ride as he's faced plenty of ups and downs. In 2011, Smith joined Strikeforce, where he fought five times and had a 3-2 record. Despite the record, he got an invite to join the UFC. It didn't go well.
Smith lost his initial fight by kneebar submission in the first round, and the UFC released him. Although disappointed, Smith took his lumps and re-focused his efforts fighting for the next couple of years in more regional competitions. After a couple of fights with Bellator MMA, Smith once again got the call to join the UFC in 2016. 
Since rejoining the UFC, he's tallied an 8-3 record. After losing last March to Jon Jones in five rounds in a UFC Light Heavyweight Championship fight, Smith rebounded in June 2019 with a fourth-round submission of former top contender Alexander Gustafsson. He currently holds a 33-14 record heading into his bout with Teixeira.
Smith confronts home intruder and gets in fight for his life
On April 5, around 4 a.m., Anthony Smith's wife woke him up. Panicked, she told him there was someone in the house. Within seconds Smith jumped out of bed and started hearing a man's voice screaming at the top of his lungs.
Once Smith left the bedroom, he encountered the man who was standing about 15 feet away in the computer room. In an interview with ESPN's Ariel Helwani, Smith said the man appeared somewhat surprised to see him but was walking in his direction. A million different things raced through his mind.
"I paused and just thought, I don't know him. It's like the most terrifying moment in your life. I didn't know what he had. Typically people don't break into your house for any good reasons. I'm expecting that I'm going to hear a gunshot or that he's going to stab me."

Anthony Smith
Within a matter of seconds, he charged at the intruder and ran him over. A fight ensued. Smith said as the fight played out, he recognized that the man was in his early 20s, weighed somewhere around 160 pounds, but was "super strong." 
Bloody fight comes to an end 
After a couple of minutes, in which Smith said he had trouble grabbing the intruder's hands and getting him under control, he realized he hadn't been shot. As the two men fought, Smith tried his best to assess the situation. He was unsure how long the person had been in the house and whether or not he had harmed any of his three children. He didn't know if the attacker was alone. As Smith screamed expletive-laden questions at the intruder, he became more concerned when the assailant started screaming for someone named Luke. 
At that point, Smith said he told his mother-in-law to bring him a knife from the kitchen so he could keep the assailant under control. He said he didn't want to stab him, but if there was another attacker in the house, he couldn't take on two men at the same time and would have to use it. Fortunately, there was just one person. 
After a little more than five minutes of fighting, police arrived, subdued the attacker, and Smith left the room. He said the computer room was a disaster with blood all over everything, including spattered on the walls.
The attacker was a top high school wrestler 
In the ESPN interview, Anthony Smith said he was stunned by the attacker's ability to withstand the punches, elbows, and knees he delivered. "Maybe he was on some crazy drugs because no normal human is able to fight like that. I'm by no means the baddest dude on the planet, but he's a regular Joe, and I had a hard time dealing with him."
It turned out, Smith was wrong. The attacker wasn't a regular Joe. His name is Luke Haberman. He is 21 years old and a former member of the Bishop Neuman High School wrestling team in Nebraska. In his high school career, Haberman earned 128 career wins, which as of the 2017-2018 school year, was the most in school history.
Fortunately, no one in Smith's family was harmed in the incident. After his arrest, Haberman was taken to the hospital for his injuries. He was later charged with first-degree criminal trespassing, a misdemeanor, according to local law enforcement in Douglas County.