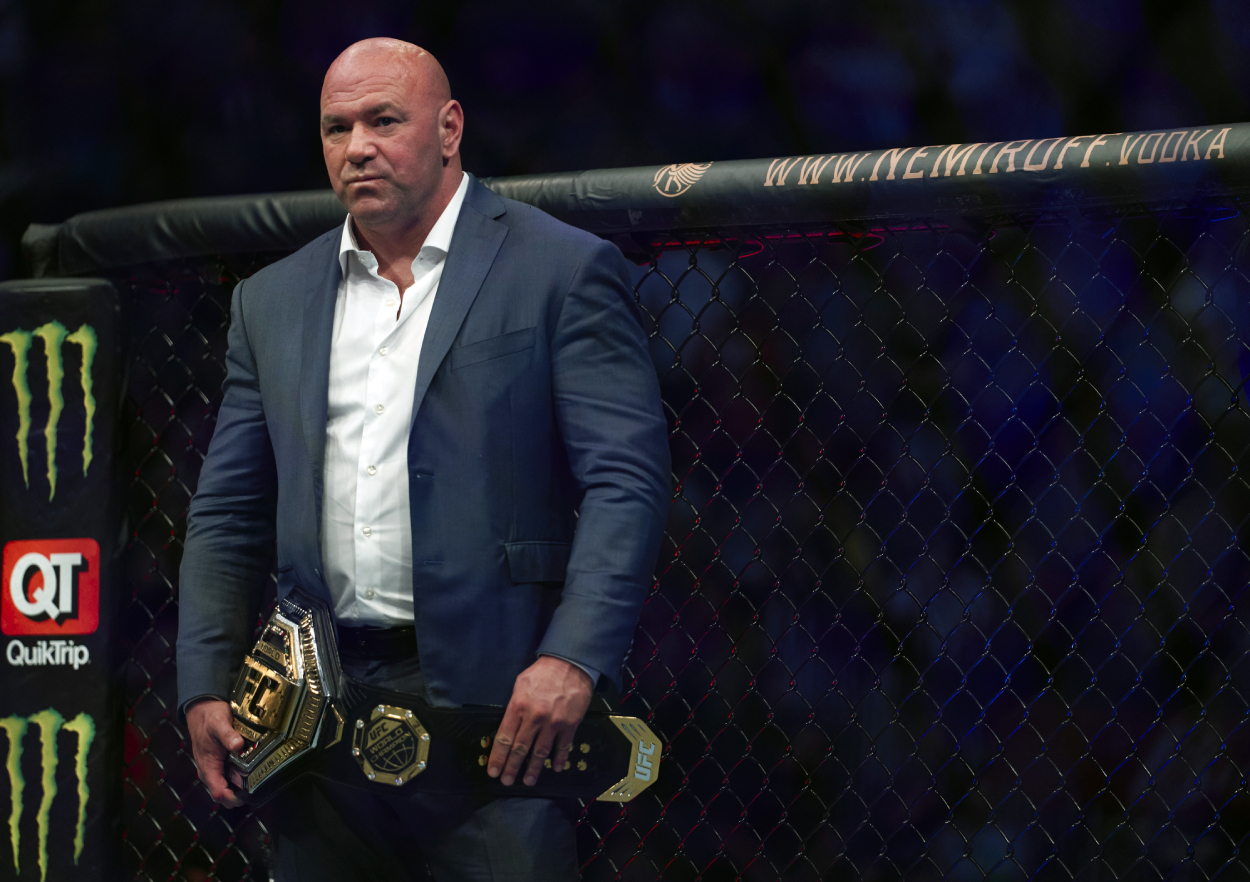 UFC Lost a Staggering $110 Million at the Gate in 2020 and Still Had Its Best Year, Says 'Unpopular' Dana White
UFC president Dana White said his company lost $110 million at the gate during the pandemic.
Sports took a pounding in 2020 as the coronavirus (COVID-19) shut down the world. The NBA and NHL saw their seasons put on hold for months. The NFL managed to play all its games but needed some serious schedule shuffling to make it work. For the most part, fans weren't allowed to attend any live event. The lack of fans cost the UFC $110 million, according to president Dana White. Although the UFC took a staggering hit at the gate, White said his company did just fine through the pandemic.
Dana White and the UFC wouldn't let the pandemic get in the way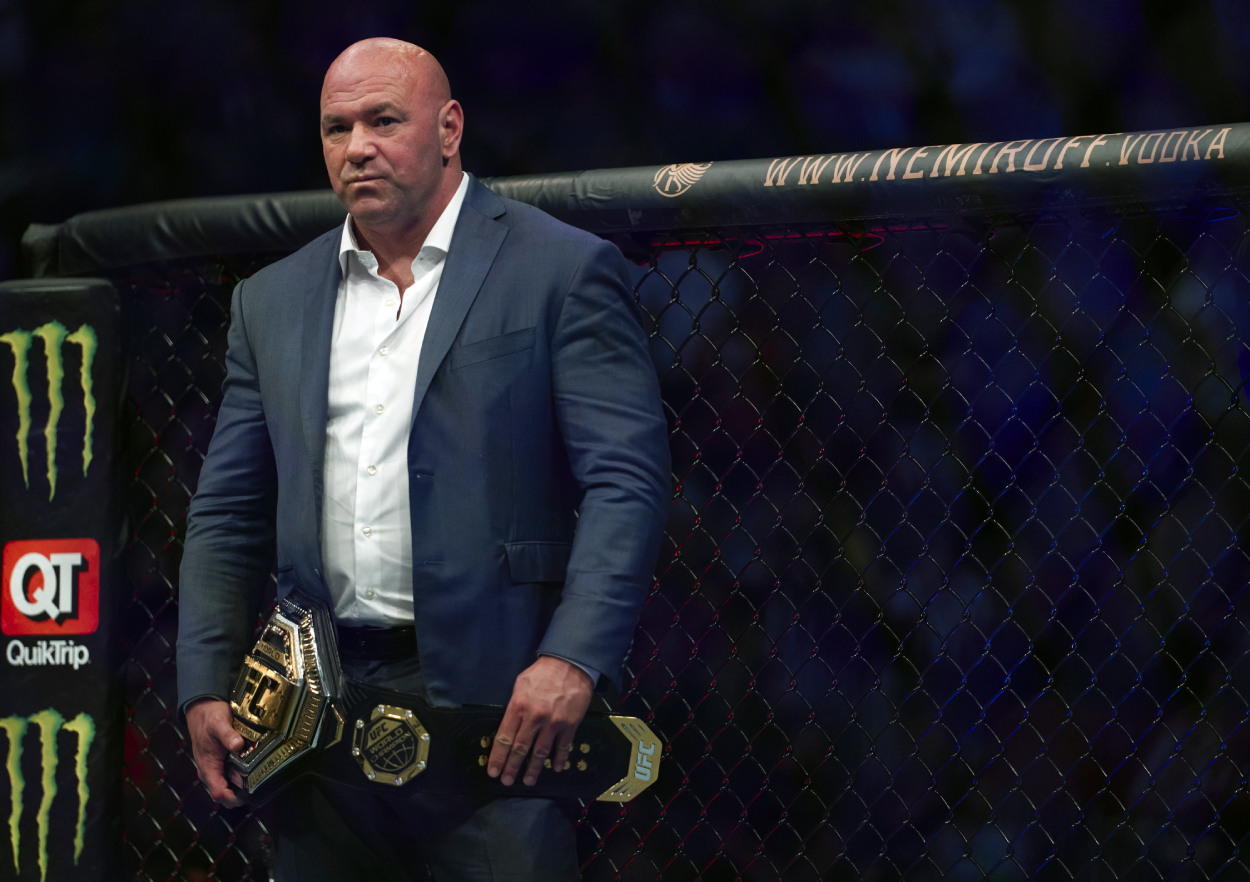 White is one heck of a businessman. He was put to the test in 2020 when COVID-19 took over, shutting down the world. In mid-March, the NBA and NFL had their seasons interrupted as the virus spread through the United States. Those leagues didn't get back into action until the end of July. White had the UFC fighting in May.
He would've had it going sooner, but he got some serious criticism. In April, his first try to hold an event in California was canceled at the request of broadcast partner ESPN, according to Yahoo! Sports. A month later, White held UFC 249 in Jacksonville, Florida, without fans. There was one fight canceled after a fighter tested positive for the virus but under the circumstances, it was a success.
With fans starting for sports, White gave it to them. He conducted a "bubble" fight labeled "Fight Island." It took place from Abu Dhabi in the United Arab Emirates in October. It was a challenge, but White made it work.
"Obviously, we had some trial and error at the beginning," White said during the week leading up to Fight Island. "We had to reanalyze early on how we were doing things. But we continued to tighten things up and made everything stronger. That was the key to the success. We've gotten better and better at it. We are testing people 3-4 times before they even get to Fight Island."
Dana White said he was unpopular when trying to make UFC work during the pandemic
White was a recent guest on the Endless Hustle podcast. He discussed UFC life during the pandemic. He worked hard to make it happen, and he wasn't a popular man because of it.
"Going through COVID had to be my most unpopular decision of all time," White said. "I didn't lay off one employee. We didn't cut anybody's salaries. All of my fighters, all their contracts were honored through 2020 and it was the biggest year in the company's history. It launched us into 2021 just absolutely kicking ass."
White said, although 2020 was a successful year, it wasn't always smooth.
"Every day I would come here and get something set up – and this isn't even an exaggeration," he said. "By the time I would get home, I live 15-20 minutes from here, my lawyer would call me and say everything f*cking blew up. I was sitting in my backyard for like three-and-a-half seconds and I was like am I wrong here? Then I was like, no, this is absolutely not the wrong idea. I could never wrap my head around hiding in my house for a year and a half. It just doesn't make sense to me. We're all just going to let our businesses die?"
White's persistence paid off despite $110 million hit at the gate
White is no stranger to criticism and controversy. None of it bothers him. He'll do what's best for the company, and it paid off. Not having fans at his fights hurt. Being the only show in town didn't.
"It was massive for us," White said. "The growth in our social media, ratings, pay-per-view buys. I lost $110 million at the gate in 2020, but every fight that we did, did almost a million pay-per-view buys. In all these other areas where we were losing money, we gained it back somewhere else."
When fans were allowed to return, attendance took off. Sellouts were quick. White didn't want to make it a gradual return. "I said I'm not coming back at 25, 30, 50 percent (capacity)," he said. "When we can go 100 percent, I'm coming back. I had to talk to the Floridas and the Texases. The gangster of all gangsters, Florida, was the one to get it done first."
If there was any doubts about White's leadership or his success as a businessman, they were answered during a pandemic. Losing $110 million from attendance revenue and still having the best year in UFC history shows he's making the right decisions.