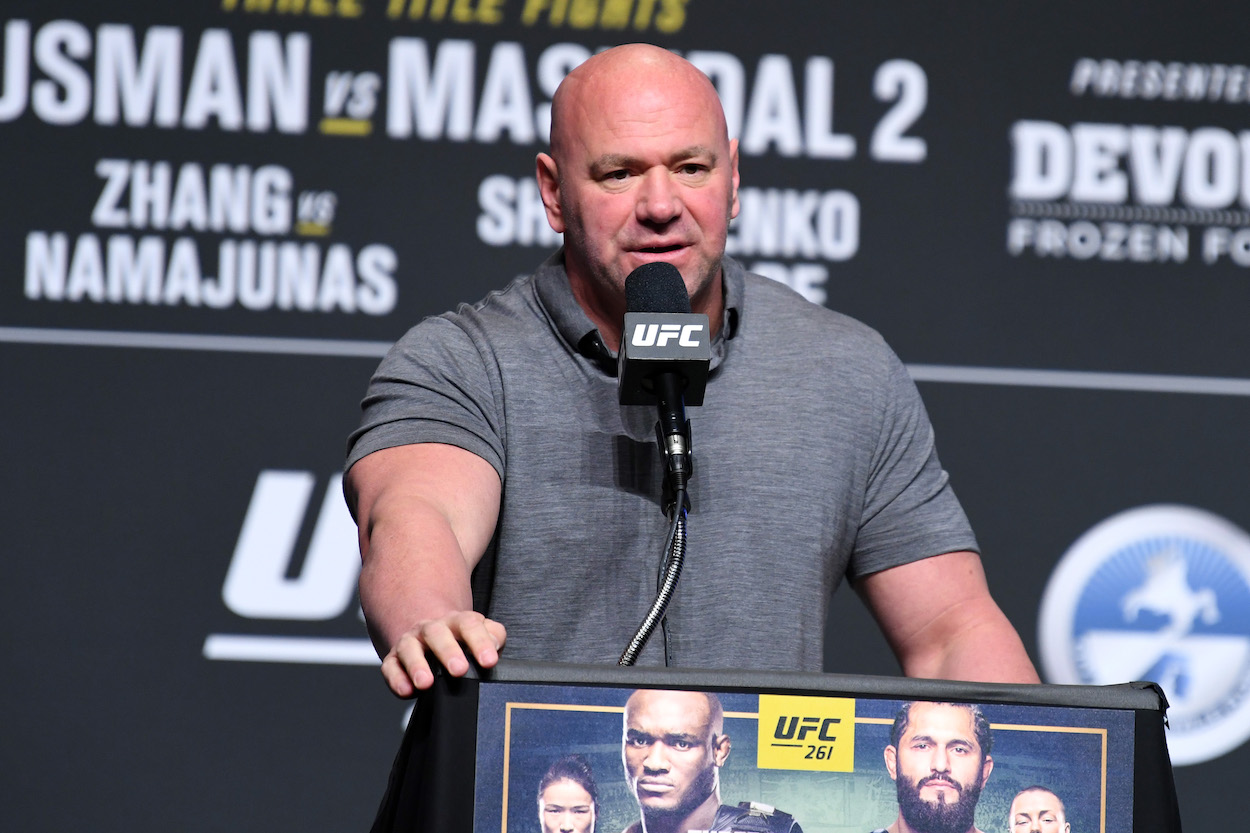 UFC President Dana White Goes off on Media in Profanity-Laced Tirade
UFC President Dana White recently ripped the media in a profanity-laced tirade.
Dana White is undeniably one of the most outspoken figures in all of sports. Whether it's his own fighters or even athletes in other sports, White has never wavered from offering his opinion on whatever the subject may be. During an interview with Colin Cowherd, the UFC president was asked his thoughts on the media. He didn't hold back. 
Dana White has confronted his own fighters
It should come as no surprise that the man who oversees a combat sport like the UFC tends to be combative, and no one is safe from being the target of his ire, even his own fighters.
Through the years, White has feuded with numerous UFC fighters responsible for the sport's popularity today, including Anderson Silva, Cris Cyborg, Randy Couture, and Wanderlei Silva. 
In recent years, he's had an on-again, off-again public dispute with the one fighter many consider to be the greatest ever, former light heavyweight champion Jon Jones. The disagreement has always centered around Jones receiving proper compensation. White has always pushed back, saying he's fairly paid, and has sometimes resorted to personal attacks on Jones' character.
Dana White rips media
During an interview on The Colin Cowherd Podcast, Dana White talked about a variety of topics in the UFC, including the next great fighter and the bizarre weigh-in situation at the most recent UFC event. Cowherd then switched gears, and candidly asked White if the UFC needed the media.
"I'm very combative with the media because they're full of s—. Every time I read something, it makes me crazy. I don't read anything anymore. I try to stay away from it. I wouldn't say that we don't need the media. I think that there are a lot of people out there that have a fan base and following and have their own opinions and perspectives on things that people want to see and hear. I think we do need the media. 
"Here's the problem today, determining who's media and who's not. Anybody that creates a f—ing website now considers themselves media. If they have an Instagram, now they can become media. Most of these people are full of s— and have no place writing or talking about anything. But there are some real good media people out there still."
The irony of White's remarks about the media with Cowherd
It was just a couple of years ago that Dana White was very upset with one specific member of the media — Colin Cowherd. When the UFC was negotiating a new TV deal in 2017, White took exception to Cowherd's comments and what he described as "dirty tactics." 
"I saw Cowherd comes out and says that I'm burnt out and I want to be on a sailboat with the Fertitta's and all this s—. F— you, Colin Cowherd," White shouted during a media event via TSN. "You know nothing about me or this business, so keep your f—ing yap shut."
White suggested Cowherd's comment was a result of the UFC entering the final year of its television contract with FOX, and it was similar to what happened in 2011 when the fight organization left Spike TV. 
"I'm not going after anybody, but for Cowherd to come out and say the s— that he said, especially for a guy for a long time who has been one of our biggest fans. Now our deal is up with FOX and Cowherd's talking s— about stuff he has no f—ing clue what he's talking about. It's 100-percent what's going on. It's dirty f—ing business tactics and Cowherd is a guy, I've been on his show many times, and I've known him for a long time, and it's f—ing dirty. F— you."
Dana White is a shrewd businessman. He knows the media is vital to his organization's survival. He also recognizes the media loves his confrontational loud style because it makes for good quotes and headlines. It's a symbiotic relationship with an occasional chokehold thrown in for good measure.