Dana White Blasts Jake Paul During Expletive-Filled Rant Ahead of UFC 261
Social media star Jake Paul is getting cocky. UFC President Dana White is getting annoyed. Paul is coming off a first-round knockout of Ben Askren on Saturday for his third professional boxing win. Askren is a former UFC fighter, and Paul has already called on one of the top retired UFC fighters to be his next opponent. White, who's prepping for this weekend's UFC 261, was not too happy with Paul.
Jake Paul made quick work of Ben Askren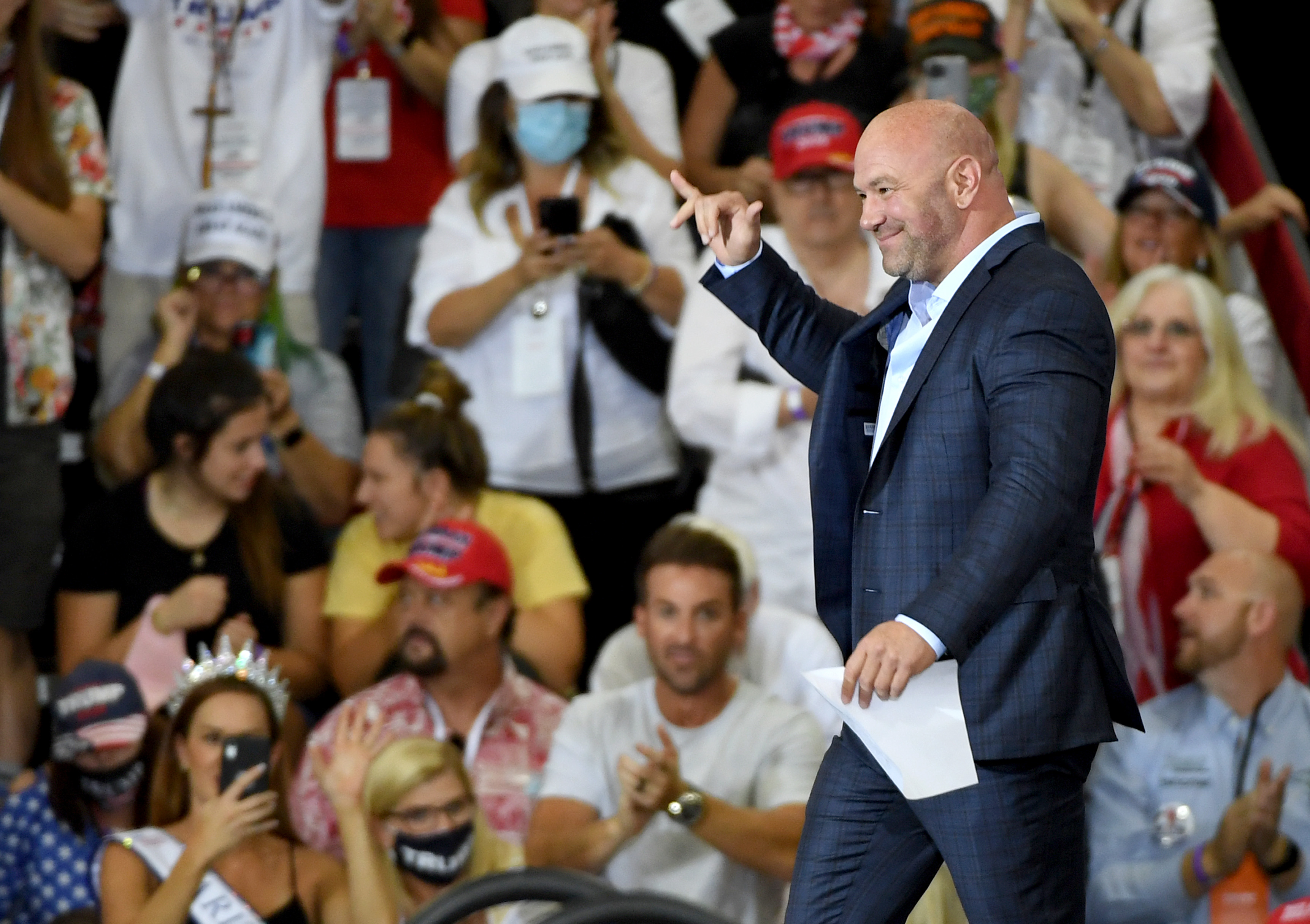 RELATED: Floyd Mayweather Says He and Dana White Will 'Do Some Big Business' Soon
Jake Paul has made his name on the social media scene, but he's starting to make some noise in the boxing ring. Paul knocked out former UFC fighter Ben Askren in less than two minutes Saturday. The Paul/Askren bout was the main event of a Triller card and took place at Atlanta's Mercedes-Benz Stadium.
After the win, Paul insisted he's a real boxer and people need to start taking him seriously. "This is the craziest moment of my life," said Paul, according to The New York Post. "I told y'all I was going to do it in the first round. I told y'all I'm a real fighter and I don't know how many times I got to prove myself that this is for real."
The win over Askren comes after Paul knocked out former NBA player Nate Robinson. Paul actually hasn't fought a pro boxer yet. Askren was the first professional fighter he's faced. Askren was 19-2 as an MMA fighter. "It's been four months, I've been in training camp every day," Paul said. "I deserve this sh*t. I don't know how many times I have to prove myself that this is for real."
Dana White not happy with Jake Paul
RELATED: Dana White Will Never Sign Logan or Jake Paul to the UFC Because He Learned His Lesson With CM Punk
During an interview with Yahoo! Sports, Dana White talked about UFC 261 which is taking place this weekend. Near the end of the interview, host Kevin Iole brought up Jake Paul. He asked White what his thoughts were on Paul calling on retired UFC champion Daniel Cormier to be his next opponent.
When Iole said Paul wants to fight D.C. (Cormier), White's eyes lit up. He hadn't heard anything about that. When he found out it was true, he wasn't a happy camper. "Daniel Cormier?" White asked. "Why don't you go fight a f*cking boxer?
"What the f*uck do these guys keep talking to UFC guys for? I'm going to have to slap them with another f*cking legal letter. Idiots. Go talk to f*ucking boxers. What are you doing?"
Daniel Cormier responds to Paul
RELATED: Jake Paul Airs Troubling Comments That He Has 'Early Signs of CTE'
It's very tough to take Jake Paul seriously, especially when he's calling out Daniel Cormier, a former UFC champ who is much bigger than Paul. Paul took to Twitter, calling Cormier "fat boy" and challenging him to be his next opponent. While Paul may simply be trolling, Cormier responded on the latest DC & Helwani podcast.
Cormier didn't play along with Paul. Instead, he shut him down, saying he wasn't stooping to his level."I'm not gonna punch down to some kid on YouTube that's like, 'Fight me.' Why? What have you done to earn the right to fight me?" Cormier asked. "So no, it's silly and stupid."
Paul is seeking attention, but he's not getting it from Cormier.