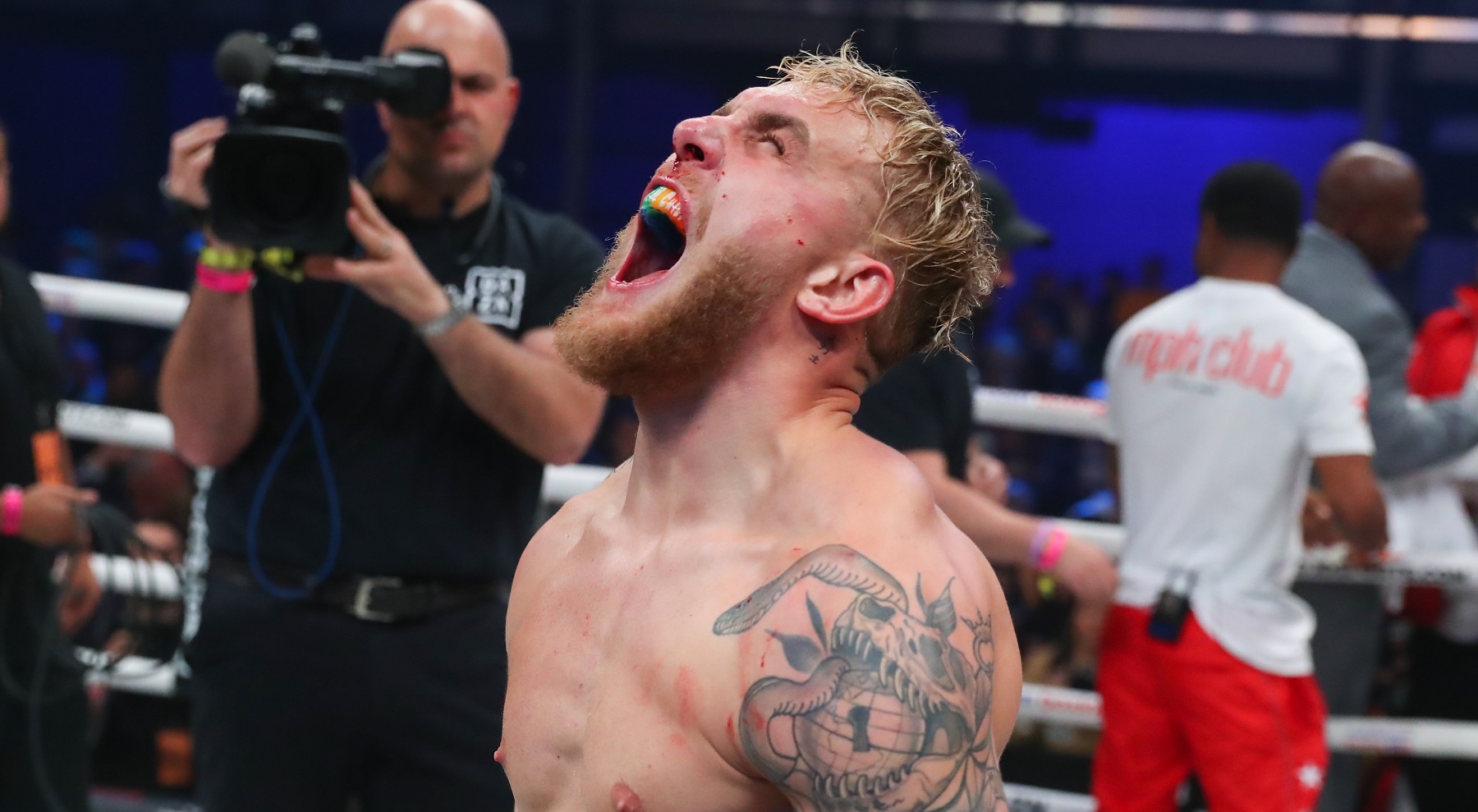 You Know Jake Paul Is Out of Control When the UFC's Dana White Sounds Rational by Comparison
YouTube personality Jake Paul has challenged Conor McGregor to a boxing match that Dana White says will never happen.
With only one fight card on the schedule between now and mid-January, Dana White can actually take some time off after an incredibly chaotic year for the UFC. So, rather than promoting fights these days, White is assuring fans that they won't experience the travesty of watching Conor McGregor pummel Jake Paul.
Paul posted a vile video online trying to goad McGregor into a boxing match that the multi-time UFC champion doesn't need and certainly shouldn't take.
Jake Paul's video was beyond repulsive
Though his resume includes an acting career in a Disney Channel series and making music videos, Jake Paul, 23, is famous these days primarily for being famous through his social media presence, which includes 20 million YouTube followers.
Paul's personal life and career have been dotted with mostly small controversies. He had no meaningful connection to the sports world until January 2020, when he embarked upon a boxing career and scored a first-round TKO of fellow YouTube personality AnEsonGib. On Nov. 28, 2020, Paul improved to 2-0 with a second-round knockout of former NBA player Nate Robinson. The mismatch on the undercard of Mike Tyson's exhibition vs. Roy Jones Jr. was widely panned.
On Dec. 14, Paul posted a minute-long, profanity-laced video challenging UFC champion Conor McGregor to a boxing match. Paul claimed that his team had made a verifiable $50 million commitment to McGregor if he would take the fight.
A small excerpt from Jake Paul's decidedly NSFW video:
"You're scared to fight me, Conor. You're ducking me because you don't wanna lose to a f—king YouTuber. You're 0-1 as a boxer, I'm 2-0 as a boxer. I just came off the eighth-biggest pay-per-view event in history. But you wanna fight Dustin Poirier, who has less followers on Instagram than my f—king dog. That's a fact."
Believe it or not, that was the tame portion of the rant.
Evidence suggests Conor McGregor might kill Jake Paul
Conor McGregor, 32, is a former UFC lightweight and featherweight champion with 26 MMA fights under his belt. Although he had spoken of retiring following his January 2020 victory over Donald Cerrone in 40 seconds, McGregor has booked a fight in UFC 257 next month vs. Dustin Poirier.
With 19 of his 22 wins by knockout, McGregor's style in the octagon is that of an old-fashioned brawler who prefers to settle fights with his fists rather than via submission holds. Given that style and the fact that he is a southpaw, an experienced fighter like McGregor would pose a serious risk to Jake Paul's well-being if the two met in the boxing ring. And that's despite giving away four inches and 40 pounds.
Paul may be 2-0 in boxing matches, but McGregor's loss in the ring to Floyd Mayweather Jr. on Aug. 26, 2017, was more credible. Mayweather was comfortably ahead on the scorecards when the bout was stopped in the 10th round, but McGregor landed blows throughout against the undefeated champion.
UFC president Dana White says the fight won't happen
UFC boss Dana White has been known to lash out angrily when challenged by reporters and even fighters. It makes for lively quotes in stories, even if White's words need to be heavily redacted in print. On the other hand, Jake Paul's video rant aimed at goading Conor McGregor into a bout he doesn't need – Celebrity Net Worth says McGregor is worth $120 million – went way overboard, using the foulest of language.
What Paul said perhaps would have helped hype a fight with the past UFC champion, but it's a moot point. Few people foresee McGregor bothering to consider such a match. White is sure it won't happen.
"(McGregor) is one of the greatest fighters on earth right now. He shouldn't be fighting kids that have f–king YouTube videos," White told TMZ Sports.
White went on to say there was a "zero percent" chance that fight ever happens. And he won't push to make it happen.
"There's a market for these kinds of fights. It's just not what I do," White added.
Like Sportscasting on Facebook. Follow us on Twitter @sportscasting19.