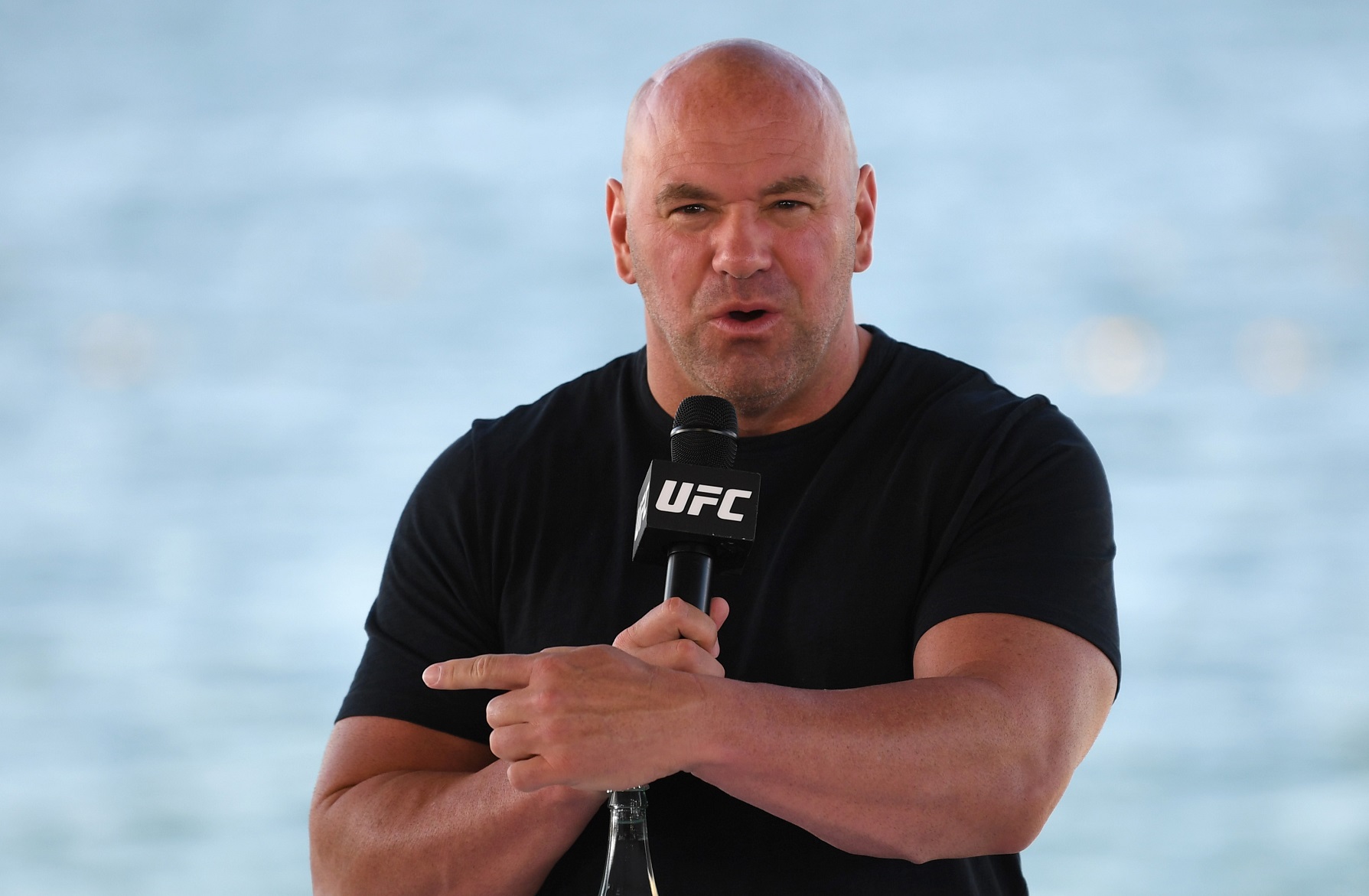 Dana White Didn't Invest a Nickel of His Own While Building the $4 Billion UFC Empire
The UFC consisted of nothing but a name and an octagon when Dana White convinced two childhood friends to buy it. They sold it 15 years later for $4 billion.
One of the first things that Dana White noticed upon getting involved with the UFC as a manager was that the fighters, the people with the most figurative and literal skin in the game, made almost no money.
White set out to do something about it. Turning a bankrupt outfit into one worth $4 billion was a stroke of genius. Making it all the more impressive, White did it without putting up any of his own money.
Dana White arrived in Las Vegas broke but ambitious
Dana White has been involved in the fight game since taking up boxing while in high school in Maine in the mid-1980s. Having twice dropped out of college, he found himself training fighters in Boston when associates of well-known mobster Whitey Bulger began chasing him down for money. Facing an ultimatum to come up with $2,500, White took off to Las Vegas.
It was there that White became intrigued by the Ultimate Fighting Championship (UFC), which was being run by Bob Meyrowitz. White was putting a stable of fighters together that would eventually include big names like Chuck Liddell and Tito Ortiz.
But money was tight across the board because the UFC of the 1990s bore little resemblance to what fight fans witness now in regularly scheduled pay-per-view cards that routinely sold out arenas before the COVID-19 pandemic. The early competitions were set up as tournaments with bouts between martial artists from different disciplines to determine the most dominant style.
UFC 1, a PPV event using the now ever-present octagon, took place Nov. 12, 1993, at McNichols Arena in Denver. Four more cards would follow over the next 18 months, but the UFC remained a low-budget operation with little notoriety nationally.
The UFC gets serious after politicians get involved
Reacting to video he saw of a UFC event, U.S. Sen. John McCain of Arizona campaigned in 1996 to ban "no-holds barred" fighting. While the UFC did, in fact, have rules, they were not as strict as the current standards. Finding itself locked out of many states, the UFC worked with the respective state athletic commissions to gain approval. Winning the OK from California and New Jersey by 2001 proved a turning point for acceptance nationally.
However, there was still relatively little money to be made from gate receipts and pay-per-view, and UFC owner Bob Meyrowitz was selling off assets to fund upcoming cards. Upon learning that Meyrowitz wanted to exit the business, Dana White approached casino operator Lorenzo Fertitta, a childhood friend who was a former commissioner of the Nevada State Athletic Commission.
In January 2001, brothers Lorenzo and Frank Fertitta paid $2 million for the UFC, which by that time had been stripped down to little more than a name and an octagon. The brothers made White the operation's president.
Dana White made a sweet deal for himself
Brothers Lorenzo and Frank Fertitta had much larger matters, including the family's casino business, to worry about. So, Dana White was given largely unfettered reign over the UFC, for which he was given a 9% stake in what was at the time an all-but-worthless company. But that stake gave White incentive to grow the sport.
White focused on finding fighters with personality and striking media deals to expand the audience. By 2005, White was promoting 10 major UFC cards a year instead of five or six in the early days and launching The Ultimate Fighter competitions. UFC Fight Night began the following year. Las Vegas hosted UFC 100 in July 2009 UFC 200 just seven years later.
By that time, the UFC was grossing over $600 million a year and was a major brand in international sports. When the Fertitta brothers decided they were ready to exit, they sold to Ari Emanuel's WWE-IMG for a little more than $4 billion.
White sold his 9% stake at the same time but agreed to remain as president of the organization and the face of the UFC. His check when the deal was finalized came out to $360 million, a nice return on his initial investment of zero dollars.
Like Sportscasting on Facebook. Follow us on Twitter @sportscasting19.