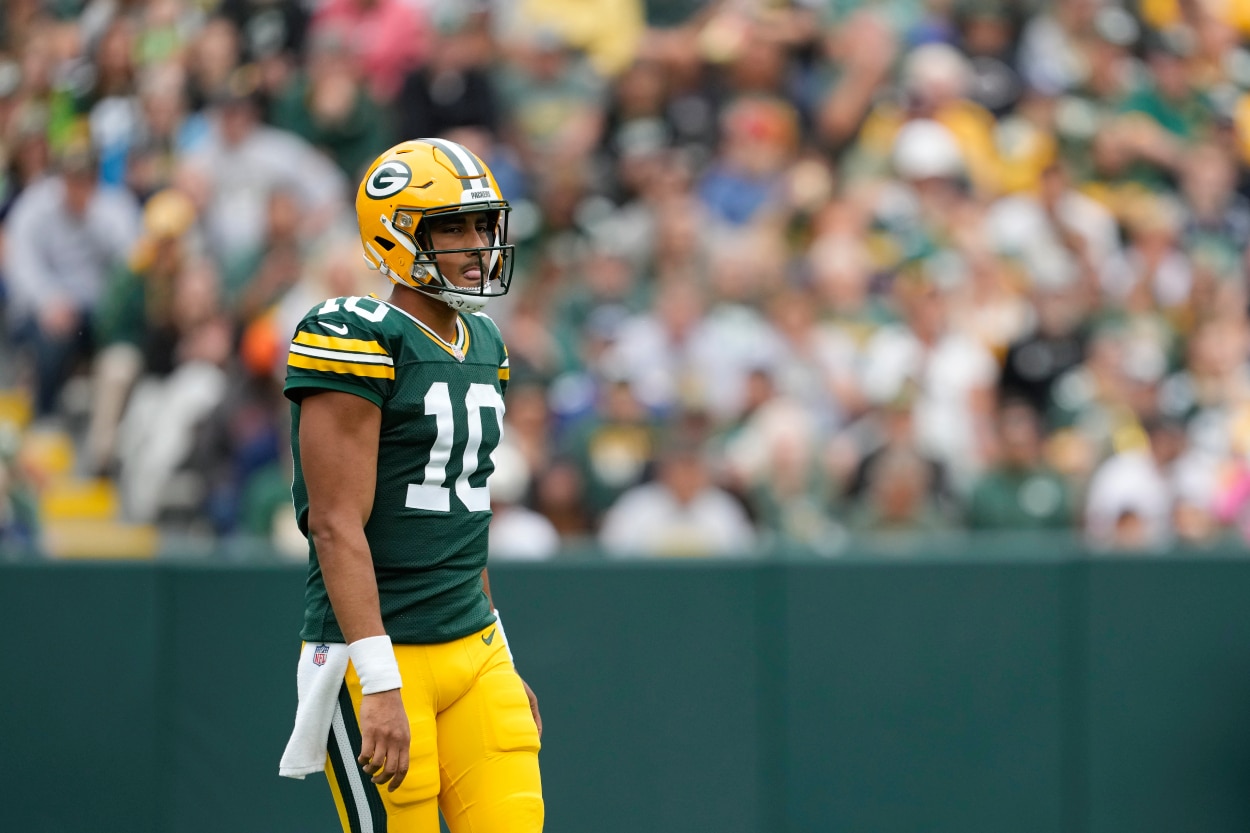 Unfazed Jordan Love Will Get Tested Early In Packers vs. Bears Week 1 Matchup
Jordan Love finally takes over as the starting quarterback for the Green Bay Packers.
The Green Bay Packers are Jordan Love's team now. After patiently waiting behind four-time MVP Aaron Rodgers, Love finally gets to show what he has as the 2023 NFL season kicks off.
It won't be easy for the former Utah State star as the Packers play on the road against their biggest rivals, the Chicago Bears. He'll also be without his top pass-catching weapon Christian Watson, who's out with a hamstring injury. Despite the noise, Love remains unfazed.
It's time for Jordan Love to run the show for the Green Bay Packers
Since 1992, the Green Bay Packers have leaned on two quarterbacks — Rodgers and Brett Favre. Between them, they have seven MVPs and 917 touchdown passes with the Packers.
The Packers reached in the 2020 NFL Draft when they traded up to snag Love. It was a move that baffled and angered many Packers fans.
The Packers were fresh off a trip to the NFC title game, where they lost to the San Francisco 49ers. One win away from a Super Bowl berth, and the Packers decided to draft for the future. They moved up in the draft to select Love with the 26th overall pick and then selected running back A.J. Dillon in the second round. With Rodgers and Aaron Jones, Green Bay's top two offensive players, on the squad, those picks were head-scratchers.
Instead of plugging in a hole or two that could've possibly gotten them over the hump and back into the Super Bowl, they drafted for 2023. Well, 2023 is here, and it's Love's turn.
Love unfazed by Week 1 matchup with the Bears
Love has certainly paid his dues. Not only did he sit behind Rodgers, but he watched him win two straight MVPs. The Packers traded Rodgers to the New York Jets this offseason, leaving the door wide open for Love to take over.
On Sunday, Love makes his second career NFL start. It's his first NFL start knowing that he's the main man in Green Bay. He doesn't care about going into a hostile environment short-handed. This is what he's waited for, and he's ready to go.
"It's been a waiting game," Love said, per Packers.com. "Yeah, I'm definitely excited to finally get my shot."
Love is showing he can be a leader just by the way he's carried himself this year.
"He just has a very good demeanor about him, very confident, very relaxed," offensive coordinator Adam Stenavich said. "I can feel his excitement this week. You can just see he's chomping at the bit to get out there and go for it."
"He's done a great job handling himself really well around the guys. I'm really excited about Jordan and watching him grow."
Week 1 at the Bears will certainly put him to the test.