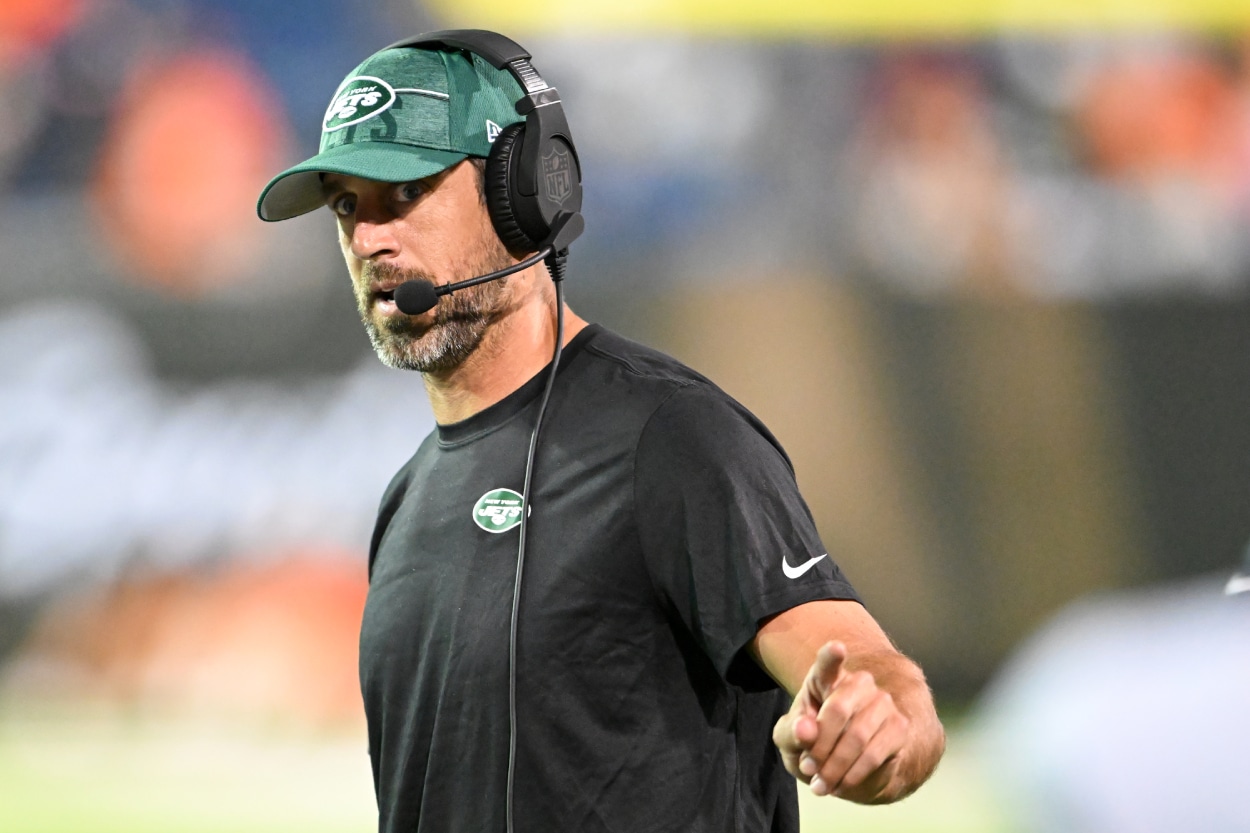 Aaron Rodgers Burns OC Nathaniel Hackett With 2 Words as 'Hard Knocks' Debuts
New York Jets quarterback Aaron Rodgers showed his lighter side during an episode of Hard Knocks on Tuesday.
HBO's Hard Knocks returned Tuesday night, and, as expected, there was no shortage of highlights. With quarterback Aaron Rodgers making his debut with the New York Jets this season, it seemed like an obvious choice to make the Jets the featured team in 2023.
Rodgers, a four-time MVP, is expected to turn New York into an immediate contender, and he's also made-for-TV material. The former Green Bay Packers quarterback had some fun in Tuesday night's episode, burning his offensive coordinator Nathaniel Hackett during a little competition called the "pylon game."
Aaron Rodgers and Nathaniel Hackett reconnect with the New York Jets
While Aaron Rodgers begins the 2023 NFL season in unfamiliar territory with the New York Jets, he has some familiar faces around him. One of them is Hackett, his former offensive coordinator in Green Bay.
Hackett was the Packers offensive coordinator from 2019-2021. He left Green Bay to become the head coach of the Denver Broncos last season. Under Hackett, the Broncos struggled mightily, finishing the season with a 5-12 record. It was supposed to be a season of promise in Denver with a highly touted young coach and a veteran quarterback in Russell Wilson, whom the Broncos acquired via trade. Instead, it was a disaster, and the Broncos fired Hackett after one season.
The Packers made big news in the offseason by trading Rodgers to the Jets. This came two months after New York hired Hackett as its new offensive coordinator. The two developed a strong bond in Green Bay, with Rodgers offering his praise for Hackett.
"He's become such a close confidant and friend, besides a fantastic coach," Rodgers said in 2020, per the NewYorkJets.com. "And I just really, really can't express enough how important he is to our team in so many ways. He's incredible in front of a room, he brings a lot of great energy that's really important to not just meetings that can sometimes, without the energy, the energy he infuses, maybe get long at times. Never feels like that way with him in front of the room."
Rodgers has some fun with Hackett by bringing up a sore subject
During Hard Knocks, the Jets QBs and some of the offensive coaches got together to test their accuracy skills by tossing footballs at the pylons from roughly 20 yards away. If you hit the pylon on the fly, you get two points. You get one point if it's hit on a bounce.
Rodgers added another element by distracting the passer as he gets set to throw the football.
"A big part of the game is the psych-out," Rodgers said. "So, we've taken that over to right before you throw to saying something so ridiculous to make you miss a throw."
As Hackett went to deliver his throw, Rodgers went for the jugular, saying, 'Sean Payton.'
Payton, of course, replaced Hackett as the head coach with the Broncos. Payton recently ripped Hackett, calling Hackett's performance in Denver "one of the worst coaching jobs in the history of the NFL." 
Rodgers came to Hackett's defense by blasting Payton publicly, saying he was "way out of line" with his comments.
Hackett could only laugh at Rodgers' distraction method.
"That was a good one," Hackett said. "That was a good one."