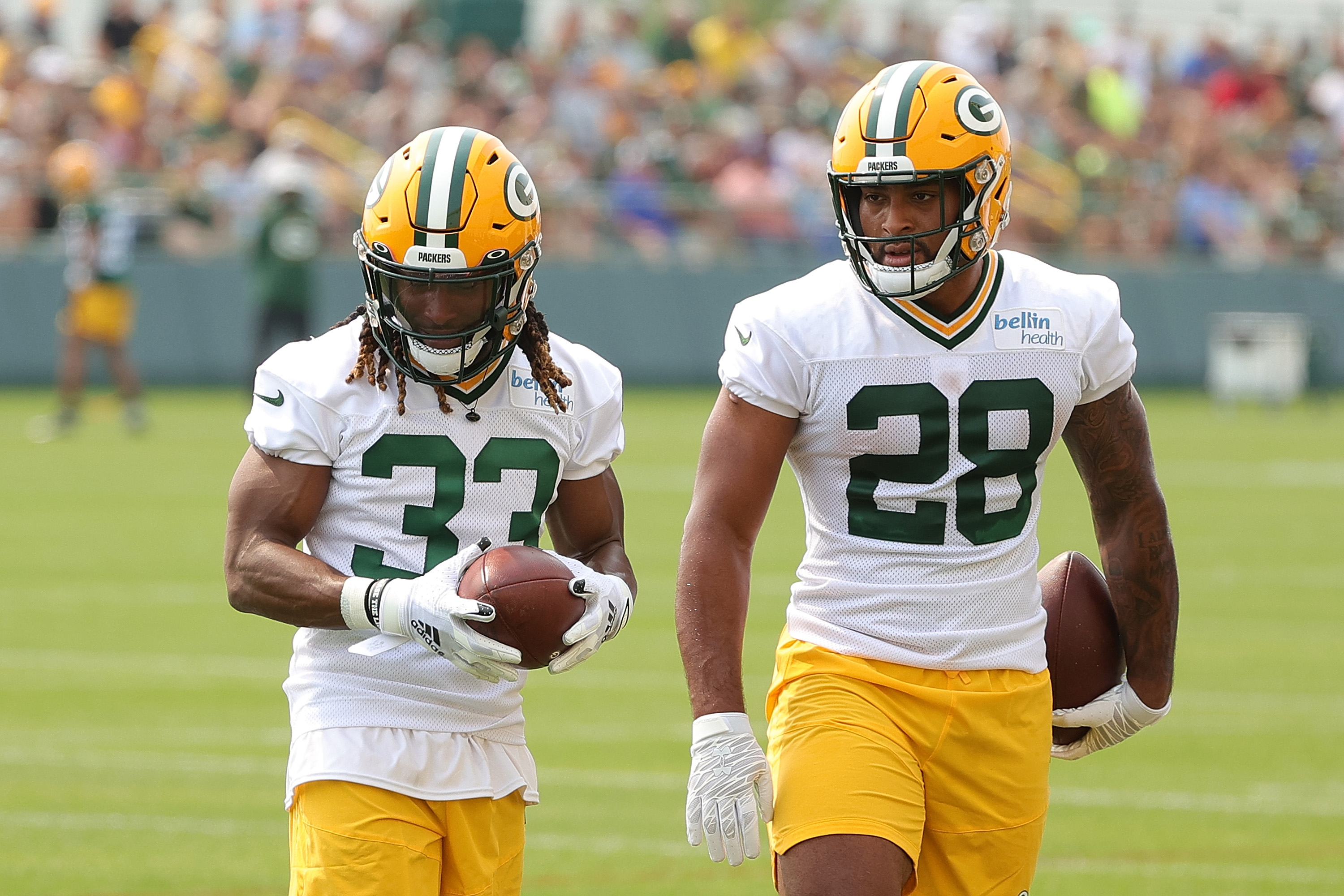 A.J. Dillon and Aaron Jones React to the Packers Reported Interest In Jonathan Taylor
A.J. Dillon and Aaron Jones reacted to the rumors of the Green Bay Packers interest in Indianapolis Colts running back Jonathan Taylor.
With Aaron Rodgers out of the picture, the Green Bay Packers have turned things over for ever-so-patient quarterback Jordan Love. Love, drafted in 2020, gets his first crack at being the man in Green Bay when the Packers travel to Chicago on Sunday for a Week 1 meeting with the rival Bears.
Fortunately for Love and the Packers, Green Bay has a potent two-headed monster in the backfield. A.J. Dillon and Aaron Jones will help Love ease his way into form with a strong ground game. While that running attack just might be the strength of the Packers offense, rumors swirled that the Packers were recently interested in trading for disgruntled Indianapolis Colts running back Jonathan Taylor. Dillon opened up about those rumors on Wednesday.
Despite having A.J. Dillon and Aaron Jones, the Packers were rumored to have an interest in Jonathan Taylor
The hot rumor was the Miami Dolphins trading for Jonathan Taylor, but it never panned out. Taylor and the Colts have had a falling out after the team reportedly wouldn't engage with the star running back on a contract extension. Taylor, who led the NFL in rushing in 2021, requested a trade this offseason. After initially refusing to honor that request, the Colts decided to let Taylor seek a trade partner.
The Dolphins were the heavy favorites to land Taylor, who is sidelined for the early part of the 2023 season with an ankle injury. Then came an interesting report that the Packers were interested in acquiring Taylor. Green Bay GM Brian Gutenkunst addressed the situation last week without getting into much detail.
"First of all, I can't talk about players on other teams," Gutekunst said during a press conference. "We try to be in every conversation. So, you know, anytime we have good players available to us, we'd like to make the Green Bay Packers better and we'll look at those opportunities."
A reporter asked about Dillon and what his mindset might be if he might be part of a deal involving Taylor.
"AJ's part of this team and he was going to be regardless," Gutekunst said. "But, we're not doing what we're supposed to be doing if we're not investigating these things and at least listening to things. But, yeah, it's the nature of the world now. There's all kinds of things out there. Some are true, some aren't.
"We have a great running back room. We're really excited about it. I think they're the strength of our football team. But, again, we have a lot of conversations. If people perceive it's one thing or another, I can't control that."
Dillon and Jones responded to the Taylor rumors
On Wednesday, reporters asked Dillon about all the Taylor talk. He seemed completely unfazed by the whole situation, saying he understands it's a business. He simply brushed it off and said he was ready to play for the Packers.
"That's the nature of the business," Dillon told reporters on Wednesday. "I'm not naive to think that when draft time comes around, if the shoe was flipped on the other foot, you try to make the team as good as you can. I don't know what the truth to that is, but all that outside stuff doesn't bother me.
"I'm here right now, and I'm suiting up, wearing number 28 for the Green Bay Packers. I'm fired up to get it going in Week 1."
According to ESPN's Rob Demovsky, Jones added his two cents as well.
"I didn't pay it any attention," Jones said. "I wasn't notified about it or they didn't tell me anything about it and he didn't end up here, so I mean I didn't pay it much attention."