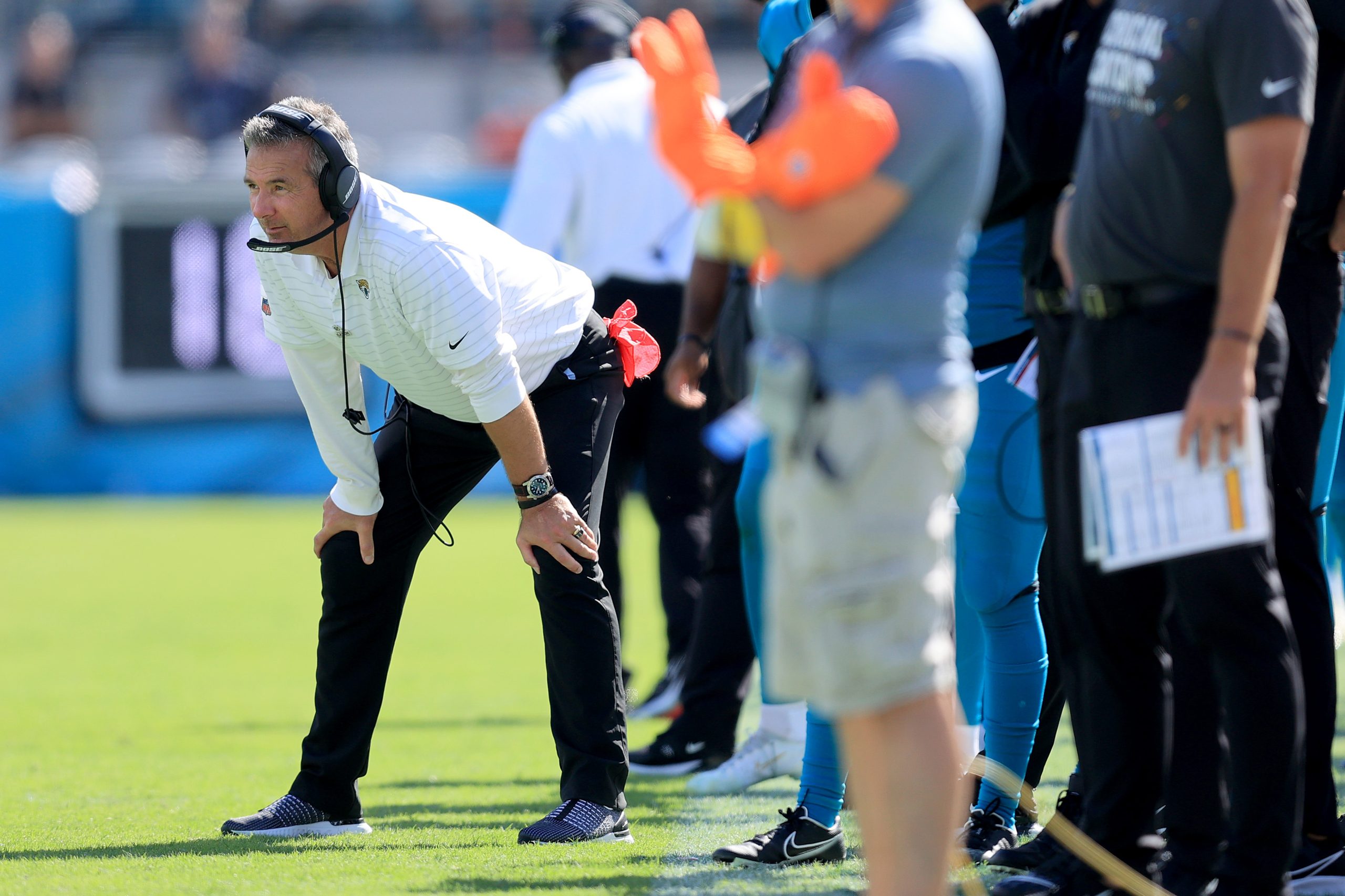 Urban Meyer's Football Struggles Are Far Worse Than His Baseball Problems Were With the Atlanta Braves
Urban Meyer's football woes are far worse than his baseball problems were with the Atlanta Braves.
Personal issues aside, the NFL hasn't been too kind to Urban Meyer. In his first year as head coach of the Jacksonville Jaguars, Meyer is 0-5 and finds himself in the middle of a 20-game losing streak. It's been an ugly beginning to what could have been a promising season for the Jaguars, who locked up prized quarterback Trevor Lawrence with the top pick in the draft.
It's been an ugly start for Meyer, who went 187-32 as a college coach. His football woes far outweigh his baseball woes when he was a hot-shot prospect in the Atlanta Braves organization.
Urban Meyer and the Jaguars closing in on humiliating record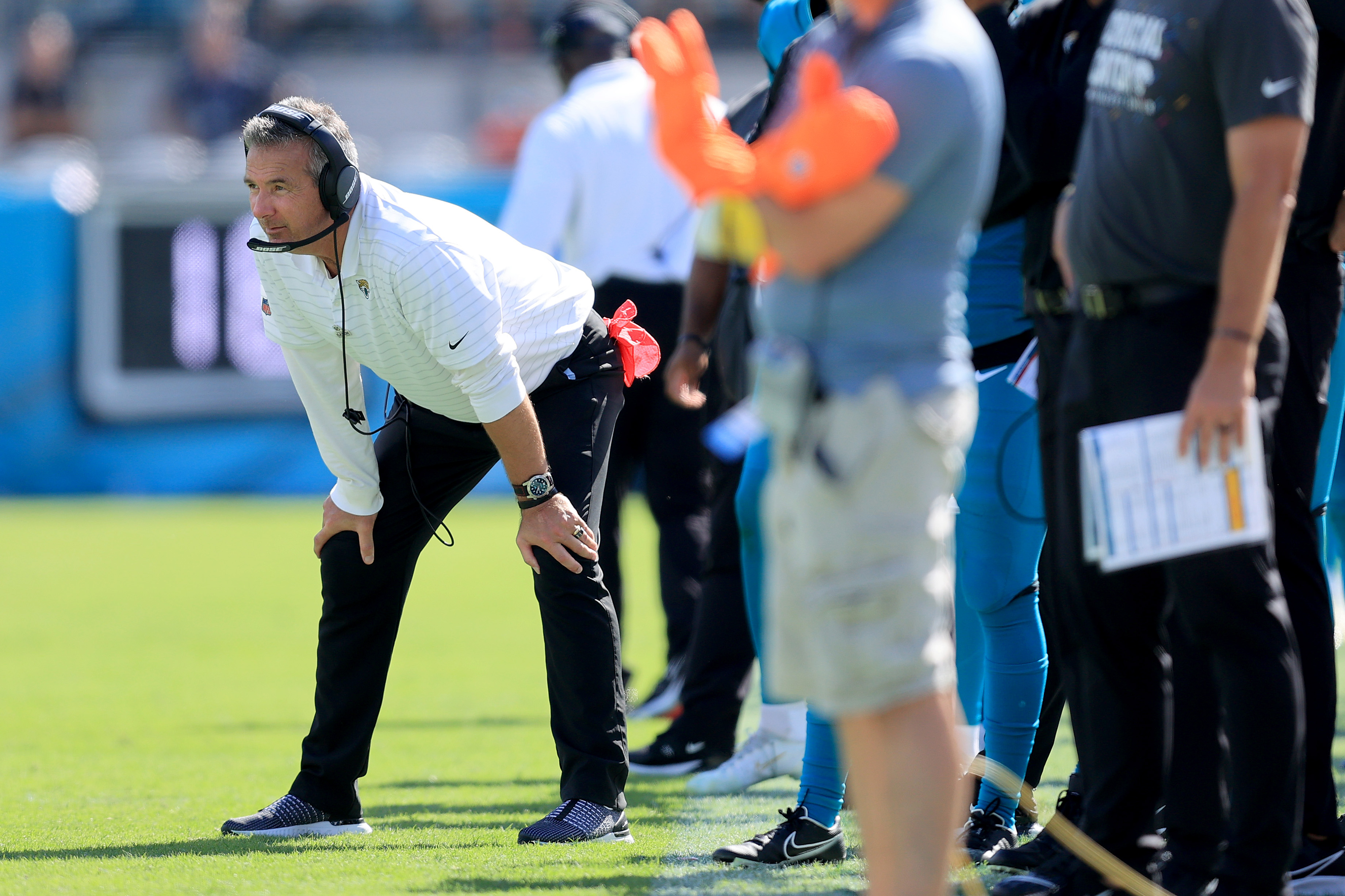 They've hit 20 straight losses. Six more and they will tie the Tampa Bay Buccaneers, who opened with 26 straight losses as an expansion team beginning in 1976, with the most ever. As bad as it's been for Meyer and the Jags, the coach is still trying to put a positive spin, saying the team has that never-say-die attitude.
"I see a group of warriors and I see a group of players that I love to death," Meyer said after last week's loss to the Tennessee Titans, according to ESPN. "I see a group of players that are spilling it on the field and we're not getting it. We're not closing it out."
Linebacker K'Lavon Chiasson has been taking the losses to heart. The second-year player out of LSU won his first game in the NFL with the Jaguars and has lost every game since.
"It's hurting me," Chaisson said, according to the Florida Times-Union. "I can't go home every day, you know what I'm saying, and take it like a normal person. Every day, I'm trying to figure what's the issue, or what can we do better as a defense.
"If I need to stay longer or I need to lift every day like I've been doing or meet with the coaches every day as much as possible or even some type of team activity. I want to do whatever it takes to win."
Meyer's football problems are far worse than his baseball struggles with the Atlanta Braves
Meyer went to St. John High School in Ashtabula, Ohio, and was a 13th-round pick by the Atlanta Braves in the 1982 MLB Draft. Meyer was a shortstop and pick No. 323 in the draft. He was selected ahead of former MLB stars Jose Canseco and Bret Saberhagen.
Meyer played rookie ball with future Braves stars such as Ron Gant, Mark Lemke, and Paul Assenmacher. Lemke said he believed Meyer would've been the one to make it big in the majors.
"I remember being wide-eyed and young and not knowing a whole lot back then," Lemke said in 2016, according to MLB.com. "But I think we all thought Urban, more than any of us, even, would be in the big leagues someday."
Meyer struggled in two seasons of pro baseball, hitting .170 and then .193. On top of his struggles, he got injured and then got released. He then went to play football at the University of Cincinnati as a defensive back.
"Just wasn't good enough," Meyer said in 2014 of his baseball career. "I was a really good high school football player. I was doing OK my second year (with the Braves), and then I had an injury to my arm. But I had already probably maximized my ability."
Mark Lemke said Meyer had that same competitive fire then as he does now
Although it's not happening, Meyer wants to win — at everything. He always has. According to Lemke, those ping-pong battles during their baseball days hit competitive highs.
"You could see it in his eyes," Lemke said. "He did not want to lose. No matter what, he was going to beat you. He had to beat you. And I'm sure he did beat me most of the time, because he was better than I was, but I do remember that whenever I did happen to get lucky and win a game, he did not take it well.
"He probably would leave the room in silence and not want to talk to me for a while."
One positive from Urban's release from the Braves was that he was able to obtain the signature of the late, great Hank Aaron. Aaron, then the director of player development, signed the papers when Meyer was released.
"I have those papers in a scrapbook somewhere at the house," Meyer said to MLB.com.