No Way, Jose: Jose Canseco May Have Now Officially Hit a New Low
OK, so maybe that infamous bonk off the head Jose Canseco took as a member of the Texas Rangers in 1993 did a little more damage than we thought. Canseco has been out of Major League Baseball since 2001. Once MLB's most feared home run hitter, he is now making noise via social media.
If he's not talking about aliens or Bigfoot, he's pushing his new online store. The former Oakland Athletics star is selling everything from anti-Alex Rodriguez masks to shirts showing that baseball bouncing off his head for a home run. Heck, he'll even give you a Twitter follow for $79.
Jose Canseco was the game's best in 1988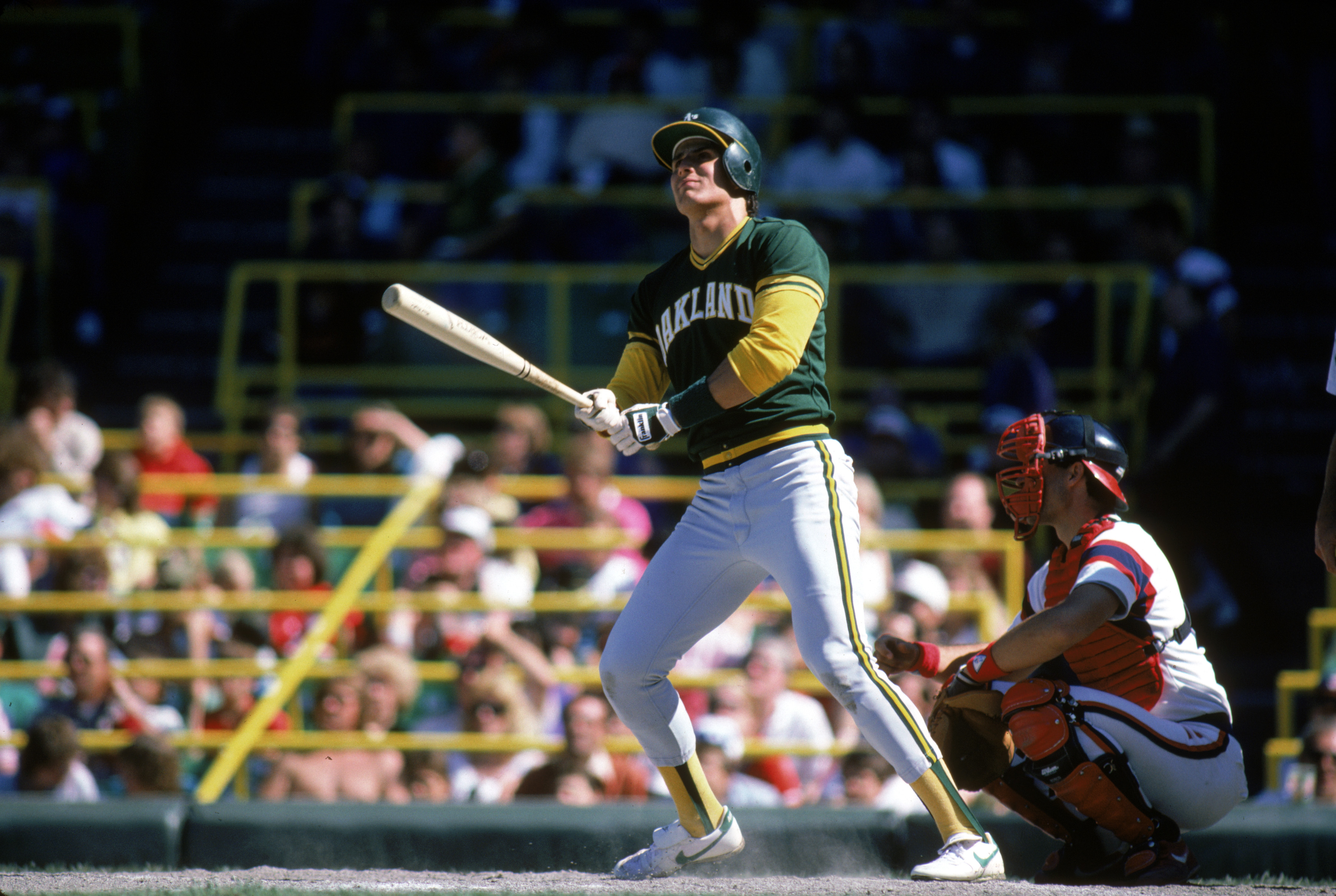 The numbers were always there, but so were the doubts. Canseco was athletically gifted with some steroids help, but who wasn't during his playing days? In his 2005 book "Juiced: Wild Times, Rampant 'Roids, Smash Hits & How Baseball Got Big," Canseco claimed up to 85% of big league players were taking steroids, and he ratted out many of them.
Despite the steroids talk, Canseco put together one of the best seasons by any Major League Baseball player in 1988. He led the league in home runs (42) and RBIs (124) while hitting .307. He also swiped 40 bases to become the first player to hit 40 homers and steal 40 bases in the same season. Canseco was named the MVP of the American League.
Although Canseco's book didn't net him many friends, it helped clean up the game. He pointed the finger at many players, including former teammates Mark McGwire and Rafael Palmeiro. Many players in that era, including Barry Bonds and Roger Clemens, have Hall of Fame-worthy numbers but have been linked to steroids.
Although there are still instances today when players are getting caught with performance-enhancing drugs, the numbers are much lower than when Canseco played.
Want a Twitter follow from Jose Canseco? It'll cost you $79 and that's quite a deal off the regular price
Canseco has been an active participant on social media. Some of his antics have been pretty wild, such as the time he asked for donations for his presidency run. Then, there was the time when he tweeted, "Can Bigfoot or aliens get Coronavirus I need to know because I have had contact with them."
If you've followed Canseco on Twitter, you'll find he's obsessed with four things: Bigfoot, aliens, Jennifer Lopez, and Alex Rodriguez. Now he has items pertaining to a couple of those obsessions in the online store he's pushing. Canseco recently had a surprise Twitter countdown that led to the unveiling of his new merch.
Some of the items are respectable and priced fairly. Those include hoodies and hats commemorating his 40/40 season. Somehow, he has "Bash Brothers" shirts depicting himself and McGwire, the teammate he ratted out in his book, for sale.
Where he gets carried away is in the "novelty" section. He's selling profanity-laced A.Rod masks and shirts with him and Jennifer Lopez, Rodriguez's former girlfriend, on the front. It's tough to believe J.Lo and McGwire have given Canseco permission to use their photo for his profit.
It gets even more ridiculous when he's charging $199 for an autographed baseball. He's asking for $79, and he'll follow you on either Twitter or Instagram. He lists the social-media followings as "sale" items, reduced from $1 million.
Canseco believes Major League Baseball wanted him gone from the game
Canseco was the biggest thing in Major League Baseball in 1988. He was larger than life. He also believes he was blackballed by MLB.
"Let's go back to the Toronto Blue Jays in 1998," he said during an interview with Vlad TV. "Something funny happened there. I got colluded against. I think that year I had 46 home runs, 100-something RBIs and I was on my way to do the 40/40. All-Star break I had more than 24, 25 home runs, 23, 24 stolen bases.
"Toronto Blue Jays and Gord Ash pulled me aside and said, 'Jose, we don't want you stealing base anymore.' I'm thinking why, I'm about to do the 40/40 again. I found out why later on. I ended up stealing 29 against their wishes and I could've done 40/40 easily.
"Now, I'm thinking the Toronto Blue Jays are going to sign me to a multiyear deal. Back then, players with those stats are making eight-to-10 million a year. Gord Ash calls me. He says, 'Jose we want to tender you an offer. We want to pay you a million dollars, and you better take it because nobody else is going to offer you a penny more.' The phone fell out of my hand. I knew right then and there I was being colluded against."
The good news for Canseco is if he can just get 101,266 people to ask him to follow them on either Twitter or Instagram, he'll make that $8 million Toronto should've given him in 1998.