Urban Meyer's Scandalous Behavior Has Forced Tim Tebow to Send a Stern Warning to His Controversial Former Head Coach
Urban Meyer's scandalous behavior has raised serious doubts about his future in Jacksonville. To no surprise, Tim Tebow stepped in to give his controversial former head coach some valuable advice.
With Urban Meyer getting universally blasted over his disgraceful behavior at a bar in Ohio, the Jacksonville Jaguars have a public relations nightmare on their hands that doesn't look like it will go away anytime soon. And with the team off to an ugly 0-4 start, it's safe to say owner Shahid Khan should have a serious case of buyer's remorse.
The fact Meyer's future hangs in the balance a quarter of the way through his first NFL season speaks volumes about how quickly things have gone south since he joined the Jaguars in January. At this point, though, the AFC South franchise may have no choice but to find a new head coach.
Of course, Meyer put himself in a position to potentially lose his job through his actions, and he caused further damage to his reputation and opened himself up to more criticism with his words.
And not even Tim Tebow could stay silent in the wake of the latest scandal involving his controversial former head coach.
Urban Meyer's scandalous behavior has raised serious doubts about his future with the Jaguars
Meyer already seemed to be on the hot seat based on the Jaguars' on-field struggles, but he turned the temperature way up with his off-field actions.
Just two days after he suffered his fourth straight loss, the Ohio native found himself in the spotlight for something other than his failures as a coach. This time, Meyer became a hot-button topic thanks to a video posted on Twitter Saturday that showed him sitting in a chair while a woman was dancing on him at a Columbus-based bar.
Needless to say, the social media post inspired quite a response. Speculation immediately began to swirl about the controversial coach's job status. After all, the initial shock of seeing Meyer in such a compromising situation only created more doubt about his ability to lead the Jaguars moving forward.
To make matters worse, about an hour after he issued an apology at his Monday press conference, a second video emerged that depicted Meyer in an even worse light. Let's just say for someone who's spoken openly about the importance of family and faith, his actions didn't match up with those values.
Tim Tebow sent a stern warning to his controversial former head coach
Unlike his college coach, Tim Tebow has a reputation for being one of the true good guys in sports. And while not everyone shares his same passion for religion, he certainly deserves respect for standing up for what he believes in and serving as a positive role model for people around the world.
While Tebow often has an optimistic outlook on most situations, he had no choice but to send a stern warning to the man who wouldn't have won two national championships at the University of Florida without him. The former Gators star revealed what he told Meyer during an appearance on ESPN's First Take.
"My advice to him was to apologize, to admit it, to learn from it, and to never, never repeat it," Tebow said.
The 34-year-old placed heavy emphasis on the last part, which underscores how costly of a mistake Meyer made. And Tebow made it clear that his former head coach has a challenging path ahead of him in Jacksonville.
"I do think for some of the guys he will have to earn back their trust and respect," he explained. "And I think he really wants to do that. This is not something that anybody in his family takes lightly. This is a very serious situation. This is a very disappointing situation."
Just like Tebow, Meyer doesn't belong in the NFL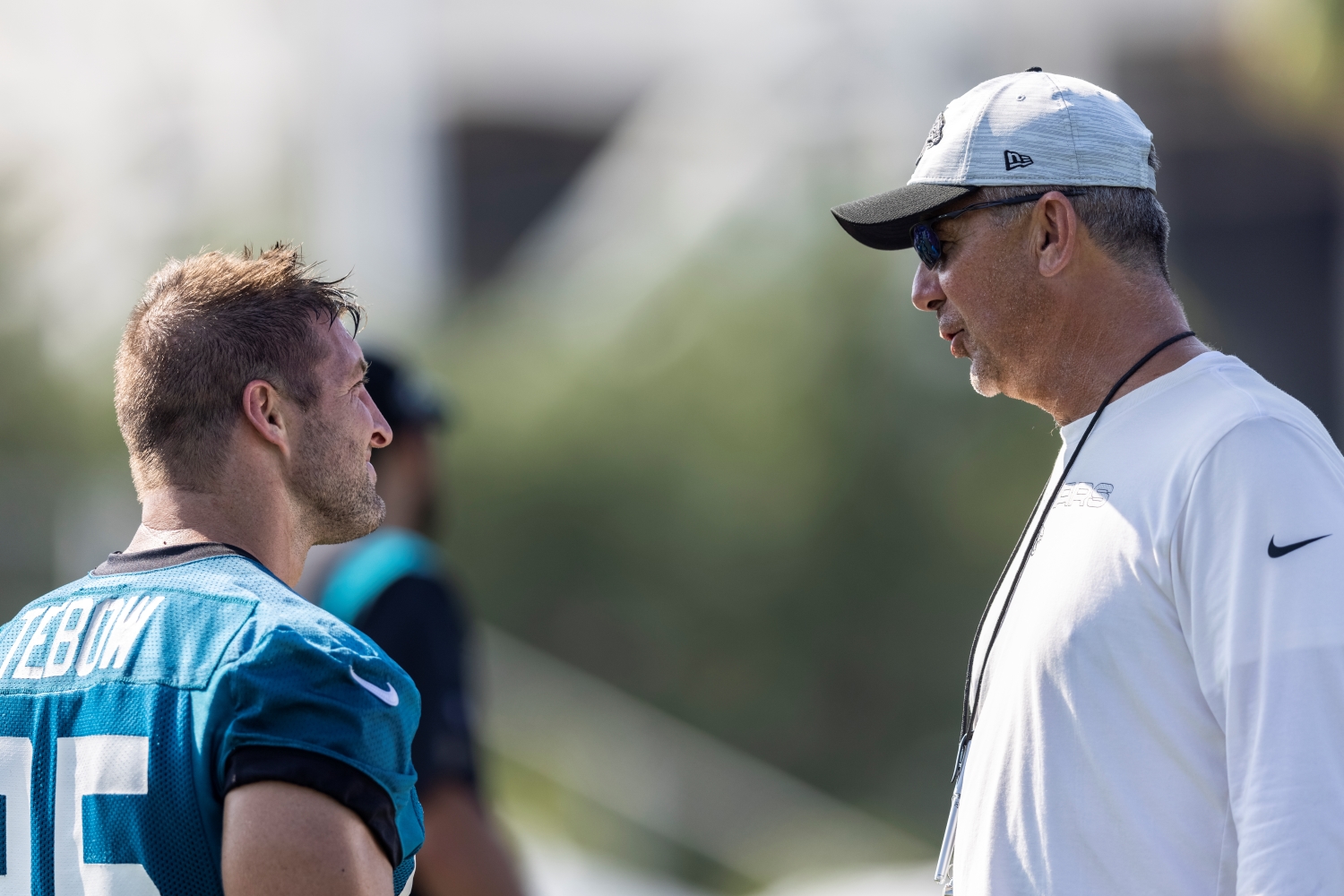 No matter what advice Tebow gave Meyer, it truly doesn't matter.
Does anyone really think one of the most controversial football coaches of all time will suddenly start to behave like a professional? Does anyone expect a 57-year-old man with a history of making questionable decisions to serve as a reliable leader? Does anyone actually believe Meyer even cares about changing ways?
The strikes against him keep piling up, and it seems like a matter of time before the Jaguars finally decide to bring the experiment to an end. Only time will tell whether they let Meyer finish the season, but it certainly wouldn't be a surprise if he doesn't make it to Week 17.
Unfortunately for Jacksonville fans, this looks like a classic case of one step forward, two steps back. On one hand, the franchise landed a generational talent in Trevor Lawrence. On the other hand, it made a massive mistake by hiring a coach who came with major red flags.
Although it took Urban Meyer a few extra months, just like Tim Tebow, he's proven once and for all that he doesn't belong in the NFL.
Like Sportscasting on Facebook. Follow us on Twitter @sportscasting19.