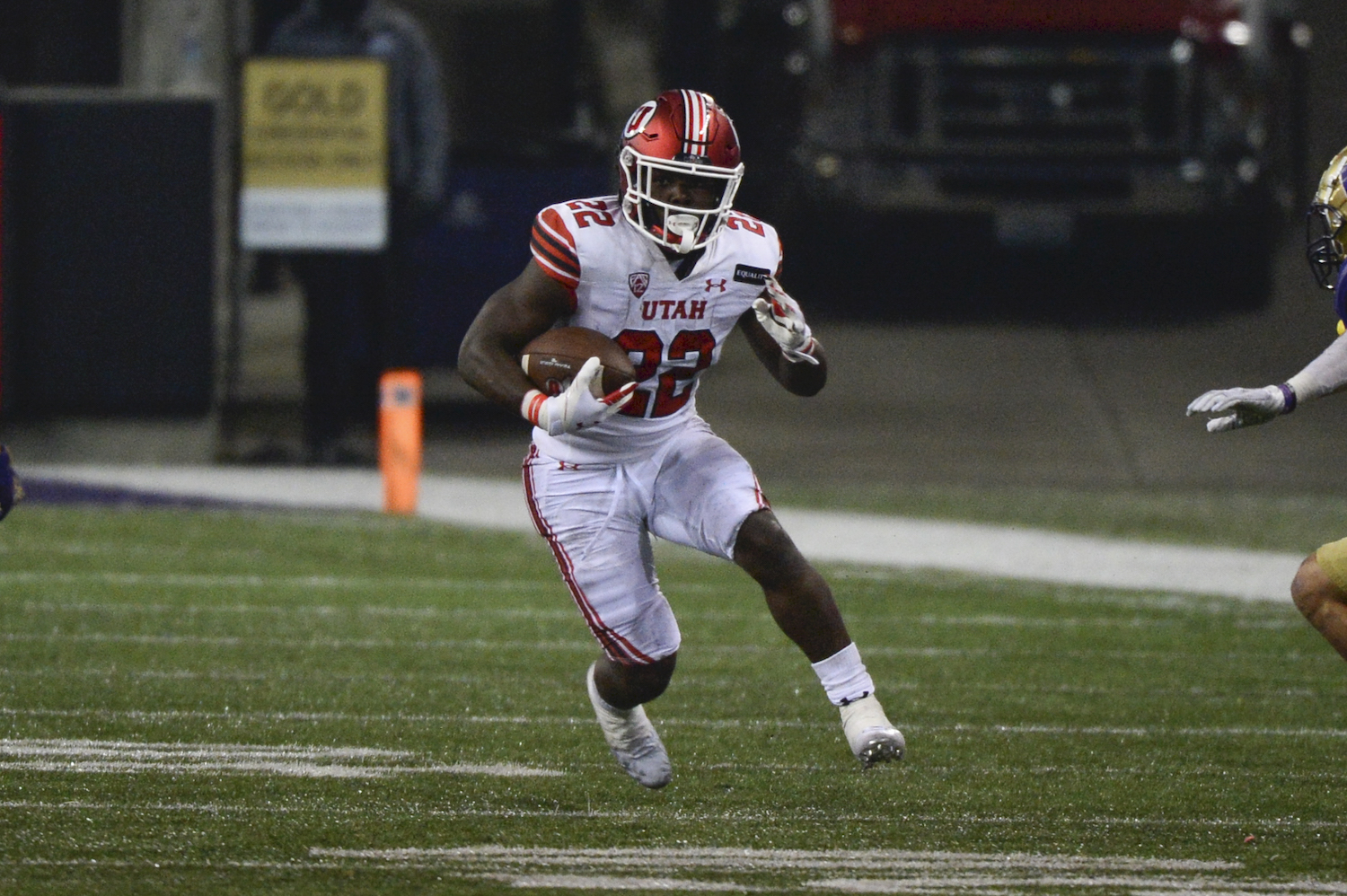 Utah Star Running Back Ty Jordan Fatally Shoots Self in Accidental Shooting
Utah Utes running back Ty Jordan became a star in 2020, earning Pac-12 Offensive Freshman of the Year honors. Tragically, he accidentally shot himself and died on Christmas day.
Running back Ty Jordan showed tremendous promise during his freshman season with the Utah Utes, leading the team in carries, rushing yards, rushing touchdowns, and all-purpose yards. The 19-year-old was named Pac-12 Offensive Freshman of the Year and earned All-Pac-12 second-team honors. Tragically, Jordan died on Christmas in an accidental shooting in Texas. 
Ty Jordan commits to Texas and flips to Utah
At West Mesquite High School, Ty Jordan recorded impressive numbers his junior and senior years. After rushing for 1,240 yards and scoring 15 touchdowns during his junior season, he earned all-district honors and caught the attention of numerous programs around the nation, including the Texas Longhorns. 
During his senior season, he earned co-district Offensive Player of the Year honors and was considered a four-star recruit by ESPN.
The ultra-speedy 5-foot-7 and 185-pound back originally committed to play for Tom Herman and the Texas Longhorns. However, Utah head coach Kyle Whittingham flipped Ty Jordan's commitment from the Longhorns and convinced him to join the Utes.
Ty Jordan stars at Utah earning Pac-12 Offensive Freshman of Year honors
At Utah, Ty Jordan had to initially question his decision of joining the Utes when the Pac-12 delayed its season due to the pandemic while the Longhorns and the Big 12 played on. Finally, in late November, the Utes took the field and Jordan made his college football debut rushing seven times for 32 yards in a loss to USC.
Jordan got the first start of his career in the Utes' next game against Washington and was impressive. He finished the game as the leading rusher, carrying 10 times for 97 yards, a staggering 9.7 yards per carry. He also caught four passes for 31 yards. It was a precursor of things to come.
In Utah's next matchup against Oregon State, Jordan put on a show rushing 27 times for a career-best 167 yards and a touchdown. He followed it up with 147 yards and a pair of touchdowns on 17 carries the next week against Colorado and wrapped up the season with a 154-yard performance and three touchdowns against Washington State.
Ty Jordan earned Pac-12 Freshman of the Week honors for the final three games of the season. He finished the year with 597 yards and ranked third in the Pac-12 in rushing yards per game (119.4) and ninth in the FBS. He was voted the Pac-12 Offensive Freshman of the Year and also made the All-Pac-12 second-team.
Star back tragically dies in accidental shooting
Over the holidays, Ty Jordan returned to Texas to spend time with his family. On Christmas night in Denton, Texas, approximately an hour away from Jordan's hometown, officers responded to a shooting call and found Jordan. He was transported to a local hospital where he died. 
Utah head coach Kyle Whittingham released a statement expressing the shock and pain felt in the Utah community. 
"Words cannot express the devastation and heartache that our team is feeling right now upon learning of the tragic death of our teammate and brother, Ty Jordan," Whittingham said. "Ty's personality and smile were infectious and he made a huge impact on our program in the short time he was with us. He leaves an indelible mark on each of us and our thoughts and prayers go out to his family and friends. From the bottom of our hearts, all of us in the Utah Football Family want to say we love you Ty and may you rest in peace." 
Denton Police told ESPN a preliminary investigation revealed it was an accidental shooting and Ty Jordan accidentally shot himself.
Stats courtesy of College Football Reference.