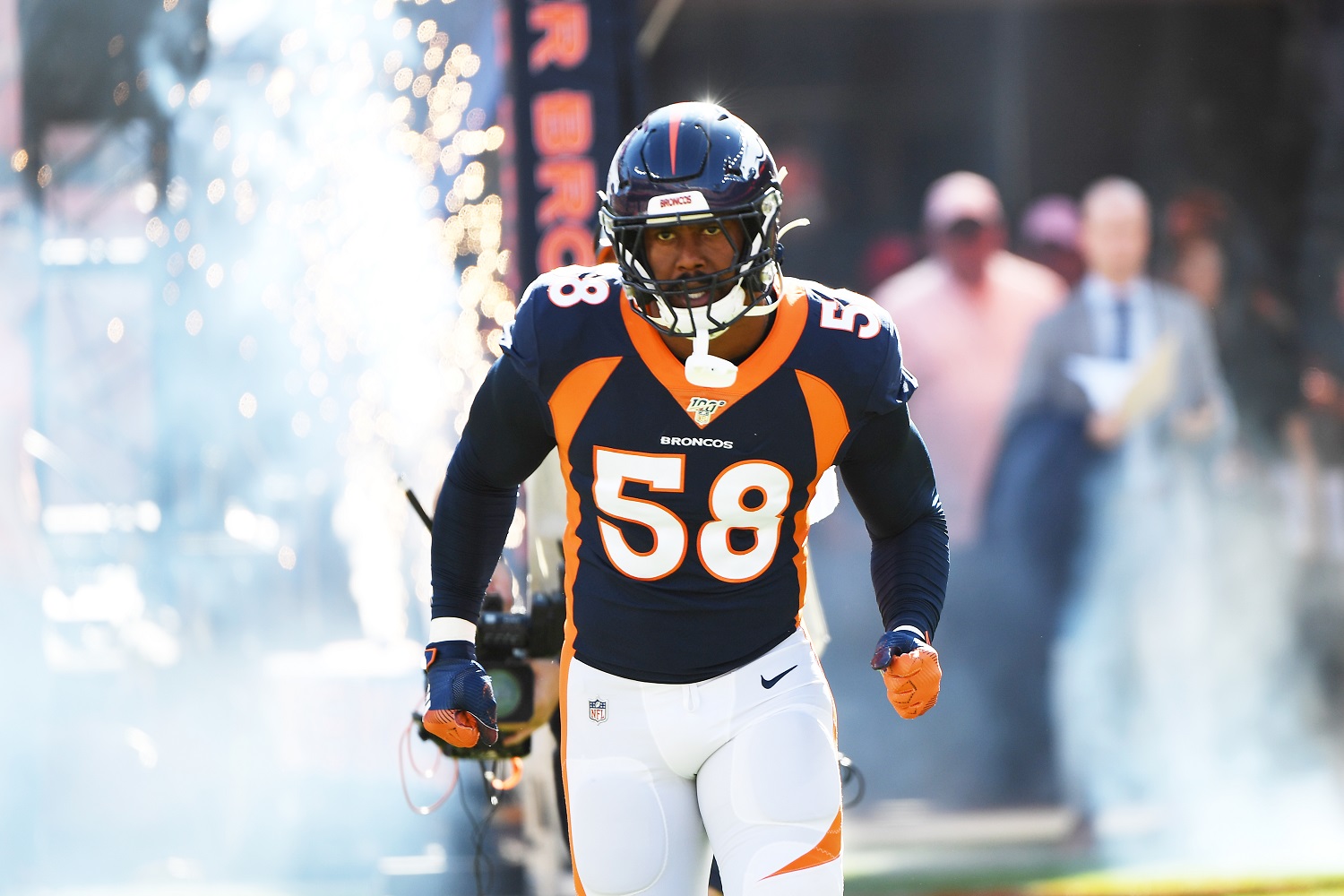 Von Miller Has Made New Retirement Plans Due to a Major Life Change
Denver Broncos linebacker Von Miller goes into 2021 with 106 sacks but no contract beyond this season. He wants to play long enough for his unborn son to see him play.
Von Miller is already going into the books as one of the greatest defenders in Denver Broncos history. However, the linebacker entering his 10th NFL season believes he still has several chapters to write.
Heading into his contract year, Miller is not an absolute certainty to be playing for the Broncos when the 2021 season opens. That's not stopping him from making plans to still be playing for Denver deep into the decade.
Von Miller is amassing Hall of Fame-worthy credentials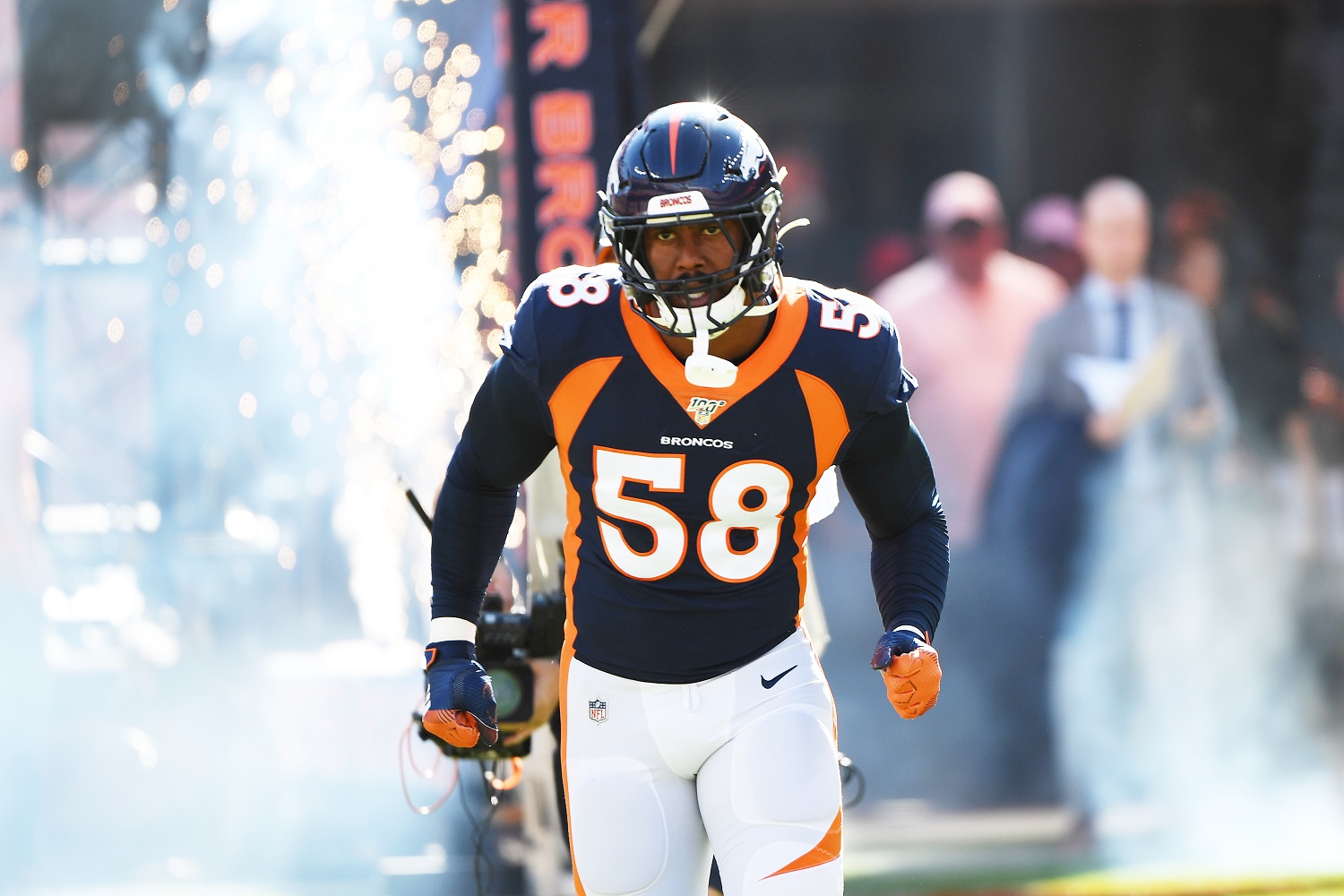 With the Broncos less than a week away from their 2020 NFL opener, Miller suffered an injury at practice diagnosed the following day as a dislocated peroneal tendon that would cost him the entire season. Coming off a subpar 2019 season, his first full year as a pro without posting a double-digit sack total, Miller intended to regain his form and negotiate his next contract from a position of strength.
Instead, he found himself waiting until this past March to get the Broncos to go even as far as exercising the option on the six-year, $114.1 million contract Miller signed before the 2016 season. How he performs in training camp could mean everything regarding his future in Denver, and then there's still the matter of proving himself during the first 17-game season in NFL history.
Miller certainly has proven himself in the past. Voters selected him as the league's top defensive rookie in 2011, he's followed up with three first-team All-Pro nods, and Miller has earned eight trips to the Pro Bowl.
He put up 14.5 sacks as recently as 2018, so there's plenty to suggest that Miller, who turned 32 this spring, has lots left and will complete work on his Hall of Fame credentials.
Von Miller has made new retirement plans due to a major life change
Being 32 years old and coming off an ankle injury that caused him to miss an entire season should throw up a caution flag for Miller, the second pick of the 2011 NFL Draft. However, he is bullish about the possibility of tacking a bunch of sacks onto his career total of 106.
"I'm feeling good. My ankle is about 94%," Miller told KUSA-TV. "The 6% I've got to get I've got to get (by) rushing the passer in practice with pads on, leaning on guys, guys leaning on me. I haven't rushed the passer in over a year. Haven't played in a game in longer than that."
Making the pocket hellish for quarterbacks will be the key to landing that one more big contract before he leaves the game. Still, Miller's real motivation for trying to stick around until 2025 or even '27 has to do with family. His girlfriend is expecting a baby boy by early August.
"I definitely want him to be able to see me play," Miller said. "That's going to take about five to seven years. That's what I have on my heart, that's what I have on my mind, another five to seven years.
"Whatever God will give me, I'm going to take it."
The star linebacker has tweaked his focus
Miller admits he went into training camp last season positioning himself for his next contract. After battling through COVID-19 in the spring, he had even more to prove. He admits to anxiety about the season that the injury derailed six days before the opener.
"My emphasis this year is just to be with the guys," he said. "If you remember last year, I was tense, (like) 'I've got to go out there and show these guys.' Now, I feel like I don't have to play that type of game, especially for myself mentally. I just want to go out there and be the best Von that I can possibly be on and off the ball field.
The best Von on the field will require something in the neighborhood of a dozen sacks. If that happens, there will certainly be more Von in 2022.
All stats courtesy of Pro Football Reference.