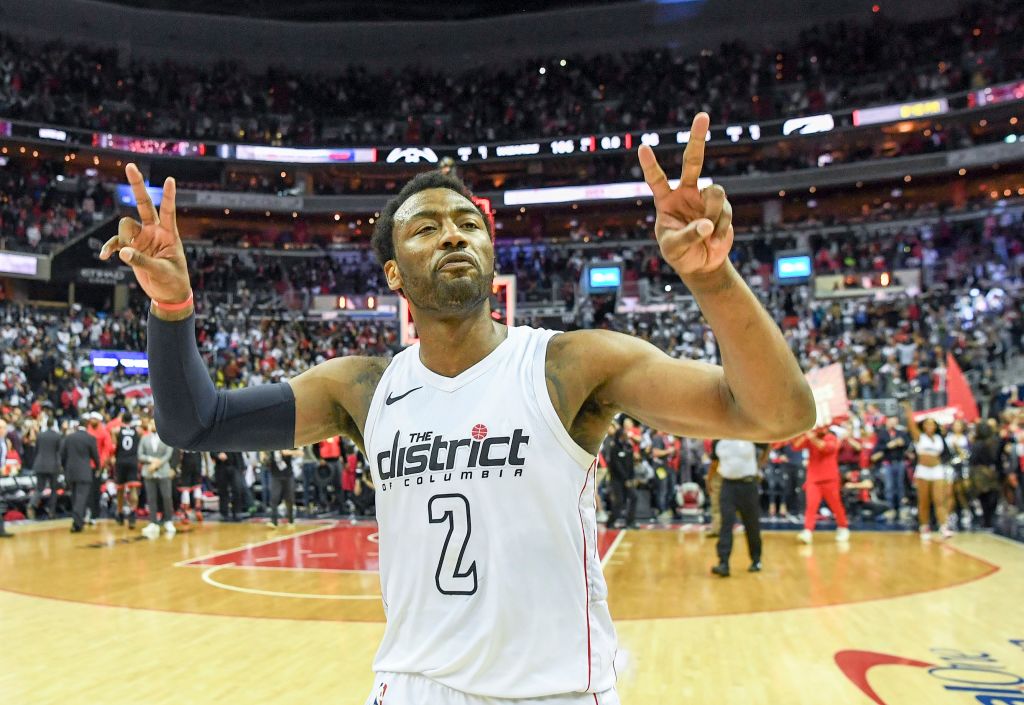 Washington Wizards and Mystics Join Together in Unified March on D.C. Speaking Out Against Racial Injustice
The Washington Wizards and Washington Mystics will join together Friday in a march on D.C. in support of the Black Lives Matter movement.
As the chorus grows louder each passing day with athletes speaking out on racial injustice, John Wall and many of his Washington Wizards teammates and Tasha Cloud and her Mystics teammates are joining together to offer one united voice in the nation's capital. The synergy between the two teams will result in a planned rally and march that will commemorate the Juneteenth holiday and promote the Black Lives Matter movement on the streets of Washington D.C.
John Wall has been outspoken and marched in protest 
Washington Wizards star point guard John Wall has been vocal in recent weeks on what's happening around the country. On The Athletic's "Hoops, Adjacent" podcast, the five-time All-Star soberly described his own fears as a black man dealing with police.
"If I get pulled over right now, I'm terrified. To be realistic. If I'm in a dark area, or a back street, I'm not stopping. I'll go to a high-speed chase to get to a spot where it's a grocery store, or somewhere where there's a lot of lights at, because that's how terrifying it is."
Wall has gone beyond talking about what's happening with the demonstrations across the nation and recently participated in one when he joined a Black Lives Matter march in D.C. earlier this month. He took a photo as he marched in front of Capital One Arena. 
"I'm Black and I'm Proud! We Demand Justice. Black Men Matter. Black Women Matter. Black Lives Matter!!"
Washington Mystics Tasha Cloud delivers powerful message
Since the death of George Floyd at the hands of a Minneapolis police officer, athletes of all genders, ages, and sports have found their voices and actively used their platforms in speaking out on racial injustice and police brutality. Tasha Cloud of the Washington Mystics has been one of the more outspoken players from the WNBA.
The Mystics guard, who earned All-Defensive honors in 2019, recently penned an article for The Players' Tribune titled "Your Silence is a Knee on my Neck." In it, the 28-year-old Cloud took a different approach in addressing the current environment on racial issues. 
"I'm writing this because I have a platform. It may not be the biggest platform in the world but it's bigger than a lot of people have. It's what I've got. And the only thing I feel like using that platform for right now is to send a message to the so-called 'neutral' people out there.
"It's to tell them that we're changing up the definitions of some of these words they've been hiding behind. It's to tell them that 'seeing both sides' means having blood on their hands—and 'opting out' means leaving innocent people to die. It's to tell them that neutrality about black lives might as well be murder. It's to tell them that their silence is the knee on George Floyd's neck.
"If you're silent, I don't f— with you, period."
Washington Wizards and Mystics march on Washington D.C.
Both John Wall and Tasha Cloud are joining together with their teammates and respective organizations in a march in Washington D.C. on June 19, which is Juneteenth, the anniversary of when slavery ended in the United States.
The teams and their fellow marchers will be walking from the Capital One Arena, where both teams play, to the MLK memorial, an almost two and a half-mile walk. Wall told Caron Butler on the 'Tuff Juice Podcast" this week about the plans for the upcoming event.
"We're putting it together. We're not just speaking on this. We're going out there and showing the people what we're about. We definitely can't wait to get that march going." 
With athletes like Wall and Cloud leading the way and using their platforms to address the systemic racism that has existed in our nation since its very beginning, there is hope for a brighter day in the not-so-distant future where all people will in fact be treated equally.