What Happened to Ambidextrous MLB Pitcher Pat Venditte?
Switch-hitting is a tough skill to master, but it's common enough that no one in baseball gives it a second thought. On the other hand, pitchers like Pat Venditte are incredibly rare. Venditte can throw with either arm, making him an intriguing attraction on the mound for fans and general managers.
The ins and outs of ambidextrous pitching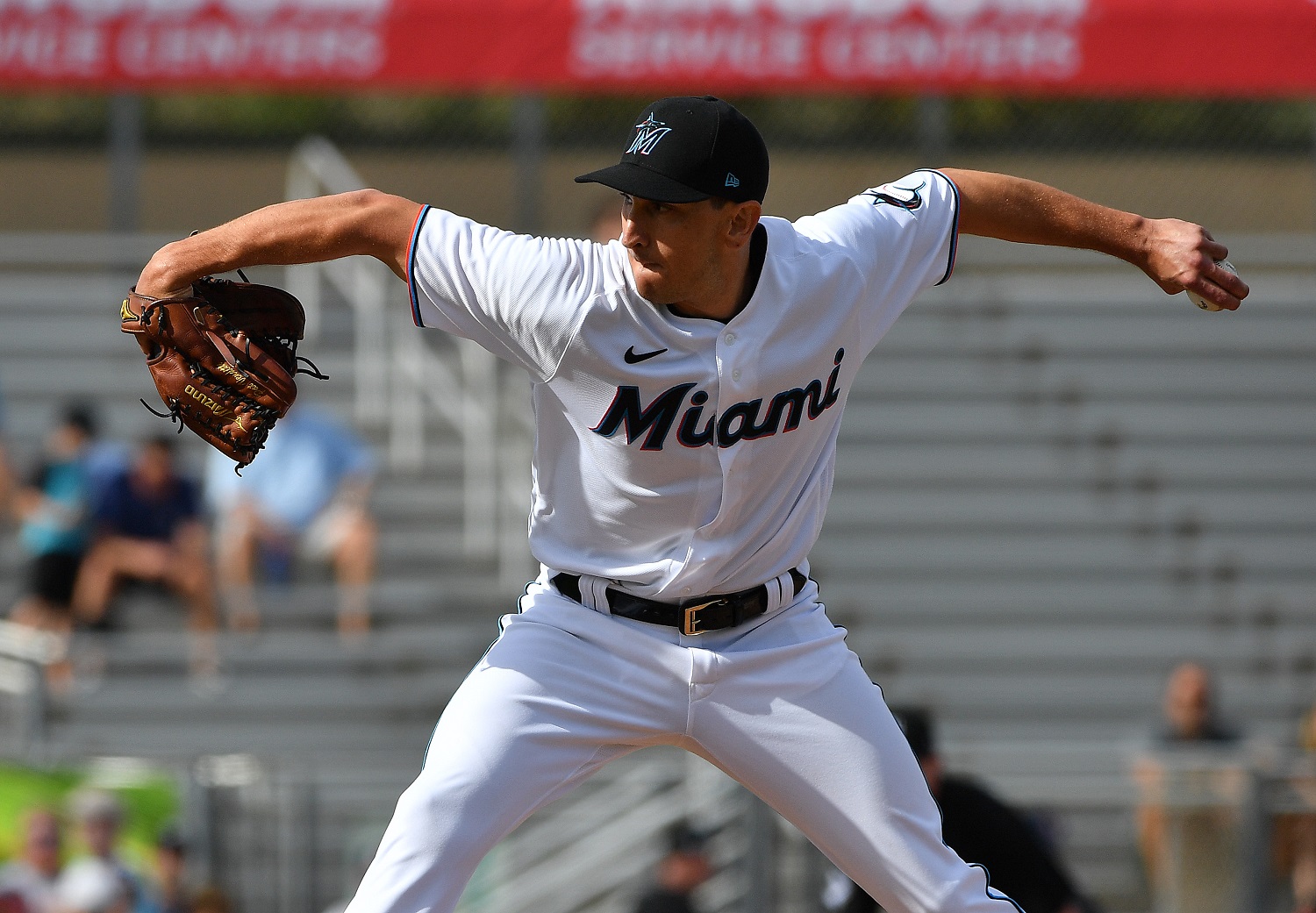 RELATED: Washington Nationals Manager Dave Martinez Says What Everyone in MLB Should Be Thinking
Pat Venditte has pitched for five Major league Baseball teams since 2015, including the San Francisco Giants in 2019. He has interest each step of the way because of his unique ability to pitch right- or left-handed. Making his situation more interesting, Venditte used to have two distinctive deliveries: over the top as a right-hander and more of a sidearm delivery when going southpaw. Surgery on his right shoulder in 2012 resulted in Venditte dropping down to sidearm full-time.
Switching out gloves while still on the mound would be cumbersome, so he has used custom, six-finger gloves with a thumb hole on each side.
The ambidexterity doesn't carry over to other activities. Venditte told ESPN in 2015 that he is exclusively right-handed when writing or playing golf. When he had to hit in games, he batted from the left side.
Pat Venditte is ambidextrous but not amphibious
RELATED: The Miami Marlins Just Exposed How COVID-19 Could Derail the 2020 NFL Season
Pat Venditte gained notoriety in college and while working his way through the minor leagues, but the media attention didn't reach its peak until he made it to "The Show" with the Oakland A's in 2015 and got the opportunity to throw with either arm in an MLB game.
The development was apparently too exciting for a small-town newspaper copy editor to handle. After Venditte became the first player in 20 years to pitch an MLB game with either hand, the Pendleton (Oregon) East Oregonian ran the headline "Amphibious pitcher makes debut" over its recap of the game.
It's a frequently shared blooper circulated by aficionados of print malaprops.
The debut performance also served to introduce fans to the "Pat Venditte Rule" written by the Professional Baseball Umpire Corporation in consultation with the MLB Rules Committee. The NCAA and the National Federation of State High School Associations adopted similar versions.
In short, the pitcher must clearly show which arm he intends to pitch with and then stick with it for the duration of the plate appearance unless a pinch-hitter is brought in before the completion of the at-bat.
Not a lot of MLB innings, but plenty of attention
RELATED: David Price Slams MLB and Rob Manfred Over the Miami Marlins Coronavirus Outbreak
Although he has pitched in the majors for parts of four of the past five seasons, Pat Venditte doesn't have a lot of MLB experience. He has appeared in 58 games, all in relief, with a 2-2 record and 5.03 ERA. He has struck out 53 and walked 28 in 68 innings.
Venditte was in the San Francisco Giants organization in 2019, appearing in two games in the majors. He signed with the Miami Marlins COVID-19 Outbreak Means Sacrifices for Miami Dolphins PlayersMiami Marlins in January and was waiting out the COVID-19 pandemic in the spring and early summer when the Marlins released him on July 14.
With the team reeling this week because of multiple positive COVID-19 tests, Miami re-signed Venditte, 35. He is on a minor-league contract but could be promoted to the Marlins to lend stability on the field and in the clubhouse if Miami is forced to revamp its roster after missing a week of action.