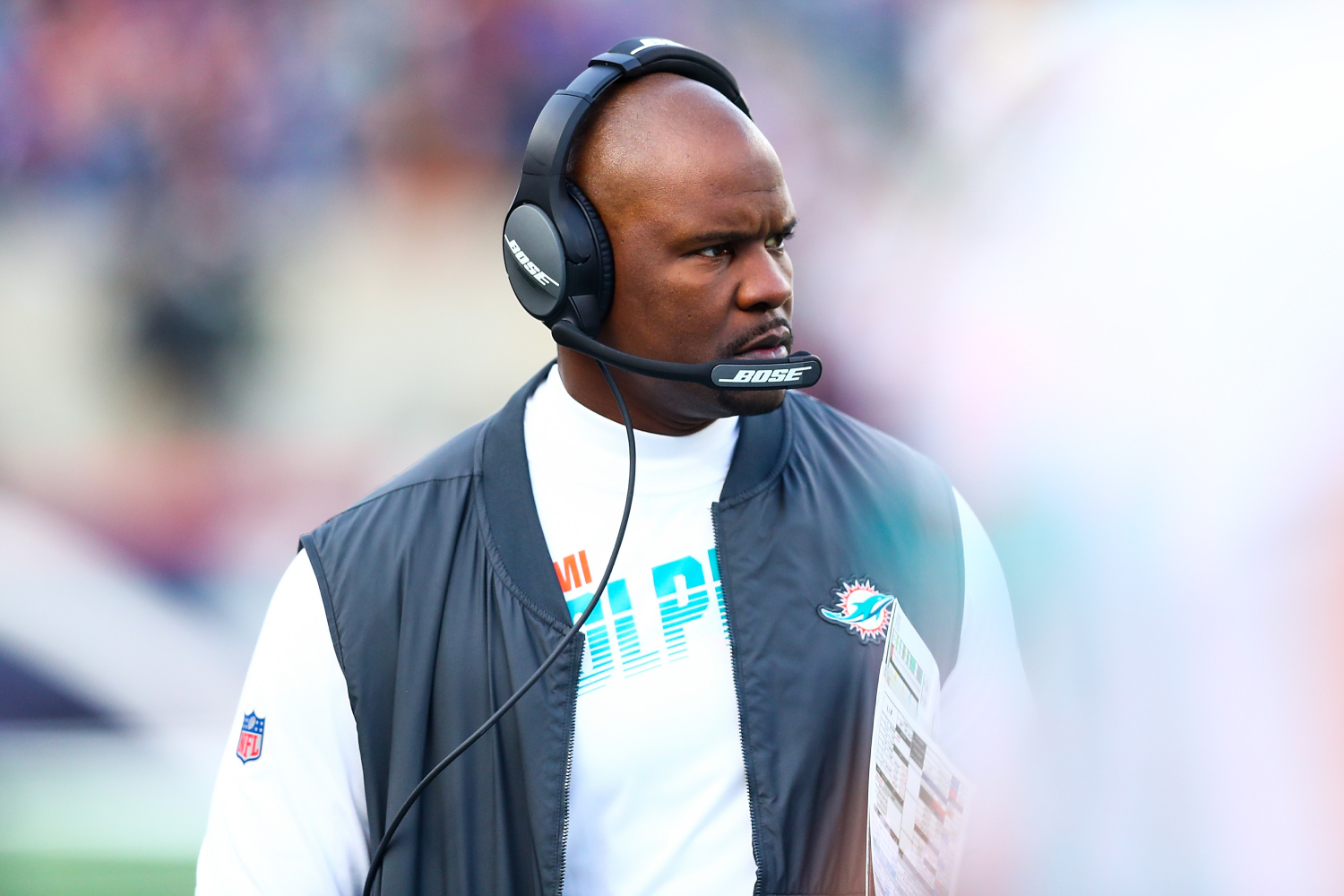 Miami Marlins COVID-19 Outbreak Means Sacrifices for Miami Dolphins Players
The recent outbreak of COVID-19 among Miami Marlins players and staff is forcing the Miami Dolphins to make some sacrifices.
It's getting ugly in Miami. The Miami Marlins have been forced to temporarily shut down due to the coronavirus (COVID-19) outbreak, and Miami Dolphins coach Brian Flores has a message to his own team. Flores said his players will need to make sacrifices if they don't want an interruption on their own season.
Miami Marlins outbreak
Many Miami Marlins players and staff members have tested positive for COVID-19 and it's thrown a curveball into their scheduling. In an already-shortened season due to the pandemic, the Marlins have postponed all their games through Sunday. According to Fox News, some carelessness may have contributed to the team's outbreak.
In an interview on radio.com, USA Today's Bob Nightengale said that some of the Marlins players may have been "careless" and that "at least one guy did for sure." That was in reference to a two-game series in Atlanta before the start of the regular season where some of the players may have gone out on the town. The team has been shut down since Tuesday.
In a statement from Major League Baseball, the league said the outbreak was confined to Marlins players. "In over 6,400 tests conducted since Friday, July 24th, there have been no new positives of on-field personnel from any of the other 29 Clubs," the statement read in part. "This outcome is in line with encouraging overall data since the June 27th start of testing. Through last Thursday, July 23rd, 99 of the 32,640 samples – 0.3 percent – had been positive."
Miami Dolphins report to camp
Florida has seen a spike in new COVID-19 cases just as the NFL is getting around to beginning training camps. The virus has already forced cancellation of the league's preseason, but the NFL is moving along as if a regular season will be played. Very minimal fan attendance, if any at all, will take place this season.
While the Miami Marlins' schedule is on hold, the Miami Dolphins reported Monday to their practice facility as camp opened this week. According to The Sun-Sentinel, players arrived wearing masks and took precaution upon arrival. Like the Marlins, the Dolphins did have some players who weren't available because of COVID-19 related issues.
The Sun-Sentinel reported Dolphins cornerback Cordrea Tankersley, long snapper Blake Ferguson, and defensive tackle Benito Jones will be under quarantine. The three either tested positive or came into contact with someone who has tested positive for COVID-19.
Dolphins coach Brian Flores' message to his players
Miami Dolphins head coach Brian Flores doesn't want the Dolphins turning into a Marlins' situation. He said in order for that to happen, normal routines will have to change. Players will have to make sacrifices they might not be used to. The message was simple, but it might be difficult for young, high-profile athletes.
"For a player individually, they are going to have a responsibility to themselves, to this team — to make some sacrifices in the building and outside of the building," Flores said during a Zoom call with South Florida reporters on Wednesday morning, according to The Palm Beach Post. "If we don't make the right decisions — if we're in bars and in crowded restaurants and in concerts, the likelihood of us bringing the virus into the building is very high. If we don't do those things and we distance and we quarantine in our homes or hotels or whatever, then the likelihood goes down significantly. That's pretty simple."
The topic of the Marlins came up and Flores said there is a plan in place if that happens, although he didn't get into specifics. "Have we had those conversations about what it would take or what if, you know, a catastrophe happened? Yes, we've had those," Flores said. "There's an action plan for that. I'm not going to get into that."